Veterans Writing Project ventures into the Coronado National Forest
Sometimes, things go haywire.
That's how Thomas Bryan describes the moments when "unexplainable emotions and confusion" take over. These episodes have dogged him since his service in the Persian Gulf War.
A few years ago, doctors gave him a name for his problem: post-traumatic stress disorder. That lent some perspective. But the greatest balm, the only thing that ever really helps when the tumult strikes, is getting out into nature.
"For some reason, when I'm up in the mountains, things seem to come together," he says.
"For some reason, when I'm up in the mountains, things seem to come together"
The Marine has tried to get these and other thoughts on paper, but always crumples them up like a coffee shop tic-tac-toe board. Now, he is sitting in the desert, far from home, admitting all this to strangers.
He would love to be able to publish some poems. The other veterans tell this man with German and Gaelic tattoos on his burly forearms—"strength" and "honor"—that the first step is to quit throwing them away.
Right now, Bryan does seem confident enough to keep the next poetry he writes. He's been smiling a lot. While he talks, dying light paints the Dragoon Mountains honey-orange behind him, and maybe thoughts don't turn as easily to other, less hospitable deserts in foreign lands.
He says the words flow to him when he's outside. He wouldn't have signed up to talk to us in some conference center or classroom. Significantly, the shy-but-enterprising writer also says this over and over again, planning for future workshops: "next time."
"Seriously Not All Right"
Bryan, other veterans and staff from The Wilderness Society are camping in the latticework shadows of mesquite trees at the foot of the Dragoons, about 70 miles from Tucson, on the Coronado National Forest. This range is one of the 'Sky Islands,' clusters of mountains stretching from southern Arizona down past the border into Mexico, separated by grassland and desert. Each range harbors distinct life, and this is the only region in North America where you can find jaguars.
Under the auspices of Veterans Writing Project founder Ron Capps, writers from around the country are here to workshop their prose, poetry and personal reminiscence, all with an eye toward catharsis and healing. Set against granite formations that glow at sunset, they talk about how to write good dialogue and what it's like to have rockets fly past your head. Through it all, as the group deconstructs Ambrose Bierce and Tim O'Brien, speaks hard truths aloud, cries and laughs, one refrain guides them: "either you control the memory, or the memory controls you."
Ron Capps' refrain guides the writers: "either you control the memory, or the memory controls you."
Capps founded the Veterans Writing Project to help people like Bryan do the former. After 25 years of service in the Army and Army Reserve, including combat action in Afghanistan, it is a subject with special resonance (Capps recounts his own struggles with PTSD in his new book, Seriously Not All Right; its title refers to the barometer of mental and emotional wellness he devised during an especially trying period in Afghanistan). The Project runs seminars and workshops for current and former military service members and their families free of charge, simultaneously compiling a catalog of exceptional writing by participants. The latter has yielded a much-praised quarterly literary journal, O-Dark-Thirty.
This is the first Veterans Writing Project workshop held outdoors, but the program's message of inner peace and self-determination fits remarkably well in the desert. After all, nature's therapeutic value is well documented. Notably, research suggests that outdoor recreation may augment treatment for PTSD, a condition that affects 10 to 30 percent of veterans (little wonder that Bryan, the Marine, quells his "haywire" moments by heading for the nearest mountains). In some studies, veterans who participate in outdoor recreation report significant improvements in their social functioning and life outlook.
Though the data are fairly new, veterans have known this on a gut level for some time. After duty in World War II's Pacific Theater, Earl Shaffer famously decided to "walk off the war" and eventually became the first person to thru-hike the entire Appalachian Trail in one shot. More recently, Sierra Club's Military Outdoors program, Veterans Expeditions and the Wounded Warrior Project's Project Odyssey were launched to help veterans overcome combat stress through outdoor retreats. Similar programs are increasingly used to help ease the burden on veterans' children and families, too.
The issue is expected to be even more pressing in the near future, as those returning from service in Iraq and Afghanistan come to rely more heavily on the Department of Veterans Affairs (VA), an agency that provides patient care and benefits to veterans and their families. About one in five Iraq and Afghanistan veterans come home with symptoms associated with combat stress, and more than half of veterans assisted by the VA since 2002 have been diagnosed with mental health issues like PTSD, depression and substance abuse. As the system strains to help them, ensuring access to supplemental healing methods—especially the inexhaustible and non-bureaucratic—will be critical.
Veterans as conservation champions

That's where conservation comes in. And indeed, recent years have seen an increased understanding among veterans that preserving our most exceptional lands for public use is important. A survey conducted on behalf of the nonprofit Vet Voice Foundation found that 75 percent of western veterans who served in the U.S. military during the Iraq and Afghanistan wars favor the federal government protecting public lands by designating them as national parks, monuments or wilderness. Working with national and regional groups, some veterans have emerged as prominent champions of the conservation movement, joining the fight at a time when these places are under ever greater pressure from encroaching development.
Bryan fondly remembers climbing atop the Chinese Wall in Montana's Bob Marshall Wilderness, a defining moment: "When I got on top, it was just me."
Talk long enough to the veterans at our Arizona outing, and it starts to feel like a crash course in conservation advocacy. Here are future wilderness proponents making their bones.
In some cases, the seed was planted a long time ago. Bryan recounts his finest outdoors adventure with little prompting, like somebody slipped him the question beforehand. It came when he was 14 or 15 years old. On a visit to Montana's majestic Bob Marshall Wilderness, he remembers climbing atop the Chinese Wall, an expansive limestone escarpment that makes up part of the Continental Divide. There, he experienced an unforgettable moment of serenity in the clear mountain air. This is a memory he controls.
"When I got on top, it was just me," he says. "I could see everything, and this calmness came. It changed me. Right there was a defining moment of me in nature."
A respite in the warrior mountains
While similarly tranquil, the Dragoons are warrior mountains, too. The range itself is named for the third regiment of the U.S. Cavalry, which brandished rifles of the same name against the native Chiricahua Apache in the 19th century. The memory of the great chief of that tribe, Cochise, still presides over the mountains as well, most notably in a rocky natural fortress known as Cochise Stronghold, which served as his base of operation in a long guerrilla campaign waged against the U.S. military. Fort Huachuca, an Army facility to the south, carries on the pedigree of fighting men and women, tough and unyielding, echoing through the years. Some of our workshop participants were once stationed there. With all this, the desert comes to seem small—even intimate.
It also happens to be starkly, impossibly beautiful. A few dozen boisterous rock climbers, young and elastic, alight near our campsite for the weekend. Despite the atonal (and loud) bongo music, you can hardly blame them. The mountains are craggy, lichen-glazed and marvelously tactile. They want to be seen up-close.
In the clearings and ravines between those golden ridges, mop-topped cholla and spiny acacia trees tangle through walking trails. I expected handsome desolation here, something out of a painted Wile E. Coyote backdrop. Instead, I get colorful staghorn cacti; slender, blossoming ocotillo; and yucca plants with sharp star-burst fronds. Gray-blue Mexican jays flit overhead, and the new scat that clutters our clearing each morning suggests big, shy mammals hiding until the stars come out (coyotes, we think). The Dragoons are definitely alive.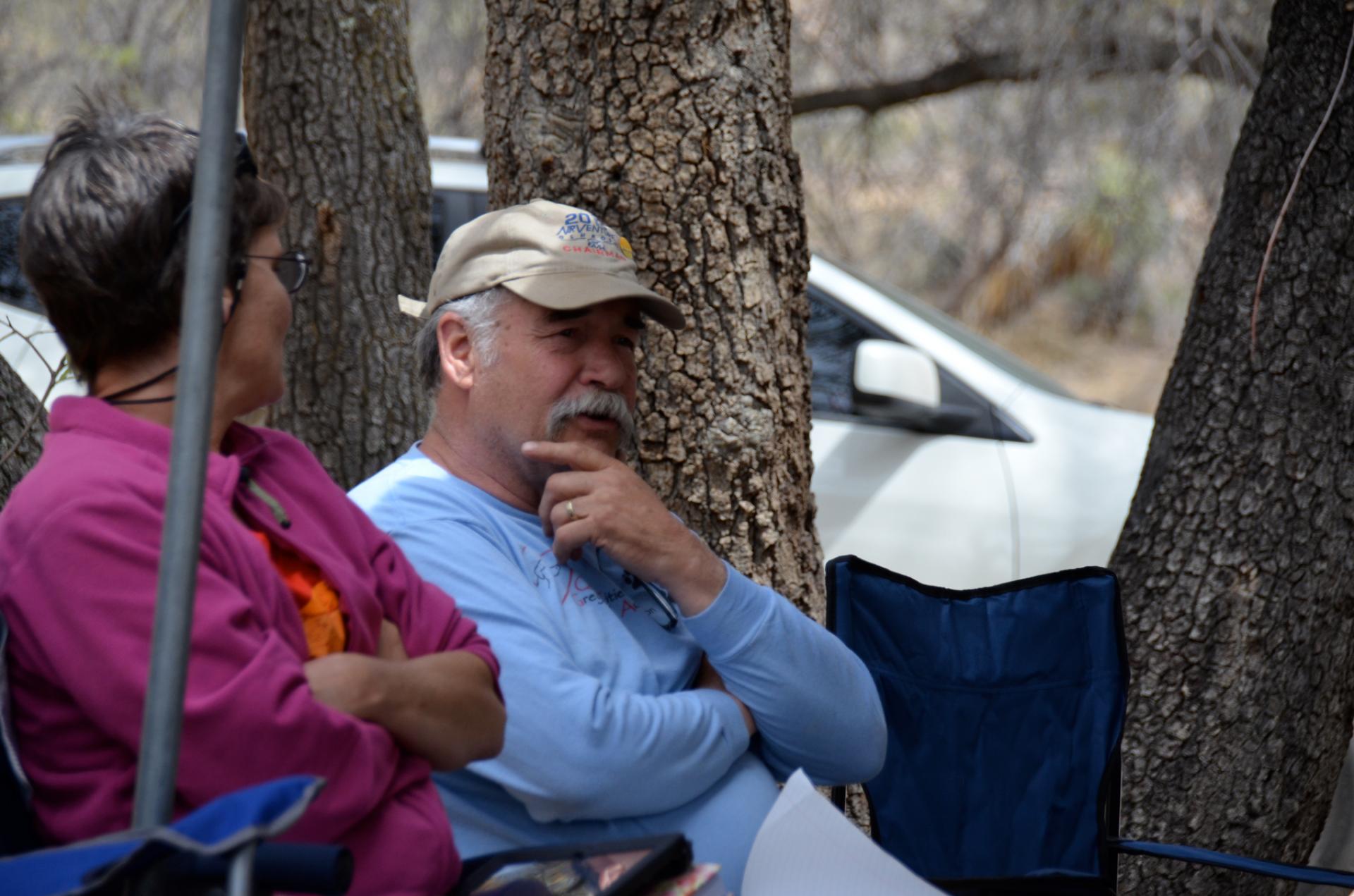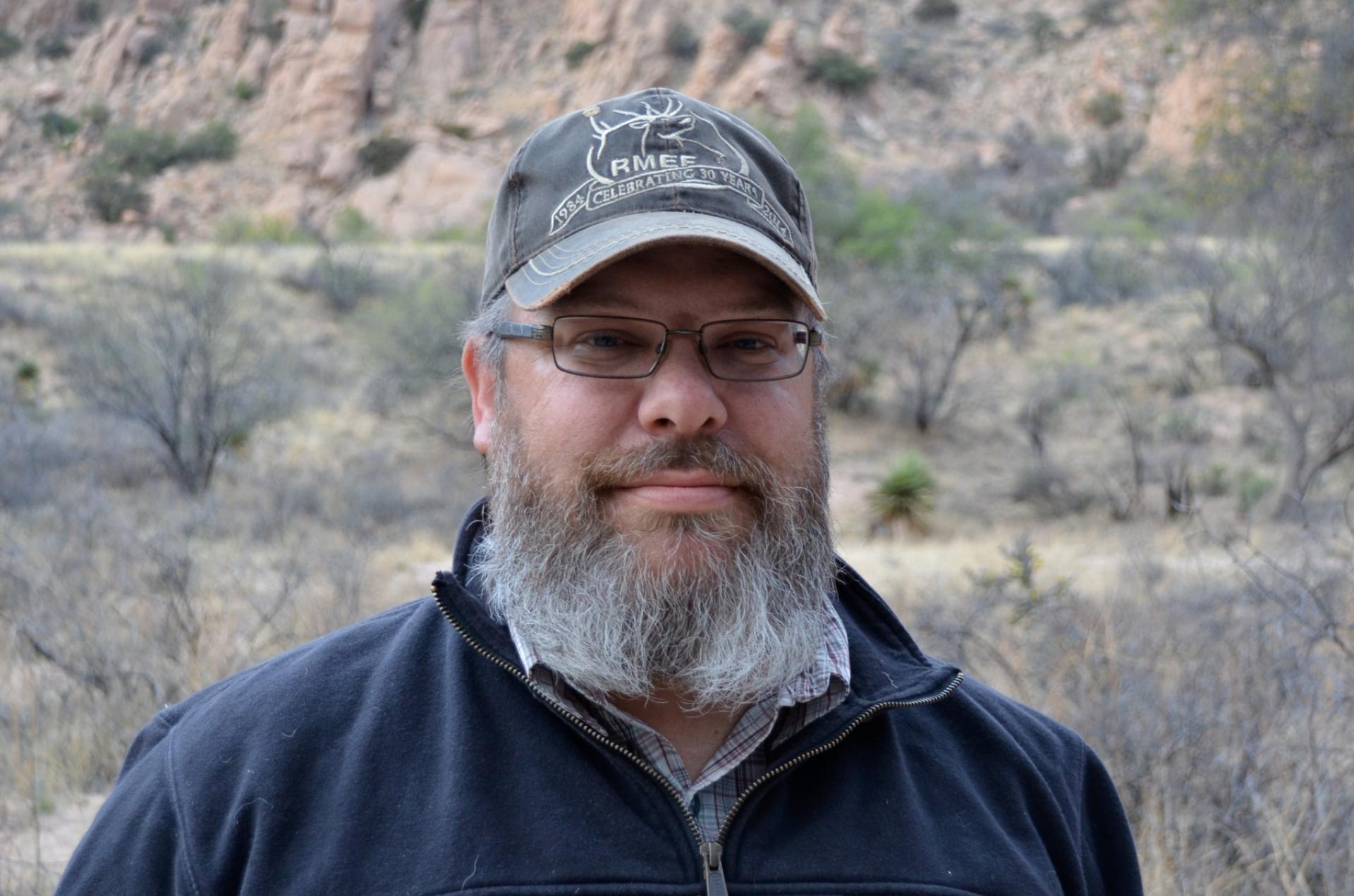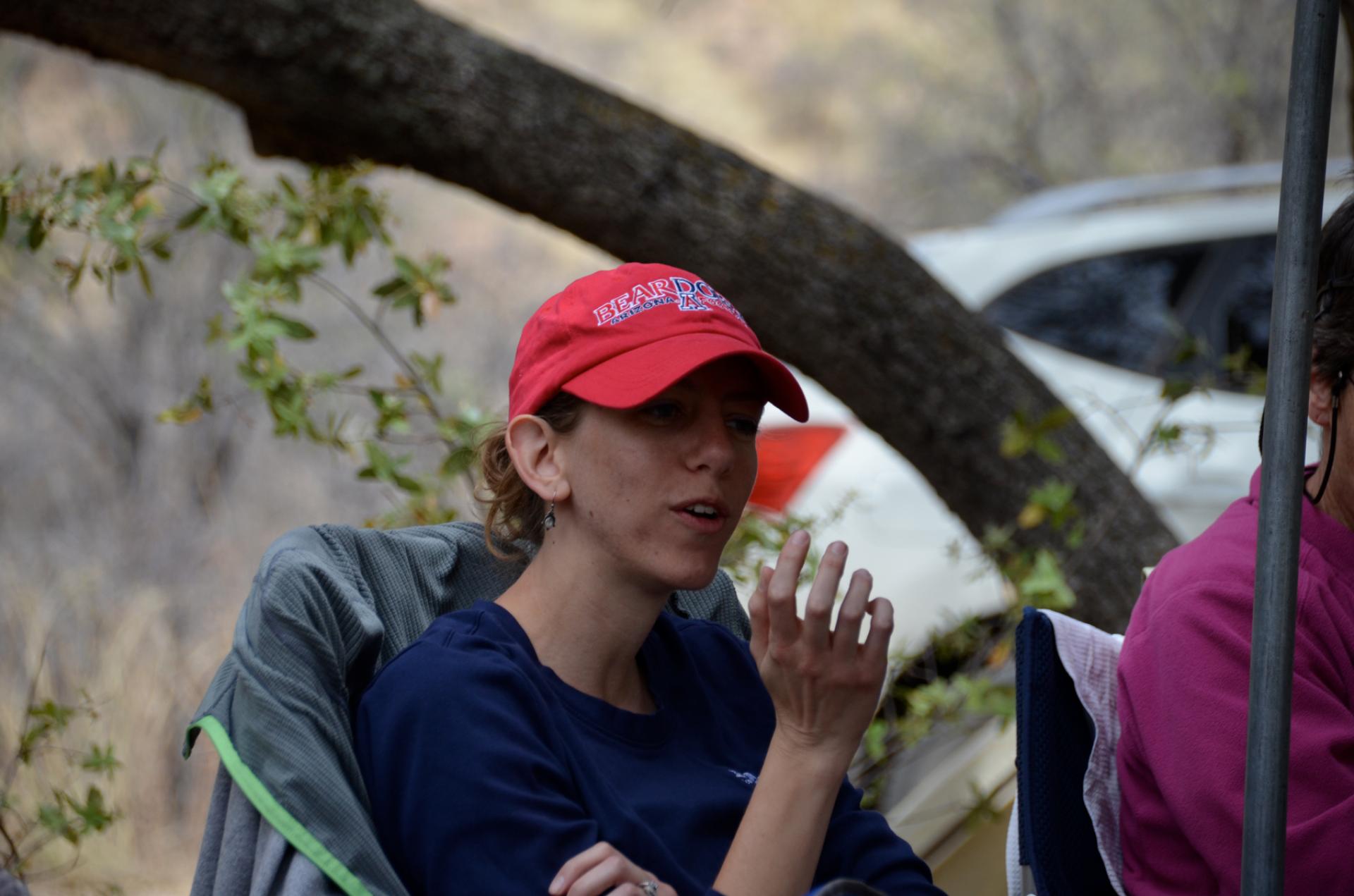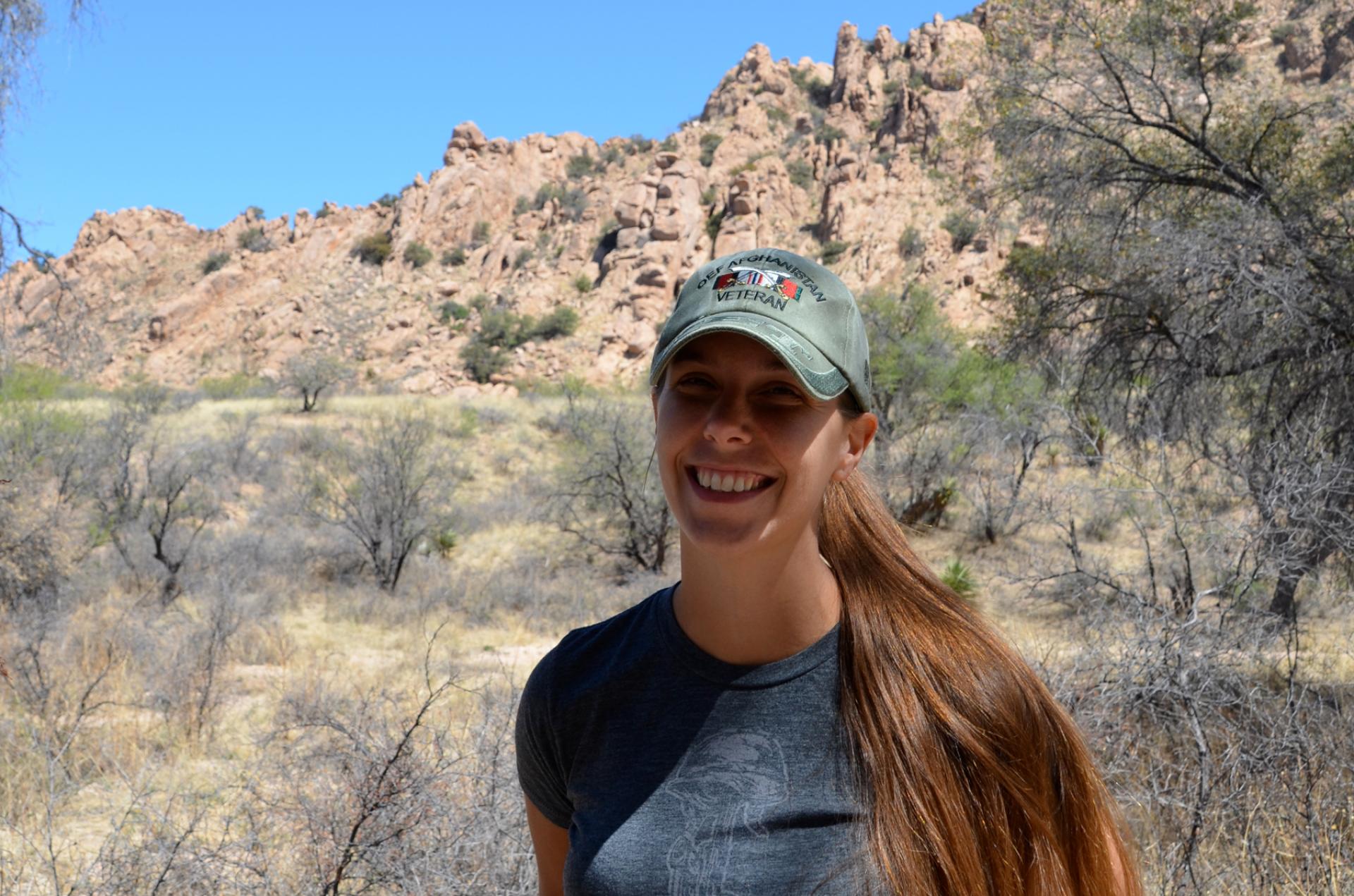 Previous
Next
Faces of the Veterans Writing Project
Ron Capps founded the Veterans Writing Project after 25 years of service in the Army and Army Reserve, including combat action in Afghanistan
Kate Mackay, TWS
Wayne Sapp, a Vietnam veteran, recently completed a novel about a research biologist's quest to foil a group of hunters poaching Steller sea lions in Alaska
Kate Mackay, TWS
Thomas Bryan, a Persian Gulf War veteran and aspiring poet, said he finds peace "out in the wilderness, away from people"
Kate Mackay, TWS
Christina Sciabarra, a former Naval Reserve lieutenant: "This is the first time as an adult ... that I've ever done any camping"
Kate Mackay, TWS
An Air Force veteran who spent two years deployed in Afghanistan and writes under the name Farzana Marie said she often draws on the outdoors for her writing
Kate Mackay, TWS
Fullscreen
Close
That impression is not merely the product of some beer- and s'more-induced reverie. The land between here and northwestern Mexico is where temperate and tropical habitat co-mingle, providing a home for more than 4,000 plant varieties and something like half the continent's bird species. This range and other sky islands, like the Whetstones and Chiricahuas, collectively form one of the most biologically diverse ecosystems in the world (after all, those jaguars keep coming back).
The Dragoon Mountains and other sky islands, like the Whetstones and Chiricahuas, collectively form one of the most biologically diverse ecosystems in the world.
Unfortunately, the area is perpetually at risk. There's always some bad bill looming, or an attempt to introduce roads or industrial development. The Wilderness Society, along with groups like Sky Island Alliance and the Arizona Wilderness Coalition, has been working on the Coronado National Forest to get places like the Dragoons designated as federal wilderness, the highest level of protection that can be bestowed on public lands. Within a few hours' drive of several million people, these fragile landscapes represent an unquantifiable natural treasure, but also an integral part of the regional economy. The 50-year-old Wilderness Act is the best way to ensure they stay in good shape for future generations.
"That's how I get back down to earth and calm. Out in the wilderness, away from people."
Broadly, the writers enjoying these sights and sounds can be split into two groups.
First: champing at the bit for an outdoors experience, with an impressive array of camping gear in tow. Second: reluctant-but-cooperative; dedicated to honing their writing craft, but determined to use our rented porta-potties only when absolutely necessary.
Bryan, the aspiring poet, is in the first group. The thickset, amiable lance corporal with a gray-stained beard boasts that his family has fought for America (or its colonial predecessors) ever since the French and Indian War. The man comes across as surpassingly gentle. He has a natural storyteller's warmth and wit, making people laugh without particularly trying. He belongs here.
Again, Bryan would not have attended this workshop if it had been held indoors somewhere. Writing is easier when he's outside, and it's also where he feels...well, all right: "That's how I get back down to earth and calm. Out in the wilderness, away from people."
Through a PTSD diagnosis and various personal crises, Bryan found solace in the outdoors--and that comes through in his poetry
This point trumps everything else. When Bryan returned from service in the 1990s, he could not work an ordinary job or get on with civilian life. His relationships suffered, and he came to rely on his dogs for support. Through all this—the PTSD diagnosis, the divorce and so many other hardships—he found solace in the outdoors. The wild sustained him.
Unsurprisingly, nature imagery pops up in many pieces he reads to the group. In one wistful poem, the unnamed protagonist "belongs in the mountains," standing "like a mighty oak." Later, Bryan cops to the character's identity ("it's me") and notes that for all his hero's "hardness," the outdoors offer a tempering force: "Out here in this environment, there's this softness and this calmness in him."
Inspired by nature
One participant, an Air Force veteran who spent two years deployed in Afghanistan and writes under the name "Farzana Marie," tells me that she too often draws on the outdoors for her writing.
"It just feels different to be able to write in the wilderness," she says. "I've written a lot of pieces throughout my life that have a connection with the wild, or with the tiny spots of wilderness that are embedded in our urban communities."
Farzana is an old hand at this. With supreme poise, she reads me a poem about running the day after a winter storm:
Evidence of snowy day play survives, though slight; Rose City Park resumes its damp but lovely dance as last off-white patches gracefully fade, stage left and right.
Another wilderness lover, Wayne Sapp (not to be confused with the controversial Florida pastor of the same name), came to the Dragoons this weekend by way of Vietnam (Charlie Company, 2nd battalion, 12th cavalry—airmobile) and, more recently, a small town near Davenport, Iowa, where he is building a house.
Complete with walrus mustache, Sapp looks every inch a guy who has lived life fully, often in the elements. Those themes shine through in his writing, notably a just-completed novel, "Arctic Lions," that chronicles a research biologist's efforts to foil a group of hunters poaching Steller sea lions in Alaska. On the morning we all break camp, Sapp shows us a small, pale photo of a much younger man, also outdoors: a squad leader, M-60 balanced on his bare shoulders, squinting happily into the light of another long day in the jungle.
Sure enough, in an email exchange after the event, he tells me that he decided to attend the workshop precisely because it was held outdoors. "I am constantly inspired by nature," he explains.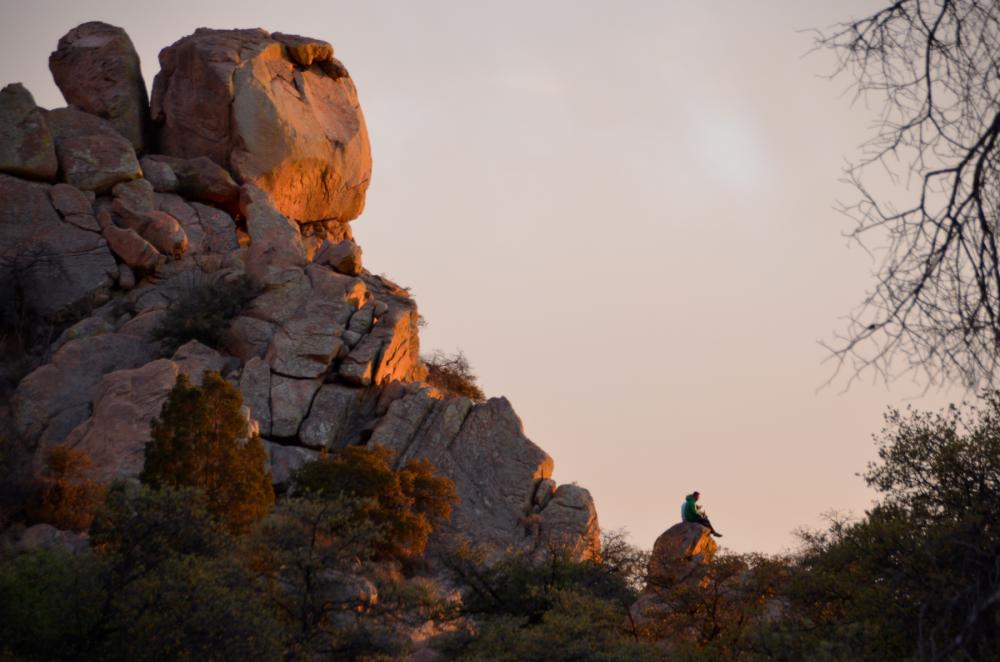 "'Outdoors' means ... going somewhere and digging holes."
On the other hand, we have Jon Liang. An athletic young Marine who did two infantry stints in Afghanistan, he says he didn't gravitate toward the outdoors as a kid growing up near Los Angeles. Liang's military experience helped twist that uncertainty into something more like aversion.
"I associate the outdoors with misery. That was the Marine Corps for me," he says. "'Outdoors' means putting on 80 pounds in your bag, walking really fast, the kind of pace you don't want to walk, and going somewhere and digging holes."
But after a few days under this pristine sky, Liang is becoming a convert. "I think it helped me reframe what the outdoors can be," he says of the workshop. "We don't take advantage of it. We'd rather sit at home and watch Netflix, and a week ago that's probably what I'd be doing."
Christina Sciabarra reports a similar experience. The former Naval Reserve lieutenant, whose last duty station was in Iraq, is a Tucson resident, but all this is mostly new to her. "This is the first time as an adult, other than various desert experiences with the military, that I've ever done any camping," she says. Not coincidentally, this weekend is also the first time she has ever tried to write about her service—an opportunity to "explore things I didn't want to deal with or think about." The Dragoons comfort her.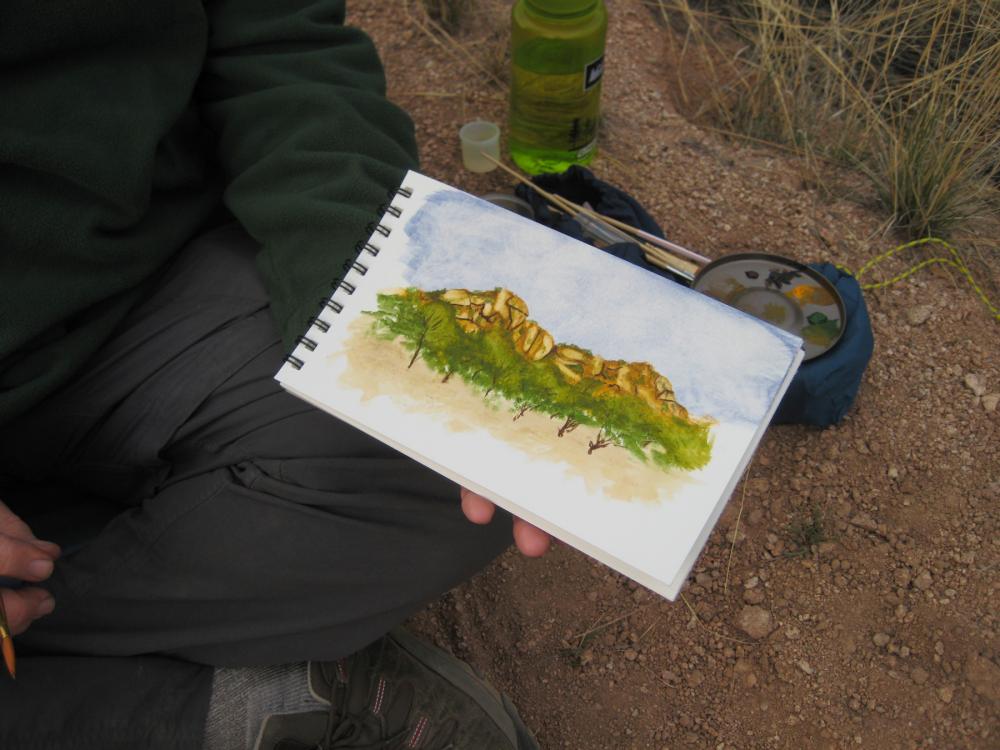 The wilderness bond
Over the weekend, there arises a near-consensus that this campout is valuable in part because it is happening (nearly) 'off the grid.'
"You have no cell reception, you don't have internet reception, and that really forces you to think about what it is you're writing at that time," says Tom Peterson, an even-keeled former Army counterintelligence officer and special agent who traveled from Las Vegas to be with us. "It's much more calming than thinking 'oh, I have to go get into my car, or drive home, or back to the hotel.' It's just much more relaxing. And that is much more conducive to writing and creativity in general." To wit: while he talks to me, Peterson renders the pre-dusk, amber-splashed Dragoons in watercolor.
I hear variations on all these themes: that the setting of this workshop encourages openness, tranquility, even a sense of community (Liang thinks it'd be easy to reconnect with estranged friends in a place like this). By the end, even the skeptics seem to care about the land quite a bit.
The last night we camp here, under a cold, starry sky, I think of an appreciative letter written by an American GI during World War II and sent to a National Park Service official stateside.
"If you could hear the men talk of our parks and forests, you know how great a part they play in the American scene," he wrote. "When the talk turns to 'before the war,' it is invariably...the hours spent with rod and reel on lake and stream, the camping trips, the quiet nights in the pine woods...and it is those things that these men are fighting for, as well as for their homes, sweethearts, wives and families."
"There's a lot of inspiring things out here."
Memories are the through-line of this weekend, whether as invaluable creative font or force to be controlled. So, what will we remember from the Dragoons?
Liang, the Angeleno and reluctant camper, admits that he has been largely "apathetic" about conservation and the outdoors to this point, but will leave somewhat changed: "I came out here mostly for the veterans writing experience, but the way you guys have explained your mission, kind of what you guys are doing and how you're passionate about it, it really helped me. I'm interested in it now."
Bryan will remember the sound of leaves falling to the ground in slow waves all around our tents. He sends me several brand new nature poems in June, including one inspired by that very melody.
Sciabarra, ever understated, says that though she has never written about the outdoors before, she would like to try it now. "There's a lot of inspiring things out here," she says.
A young Marine who did two infantry stints in Afghanistan had been largely "apathetic" about the outdoors until this trip, but he says he's becoming interested in conservation
I will remember a semi-fictionalized short tale read by Peterson, the painter, about well-meaning people who collected Trinitite, the colorful, glassy shards produced in the intense heat of the first-ever successful detonation of a nuclear weapon, near Alamogordo, New Mexico. People pass out the little beads like surplus garden zucchini, to everyone they know, oblivious to the radiation burns forming beneath each new trinket. Sitting here, in a desert one state removed, a chill runs down my back.
It does happen like that. We live life, gathering bits from each day like anxious bowerbirds. Some we give away, as fireside yarns or shared poems; but most we keep, even if they burn. Oftentimes, the more they hurt, the tighter we hold them. Eventually, these little horrors, faces we can't forget, haywire moments, mark us deeply and irretrievably.
Time passes, and war wends its way through the human experience, a dark streak. A few men and women, military people, grapple with it like snake-handlers, gathering memories as they go. Later, some walk in parades. Others turn to the mountains when terror comes.
For the wounded, the salve may be a poem or snatch of stray birdsong. In time, these can imprint themselves on the soul and help vets sort through the pain--or at least get it on paper. That's the hope, anyway: with many hours at a notebook or under the stars, you take control. You start to be "all right."