Ironwood Tree Experience offers teens outdoor adventure
Miguel Ceballos' first backpacking trip was more physically exhausting than he expected, but it didn't seem to sour him on getting outdoors. On the contrary, he ended up feeling like it was almost what he's meant to be doing.  
"This is our roots, you know. We're animals," he said of a recent trip to Saguaro National Park with the Tucson-based Ironwood Tree Experience. "This is just normal … It's human to be in nature."  
Despite this, Miguel said he doesn't think his friends or classmates back home typically go backpacking or hiking. They would do it if they had the opportunity, though; that points to the necessity of Ironwood Tree Experience, a program that connects Tucson-area youth with their community through experiences in nature. 
Miguel shared his thoughts during a March 2019 Ironwood Tree expedition that took several high school and college students from the greater Tucson area to the Rincon Mountain District of Saguaro National Park, to the east of their hometown. The trip was part of the Wilderness Warriors program, which was created with support from The Wilderness Society to connect youth with public lands and inspire them to protect these places. Wilderness Warriors students not only learn about local ecology but also about local history, how public lands are managed and what it takes to protect them. 
The setting highlighted a very different landscape than many participants were accustomed to (several backpackers noted the area was greener than back in town, with familiar cactuses ceding to high desert forest) and, more importantly, offered a chance for meditation, reflection, solitude and, in the words of program veteran Jacob Cooper, "some room to breathe." 
Indeed, a large and growing body of research has linked outdoor time to improved physical, mental and emotional health. Some research suggests that outdoor education programs offer mental health benefits for adolescents, specifically. Several hikers mentioned a distinct lack of stress during their time in the Rincons.  
Help kids and families experience the outdoors
Make it easier and less expensive for guides to get people into nature
Contact your senators
Trips boost personal growth, conservation interest
Ultimately, Ironwood Tree Experience trips—the non-profit also offers stewardship projects, field studies and various other activities; The Wilderness Society has assisted in curriculum development and other work—are designed to help foster professional, personal and education development as well as an interest in environmental issues.  
Eric Dhruv, who co-founded Ironwood Tree Experience in 2005 with his wife, Suzanne, said that the comfort level of participants in these trips varies. Some, like Miguel, are virtual newcomers to backcountry adventure, while many others are already vaguely "interested" in nature but not yet deeply involved or able to narrow their interest to anything more focused or discrete. Take David Cervantes, who had done other Ironwood Tree trips but never been backpacking before this. He explained that while he's spent a lot of time outside, visiting Saguaro helped him rediscover the sense of nature-curiosity that led to his childhood love of insects (he is currently studying to become an entomologist).  
But regardless of how seasoned the backpackers are on any individual trip, Dhruv described the "epiphanies" he witnesses in these kids as being genuinely foundational experiences. 
"You can see lights flashing, turning on, when they discover something new, or a realization, a connection is made," Dhruv said. "They see something for the first time and you can just see it in their eyes, and that's sort of building blocks to something." 
Public lands around Tucson offer unique opportunities
Dhruv said he and Suzanne hatched Ironwood Tree Experience in part because they realized that much of their environmental education work centered on "someplace else"—faraway landscapes and how they were impacted by human activity. They wanted to help their students develop more of a sense of place and pride about Tucson and the broader Sonoran Desert region. 
Fortunately, that has been a natural fit. Dhruv emphasized the importance of Tucson and the public lands that surround it to their mission of helping more young people experience nature while engaging with their own community.  
"We are surrounded by public lands … that gives us access to all kinds of experiences." - Eric Dhruv, co-founder, Ironwood Tree Experience 
"[We] talk about how important it is to have public lands available to us," said Dhruv. "We are surrounded by public lands … that gives us access to all kinds of experiences." 
Delivering a similar message, program coordinator Angel Breault pointed out the deceptively local nature of the foray into the Rincon Mountains: "We hiked just a little under 5 miles up here and it feels like we're in the middle of nowhere, when just about 20 miles away is the greater metropolitan area of Tucson, with about a million people."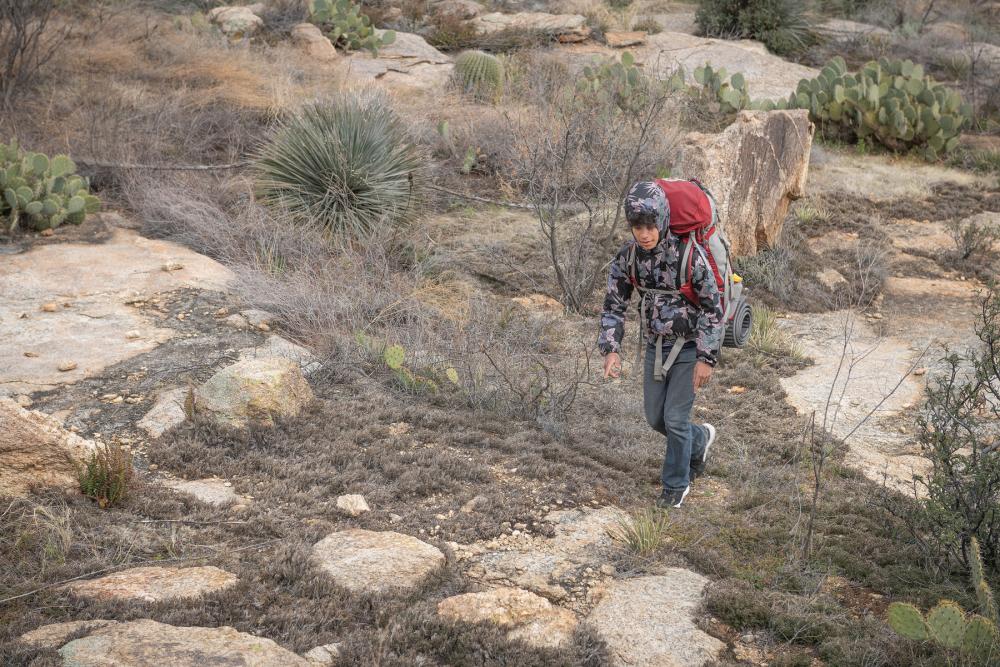 Life in this landscape varies from iconic saguaro cactuses to ponderosa pine forest at the highest elevations, intermingled with an extensive network of hiking trails. The western portion of Saguaro National Park, the Tucson Mountain District, is flatter and more emblematic of classic southeastern Arizona desert, and, along with the adjoining Tucson Mountain Park, offers plenty of hiking and outdoor recreation opportunities.   
The Coronado National Forest, also within an easy drive of Tucson and a key part of the region's outdoor lifestyle, comprises a collection of mountain ranges reaching south to Mexico and east into New Mexico. Pusch Ridge Wilderness, within the uniquely biodiverse forest and towering above the city, is emblematic both of the land's value to local communities and, in light of increasing population, the major challenges in keeping it well-maintained.  
That's why our work to address barriers that prevent people from experiencing the outdoors—especially low-income communities and people of color—is such an obvious match for the ongoing project of conserving public lands like Saguaro and the Coronado. It is our job to keep these shared places healthy, intact and accessible for future generations, so Ironwood Tree Experience backpackers can continue to have epiphanies and adventures—and grow in the process--just a few miles from home.