This is our last chance to stop the Refuge from falling into the hands of Big OIl
After three years of recklessly stampeding forward with plans to drill for oil on land that the Indigenous Gwich'in and Iñupiat people have relied on and protected since time immemorial, the Trump administration has reached the brink of auctioning off the coastal plain of the Arctic Refuge to oil companies. We are down to just weeks before a lease sale that would transfer parts of the refuge to private corporations.
In an irresponsibly rushed process, the administration has reached the point of opening bidding for every single acre of the coastal plain—the calving ground of the Porcupine Caribou Herd and home to polar bears, wolves and countless migratory birds. They will open those bids on January 6, and attempt to formally convey leases to the oil industry before Trump leaves office on January 20.
That's why, over the coming weeks, we will be asking our members and supporters—and everyone who cares about protecting the Arctic Refuge—to stand with the Gwich'in and  take immediate actions to oppose the lease sale and to help us try and prevent the administration from formally issuing leases to companies that want to destroy the coastal plain for profit. We're calling it "a month of action for the Arctic."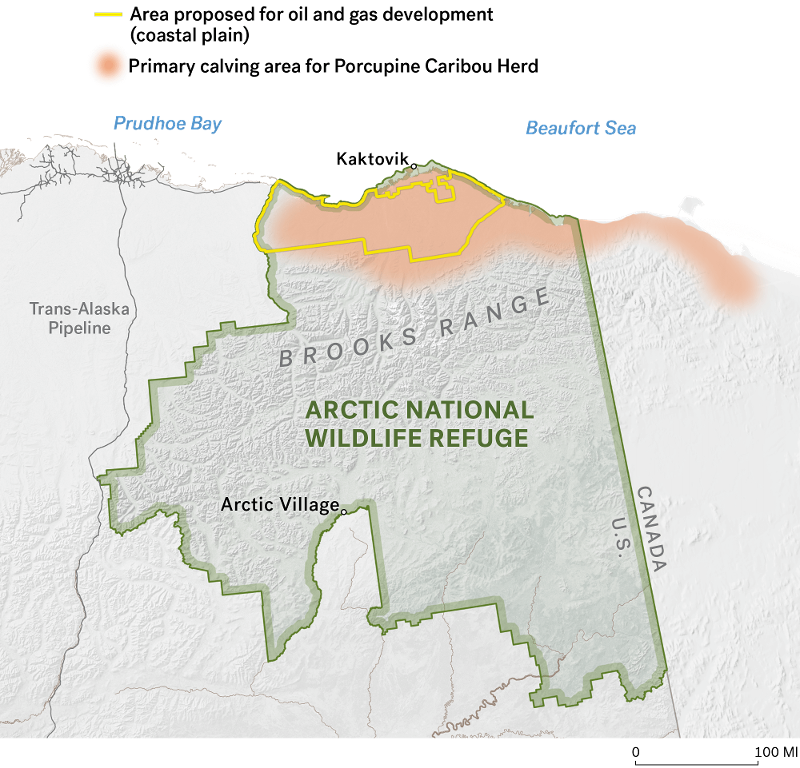 Here's what is at stake. It's like if you decide to rent a home. Until you pay the rent and a lease is signed, you can't move in. But once those steps are taken, you have legal rights to occupy the home, and you can't just be tossed out. The leasing process is much the same. The government wants to sign those leases and secure land rights for oil companies before Joe Biden, who has voiced his opposition to drilling in the refuge, becomes president and can take action to stop the process. That means corporations committed to destroying the Arctic Refuge and contributing to the climate crisis will have a voice in deciding the future of this iconic place.
Ever since Congress passed the 2017 Tax Cuts and Jobs Act that included a provision for drilling on the coastal plain, time has been running out for protecting the Arctic Refuge. Now we are down to the wire. The final weeks could be at hand.
The threat truly has never been greater. We—the Indigenous protectors, the Arctic National Wildlife Refuge, the wild animals that live there, our climate and The Wilderness Society—need your help more than ever before.
Stand up for the Arctic Refuge
Tell the BLM you oppose all oil and gas development in the Arctic Refuge
Act Now