Uniting to fight Trump's unwanted drilling in the Arctic Refuge
For the Gwich'in people of Fort Yukon, Alaska, a trip to the grocery story can be prohibitively expensive. Far removed from large cities or towns, residents near the Arctic Circle may pay upwards of $15 for a jug of milk and $10 for a loaf of bread.
It's only logical that hunting, fishing and foraging remain critical for the Gwich'in, who have lived off the land for centuries and rely on the caribou that inhabit the Arctic National Wildlife Refuge to the north. But their ability to provide for themselves, as well as their deep spiritual and cultural connections to the caribou, is imminently threatened by the Trump administration's efforts to bring drilling to the Arctic Refuge.
Despite Gwich'in protests, the administration is fast-tracking environmental reviews to allow exploratory drilling in the coastal plain of the refuge, where the Porcupine caribou herd calve their young every year. Industrial development would bring drill pads, pipelines, roads, aircraft and infrastructure into this sensitive habitat. And it would likely impact the health of caribou populations and the communities that depend on them.
As they have for hundreds of years, the Gwich'in are fighting to protect their future and they stand at the frontlines of protecting the Arctic Refuge. Theirs is a tremendously important human rights issue even though it is not widely known throughout the lower 48 states.
Drilling in the Arctic Refuge is a human rights issue
From Standing Rock to Bears Ears, the government has repeatedly bulldozed Native American rights for the sake of unwanted energy development. It's something that Navajo (Diné) activist and professor from Arizona, Dr. Len Necefer, believes Native communities and their allies must push against.
"People from across the world came to support Bears Ears when we were in a time of need. The Gwich'in and the Arctic Refuge deserve the same unity. They don't deserve to fight this alone," said Necefer.
To highlight the problem, Necefer recently traveled to Gwichyaa Zhee (Fort Yukon), Alaska, to learn about the Gwich'in struggle and help amplify their story. 
"My entire life, I've watched the concerns of my community get pushed to the side. We've been shown our problems aren't important, that we don't know what's best for ourselves or our homeland. It feels like in policy maker's minds there aren't many people in places like the Arctic Refuge and Bears Ears, so benefiting our country at the expense of our livelihood is worth it."
Out of Necefer's Alaska trip came Welcome to Gwichyaa Zhee, a short film that Necefer coproduced with Greg Balkin and The Wilderness Society with the support of Patagonia.
The film highlights the struggle of the Gwich'in community and their similarities with the Navajo Nation and other tribes who the Trump administration simply walked over in order to open Bears Ears National Monument in Utah to mining and oil and gas drilling. The film presses people, both Native and non-native, to stand together in unity against such human rights violations. 
"At a time when native communities still feel invisible to the rest of our country, people need to continue to unite around these issues," Necefer said.
Necefer is joined by powerful Gwich'in voices in his film who speak to the need to stand together for Native people and for all future generations.
"It's frustrating that we even have to be fighting like this for our human rights in 2018," explained Bernadette Demientieff, Executive Director of Gwich'in Steering Committee.
"When it comes down to it, I think that we have to stand together. We need to learn about each others' issues, and then need to start to help each other. I don't want my kids to be struggling to survive someday because I didn't take a stand," Demientieff said.
Standing together, from Bears Ears to the Arctic
People from across the country came to protest Trump's slashing of protections for Bears Ears National Monument. Navajo activist Len Necefer hopes they'll stand up for the Arctic Refuge and the Gwich'in people as well. Photo: © Tim Peterson
Necefer, currently an assistant professor of American Indian Studies at the University of Arizona, knows the impacts of energy on Native communities from growing up Navajo in Arizona. Those impacts run the gamut from pollution to degradation of Native homelands, to worker abuses to forced relocation of Native populations.
In the fall of 2017, Necefer was working at the Department of Energy's Office of Indian Energy Policy and Programs in Anchorage, Alaska. He quit his position when he learned that the Trump administration planned to overrule protections for Bears Ears and the Arctic Refuge and open those areas for oil and gas development.
"I had no words. From growing up with energy development all around me on the Navajo Nation, I knew exactly what the impacts would be. I couldn't watch this happen to another Native community without trying to do something," Necefer said.
Necefer was one of thousands who turned up in Salt Lake City to protest Trump's order to gut protections for Bears Ears National Monument.  The monument reductions would allow mining and energy companies access to the land, potentially carving up and polluting wildlands, leaving cultural artifacts open to looting. Trump's order would also potentially harm ancestral and places held sacred by Navajo, Hopi, Zuni, Ute Mountain and numerous other Native tribes in the Colorado Plateau. 
Bears Ears felt particularly harsh because a coalition of Native Tribes had worked to protect the land and won a monument designation from President Obama in 2016.
But anti-conservation Utah lawmakers once again trampled the rights of Native peoples. Led by Congressman Rob Bishop, lawmakers heavily lobbied the Trump administration to undo the protections so that mining and oil and gas companies could gain access. Trump listened, gutting 80 percent of the monument. The massive blow was unprecedented in U.S. history.
The move brought people out in droves to protest. Ultimately it cost the state of Utah the $45-million-per year Outdoor Retailer Show when outdoor companies like Patagonia decided Utah's attitude towards the Tribes and conservation efforts unpalatable.
Currently, the fate of Bears Ears is in federal courts, where Native Tribes and conservation groups have sued the Trump administration. It's a fight the community is hopeful they'll win.
While the future of Bears Ears is still unknown, Necefer hopes the community will take another stand for the Gwich'in in Alaska.
A fast track towards oil development
Like Bears Ears, the coastal plain of the Arctic Refuge held protections not long ago.
For decades oil and gas drilling was off limits in the refuge, and the Gwich'in, whose very name means "Caribou people," hunted unfettered.
In 2017, emboldened by Trump's election, pro-fossil fuel Congress members slipped a sneaky provision into the tax bill that allowed the refuge to be opened without input from the Gwich'in or the overwhelming majority of people who oppose drilling in the refuge. Meanwhile Trump began fast-tracking hasty environmental reviews for exploratory drilling.
Before the government can actually open the refuge to oil companies, they must implement a number of bureaucratic steps, including environmental reviews and lease sales. In the meantime, conservation champions in Congress have introduced a bill to restore protections. This may be one of the best hopes for saving the refuge and the Gwich'in way of life.
And the Gwich'in in nearby communities like Fort Yukon and Arctic Village are at the frontlines of keeping this wonderous place safe. 
"Our children and our future generations deserve to see this world as it was in the beginning, not just when we're done with it," says Demientieff. "Are they going to be able to see our beautiful land, our mountains and our trees? In a hundred years are they going to have all of this, or is that all going to be destroyed?"
Welcome to Gwichyaa Zhee, hopes to inspire viewers to stand with the Gwich'in and fight to restore protections to the Arctic Refuge.
Learn more about the film and how you can host a watch party.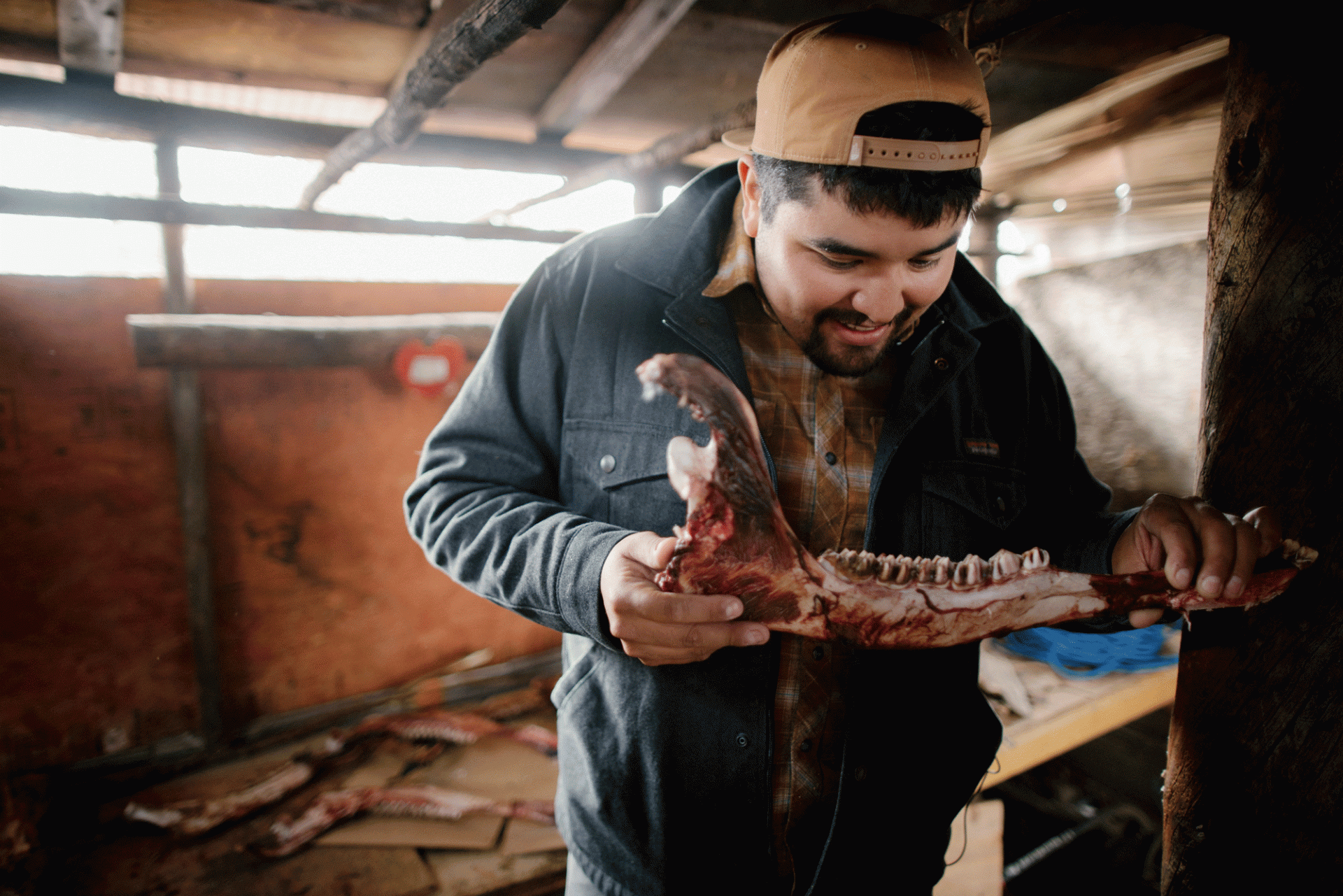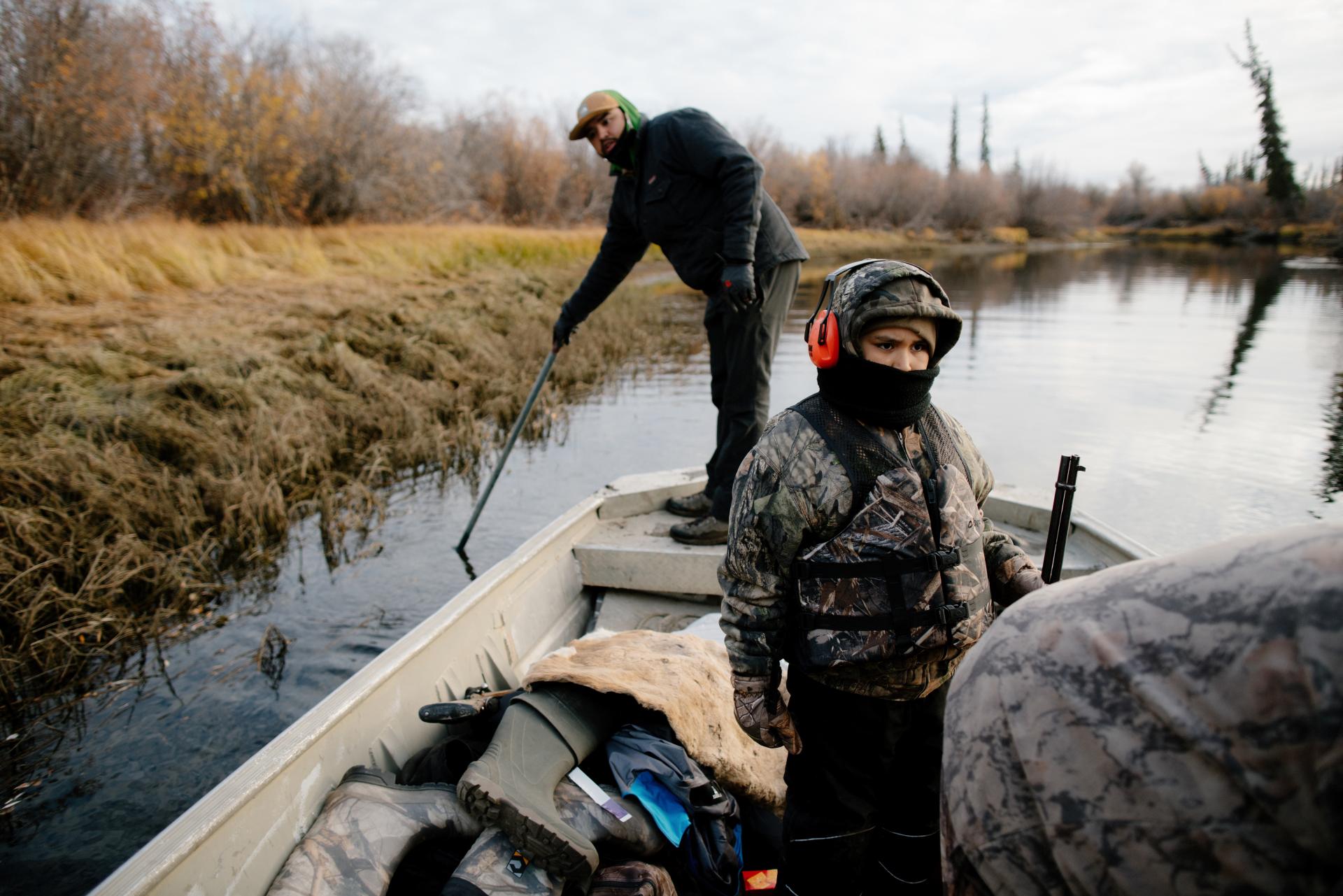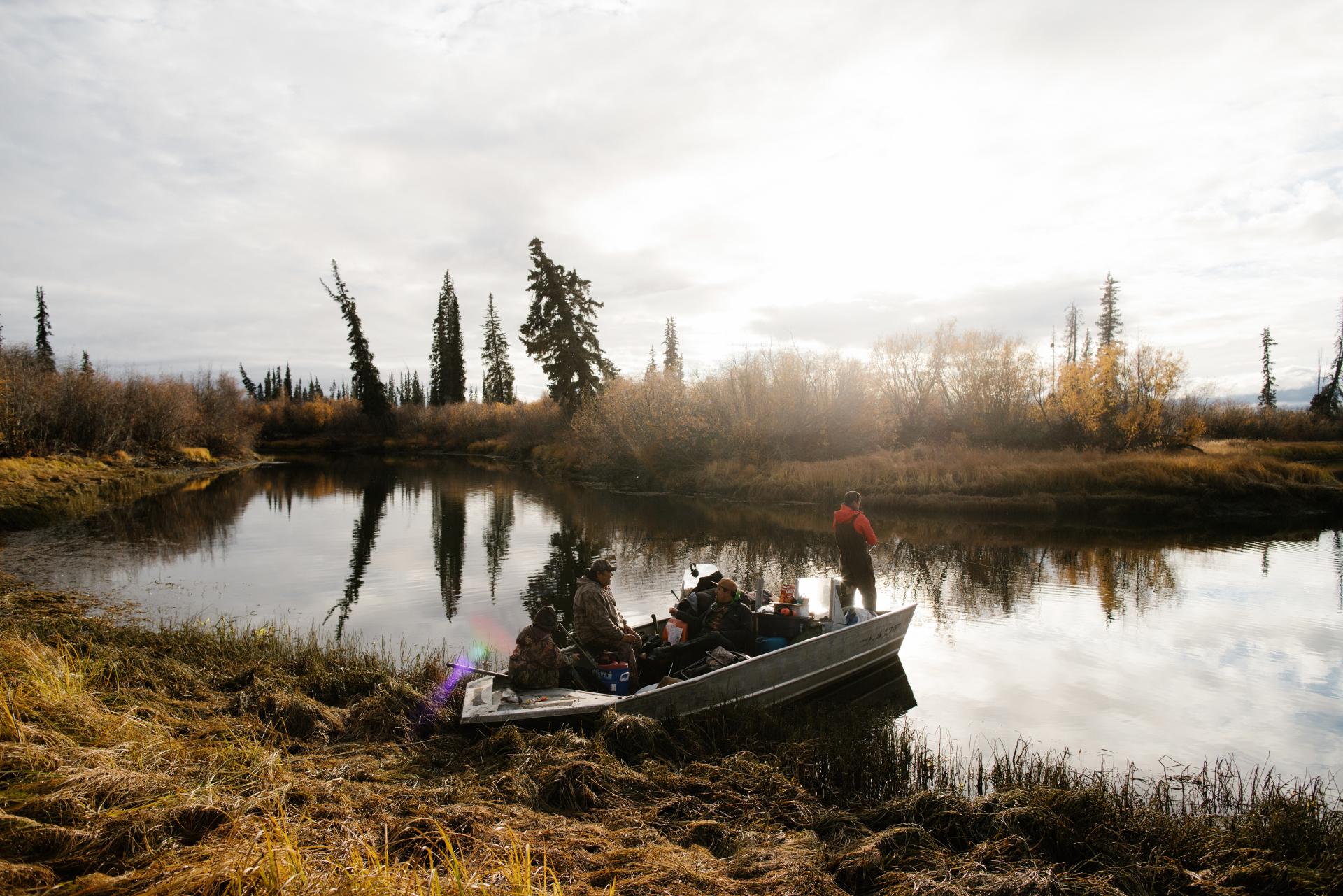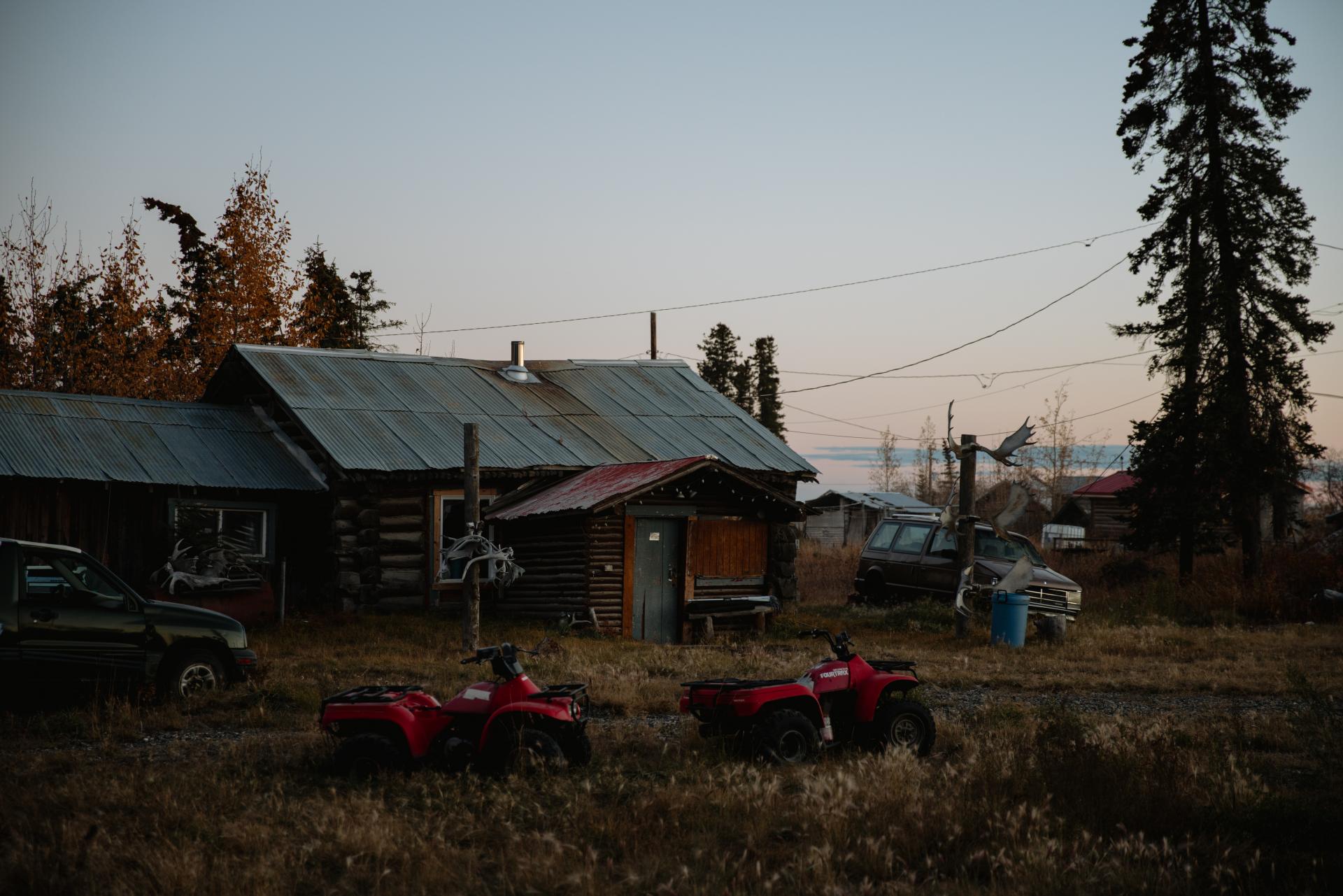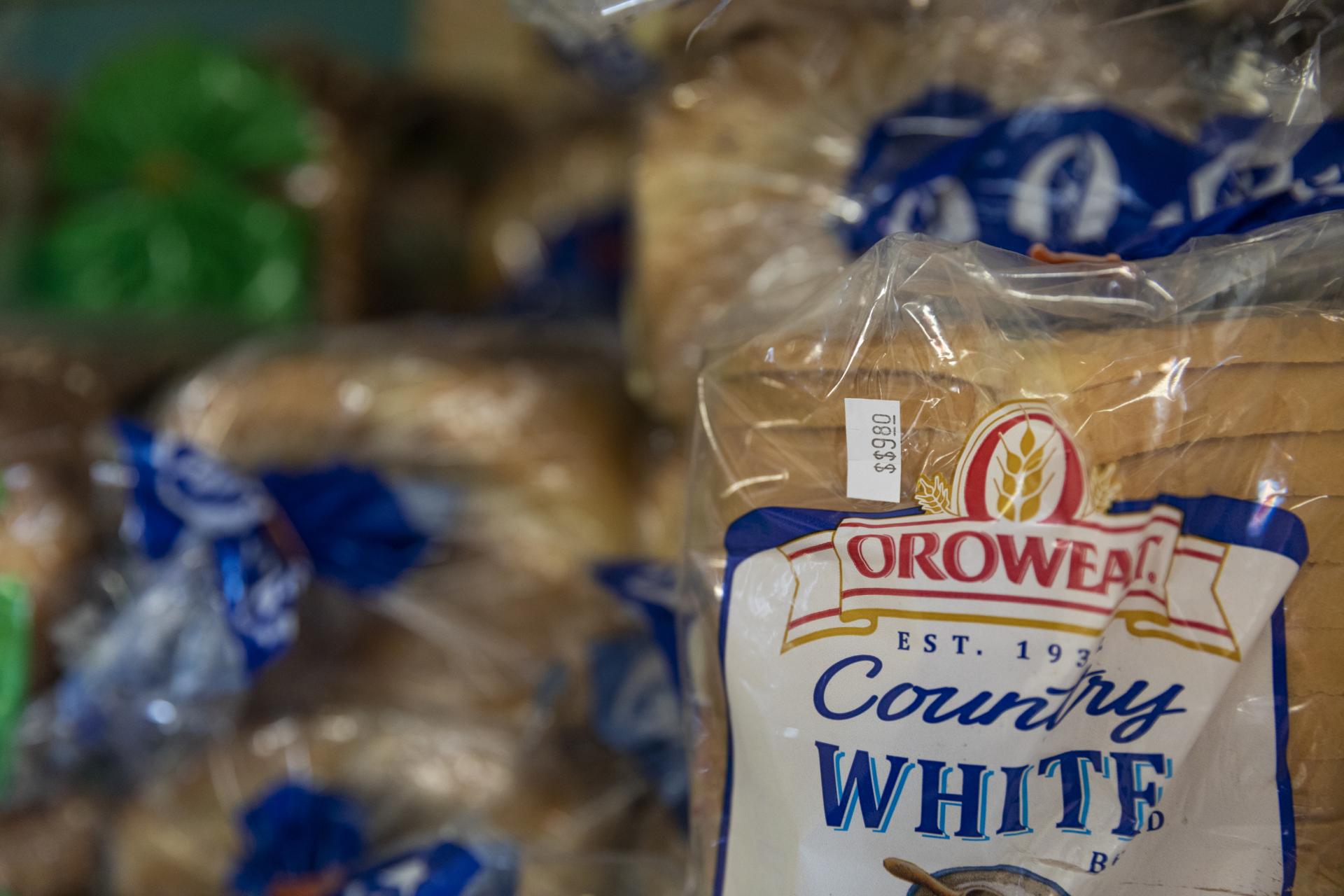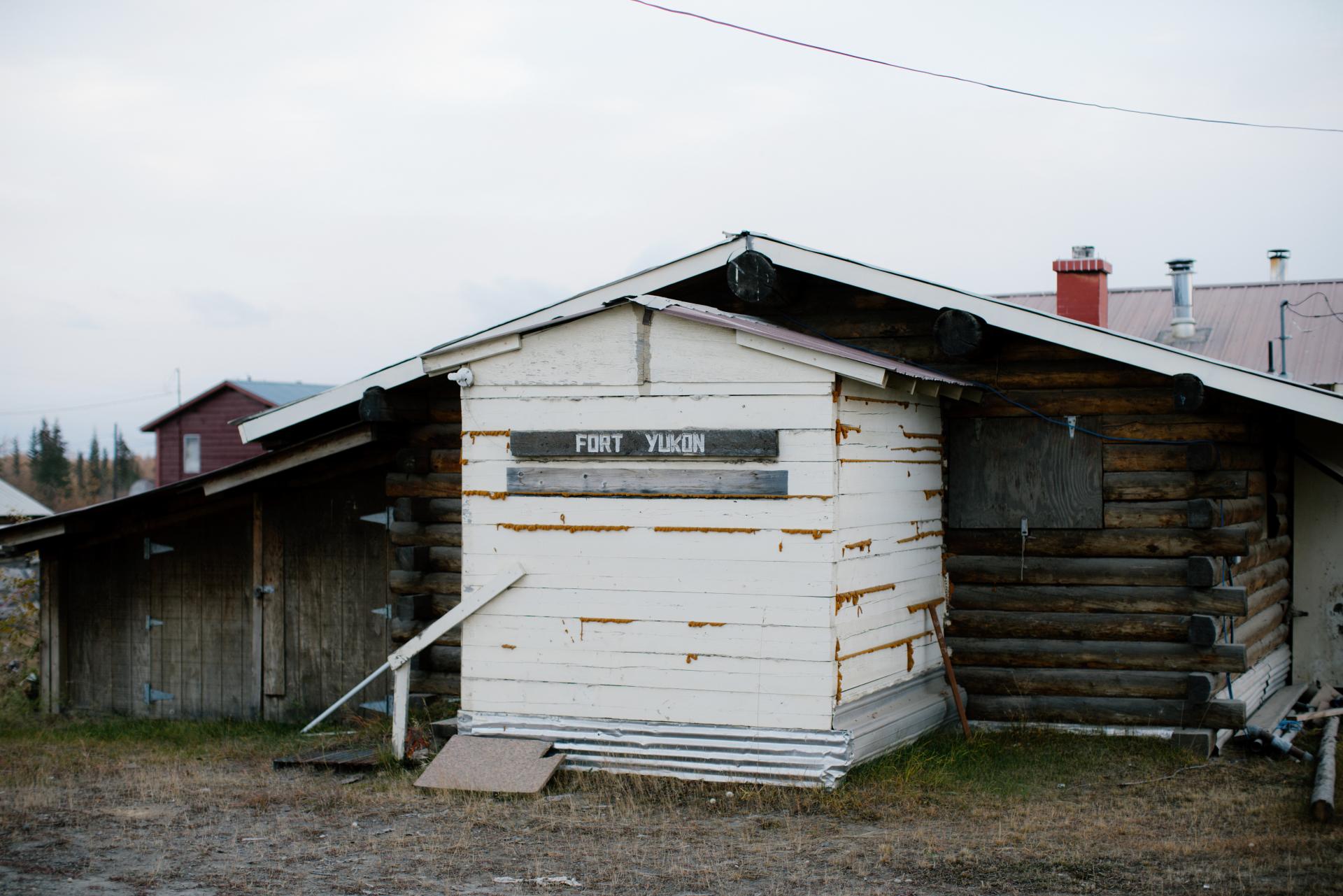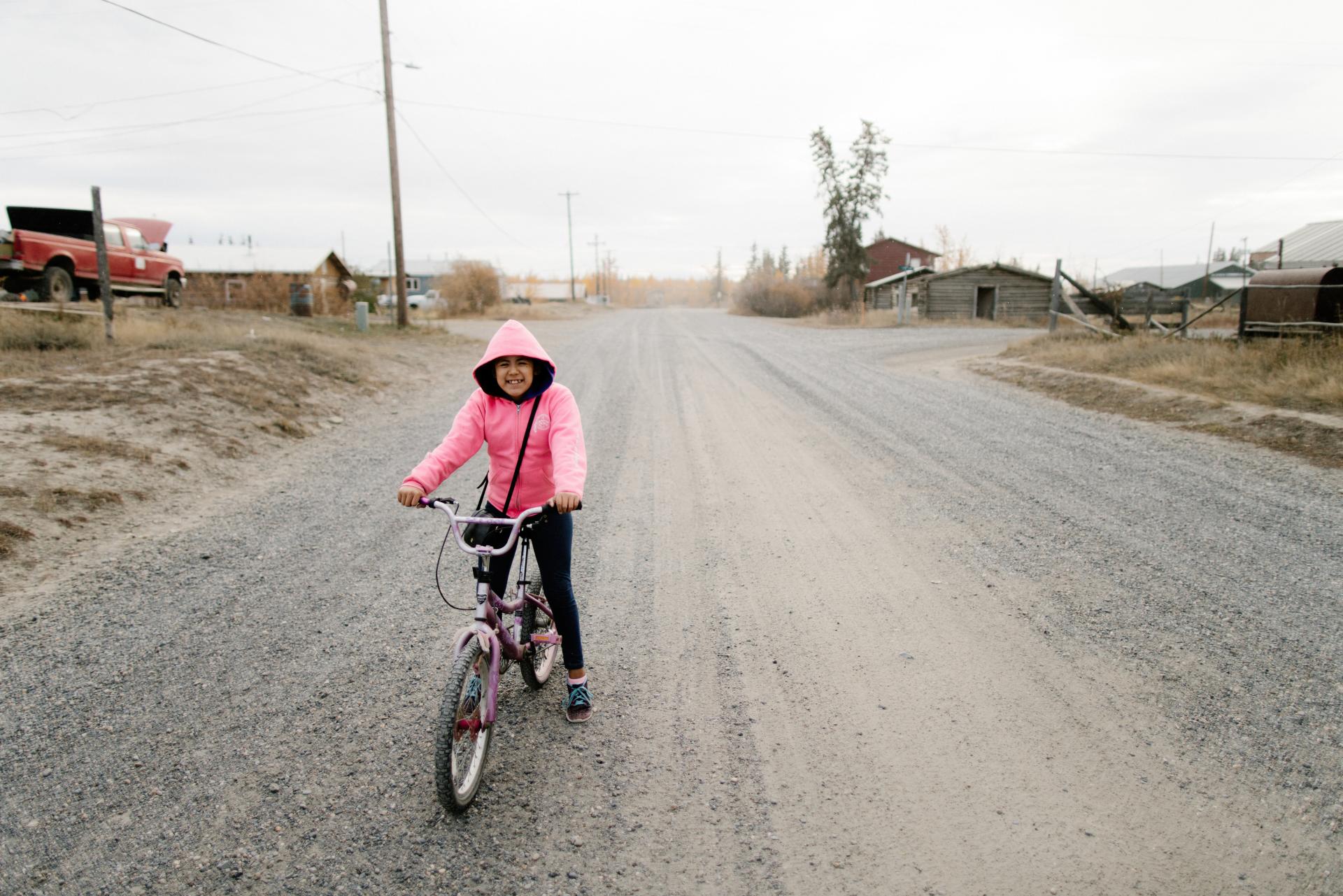 Previous
Next
Exploring Gwichyaa Zhee (Fort Yukon)
Oil and gas development could devastate the Gwich'in people who rely on hunting carbou to survive. Here filmmaker Len Necefer inspects a meat drying area. Such areas are common in homes in Gwichyaa Zhee (Fort Yukon).
Greg Balkin.
Gwich'in Second Chief Michael Peter (back) is accompanied by Necefer on a hunting trip. Meat and groceries are extremely expensive near the Arctic Circle, so the Gwich'in rely on traditional means of sustenance, such as hunting, fishing and foraging.
Greg Balkin
The outdoors is a classroom for Gwich'in kids like Second Chief Michael Peter's son. At a young age he is learning the twists and turns of river and the best spots to find moose. Peters says his son will help teach those same things to his siblings.
Greg Balkin.
While the team was unsuccessful at bringing home a moose, they were able to score a pike from the Yukon river
Greg Balkin
Gwichyaa Zhee, known as Fort Yukon in English, is located south of the Arctic Refuge, where the Trump adminsitration is fast-tracking oil and gas development without regard to impacts on wildlife and Gwich'in communities.
Greg Balkin
A $9.80 loaf of bread sits on the shelf of a store in Fort Yukon. Exorbitant food costs make hunting and fishing more than tradition. They are a necessity to survive.
Keri Oberly
A scene from Gwichyaa Zhee (Fort Yukon). The Gwich'in people who live here are fighting against oil development in the Arctic Refuge because it will harm caribou populations, which they rely on for sustenance.
Greg Balkin
Gwich'in leaders are fighting to save the wilderness around them so that their way of life and culture is preserved for future generations.
Greg Balkin
Fullscreen
Close