National parks and forests have provided the backdrop for dozens, if not hundreds of films throughout the years.
From faraway planets to Old West hide-outs, our great American landscapes have played every role imaginable. Movie directors often appreciate these lands because of their undeveloped character. Man-made infrastructure like electric wires don't have to be edited out.  In addition to providing Americans with clean air, fresh water, and top-notch recreation, our national parks and forests also bring flashes of rustic beauty and realism to the movies. To celebrate these wild American lands, we present some of the biggest parks and forest cameos of modern film making.
---
Death Valley National Park, California
One of the most successful movies of all time, Star Wars wouldn't be complete without footage from Death Valley. While George Lucas selected Tunisia as the location for most of the desert and dwelling scenes on Luke Skywalker's dusty planet of Tatooine, he shot many others at Death Valley. Remember the spat between R2-D2 and C-3P0 on Tatooine? That scene was shot at Mesquite Flats pictured below. Other Death Valley scenes include R2-D2 being kidnapped by Jawas, some of the Tusken Raider scenes, and the Sandcrawler scene. Die-hard fans can do a self-guided tour, but if you do venture out to the desert, remember to bring plenty of extra water.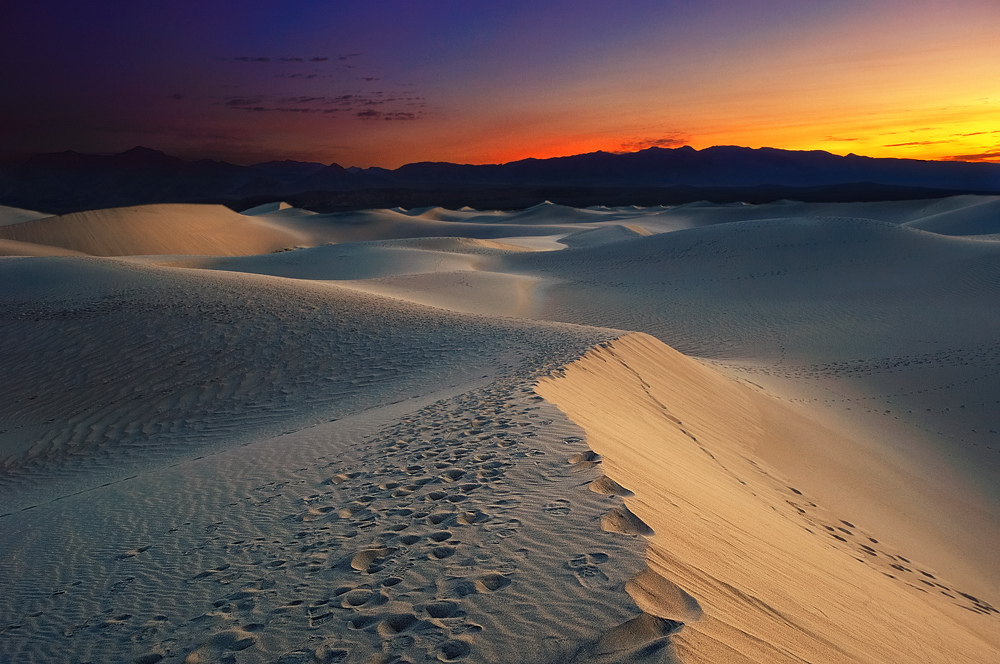 Photo by andrew c mace, flickr
---
Redwood National Park and State Parks, California
Who can forget the beautiful redwood forested scenes of the classic Steven Spielberg movie that tenderly portrays the friendship between the boy Elliot (Henry Thomas) and an awkward looking alien. These redwood scenes were all shot in and around Redwood National Park and State Parks. 
Also filmed in Redwood National Park and State Parks:  Star Wars EpisodeVI: Return of the Jedi; The Lost World, Jurassic Park; Outbreak with Dustin Hoffman and Rene Russo. 
Photo by David Kingham, flickr
---
Arches National Park, Utah 
Arches National Park near Moab was featured in the opening sequence of the third Indiana Jones movie. If you're familiar with the terrain, you may recognize some land markers as young Indy (River Phoenix) explores the high desert as a Boy Scout. It's there in Arches that Indiana encounters a group of no-gooders with the Cross of Coronado. Watch closely as Indy exits the cave and you'll see the area around Double Arch. As you might imagine, the rugged lands around Arches and Moab have played a role in dozens of movies. 
Other movies filmed in Arches: City Slickers II, 1993; Thelma and Louise, 1990.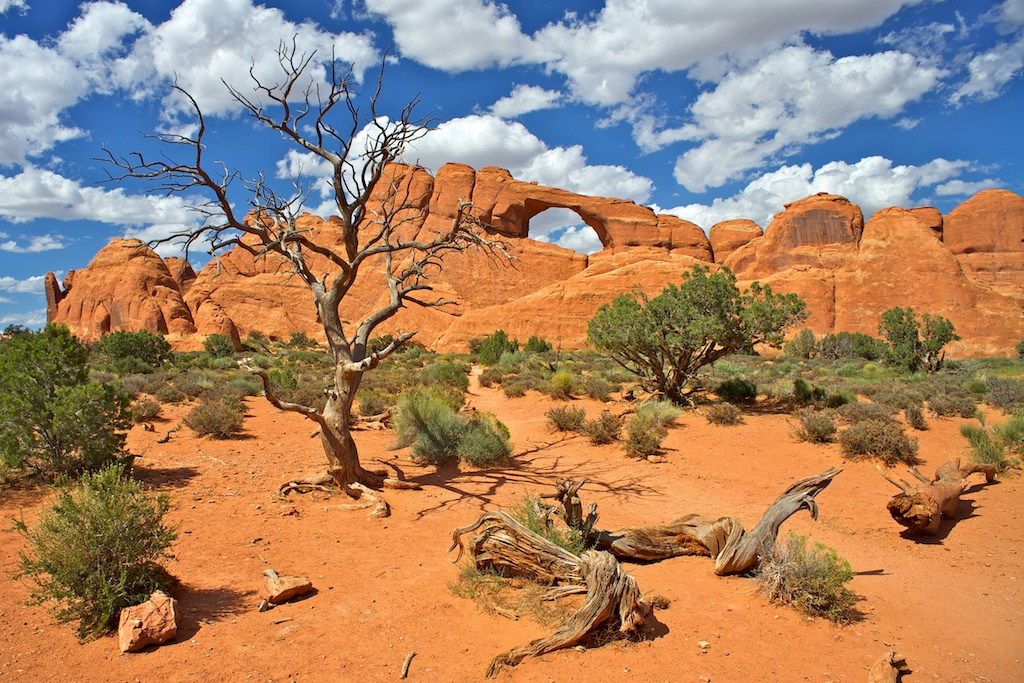 Photo by Dr. RawheaD, flickr
---
Pisgah National Forest, western North Carolina
Taken from the Suzanne Collins trilogy, The Hunger Games is the thrilling gladiator-meets-Survivor tale, only in a post-war future. Young Katniss Everdeen (Jennifer Lawrence) is forced to fight for her life against other youth adults in a cut-throat survival competition in the forest. Fierce and skilled, Katniss shows she can handle anything the games--and the forest--have to offer.  Pisgah National Forest is featured in the early scenes of the movie when we first witness Katniss' hunting skills and friendship with Gale. The river scenes where Katniss camouflages love interest Peeta were shot at Dupont State Forest at Triple Falls on the Little River. Other forest land between Charlotte and Asheville, N.C., provided the wooded backdrop to the rest of the action. 
Also filmed in the Pisgah: The Last of the Mohicans with Daniel Day Lewis, 1992.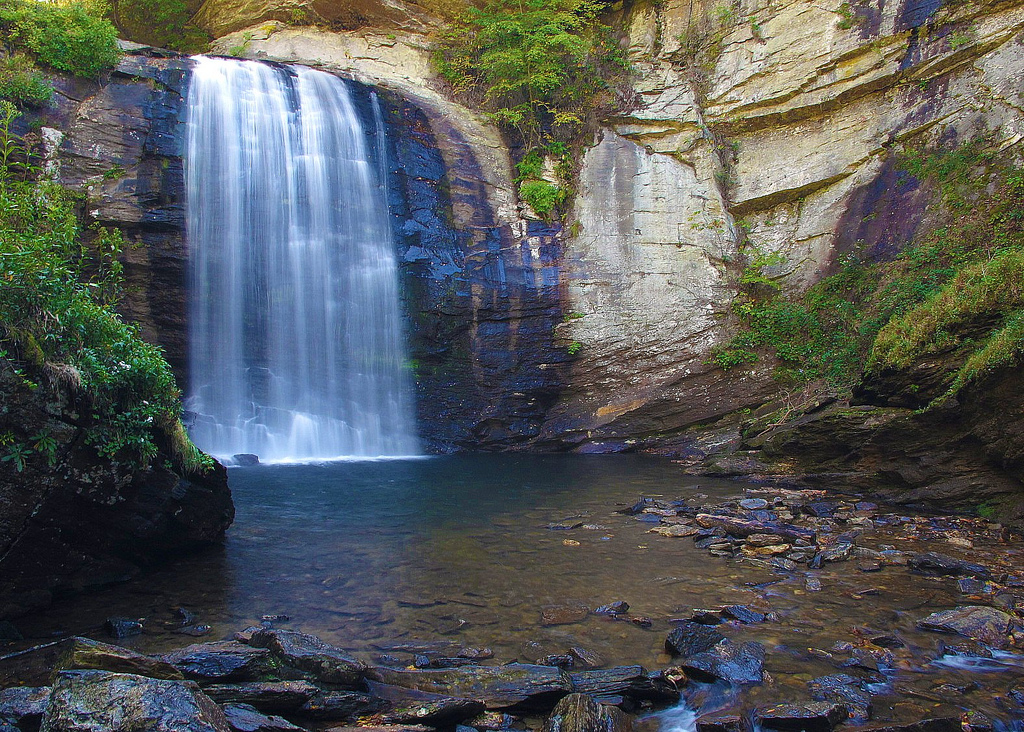 Photo by Terry Tyson, flickr
---
Glacier National Park, Montana
Opening scenes of this creepy Jack Nicolson movie show Jack Torrance driving up the Going to the Sun Road in Glacier. Overhead shots were also filmed around Mary's Lake and the Going to the Sun Road. But in fact, the supposedly haunted Stanley Hotel that inspired Stephen King's original book is located in Estes Park, just a stone's throw from Rocky Mountain National Park in Colorado. Note that Glacier National Park is part of the Crown of the Continent, one of America's most intact ecosystems. 
Also filmed in Glacier National Park: Forrest Gump (running-through-America scene).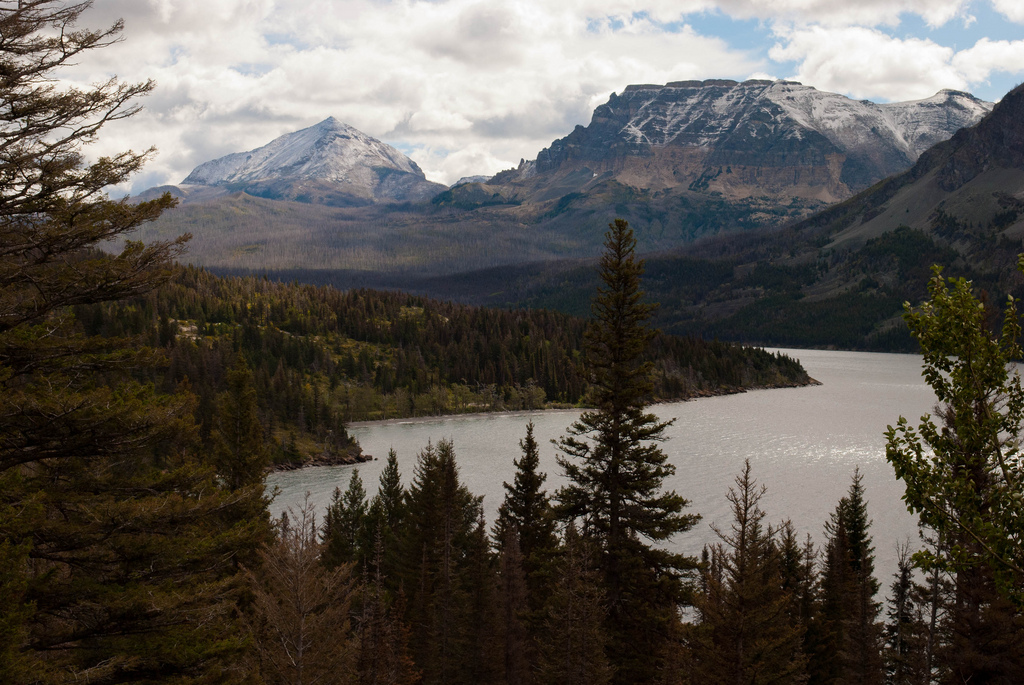 Photo by shettelbus, flickr
---
Yosemite National Park, California
Yosemite had its moment of Trekkie glory when Captain Kirk (William Shatner) decides to take a casual climb up El Capitan during the crew's shore leave.  "Why are you climbing the mountain?" asks Mr. Spock. "Because it's there," says Captain Kirk. Sounds good to us. 
Other movies filmed at Yosemite: Scenes from: Monty Python and the Holy Grail, 1975; The Caine Mutiny 1954; Maverick, 1994;  Order of the Eagle, 1989; and of course parts of the Ken Burns documentary National Parks: America's Best Idea, 2009.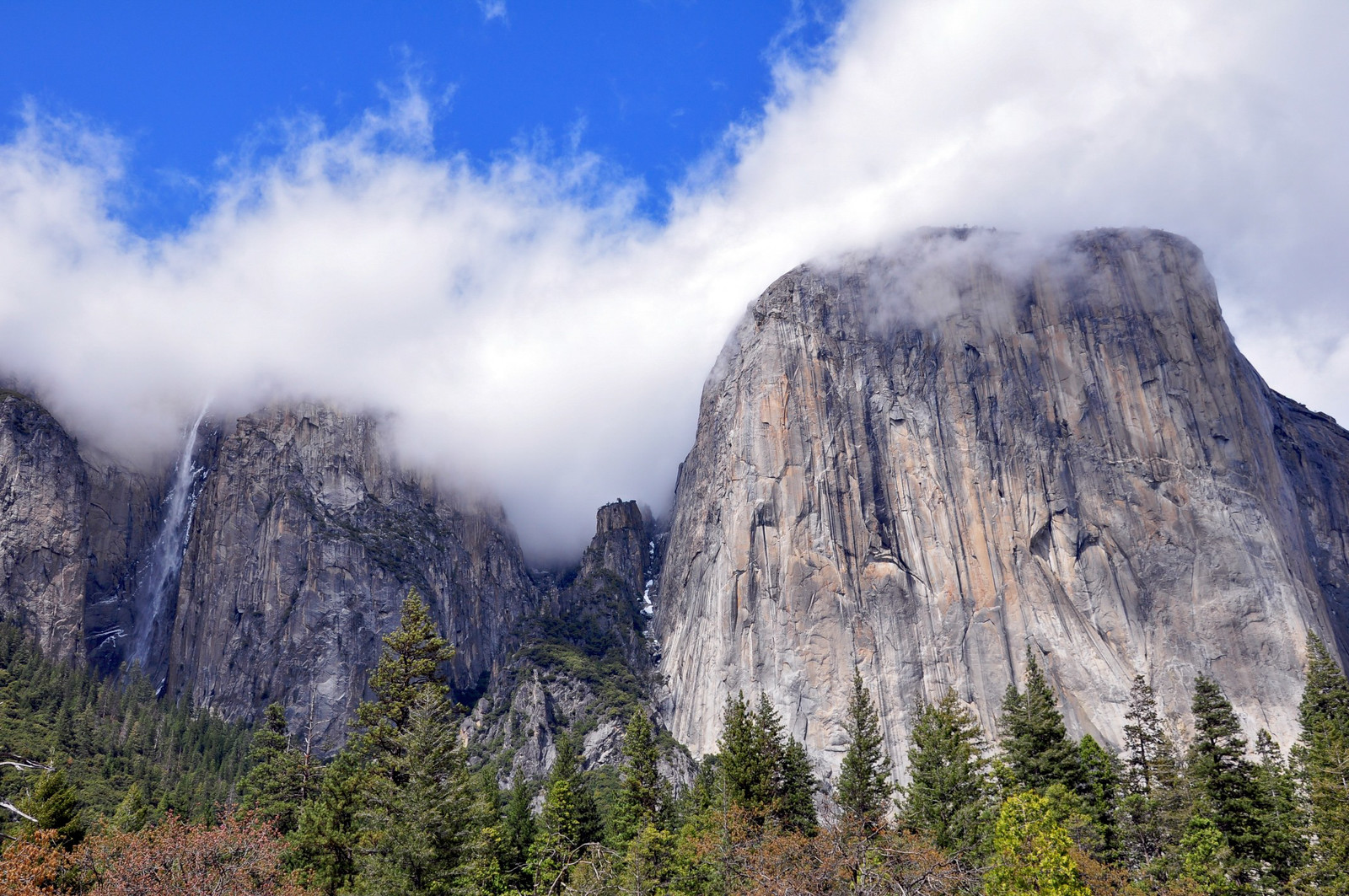 Photo by Steve Dunleavy, flickr.
---
Grand Teton National Park, Wyoming
The highest grossing Rocky movie spins a tale around Rocky Balboa (Sylvester Stallone) taking on Soviet nemesis Ivan Drago (Dolf Lundgren). Once in Russia, Rocky shows off his might in a brawny workout scene in the Siberian countryside, proving once again that exercising in nature tops any high-tech gym (especially when deep-snow jogging, wood sawing, and dog-sled pulling are part of the package). But we digress. The point here is that scenes in the rustic Russian countryside are actually located around Wyoming's Jackson Hole with many of the outdoor scenic shots being filmed at Grand Teton National Park.  
Other movies filmed at Grand Teton: Shane, 1953.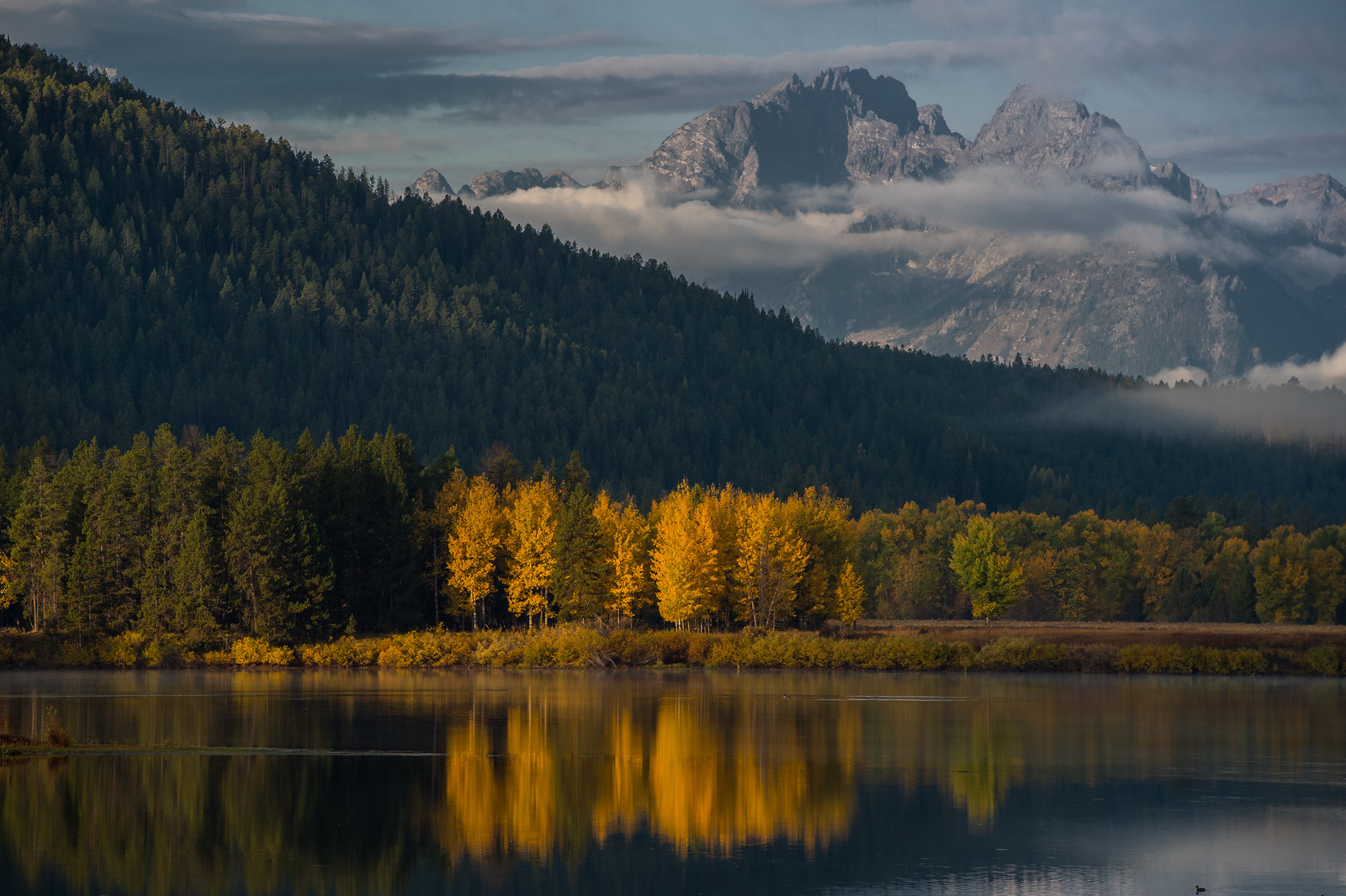 Photo by Diana Robinson, flickr
---
Canyon de Chelly, Utah and Arizona
In this modern take on the Lone Ranger, Johnny Depp (Tonto) and Armie Hammer (the masked hero) share adventures throughout the rugged western lands of Utah, Arizona, and New Mexico, including in the Santa Fe National Forest in New Mexico. While much of the movie was filmed in and around the iconic sites of Monument Valley and Canyonlands National Park, the movie crew also headed to Arizona's Canyon de Chelly National Monument for a few scenes. 
Photo by Ken Lund, flickr
---
Glen Canyon National Recreation Area, Arizona/Utah
What better wild place to play a dusty ape planet than Arizona's high desert lands? While the crashed rocket scene took place at Lake Powell, much of astronaut George Taylor's (Charlton Heston) journey takes place around Glen Canyon NRA. Taylor's journey with Cornelius and Zira through "the forbidden zone" was filmed along the Colorado River in Glen Canyon. The final beach scene takes place in Malibu.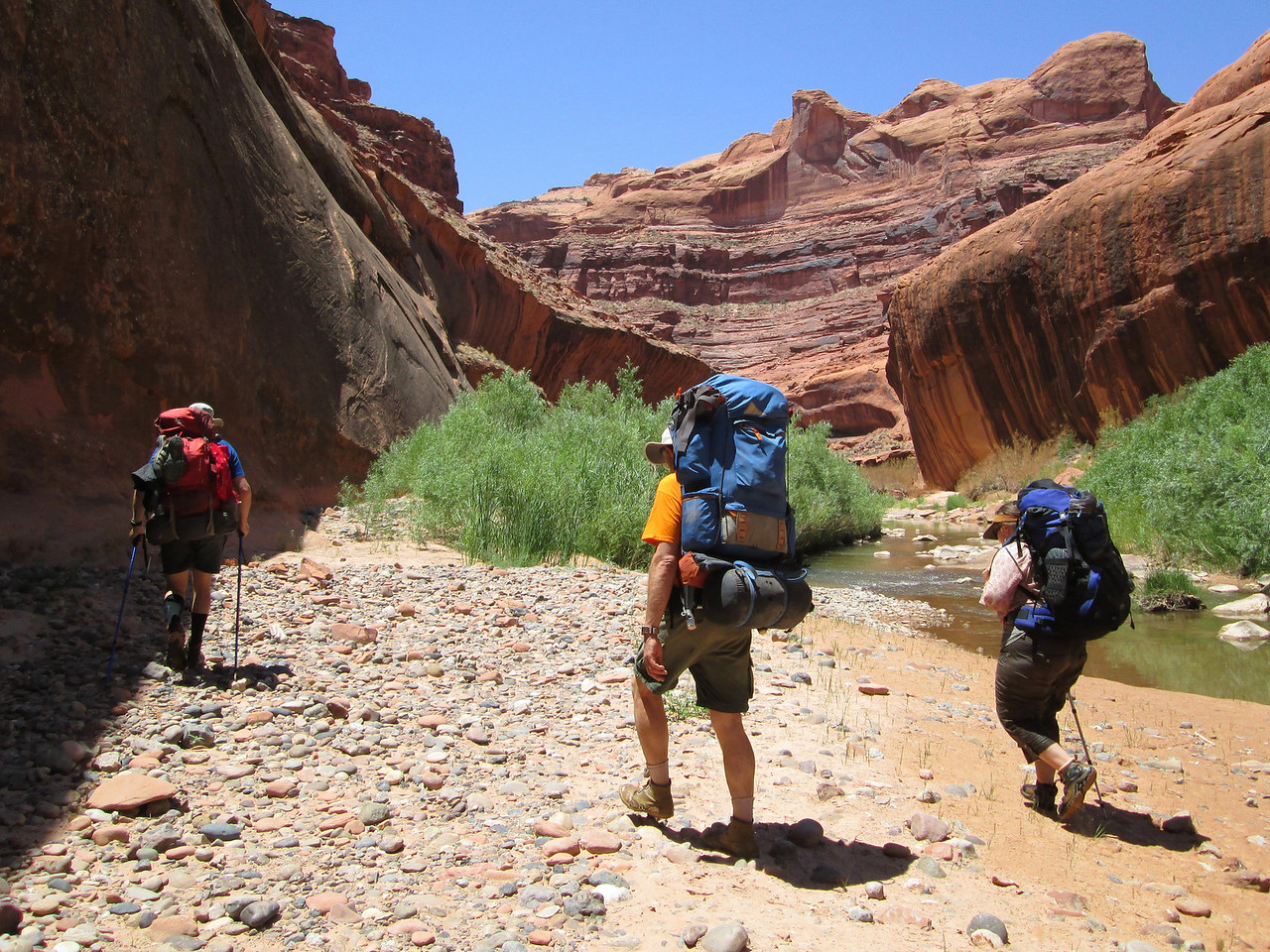 Photo by Doug McCaughan, flickr
---
Tongass National Forest, Alaska
"What you fear most ... is among you." Actually it's among the tall trees of Tongass National Forest. While John Carpenter's The Thing takes place at a research station in Antarctica, it's actually a bit closer to the North Pole that this parasitic alien movie takes place. The Tongass National Forest is a vast temperate forest in Alaska's panhandle, sometimes known as "America's rainforest." Sadly, it is also one of America's most exploited forests with decades of forestry clearcut scars to prove it. Recently Wilderness Society and local efforts to refocus logging into second-growth stands have been well received and show the way to a more sustainable model of forestry in the Tongass.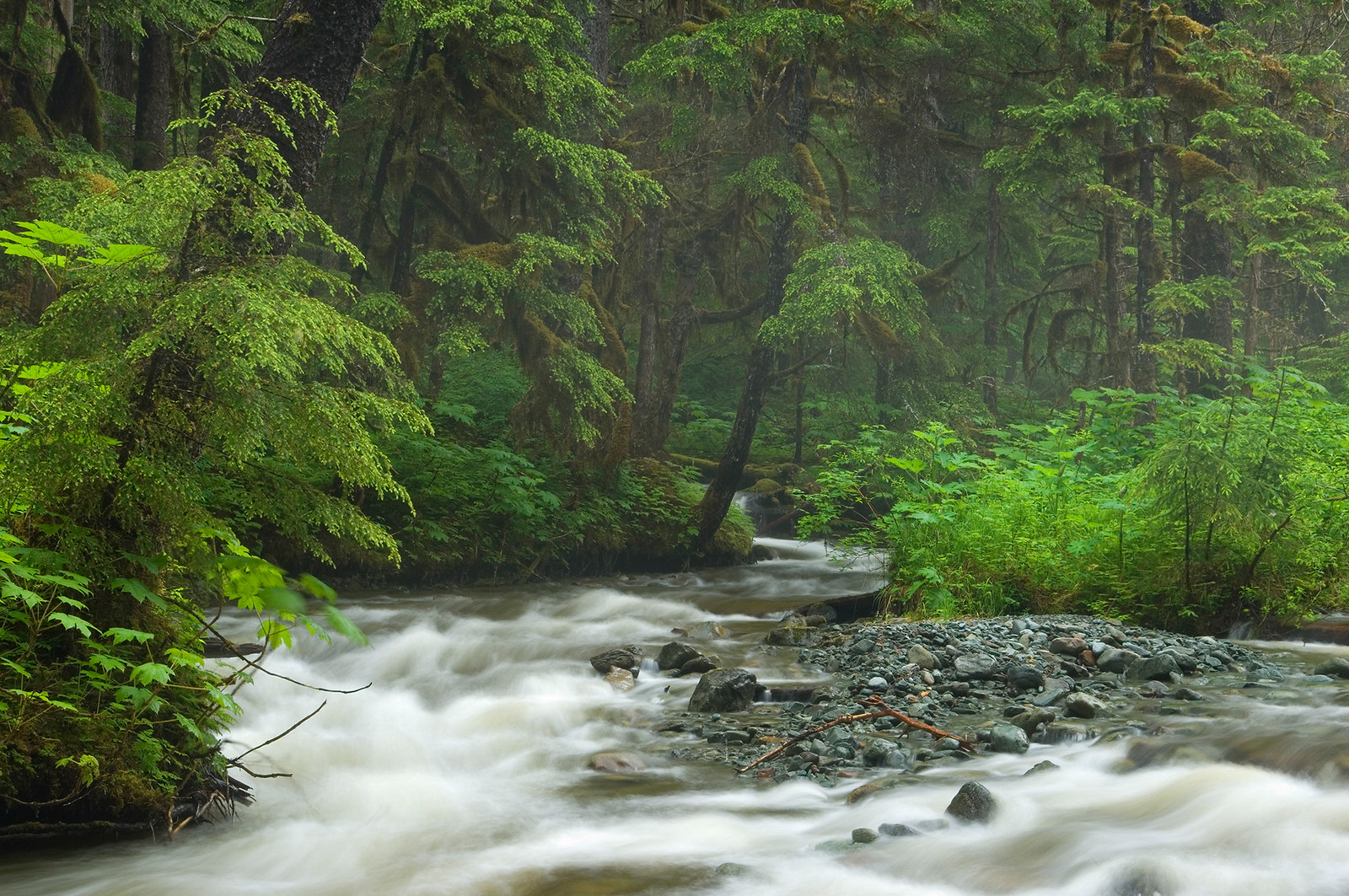 The science fiction thrill-ride The Thing was shot in the Tongass in 1982. Photo by Amy Gulick/amygulick.com.
---
Canyonlands National Park, Utah 
Desert scenes for this slightly "chick-flicky" road-trip movie were filmed in and around Moab, Utah, including in Canyonlands National Park and Arches National Park. Don't be fooled by the final suicide-by-Grand-Canyon scene. It's actually a plateau at Utah's Deadhorse Point State Park that Thelma and Louise are plunging from in their 1966 Ford Thunderbird.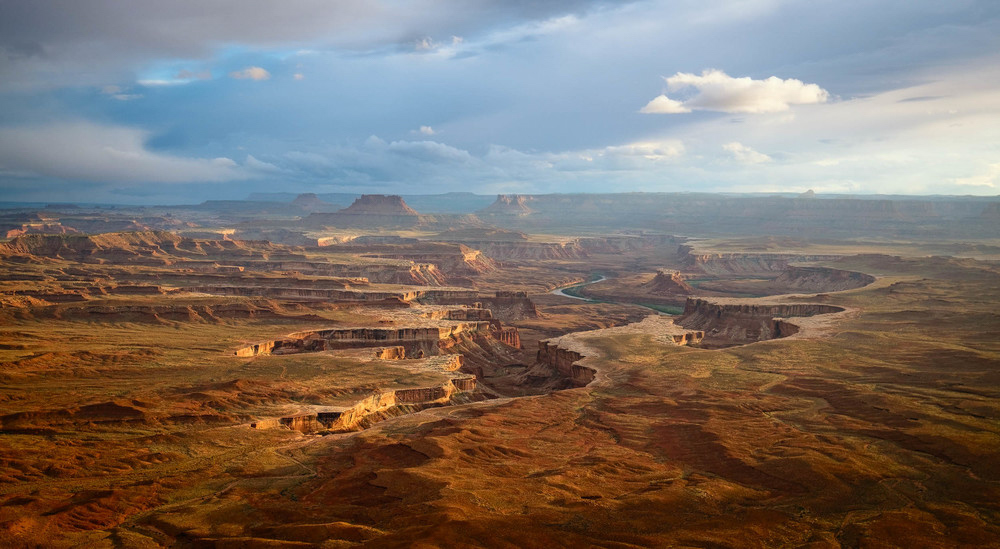 Photo by David Kingham, flickr
---
Gallatin National Forest, Montana
No outdoor movie list dare call itself complete without the classic film A River Runs Through it. Robert Redford's epic coming-of-age tale is set against the beautiful backdrop of Missoula, Montana, in WWI through the Great Depression. In the film, a minister's sons (Brad Pitt and Craig Sheffer) share the bond of  fly fishing and their affection for Montana's outdoors. While the river in the book and movie is the Blackfoot River, most of the water footage was shot on the Gallatin River because of the degraded state of the Blackfoot. The film is said to have changed the fly fishing landscape in Montana, and Redford has been quoted as saying he hoped the film would inspire people to keep more western places wild. Not surprisingly, A River Runs Through It won the 1993 Academy Award for best cinematography.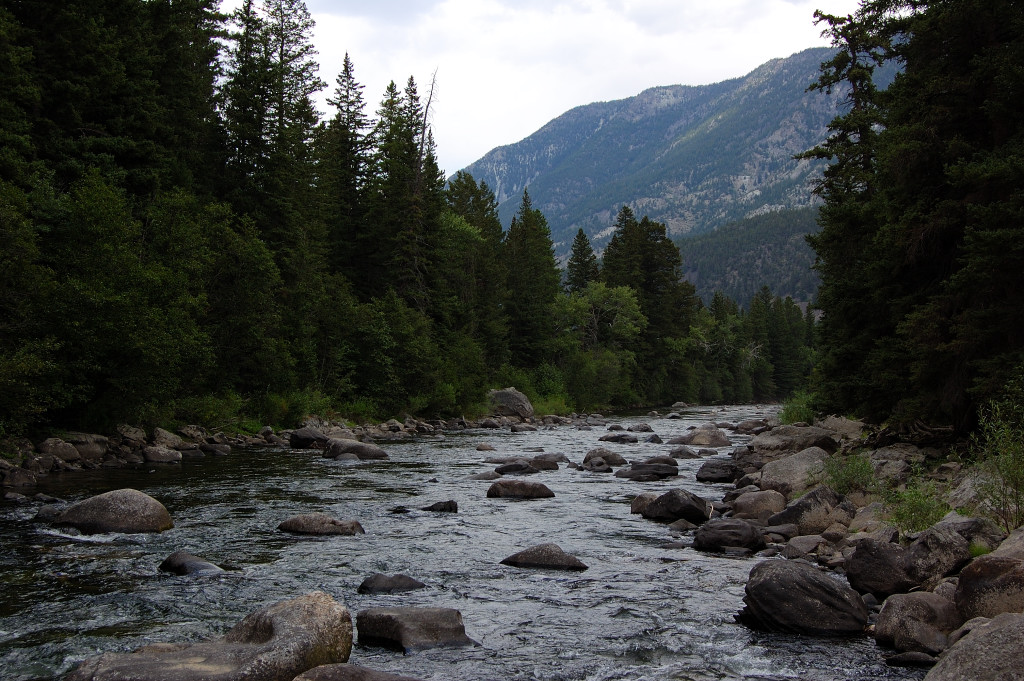 Photo by Cliff Muller, flickr. 
---
Devil's Tower National Monument and Black Hills National Forest, Wyoming
When Richard Dreyfuss's obsession with UFOs leads him to an isolated area where aliens land, he's actually gravitating towards Devil's Tower National Monument, a geologic feature that towers over the prairie in the northeastern corner of Wyoming. Devils' Tower is also one of our nation's very first national monuments. Other scenes in the this Steven Spielberg science fiction movie were shot within the Black Hills National Forest, also in northeast, Wyoming. 
Other movies filmed in the Black Hills National Forest: Deadword  '76, 1965;  Dances with Wolves, 1990; Hidalgo, 2004.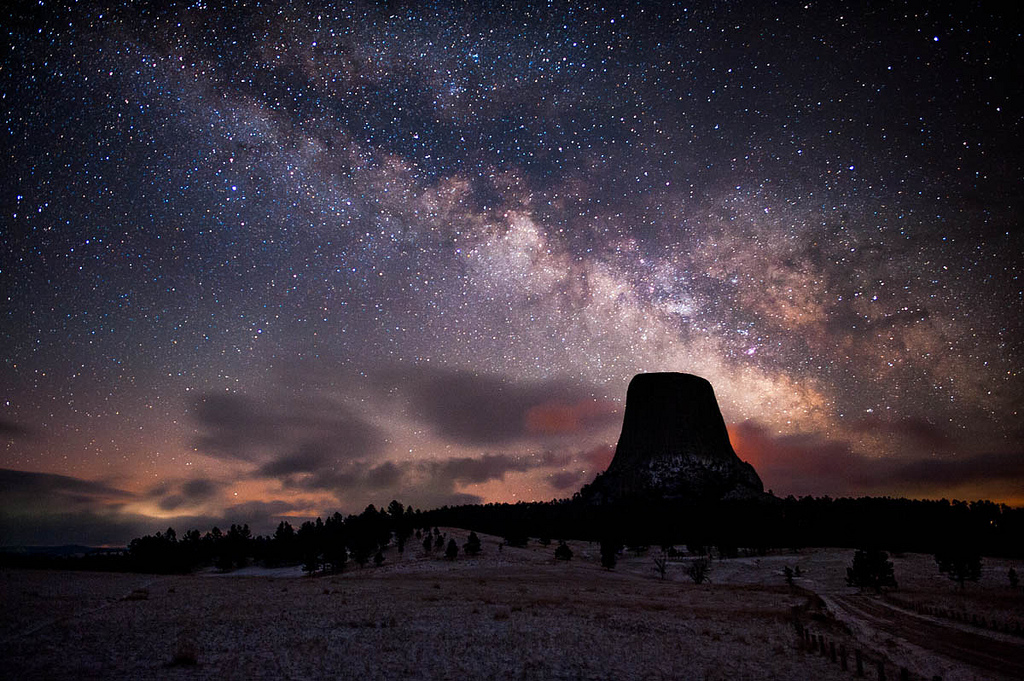 Photo by David Kingham, flickr.
---
San Bernardino National Forest, southern California
Dozens of movies and T.V. commercials have been filmed in the San Bernardino National Forest, where beauty and a close proximity to Los Angeles make for great filming. In Valkyrie, a historical thriller about the 1944 assassination plot on Adolph Hitler, these public forests are featured in the forested, snowy scene. Many other movies going back to classics like Gone with the Wind  (1939) and Old Yeller (1957) were also filmed here.  
Other Movies filmed in the San Bernardino: Lassie Come Home, 1943; The Yearling 1946; Shane 1953; Creature from the Black Lagoon, 1954; The Love Bug, 1968; Paint Your Wagon, 1969; War Games, 1983; The American President 1995; City of Angels, 1998; The Parent Trap, 1998; The Insider, 1999; Dr. Doolittle, 2001; Mr Deeds, 2002; Next, 2007; Valkyrie, 2008.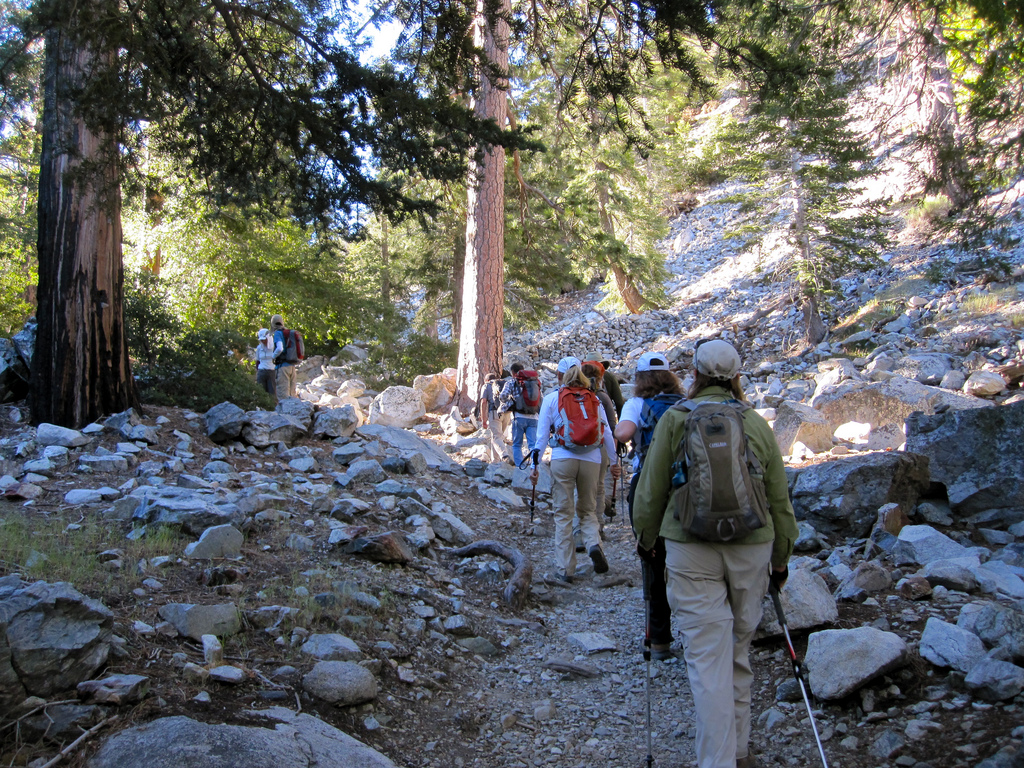 Photo by Jeff Hester, flickr
---
Santa Fe National Forest, New Mexico 
In this film Russel Crowe plays captured outlaw Ben Wade who is to be escorted to the 3:10 train by Christian Bale, a naive rancher trying to make good on a debt. Lands throughout New Mexico provide the Old West backdrop for 3:10 to Yuma, but its tunnel scenes were filmed in Santa Fe's National Forest, just outside of Santa Fe.
Other movies filmed in the Santa Fe: Robert Redford's The Milagro Beanfield War, 1988.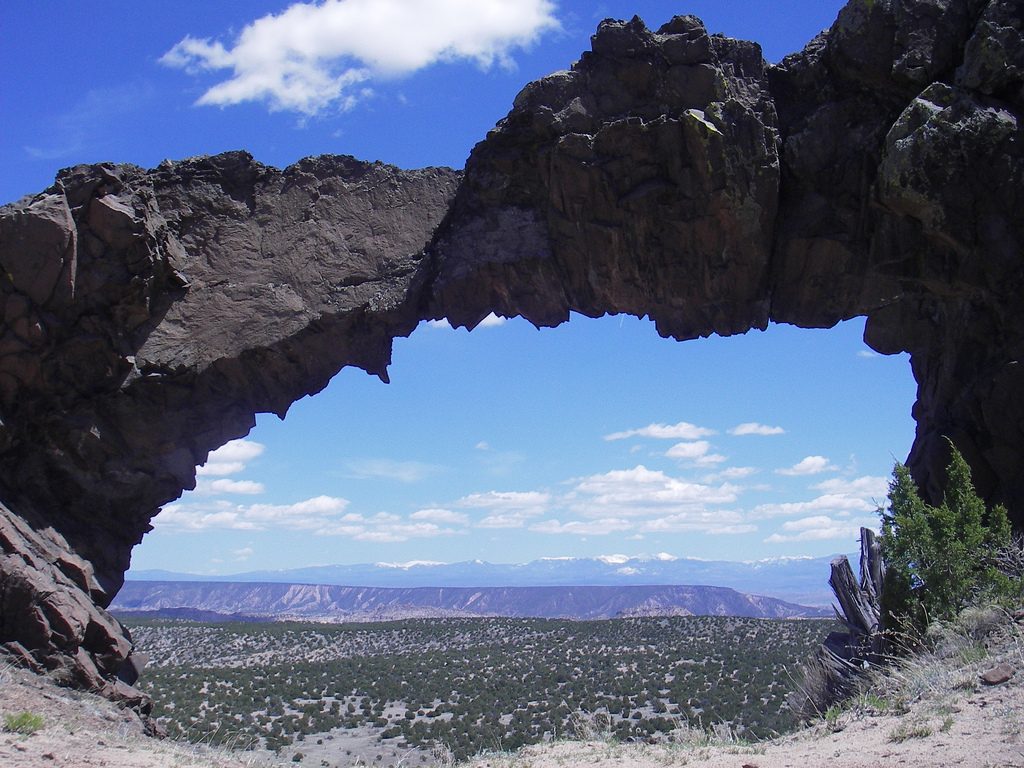 Photo by: Razzumitos, flickr
---
Tonto National Forest, Arizona
In this Oscar-nominated documentary, French filmmaker  Jacques Perrin reveals the amazing migratory patterns of birds by following several bird species over a multi-year period. The end result is a visually beautiful story of bird migrations and the realities behind them. Tonto National Forest, northwest of Phoenix, Arizona, provides the setting for just one of the migration stops.
Other movies filmed in the Tonto: The 1962 western epic How the West Was Won.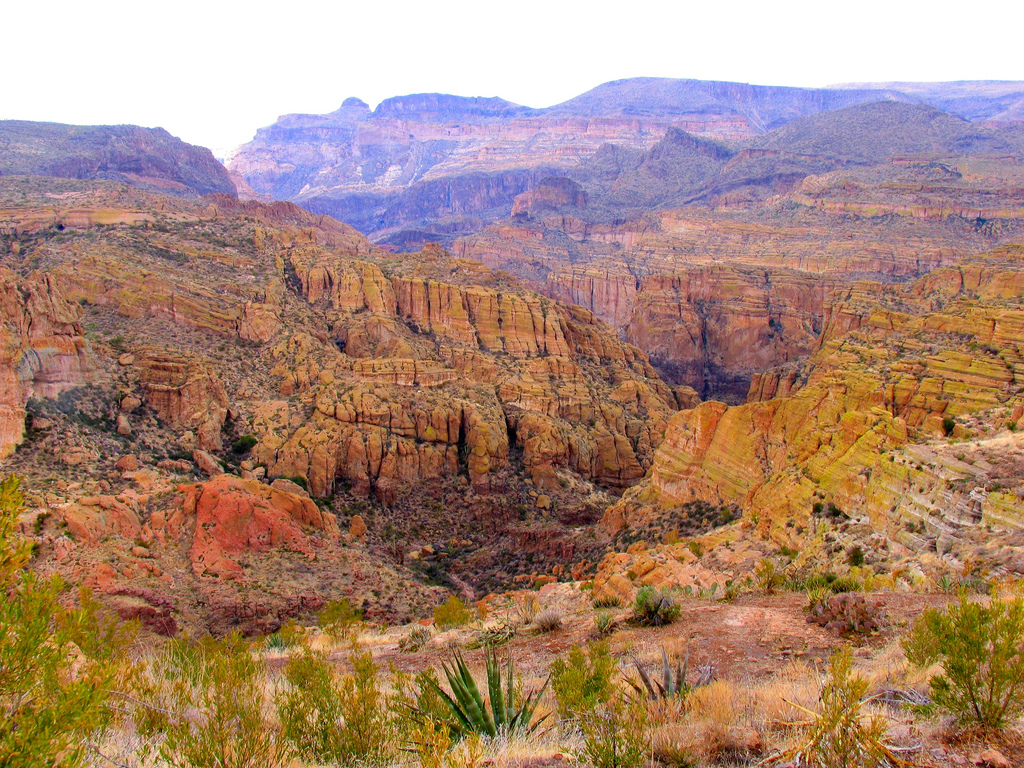 Photo by NOAA Library
---
Inyo National Forest, central California
The Inyo in California's Sierra Nevada is another national forest that has provided gorgeous scenery for more than a few films, including a number of classics, such as the epic westward expansion film How the West Was Won, starring John Wayne, James Stewart, and Henry Fonda among other big names. 
Other movies filmed in the Inyo: The Return of Frank James, 1940; My Pal Trigger, 1946; Silver River, 1948; Frenchie 1950; Night Passage 1957; How the West Was Won, 1962; Nevada Smith, 1966; True Grit, 1969; Shout Out, 1971; High Plains Drifter, 1972; Joe Kidd, 1972; The Other Side of the Mountain, 1975; The Grizzly and the Treasure, 1975; First Monday in October, 1981; For the Boys, 1991; Big Girls Don't Cry ...They Get Even, 1992; Sleep in Heavenly Peace, 2007.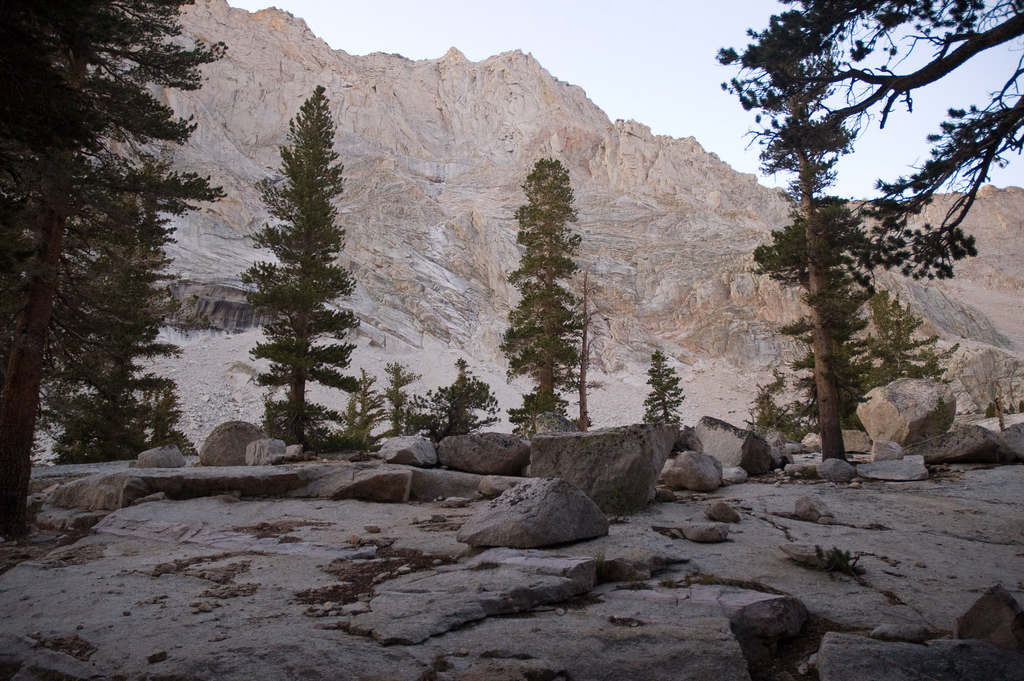 Photo by Stillthedudeabides, flickr
---
Coronado National Forest, Arizona
The Coronodo provided backdrop to the 1986 comedy in which three out-of-work actors played by Steve Martin, Chevy Chase, and Martin Short find themselves trying to bring justice to a  Mexican village. Much of the film was shot in Hollywood area studios, but outdoor scenery comes from the Coronado National Forest between Tuscon and the border of Mexico.
Other movies filmed in the Coronado: Hombre, 1967; Tom Horn, 1980.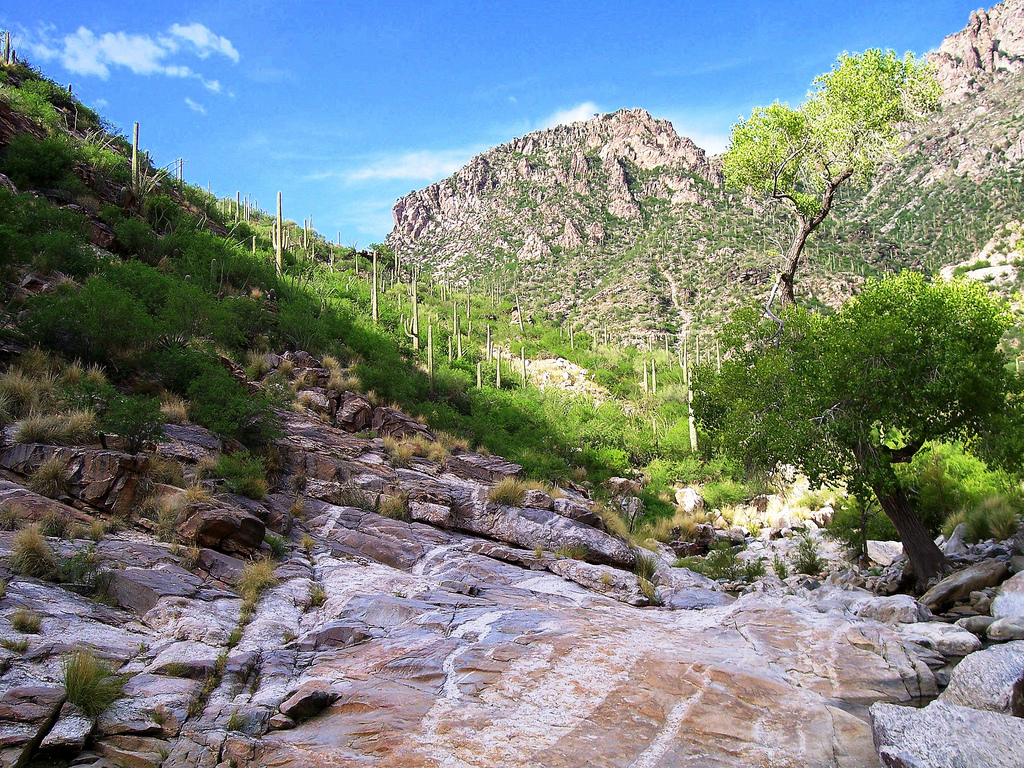 Photo by K e v i n, flickr