Civil rights movement, Underground Railroad and other history honored on America's public lands
Black History Month is an opportunity to remember and honor the many groups and individuals who contributed to the success and achievements of this country as well as to advancement for African Americans as a people. But we don't need to wait for a specific time of year to celebrate.   
These spots are an incredible testament to the achievements, struggles and rich lives of African Americans throughout history. They also testify to the role of our National Park Service and other land agencies in preserving important pieces of our nation's story and cultural heritage.
1. Martin Luther King Jr. National Historical Park (Georgia)
At least four national park units and memorials are associated with the life of  civil rights leader Dr. Martin Luther King, Jr., but the one that explores King's early life and the forces that shaped him is the Martin Luther King Jr. National Historical Park in Georgia. The site preserves multiple places of interest that honor King's life and message. Among them are King's childhood home, the historic Ebenezer Baptist Church where both King and his father were pastors, the "I Have a Dream" world Peace Rose Garden and the final resting place of Dr. Martin Luther King Jr. and Corretta Scott King. 
---
2. Birmingham Civil Rights National Monument (Alabama)
President Obama designated Birmingham Civil Rights National Monument including several sites with a deep connection to the civil rights struggle of the mid-20th century. A.G. Gaston Motel, named one of the U.S.' "most endangered" historic places in 2015, served as a refuge for minorities when Birmingham was otherwise deeply segregated, and also became planning headquarters for Dr. Rev. Martin Luther King Jr. and other civil rights leaders during the 1960s. Also included are the famed 16th Street Baptist Church, site of a 1963 church bombing that killed four young girls and proved a galvanizing moment for the civil rights movement; the adjacent Kelly Ingram Park, site of major civil rights demonstrations; and Bethel Baptist Church, headquarters of the Alabama Christian Movement for Human Rights and a target of racist violence.
---
3. African American Civil War Memorial (Washington, D.C.)
The Civil War is commemorated with scores of monuments and historic battlefields, but the African American Civil War Memorial shines a light on a somewhat neglected chapter of that bloody conflict: The contributions of the regiments then called "United States Colored Troops," who made up a significant chunk of Union forces by the end of the war. The memorial, a granite plaza highlighted by statuary and a wall of honored names, has been called one of the best Washington DC museums not on the National Mall, a fitting tribute to the nearly 210,00 African Americans who served.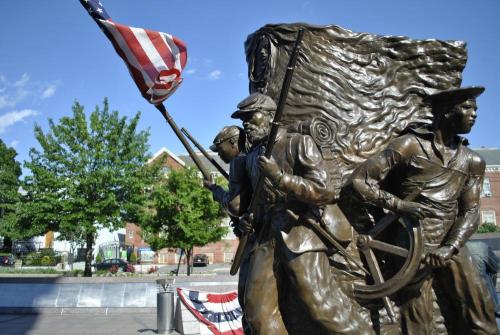 Photo credit: Cynthia, flickr
---
4. Harriet Tubman Underground Railroad National Monument (Maryland)
The Harriet Tubman Underground Railroad National Monument was designated by President Barack Obama in 2013. This place celebrates the great abolitionist and woman known as "Moses of her People." As the most well-known conductor on the Underground Railroad, Harriet Tubman lead almost 70 enslaved people to their freedom. Tubman's spirit resonates here in the land, water and sky. At the monument, visitors will see lands that Tubman would have recognized and can learn about Underground Railroad history and Tubman's life. 
Neighboring Tubman's monument on Maryland's Eastern Shore is Blackwater National Wildlife Refuge. Now a bird sanctuary, this land was once worked by Harriet Tubman when she was a farm slave and timber laborer. It was here that she learned vital outdoor skills while navigating Blackwater's Stewart's Canal, which was dug for commercial transportation between 1810 and 1832 by enslaved and free people.
---
5. Freedom Riders National Monument (Alabama) 
This monument in the town of Anniston honors the namesake activists—including now-congressman John Lewis—who braved violence in often hostile southern communities to test whether states were obeying a 1960 Supreme Court decision that declared segregated bus terminals illegal. The monument was established by President Obama on the site of a mob attack on two buses full of Freedom Riders on Mother's Day 1961, a crime that helped to stoke national opposition to Jim Crow injustices. 
---
6. African Burial Ground National Monument (New York)
In 1991, what began as construction in lower Manhattan became one of the most important recent archaeological finds: a graveyard containing the remains of about 15,000 free and enslaved Africans buried in the late 17th century. Today a wall of remembrance honors those who once used this place to maintain and celebrate their ancestral heritage.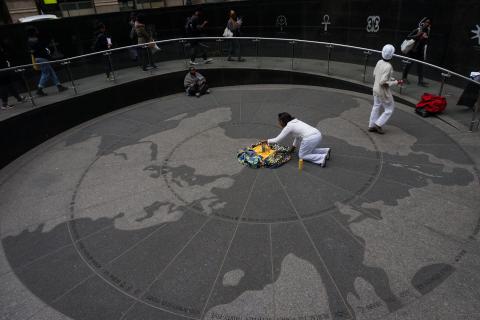 Photo credit: All-Nite Images, flickr.
---
7. Charles Young Buffalo Soldiers National Monument (Ohio)
The namesake of Charles Young Buffalo Soldiers National Monument was a pioneering figure: The third African American to graduate from West Point; the first African American to reach the rank of colonel and the highest ranking African American officer at the beginning of World War I. The monument preserves his one-time home, which had previously served as part of the Underground Railroad, and also honors the famed Buffalo Soldiers, African American regiments that fought in the Civil War and other conflicts in the late 19th century. His Ohio house, called Youngsholm, was once used as a stop on the Underground Railroad and hosted Paul Laurence Dunbar, W.E.B Du Bois and other African-American leaders.
---
8. Yosemite and Sequoia National Parks (California)
In addition to a long list on military honors and achievements, Young was the first African American acting superintendent of a national park (Sequoia-Kings Canyon). He led about 500 Buffalo Soldiers to have a lasting impact on some of the most cherished lands in America. They completed the first usable road and the first trail to the top of Mt. Whitney in Sequoia, and built an arboretum in Yosemite. In addition to fighting forest fires, they also acted as police, monitoring wildlife poaching, illegal grazing, theft of natural resources and firearm regulations.
---
9. Reconstruction Era National Monument (South Carolina)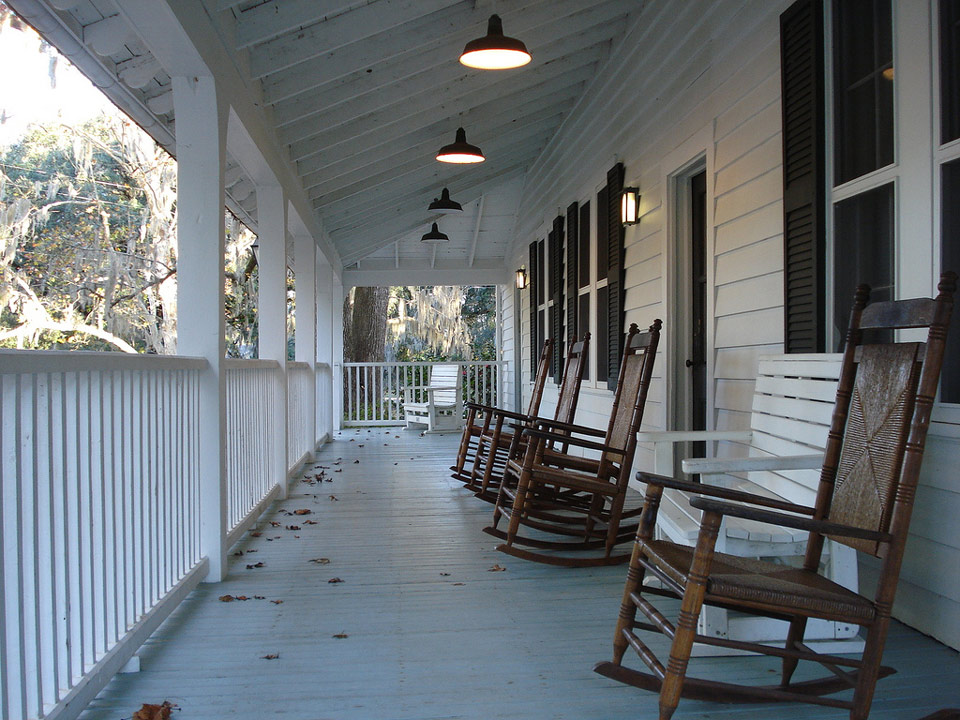 Credit: Timothy Brown, flickr.
At the very end of his presidential term, President Obama established the first national monument that recognizes the post-Civil War Reconstruction era, including the site of one of the first schools for freed slaves and the Brick Baptist Church, which was built by slaves and eventually adopted as their place of worship when the land was otherwise abandoned.   
---
10. Mammoth Cave National Park (Kentucky)
The first guides at Mammoth Cave were African American slaves - remarkable men who were vital to the development of tours in the 18th and early 20th centuries. Legends like Stephen Bishop, Mat Bransford, Nick Bransford, Ed Bishop, Ed Hawkins, Will Garvin and Matt Bransford made noteworthy contributions to this unique place, but they were not considered important during their difficult lifetimes. Today these men are credited with playing a vital role in the development of cave exploration at Mammoth. 
---
11. Booker T. Washington National Monument, Virginia
This place marks Booker T. Washington's birth as a slave, although the exact location remains unknown. Washington was the first principal of the historically black college known as Tuskegee Institute, and later became known as an important author and orator. His political leadership is evident; he was the first African American ever invited to the White House, as the guest of America's "conservation president" Theodore Roosevelt.
---
12. Biscayne National Park, Florida
Preservation of this gorgeous marine park was possible due to the Jones family of Porgy Key, who once maintained a profitable lime-growing business on the land. The poetically named Sir Lancelot Garfield Jones, among the first African Americans born in Key Biscayne, resisted developers' attempts to buy the family's land for years before selling it to the National Park Service to be incorporated into the then-new Biscayne National Monument, established by President Lyndon Johnson in 1968.
---
13. George Washington Carver National Monument, Missouri
In 1943, Congress dedicated George Washington Carver's boyhood home near Diamond, Missouri as a national monument to celebrate his influence on agriculture in the early 19th century, seen today in the now–common practice of rotating crops to allow nutrients in the soil to recover. This innovation stemmed from a conservation ethic that was ahead of its time.This monument was not only the first to be dedicated to an African-American, but also the first dedicated to an American who never served as president.