Detailed schedule
Want to view the program online and access other great resources? Check out our online platform using the QR codes below or via cvent.me/yWRZ4D.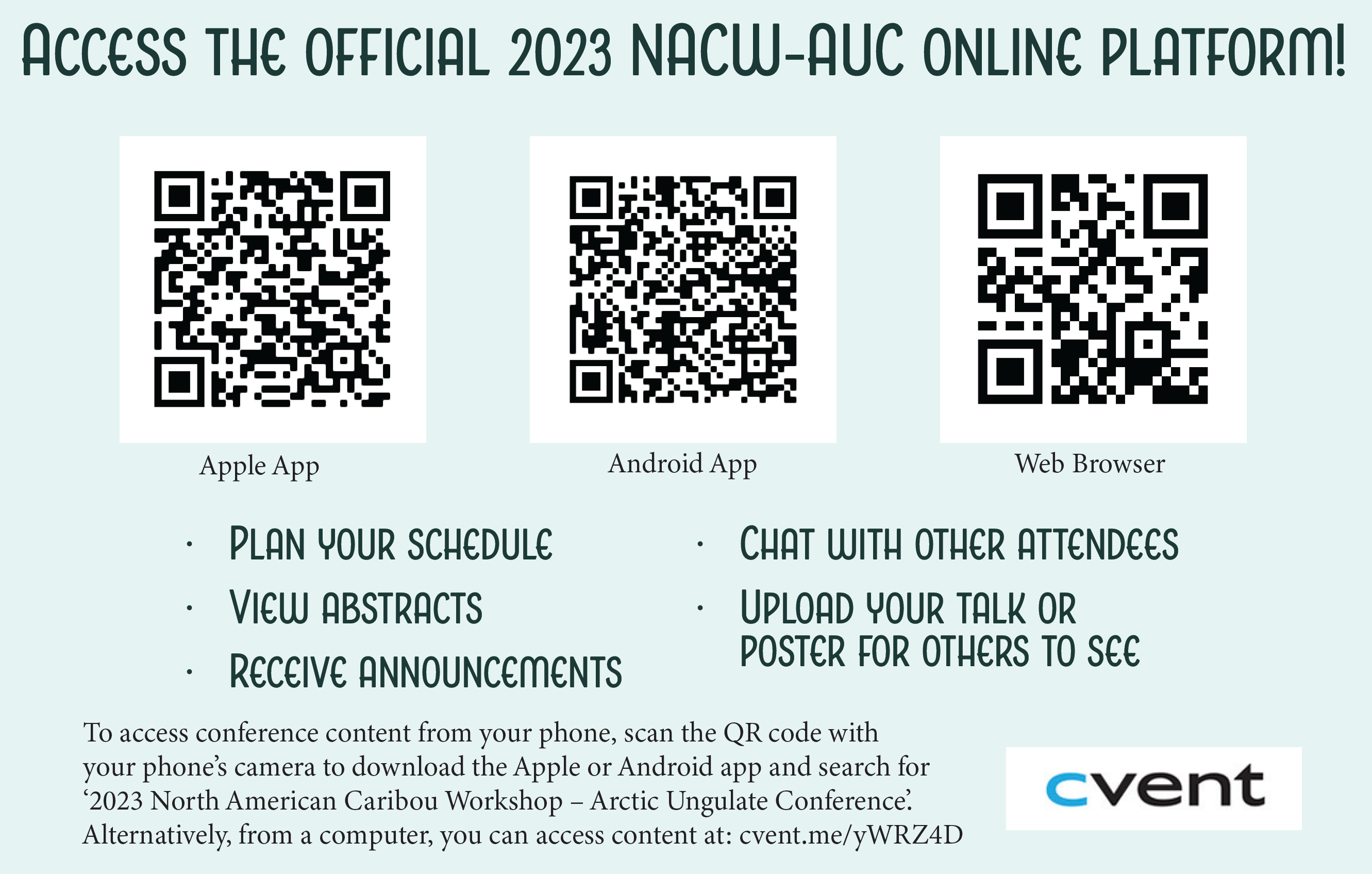 Plenaries
Tuesday, 9 May
Don Russell and Anne Gunn: What Have We Missed?: A Commentary on the Status and Trends of Migratory Tundra Caribou
Steeve Côté: Ecology, Migration and Population Dynamics of Arctic Ungulates in the Context of Climate Change
Wednesday, 10 May
Fish Bowl and Panel: Bridging Indigenous and Western Ways of Knowing in Ungulate Management, Policy, and Research

Shelley Calliou (Kelly Lake Cree Nation)
Jim Dau (ADF&G, retired)
Amanda Dumond (Kugluktuk Angoniatit Association)
Andrea Hanke (University of Calgary)
Scott McNay (Wildlife Informatics)
Chief Roland Willson (West Moberly First Nations)
Jean Polfus (Canadian Wildlife Service)
Elmer Seetot, Jr. (Western Arctic Caribou Herd Working Group)
Thursday, 11 May
Panel Discussion: Caribou Crossing: Collaborative Caribou Stewardship in a Changing Arctic

Vern Cleveland, Sr. (Western Arctic Caribou Herd Working Group)
Dan Dunaway (Bristol Bay Regional Advisory Council)
Earl Evans (Beverly and Qaminirjuag Caribou Management Board) Naunġaq
Cyrus Harris (Western Arctic Caribou Herd Working Group)
Deana Lemke (Porcupine Caribou Management Board)
Karen Linnell (Ahtna Intertribal Resource Commission)
Jody Pellissey (Wek'èezhìı Renewable Resources Board)
Joe Tetlichi (Porcupine Caribou Management Board)
Henry Huntington (Moderator)
For more information, please see the Plenary Description file 
Workshops and Field Trips
Workshops (Monday, 8 May)
To sign up for the Storytelling workshop, please email us at info@nacw-auc-2023.org. For further descriptions of each workshop, please see the Workshop Descriptions. Please note that conference registration is required for workshop registration.
Implementing Boreal Caribou Habitat Restoration in Practice: A Practical Approach for Indigenous Communities - FULL
Analysis of Caribou Movements and Geospatial Covariates with the TuktuTools R Package and Google Earth Engine - FULL
Snow Field Measurements for Ungulate Research - FULL
Storytelling & Science Workshop
Cost: $40
Max Attendance: 100
Time: Half Day (afternoon)
Structured Decision Making as a Model to Integrate Different Knowledge Systems and Achieve Collaborative Conservation - FULL
Field Trips (Friday, 12 May)
To sign up for the FaWNA Lab field trip, please email us at info@nacw-auc-2023.org. The Prince William Sound Glacier Cruise can be signed up for using the direct link below. For further descriptions of each field trip, please see the Field Trip Descriptions.
Alaska Wildlife Conservation Center Tour - FULL
Visit to the Foraging Ecology and Wildlife Nutritional Analysis (FaWNA) Lab
Cost: $65
Max attendance: 22
Time: 8:00 am - 1:00 pm
Hiking and Botany Trip to Chugach State Park  - FULL
Prince William Sound Tour
Cost: $330, plus gratuity
Min attendance: 15
Max attendance: 27
Time:  9:30 am - 6:30 pm
NOTE: This option is independently organized by the tour company. See the Field Trip Descriptions for details and click here to sign up.
Socials and events
Welcome Reception
Monday 8 May, 6-9:30pm, Quarter Deck, Hotel Captain Cook
Drop by the beautiful Quarter Deck at the Hotel Captain Cook for an opening Welcome Reception (10th Floor of Tower I). Savor drinks and snacks while mingling with the other conference participants and taking in stunning views of the majestic Chugach Mountains and Cook Inlet. This is an informal event with conference participants welcome to come and go and no formal speakers.  Appetizers and one beverage ticket will be provided.There is no additional charge for this event (but wear your conference name tag).
Poster Session
Tuesday 9 May, 7-10pm, Anchorage Museum at Rasmuson Center
Join us at the Anchorage Museum at Rasmuson Center for > 80 posters on caribou and arctic ungulates! The event will provide access to museum galleries, particularly those on Indigenous culture in Alaska, and feature artwork by conference participants and local artists. Appetizers and one beverage ticket will be provided. There is no additional charge for this event (but wear your conference name tag).
Storytelling
Wednesday 10 May, 7-9pm, Williwaw Social
Stories are a powerful way to share diverse knowledge and experiences related to the ecology, management, use, and importance of Arctic ungulates. Storytelling has been used by Indigenous peoples to pass down information since time immemorial and are increasingly used by Western scientists for communication with each other and the public. Join us at the Williwaw Social for an evening of fun co-hosted by Anchorage's popular storytelling organization, Arctic Entries. We will feature stories from pre-selected storytellers who have workshopped their stories and end with an open mic for those that feel inspired to share their own stories. One beverage ticket will be provided, with additional beverages and food available for purchase. There is no additional charge for this event (but wear your conference name tag).
Closing Ceremony & Banquet
Thursday 11 May, 6pm, Discovery Ballroom, Hotel Captain Cook
Join us as we wrap up the conference with a banquet and closing ceremonies. This will be a chance to enjoy the relationships we have built and reflect on all that we have learned, then dance the night away. Tickets are required for banquet attendance. One ticket is provided with each Regular or Student registration and additional tickets are available for purchase through the registration page.
Film Festival
Monday - Friday, 10am - 5pm, Alaska Public Lands Information Center
Come watch a wide array of films featuring caribou and other ungulates from across the arctic. Topics include Indigenous Knowledge, the subsistence way of life, collaborative conservation efforts, and management. We are excited to present the new film The Arctic: Our Last Great Wilderness, as well as films such as Caribou Homeland, The Issue with Tissue - a boreal love story, Paving Tundra, and many more fantastic films. Each day will repeat the same set schedule, so feel free to drop in when you have a chance! This event is free and open to the public.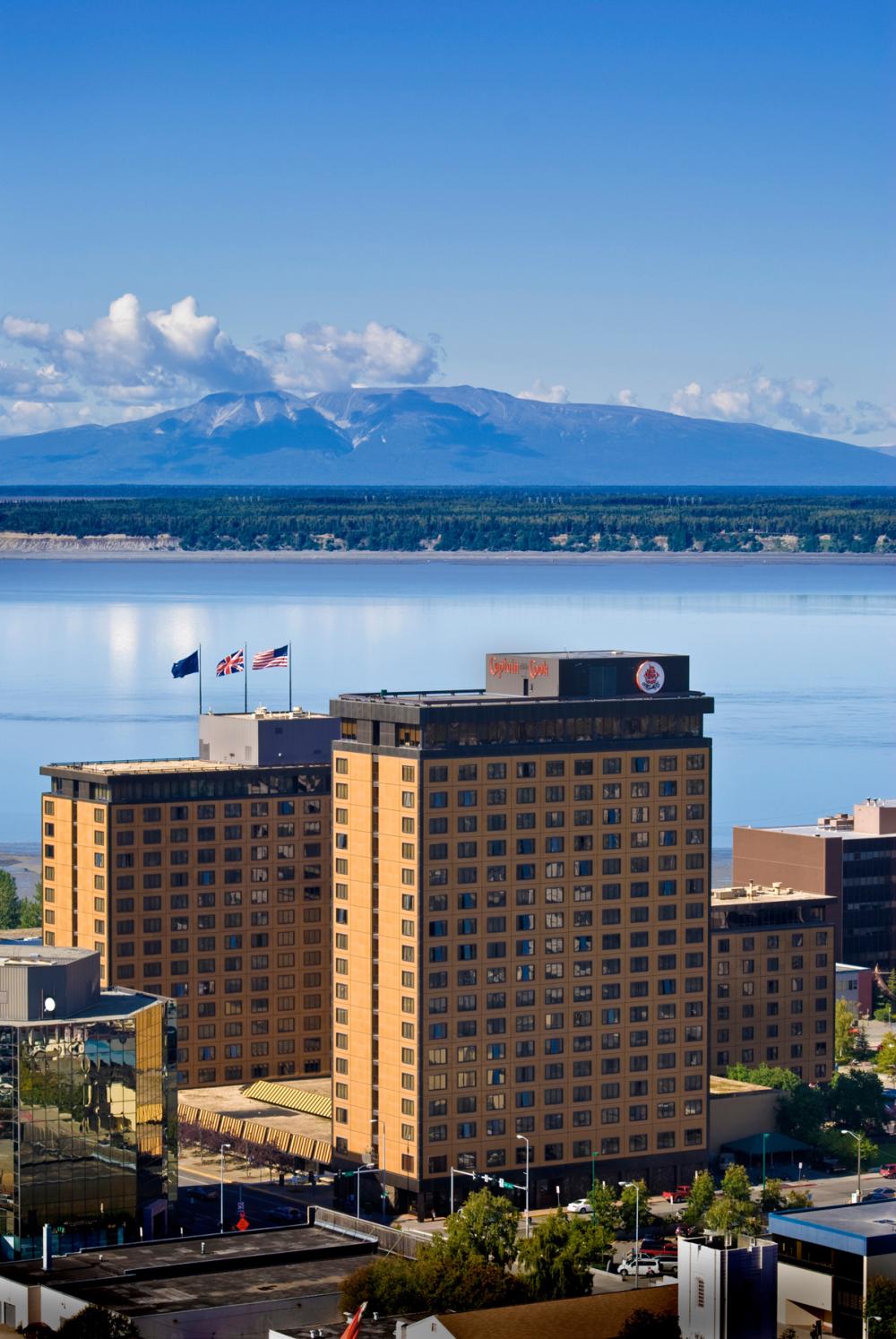 Anchorage, Alaska 
Anchorage is the bustling heart of southeastern Alaska. It is the largest city in Alaska, with just under 300,000 people but maintains the wild character of Alaska, surrounded by the stunning Chugach Mountains and the waters of Cook Inlet. The conference will take place in downtown Anchorage, conveniently located less than 15 minutes from the Ted Stevens Anchorage International Airport. Taxis, ride-hailing services, rental car companies, hotel shuttles and buses are all available from the terminal. Anchorage is an ethnically diverse community that is relatively inclusive and LGBTQ+ friendly.
Downtown Anchorage is a pedestrian-friendly grid of streets, where you'll find restaurants, brewpubs, coffee shops, tour companies, visitor information and shops. If you want to get outside, it's easy to take the extensive trail network starting downtown and connecting to the many parks and green spaces spread throughout Anchorage. Along the way, you might see some of Anchorage's nearly 1500 resident moose or some of the bald eagles, beluga whales, or other creatures that call Anchorage home.
For a walk or run - Check out the Coastal Trail, accessible from 2nd Avenue and H Street or 5th Avenue and M Street. The trail runs 11 miles, but for a shorter trip try out the stretch between downtown and Westchester Lagoon.
Bike Rentals - The trail is also a good spot for a bike ride. Rentals by the hour are inexpensive and available from companies downtown.
Hiking – The Chugach Mountains are filled with trails, with the closest less than 20 minutes from downtown. Stretch your legs and get a stunning view of the city and surrounding natural spaces.
History and Culture - The Anchorage Museum and Alaska Native Heritage Center offer great showcases of Alaska Native cultures and Alaska history. The Anchorage Museum's art collections are the biggest in Alaska. The Alaska Native Heritage Center focuses on Native culture through live song and dance performances, as well as life-sized examples of traditional buildings. There's a combined admission, the Culture Pass, for both attractions. There's also a free shuttle connecting the two stops.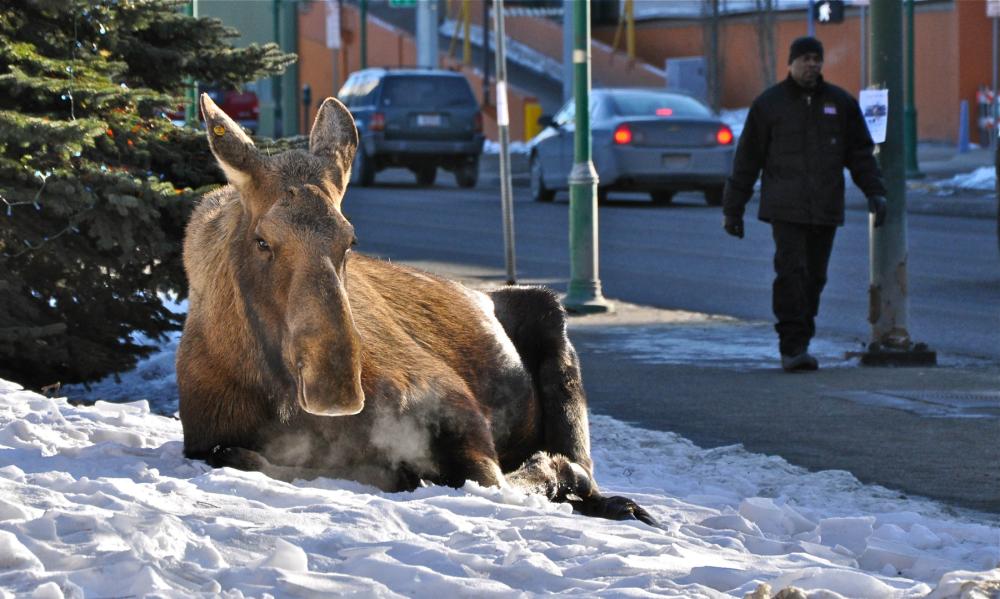 Looking to add more Alaskan adventure to your trip? Options abound for accessing the rest of Alaska by road, rail, or air from Anchorage. Visit iconic Denali National Park, relax in the luxury of Alyeska Resort and spa in nearby Girdwood, and much more!
Rail Tours - Anchorage is the place to begin a railroad trip in Alaska. Trains depart daily for Prince William Sound, Kenai Fjords National Park, or Spencer Glacier in Chugach National Forest.
Flightseeing - Small airplane and helicopter flights are incredible. Flights from Merrill Field or Lake Hood in Anchorage take off for glaciers in the nearby Chugach Mountains, the waters of Prince William Sound, or even circle Denali by air.
Day Cruises – See tidewater glaciers and wildlife including whales, seals, otters, sea lions and birds. Cruises sail daily from the port towns of Whittier and Seward, both accessible by rail or road.