Redrawn national monument boundaries clearly show alignment with coal, oil, gas, and tar sand development potential.
St George, UT (Oct. 31, 2018) –  New maps compiled by The Wilderness Society, based on an analysis of the Bureau of Land Management's (BLM) own data, show that new boundaries resulting from drastic (and illegal) reductions to Grand Staircase-Escalante National Monument were an almost identical match to coal, oil, gas, and tar sand development potential. The exclusion of 700 important fossil sites and over 400,000 acres of high potential fossil yield lands is a result of the BLM turning a blind eye to its own data and ignoring the reason why Grand Staircase was protected as a national monument in the first place.
 "When we compile the Department of Interior's own data layers into one comprehensive map, it is clear that the reduction in monument boundaries by the Trump administration was designed to offer up lands to mining and drilling special interests," said Dan Hartinger, national monument campaign director at The Wilderness Society. "Despite Interior Secretary Zinke's suggestions otherwise, the data shows they completely ignored the science and fossil potential of these lands. Some of the world's most paleontologically significant lands and fossil beds were intentionally cut out of the national monument."
The new analysis found:
Approximately 46% (406,000 acres) of the areas cut out of the original monument show high or very high potential fossil yield.
245,708 acres of high / very high potential fossil yield lands are threatened by energy development and identified by the BLM as being potentially open to future leasing. 
"Grand Staircase-Escalante was set aside as a national monument because of its scientific potential for paleontology," said David Polly, President of the Society of Vertebrae Paleontology. "In 1996 the incredible finds were important enough to justify special protection. Since then that potential has been realized over and over, with thousands of new sites discovered. More than 700 of those sites have now been excluded. The mineral resources at Grand Staircase are comparatively poor, not a good trade for what could be lost."
Historically the BLM referred to Grand Staircase-Escalante as the "Science Monument" for its  immense fossil resources. According to the Society for Vertebrate Paleontology, sites excluded from GSENM include a section that has by far the best record in the world of land animals from the Cenomanian age, which is an important interval in the Cretaceous period from 100.5 to 93.9 million years ago when mammals were diversifying into the groups we now recognize as marsupials (the pouched mammals) and placentals. Almost all the evidence we have for the species that existed on land at that time are from a few sites on lands that are now excluded from the national monument – risking our ability to advance our understanding of mammalian evolution.
The Wilderness Society used the BLM's data to identify areas of high/very high potential fossil yield within the original monument and calculated the acreage of these paleontologically rich areas that were removed from the monument following the reduction. We then combined areas identified by BLM to contain developable fossil fuel resources (tar sands, known recoverable coal resource area, oil and gas high potential areas). We calculated the overlap of the fossil fuel development areas with the areas of high / very high potential fossil yield within leasable areas of the monument.
This first map shows the energy development potential areas within the original boundary of Grand Staircase-Escalante National Monument compared to the drastically reduced boundaries.  It shows the boundaries were drawn almost exactly along the lines of energy development areas currently under consideration by industry.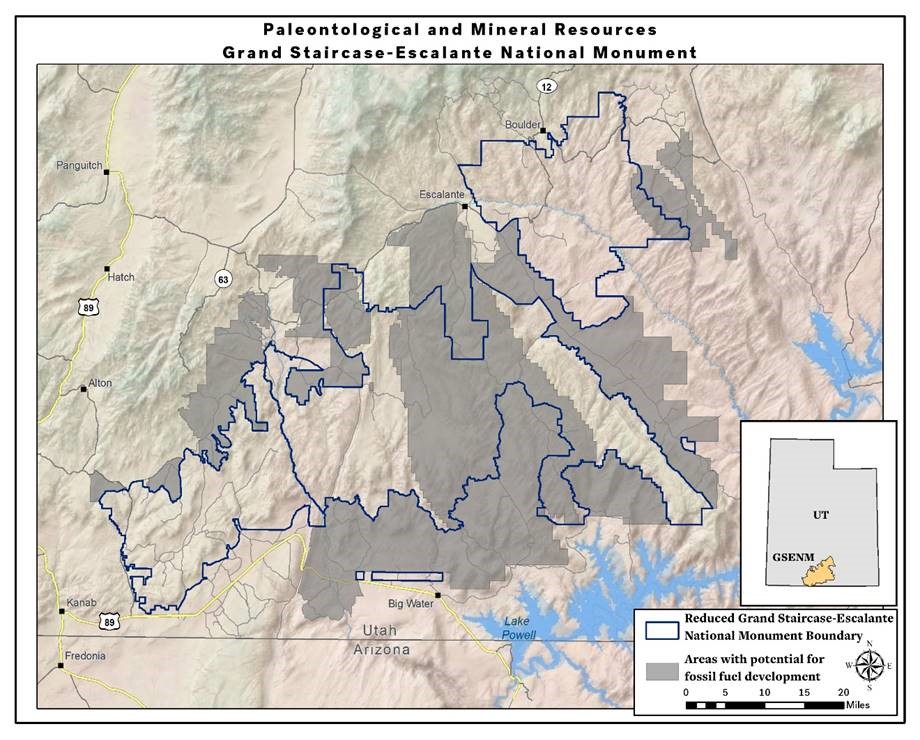 Most striking, these areas directly overlap with fossil resources that are among the best in the world.  The second map shows the areas of high and very high fossil yield potential that overlap with energy development areas.  Nearly half (46%) of the lands eliminated from GSENM have high or very high fossil potential and nearly 250,000 acres of these lands directly conflict with energy development areas.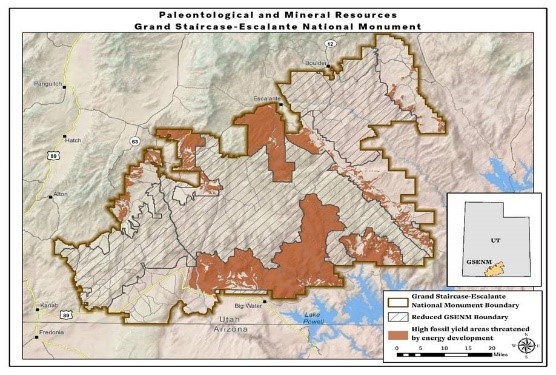 "Earlier this year, Sec. Zinke shared a picture of a Lythronax skull (a relative of the T-Rex known as the "King of Gore") that he keeps in his office," said Hartinger.  "He failed to reveal that the skull and species discovery originated within Grand Staircase-Escalante National Monument at a site that is right on the border of the redrawn boundaries. How can he brag about the importance of these paleo finds while at the same time putting the future of fossil protection and discovery at risk?"
---
Additional Resources
Blog: Maps show how Trump Administration chose oil, gas and coal over important fossils
Mapping Information: All data was compiled from BLM's GSENM DEIS database.
Potential Fossil Yield - Predictive resource management tool developed by the BLM to classify geologic units on their likelihood to contain paleontological resources on a scale of 1 (very low potential) to 5 (very high potential). We depicted areas on the maps containing high (category 4) or very high (category 5) potential for fossil yield. These categories require surveys and monitoring for any surface-disturbing mineral activities.
Known Recoverable Coal Resource Area - Existing coal fields within the monument.
Tar Sand Areas - Tar sand deposit areas within the monument.
Oil and gas high potential areas - Oil and gas plays within the monument currently producing oil and gas or having high current industry interest.
To download detailed maps of our findings, click the links below:
---
CONTACTS:
Dan Hartinger, National Monuments Campaign Director, The Wilderness Society, (202) 429-3943, 

[email protected]

Dr. David Polly, President, Society of Vertebrate Paleontology and Professor of Earth and Atmospheric Sciences, Indiana University, (812) 272-2945, 

[email protected]
---
The Wilderness Society is the leading conservation organization working to protect wilderness and inspire Americans to care for our wild places. Founded in 1935, and now with more than one million members and supporters, The Wilderness Society has led the effort to permanently protect 109 million acres of wilderness and to ensure sound management of our shared national lands. www.wilderness.org.