Migratory big-game species rely heavily on protected wilderness near Yellowstone National Park and other areas
New research and maps released Nov. 19 outline with new clarity the exact routes that big-game species use to migrate to winter and summer ranges. The research proves that federally-designated wilderness areas in Wyoming act as vital habitat for elk, mule deer, moose, bighorn sheep and pronghorn antelope during seasonal migration.
Keeping big-game species abundant and strong
Using GPS collars and new mapping methods, wildlife researches with the Wyoming Migration Initiative pinned down the exact summer and winter migration routes for Wyoming's "big game" wildlife.
The study, as well as a short film produced by the researchers, illustrate that land kept free from undue human interference allows species to maintain habitat connectivity. The ability to migrate to seasonal habitats allows for populations that are stronger, healthier and more adaptable. Without the migration corridors that wilderness helps protect, Wyoming and other western states would not be able to maintain the robust big-game populations that draw hunters and wildlife viewers from across the country.
"We have known for years that undeveloped habitat is crucial for the West's iconic big game species, but this new compilation of data shows in detail the extent to which these animals migrate through habitats designated as wilderness," said Matthew Kauffman, a zoology professor at the University of Wyoming, in a statement.
The new research is part of an ongoing project that uses modern technology to map out the past and present long-distance migration habits of various species.
A batch of maps made available by the program shows the paths taken by large herbivores each year, from the elk that use the North Absaroka, Washakie and Teton wilderness areas to move from their summer range in Yellowstone National Park to winter ranges in the east, to bighorn sheep that migrate south each summer through Bridger Wilderness and Fitzpatrick Wilderness.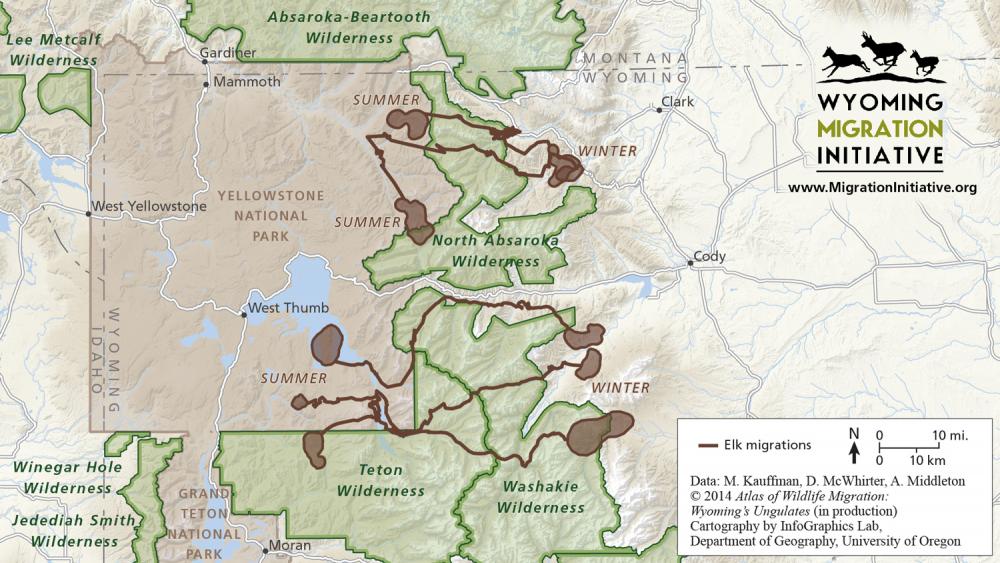 The results were announced with a special focus on the landmark 1964 Wilderness Act which empowered Congress to protect swaths of wild public land, and the 1984 Wyoming Wilderness Act, which added eight new wilderness areas to the state, including some featured in the study.
"It is fitting that in this 50th year for the Wilderness Act and 30th anniversary of the Wyoming Wilderness Act, we have new mapping evidence that documents the value of wilderness to some of Wyoming's most iconic wildlife," said Dan Smitherman, Wyoming representative for The Wilderness Society. "Having spent decades exploring and guiding in wilderness, I can personally attest to the value wilderness provides, not only to the wildlife that depends on these areas for migration, but to the overall experience of those who choose to recreate in these protected areas."