Best winter outdoor recreation ideas, all on public lands!
It may be cold outside, but that's no reason to stop playing outdoors. Every year, millions of smart Americans say no to the couch and yes to winter recreation activities outdoors. Where are they finding the best winter recreation locales? On our national forests, parks, refuges and other public lands.
From snow capped mountains to frosted storybook forests, public lands brim with magnificent winter scenery and outstanding opportunities for solitude that you won't find in warmer months. 
To avoid cabin fever, check out our list of public land winter recreation ideas, then head out to claim your share of tranquil moments and exciting adventures in America's winter wonderlands.
1. Take a ranger-led snowshoe tour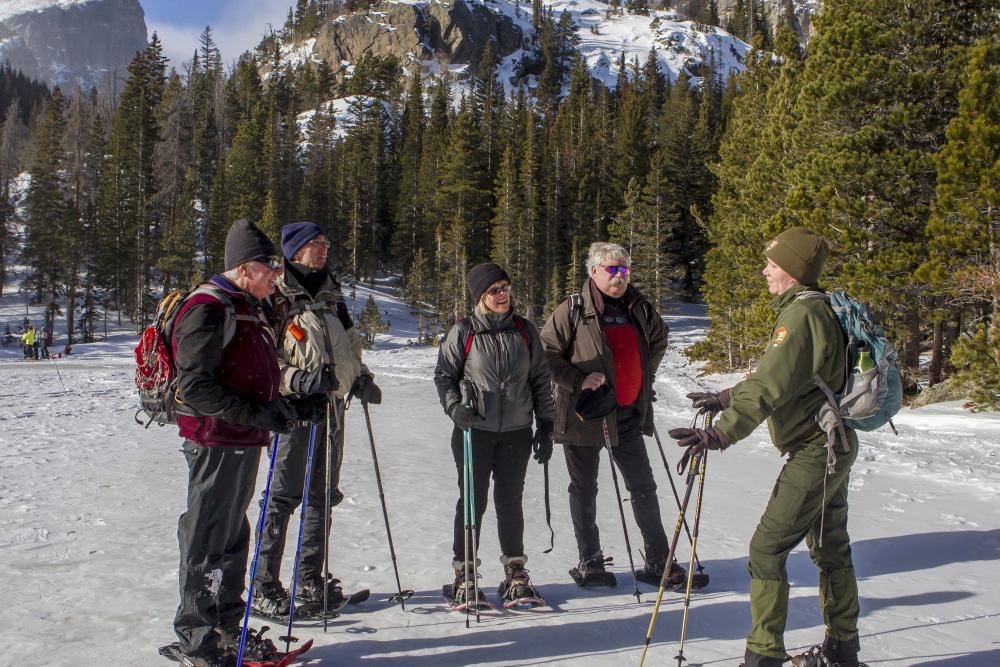 Snowshoes allow you to traverse deep snow-covered terrain that would otherwise not be accessible in regular hiking boots. It's a great way to venture far into the backcountry while leaving little impact on wildlife or sensitive lands. National forests, parks, wildlife refuges and BLM lands offer snowshoeing trails that are free to access, or that cost no more than the price of park entrance. Many parks and public lands, such as Rocky Mountain National Park, Colo., and Mt. Rainier National Park, Wash., also offer ranger guided snowshoeing tours. You can also strike out on your own, but be sure to check with local rangers, a visitor center or avalanche.org for avalanche danger in the area. Don't fret if you don't own a pair of snowshoes. You can rent them at local outdoors shops for reasonable prices.
2. Hike through winter wonderlands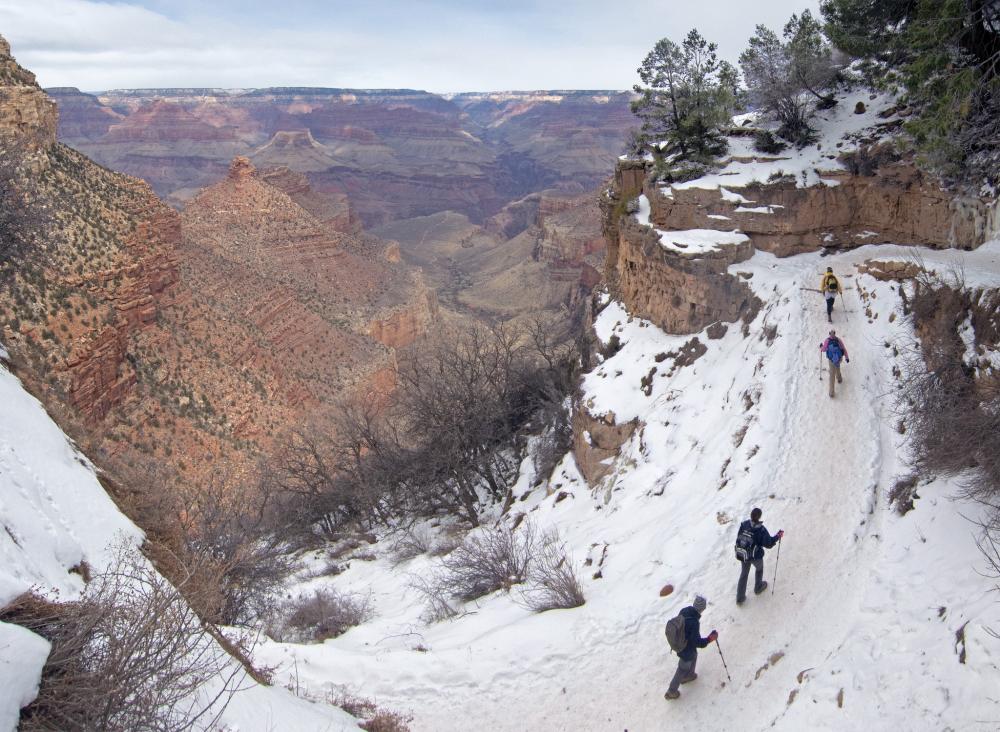 There's no reason to relegate hiking to just three seasons. Flat or lower elevation trails provide easy hikes that can be quite magical when covered in snow. Winter is also an excellent time to schedule hiking trips to otherwise crowded or hot parks, like Grand Canyon and Death Valley national parks. Other parks like Utah's Bryce Canyon National Park become even more enchanting when white snow blankets the abundant red rock scenery. No matter where you hike, just remember to bring hiking poles and check local weather conditions to determine if you may need crampons or snowshoes.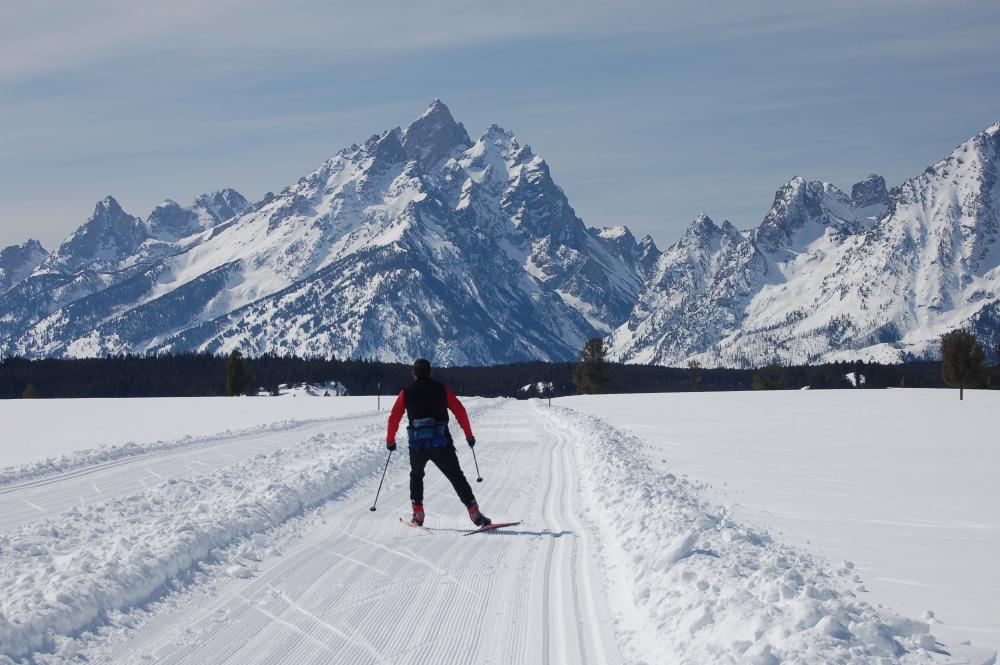 What could be more invigorating than skiing in the shadows of the some of the most majestic mountains and unspoiled scenery in the world? America's three million cross-country skiers can attest to the special thrill of this quick, aerobic trip through quiet winter landscapes on our public lands. National parks (like Glacier, Yellowstone, Grand Teton, Yosemite, Sequoia, Mount Rainier and Rocky Mountain to name a few) have cross-country trails, and national forests usually have many more trails to explore. Some BLM lands and wildlife refuges in the West have skiing trails as well. Check with the local forest district or park for trails that suit you best.
4. Stargaze under crisp dark skies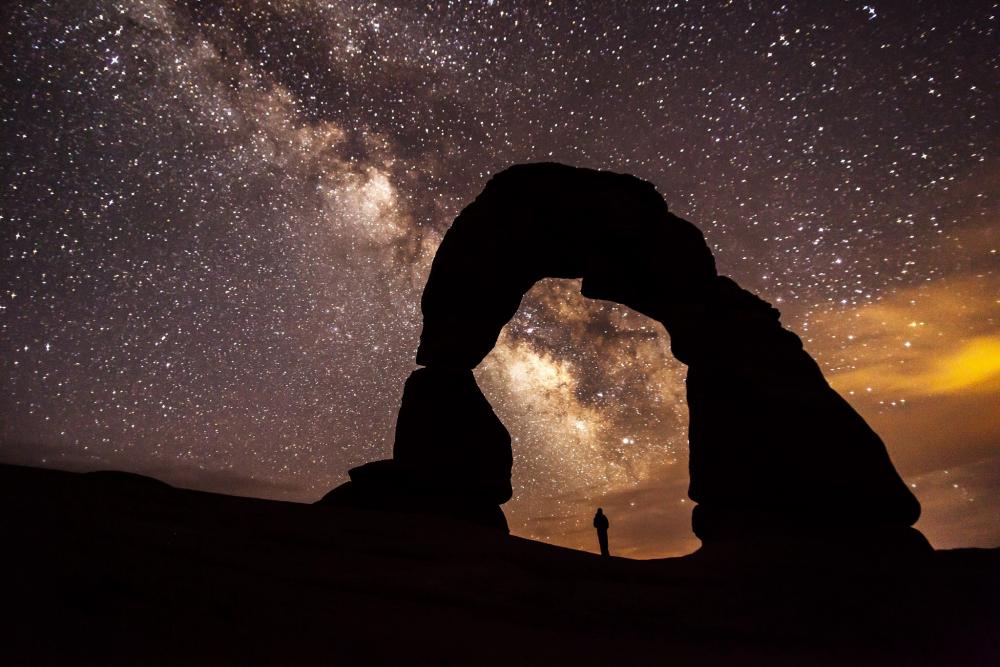 Head out to the wild with your binoculars, a star chart, and perhaps even a thermos of hot chocolate, and you are sure to be treated to a twinkling, celestial spectacle. Designated wilderness areas, forest lands and national parks offer some of the clearest skies for stargazing, especially in winter months when cold, dry air makes skies even clearer. You can find a list of parks known for spectacular stargazing at the National Park Service's stargazing site. Some national parks offer full moon snowshoeing hikes and other astronomical events in winter. Check in with local visitor centers for times. Of course, you can stargaze in your own backyard as well, but you'll see much more by getting away from the light pollution of the city. Limit your exposure to the cold by making a list of what you want to look for, such as Orion, Venus or the milky way.
5. Skate at a national park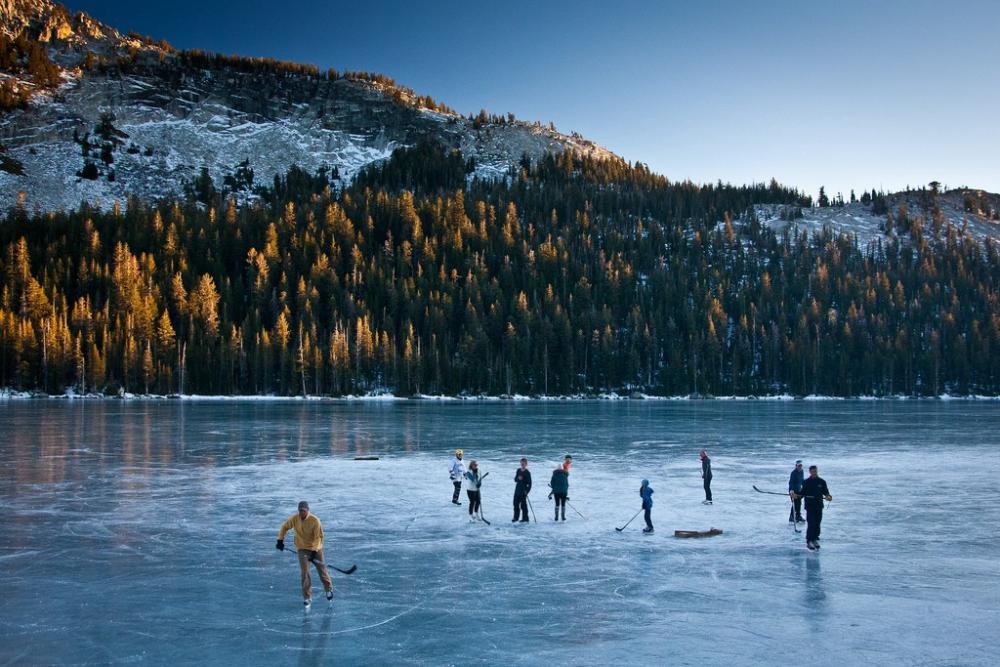 Some of America's more wintery national parks and national forests offer ice skating opportunities on frozen lakes and ponds. Perhaps best known is Yosemite National Park, where visitors can skate at the Curry Village Ice Rink, which has been around since the 1930s. For Forest Service skating lakes, your best bet is to call the local ranger district. Only skate on lakes and ponds that have been approved for skating and know your safety precautions for skating on natural ice.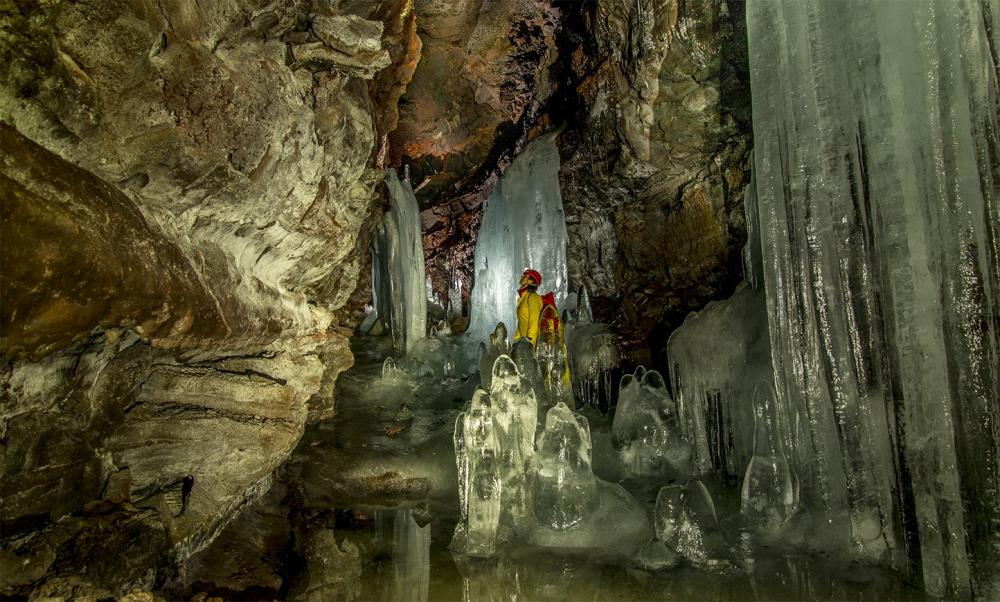 America's public wildlands provide some very unique ways to admire the marvels of ice. A few ideas:
Crystal Ice Cave at Lava Beds National Monument — visit unique ice formations on ranger-led guided tours. Physical strength required.
Ice climbing at Pictured Rocks National Lakeshore in Michigan. This park unit offers some of the country's most spectacular ice climbing.
Ice caves in Mt. Baker-Snoqualmie National Forest in Washington. These unusual caves rest at the base of a avalanche shoot. They are said to be an amazing, but dangerous site. Ice from the cave walls regularly falls in so the caves must be viewed from a designated trail.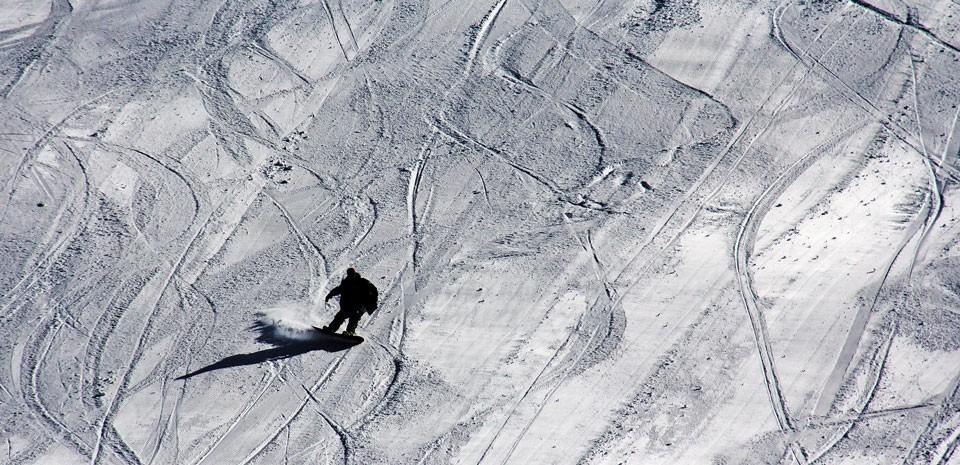 About 60% of downhill skiing and snowboarding runs in the U.S. are in national forests. All together, our national forests host 122 downhill skiing slopes throughout the United States. Find a public lands slope close to you at recreation.gov's downhill skiing page.
8. Enjoy ice fishing at a refuge or wilderness area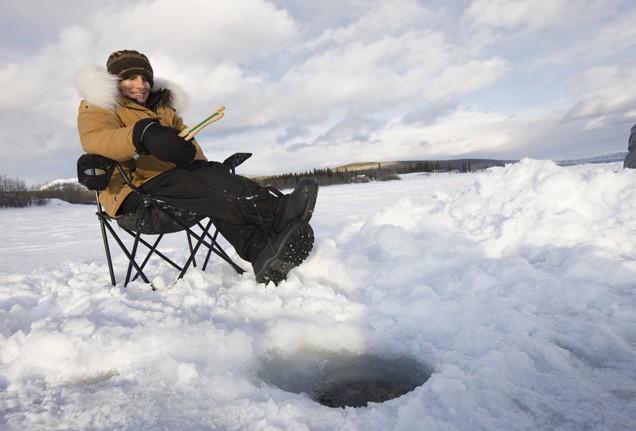 If ice fishing is your sport, public lands can be a great place to do it. Wildlife refuges are usually ideal spots for licensed anglers during winter. States throughout the West, Midwest and Northeast are home to refuges whose lakes and waters are open to ice fishing. A full list is offered by Freshwater Fishing News. In addition, gorgeous, life-filled waters can be found in wilderness areas, national recreation areas as well as national parks like Yosemite, Acadia, Glacier, Yellowstone, Zion, Rocky Mountain and Voyageurs.
9. Test out the sledding hills at a national park or forest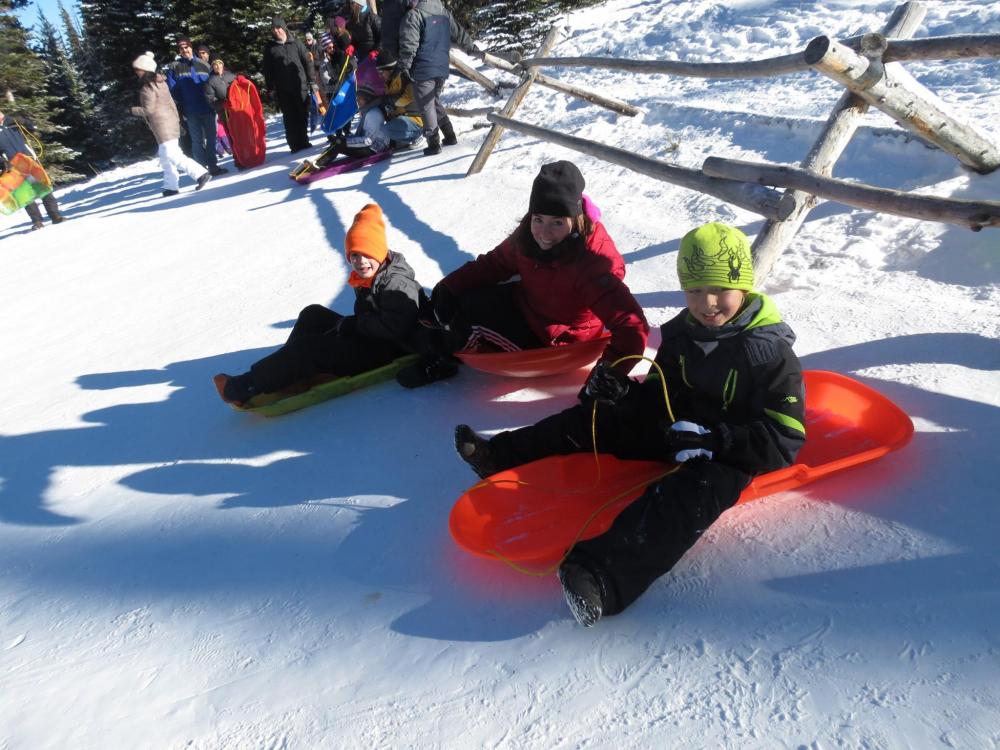 Winter sledding is one of the easiest, cheapest ways to get youngsters outside in winter. Sure, you can sled on hills around town, but nothing beats the long runs and beautiful winter scenery offered at national parks and forests. Mount Rainier, Rocky Mountain and Lassen Volcanic national parks are just a few that offer spectacularly beautiful winter wonderland-style sledding destinations.
10. Spend the night at a backcountry cabin or yurt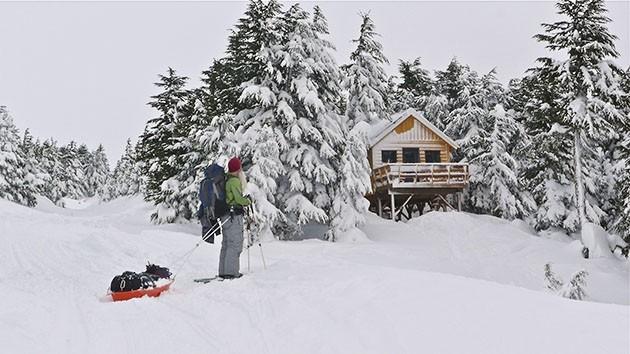 If a secluded getaway is your speed, you can snowshoe or cross country ski deep into the forest and stay the night at one of the yurts or cabins for rental on Forest Service lands. These facilities can be rented for as low as $40 per night and typically include beds, a kitchen and wood burning stoves. States throughout the West offer hut systems connected by trail, so you can ski from hut to hut on a multi-leg trip. Guests typically need to bring their own bedding and food. Check with local forest districts, or get your search started at www.recreation.gov.