It is not every day that our nation's public lands play a lead role on the big screen. That changed when the movie Wild hit theaters in 2014.
Oscar-nominated Wild, directed by Jean-Marc Vallee (Dallas Buyers Club) and starring and produced by Reese Witherspoon (Best Actress Nomination), is based on Cheryl Strayed's best-selling memoir by the same name. Strayed's story chronicles her experience of confronting a destructive path her life had taken by embarking on a solo trek covering 1,000 miles along the Pacific Crest Trail, which stretches from Mexico to Canada.
There are few stories that embody the transformative power of wilderness quite like Wild. The Wilderness Society worked with Fox Searchlight to share in this message. The story is a reminder of something we say often--that wild places are important for the way they connect us, not only to each other, but to ourselves. They are places for tranquility and soul searching.
In the book and movie, Cheryl Strayed chooses to hike the Pacific Crest Trail alone after the haunting loss of her mother Bobbi (Academy Award Actress in Supporting Role nominee, Laura Dern) to cancer. After years of reckless behavior, a heroin addiction and the destruction of her marriage, Strayed makes a rash decision to hike the trail with absolutely no experience. Wild powerfully reveals her experience as she forges ahead on a journey that maddens, strengthens and ultimately heals her.
"In the wilderness, what I found is my strength again." - Cheryl Strayed
Beyond the powerful message about the importance of wilderness in the human experience, Wild shares with viewers the beautiful scenery of one of our nation's world-class distance trails. On the Pacific Crest Trail, Strayed was able to hike from California's Mojave Desert through California and up to Oregon and Washington, passing through spectacular wilderness areas, national parks and monuments on the way. The trail itself passes through 48 federally-designated wilderness areas as well as five state parks, six national parks and 25 national forests. We hope this film will inspire more people to protect wilderness. Don't miss your opportunity to see some of our nation's most famous public lands on the big screen and to get inspired by Cheryl Strayed's story of going from lost to found on the Pacific Crest Trail.
Explore the Pacific Crest Trail and the wild places in the movie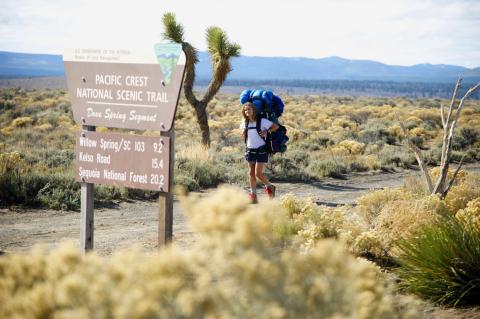 The Pacific Crest Trail is one of the nation's best known long-distance national scenic trails. It is part of the "Triple Crown" of long-distance trails, which includes the Appalachian Trail and Continental Divide Trail. The PCT, as it's commonly called by hikers, runs continuously from the border of Mexico up through California' Sierra Nevada, then onward to Oregon and Washington and the Canada border. Its approximate 2,650 miles travel through some of the most spectacular hiking terrain in the country, from the Mojave Desert and the Sierra Nevada in California to Washington's rugged North Cascades
If you're planning a "thru-hike" on the PCT, you will need several months--usually about 5--to complete the full trail. Many backpackers also enjoy shorter week-long or multi-day trips. And of course there are countless sections of the trail that can be conquered in a day!
---
Spectacular terrain
Looking for breathtaking scenery? Just point to any place on the PCT map and you'll find it. The trail travels through:
48 federally designated wilderness areas. More than half of the trail travels through wilderness, including well-known places that The Wilderness helped gain protections for, including the Ansel Adams Wilderness and the John Muir Wilderness in California and Alpine Lakes Wilderness and Sky Lakes Wilderness in Oregon.
6 national parks. Kings Canyon National Park, Yosemite National Park, Lassen Volcanic National Park, Crater Lake National Park, Mount Rainier National Park, North Cascades National Park
4 national monuments. Devil's Postpile National Monument, Santa Rosa and San Jacinto National Monument, Cascade-Siskiyou National Monument, and the newly designated San Gabriel Mountains National Monument
5 state parks
25 national forests
---
Federally designated wilderness areas on the Pacific Crest Trail
Southern California section: Beauty Mountains Wilderness; San Gorgonio Wilderness; Hauser Wilderness; San Jacinto Wilderness; Sheep Mountain Wilderness; Pleasant View Ridge Wilderness; Kiavah Wilderness.
Central California section: Owens Peak Wilderness; Chimney Peak Wilderness; Domeland Wilderness; South Sierra Wilderness; Golden Trout Wilderness; John Muir Wilderness; Ansel Adams Wilderness; Sequoia-Kings Canyon Wilderness; Yosemite Wilderness; Hoover Wilderness; Carson Iceberg Wilderness; Mokelumne Wilderness; Desolation Wilderness; Granite Chief Wilderness.
Northern California section: Bucks Lake Wilderness; Lassen Volcanic Wilderness; Trinity Alps Wilderness; Castle Crags Wilderness; Russian Wilderness; Marble Mountain Wilderness.
Oregon section: Soda Mountain Wilderness: Sky Lakes Wilderness; Mount Thielson Wilderness; Diamond Peak Wilderness;  Three Sisters Wilderness; Mount Jefferson Wilderness;  Mount Hood Wilderness; Mark O. Hatfield Wilderness.
Washington section: Indian Heaven Wilderness; Mount Adams Wilderness; Goat Rocks Wilderness; William O. Douglas Wilderness; Mount Rainier Wilderness; Norse Peak Wilderness; Alpine Lakes Wilderness; Henry M. Jackson Wilderness; Glacier Peak Wilderness; Stephen Mather Wilderness; Pasayten Wilderness.