"Wherever you go on the face of the earth people have their own stories, their own origins and their purpose, even to the idea of what comes after you are no longer here…but for us as Cherokees the first concept is that you understand because of the way the body functions, because we have to stand on two legs, because we move around like that, our purpose is to do something here. The question is what do we do? Do we just take things and use them up or do we look at what we are utilizing for food and other things and begin to understand that we might have a relationship with those things. And to understand that If we are going to be sustainable we have to not only be able to utilize these things for our own health… so that life goes on and we also have to understand what those things are, so we don't use those things up and we don't treat them like inanimate objects and they become part of our lives. Once we realize that we are in fact a collaboration, our breathing existing on this planet is a scientific collaboration with things we depend on.. Out of that comes a sense of responsibility, we are responsible to the very ground we walk on."
-Tom Belt, Tribal Elder of the Cherokee
HELD
To hold means to grasp, carry, or support with one's own hands. To belong means to be a member or part of something and these two words are woven into all that is the Eastern Band of Cherokee Indians. A people of constant community, constant love and relation with their homelands. A people that against all odds are endless forward and backwards into a non-linear time. The Cherokee people, as if the stars themselves, shine whilst connected to each other and reclaiming their Ancestral lands. The Blue Ridge mountains and the surrounding land are a reflection of the stars, two maps mirroring each other. According to Cherokee Ancestral knowledge and Cherokee science, the night sky reflects land and land reflects the sky. Sacred mounds across the territory point onto the stars as if connected by an unseen string. Regardless of the changes to the land, the string, that connection, stays waiting for its people to return. These mounds are the heart and the sacred fire of the Cherokee peoples.
Today the Nikwasi Mound, Kituwah Mound and Cowee Mound have been returned to the rightful belonging of people to their land and land to her people. The Peachtree Mound, Garden Creek Mound, Wells Mound, Jasper Allen Mound, Kituwah Mound, Nununyi Mound, Birdtown Mound and Cullowhee Mound were all lost in colonial excavation, in search of Cherokee Ancestral artifacts that were meant to remain to the soil. The mounds and the land in which they are being rebuilt hold a beating heart of the people and the return of the Nikwasi, Kituwah and Cowee to Tribal stewardship is as if putting a heart back into a body. These three reclaimed mounds seem as if a metaphor for the three sisters beans, corn and squash, held by a traditional basket, stronger when woven together.
No matter the amount of generations that have called where we live home, we all have a responsibility as Tom puts it to care for the soil and seas we are so reliant on. To care for this place we rely on is not a weakness or a political statement, it is strength to care, strength to love. For the Eastern Band of Cherokee Indians strength is in belonging to one another and the belonging is as simple as being held. Elder Amy Walker, Corn Woman and sower of soil, gatherer and feeder of people, said "I felt as if a tumbleweed in the wind until I found my home again and my people." All people have felt that at one point or another, at the mercy of the elements the mercy of the world around and yet what will bring us together again is strong hands, holding yours, strong hands covered in soil, holding sacred food, sacred life force and winds calling you home again.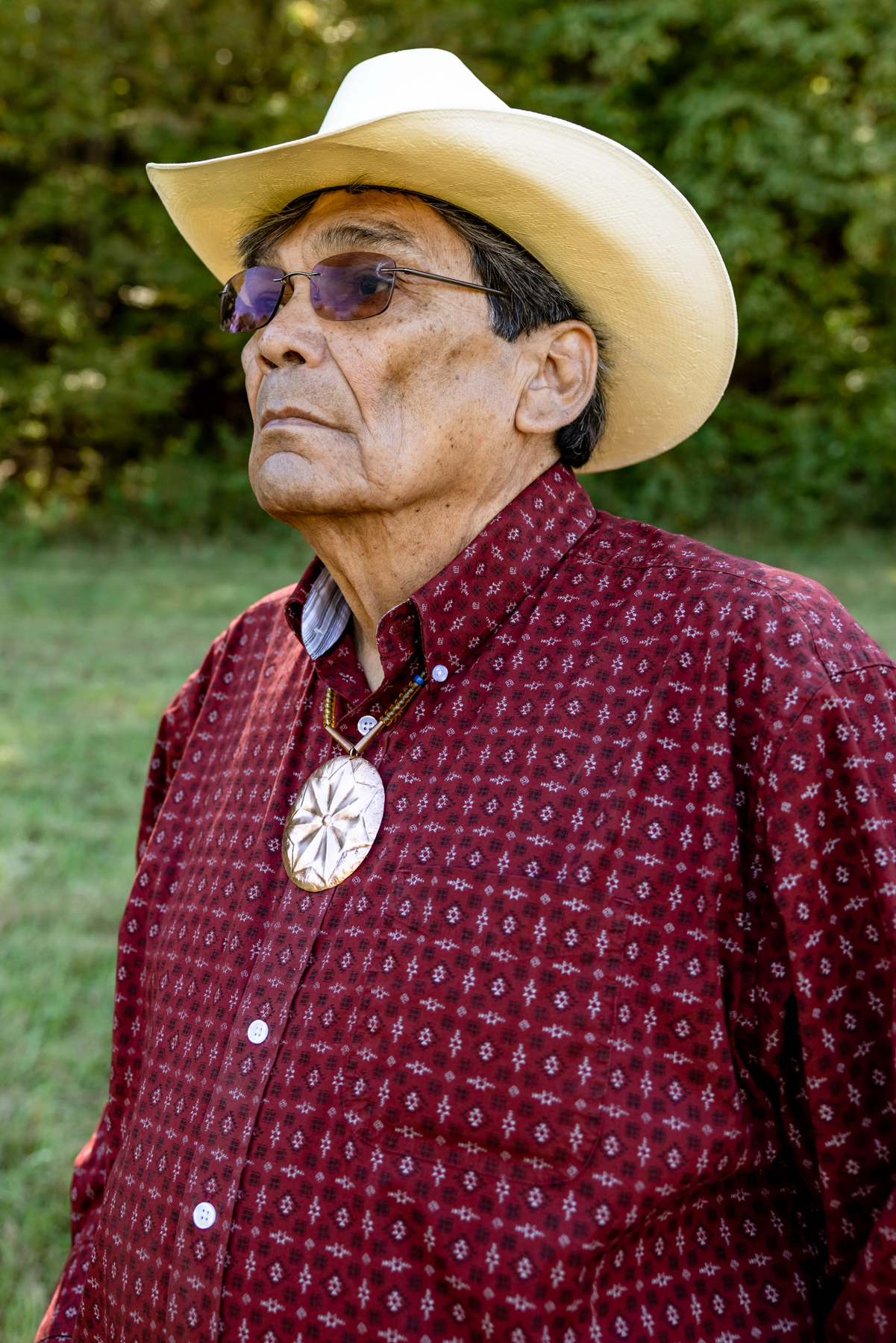 U-ga-se-s-di Nu-s-dv-da-nvd-i (Culture Keeper) As a member of the Cherokee Nation living in the Mothertown lands of North Carolina, Tribal Elder, Tom is revered for his perspective on life. He gives freely his knowledge to others to help all people connect to the land and find their purpose.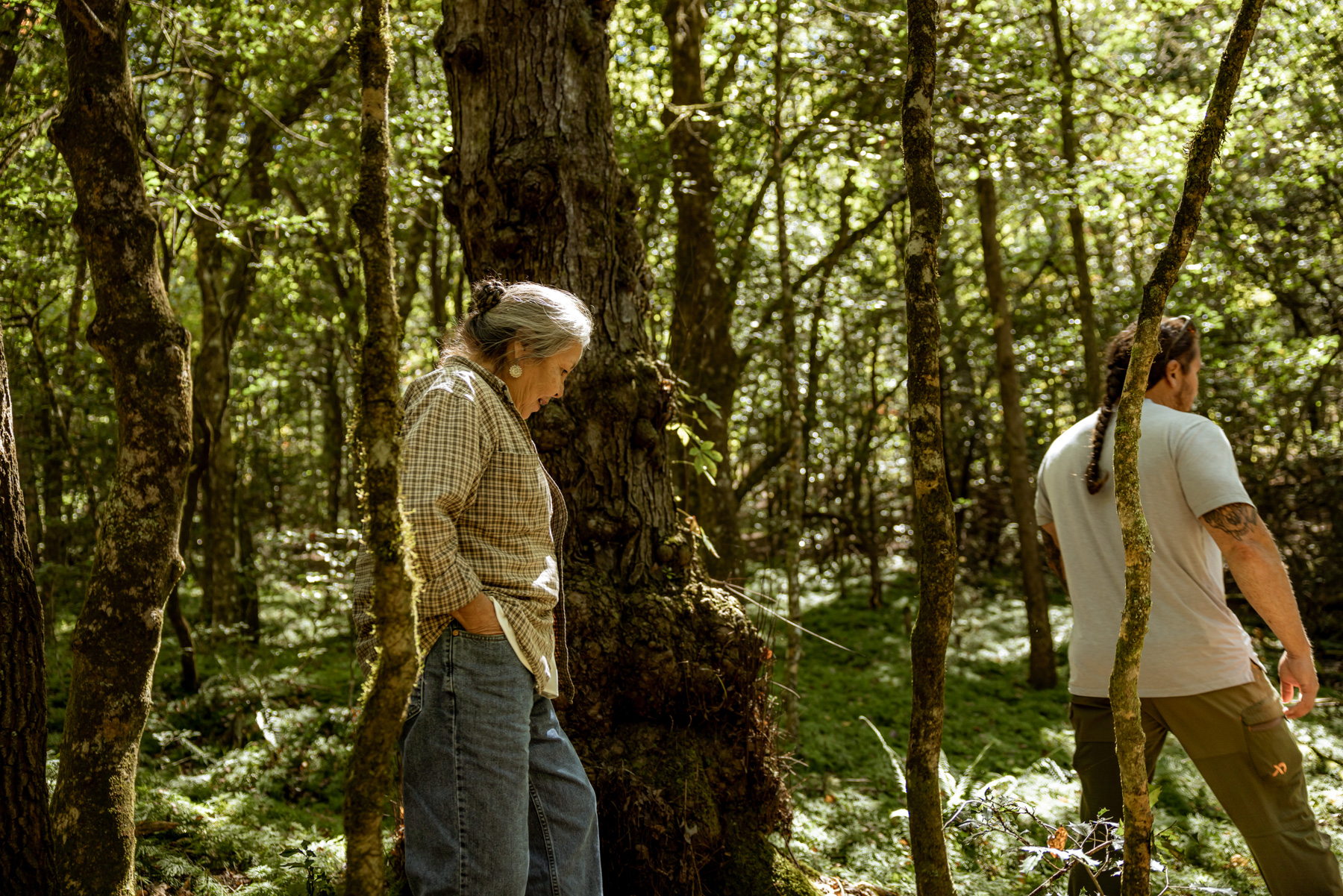 A walk in the A-do-hi (woods) with Mary and Tommy—EBCI forestry is working to make sustainable the white oak tree, rivercane and hickory tree in the community forest by the Little Tennessee River.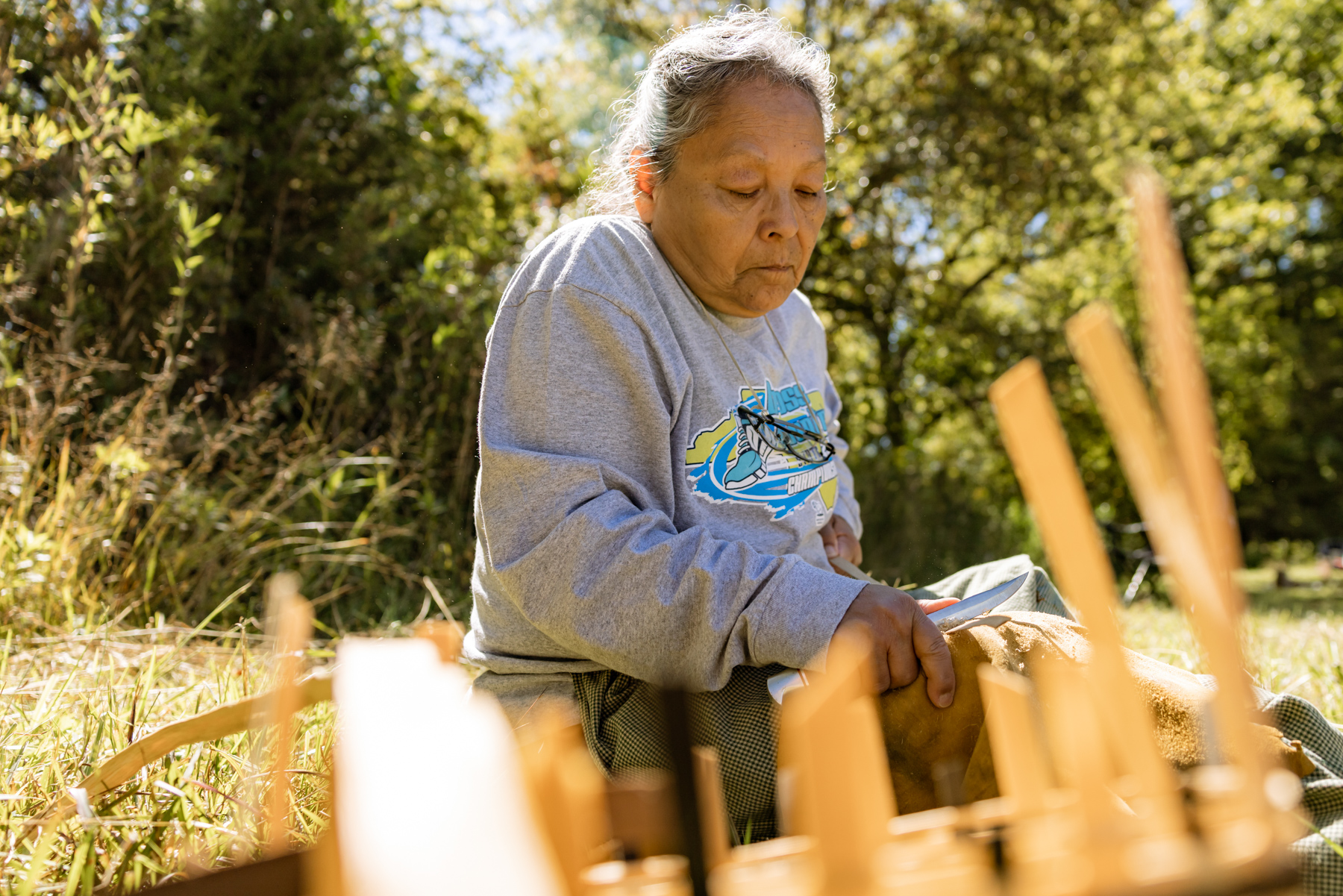 A-yv-le-qv-i (Time) is relative, it took 100 years to make the Oak tree 1000 strokes to make the splints and one week to create a single basket. Betty is making one basket that carries traditions to the next generation.
To Gvs-ga (Weave) is to tell a ka-no-he-di (story). Mary, a rivercane basket maker honors the gift of water and the rivercane, weaving them together to tell the story of the Cherokee people.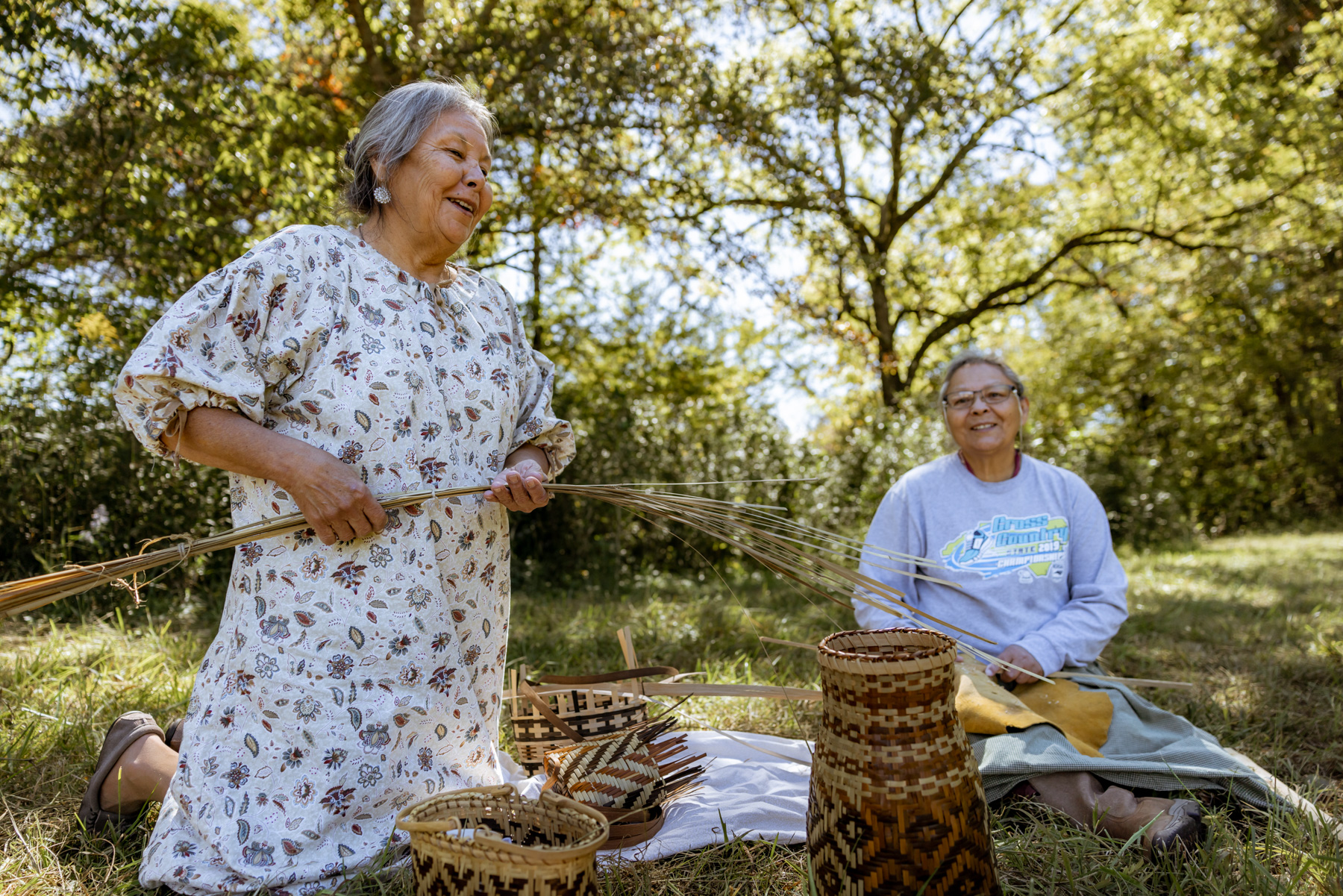 S-ga-du-gi (Community) is nv-wo-ti (medicine), basketmakers (Mary and Betty) invest time, energy and love into their craft. It's a relationship with the land, the plant and the people. Community and friendship lessen the burdens of making a basket.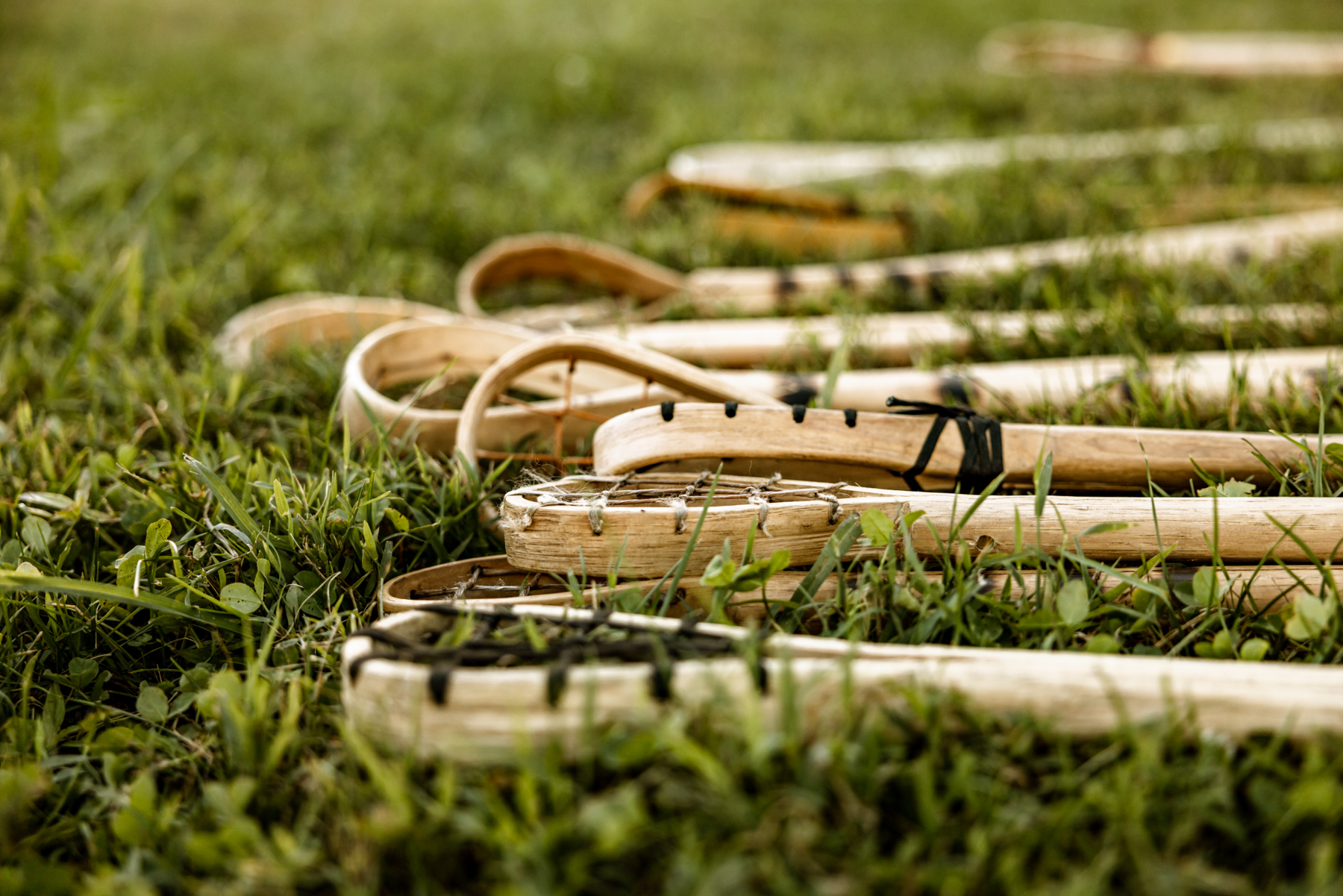 The Wa-ne-i (Hickory) tree keeps the peace as medicine is carved into the Stickball game sticks. The little brother of war settles disputes without death. Everything is left on the field and it is a-s-qua-dv-hi (done).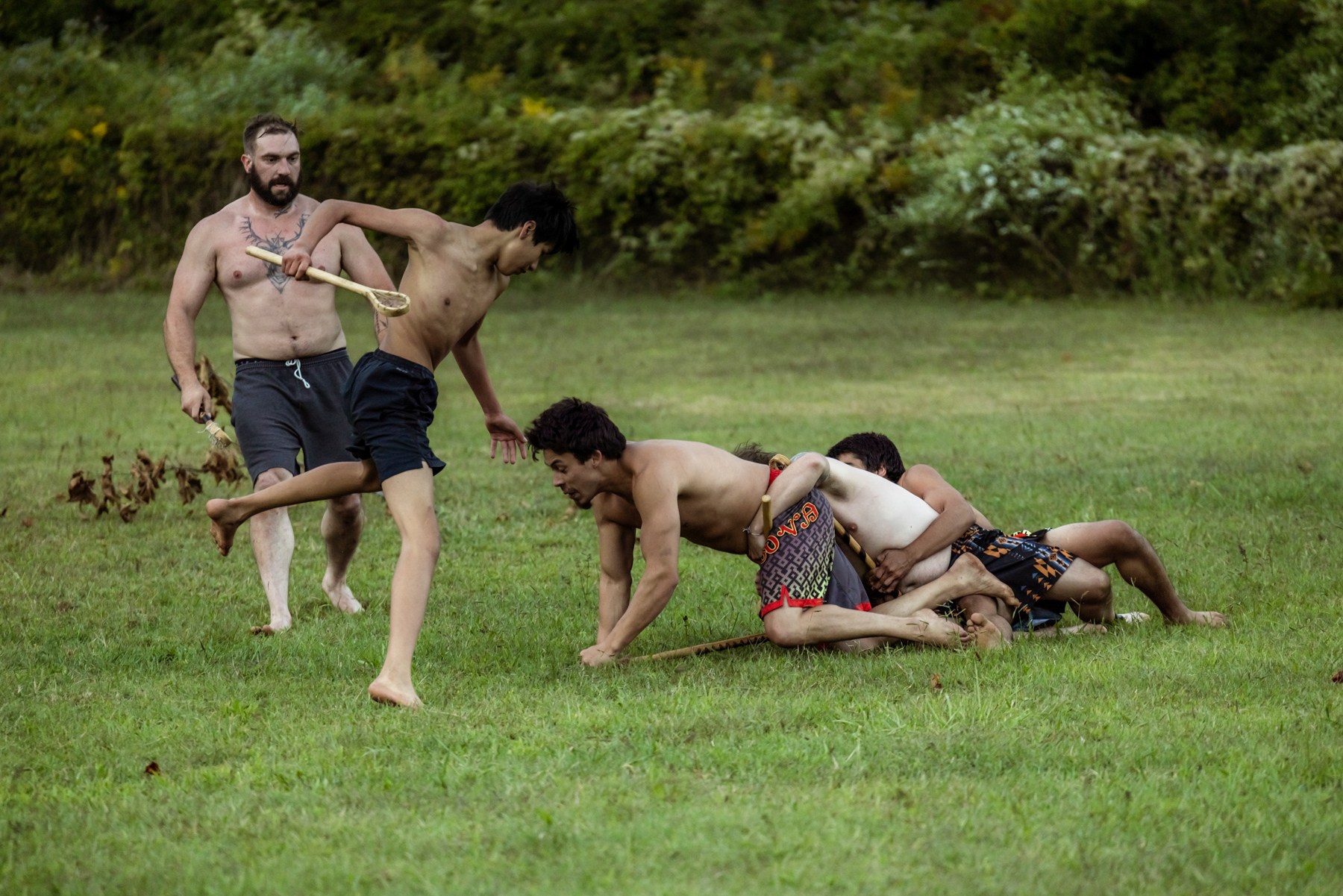 I-yu-s-da-gwo (We'll take on anyone). Stickball is a way of life, a dedication to defend your community, it is bloodshed for brotherhood. —Players Brandon, Elias, Joe, Trent, Kenny.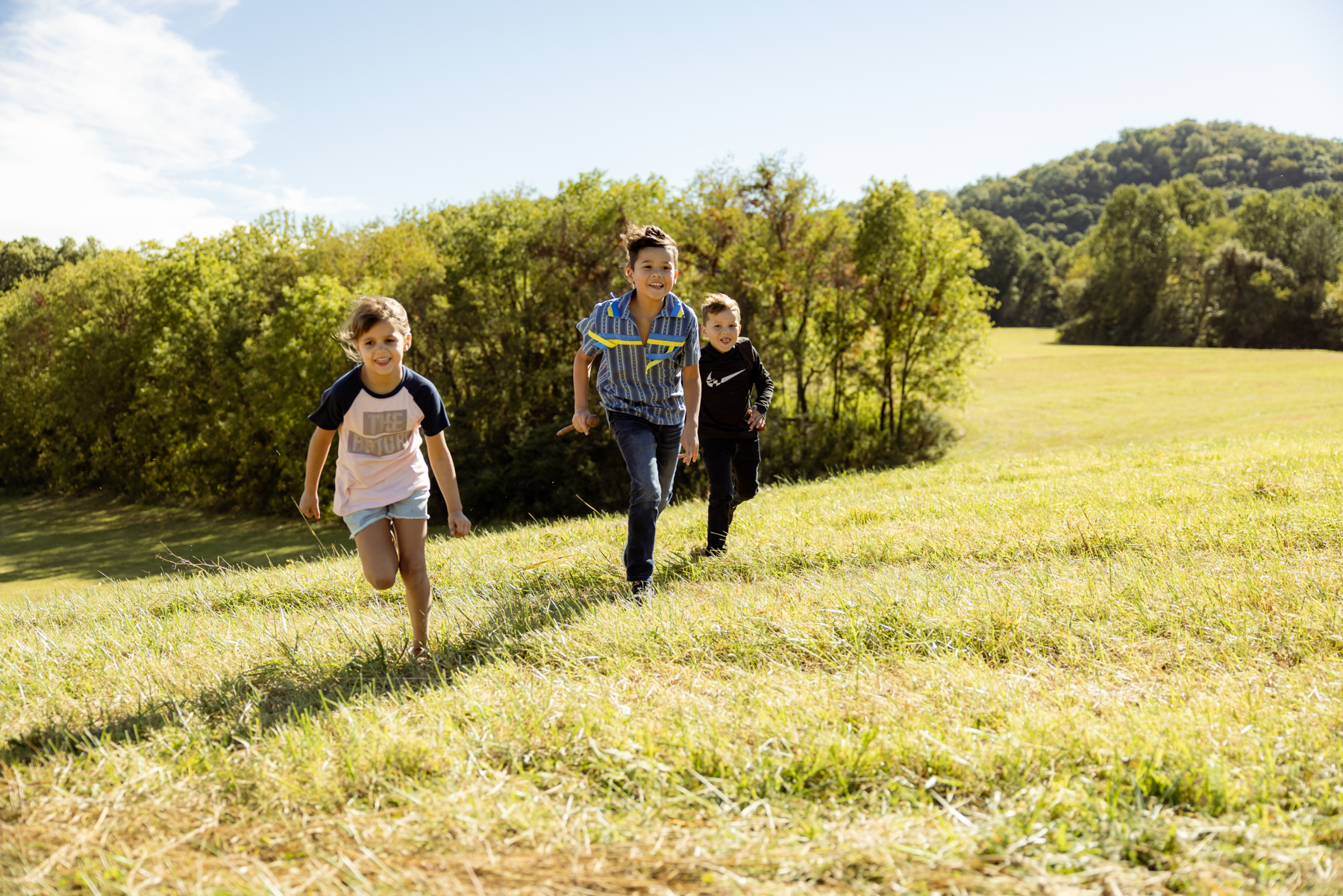 Sacred spaces aren't just u-li-s-ge-di (serious), sacred spaces heal children through movement. The Ancestors rejoice at the sound of children laughing where they themselves once ran. Enola, Coche and Shaligugi.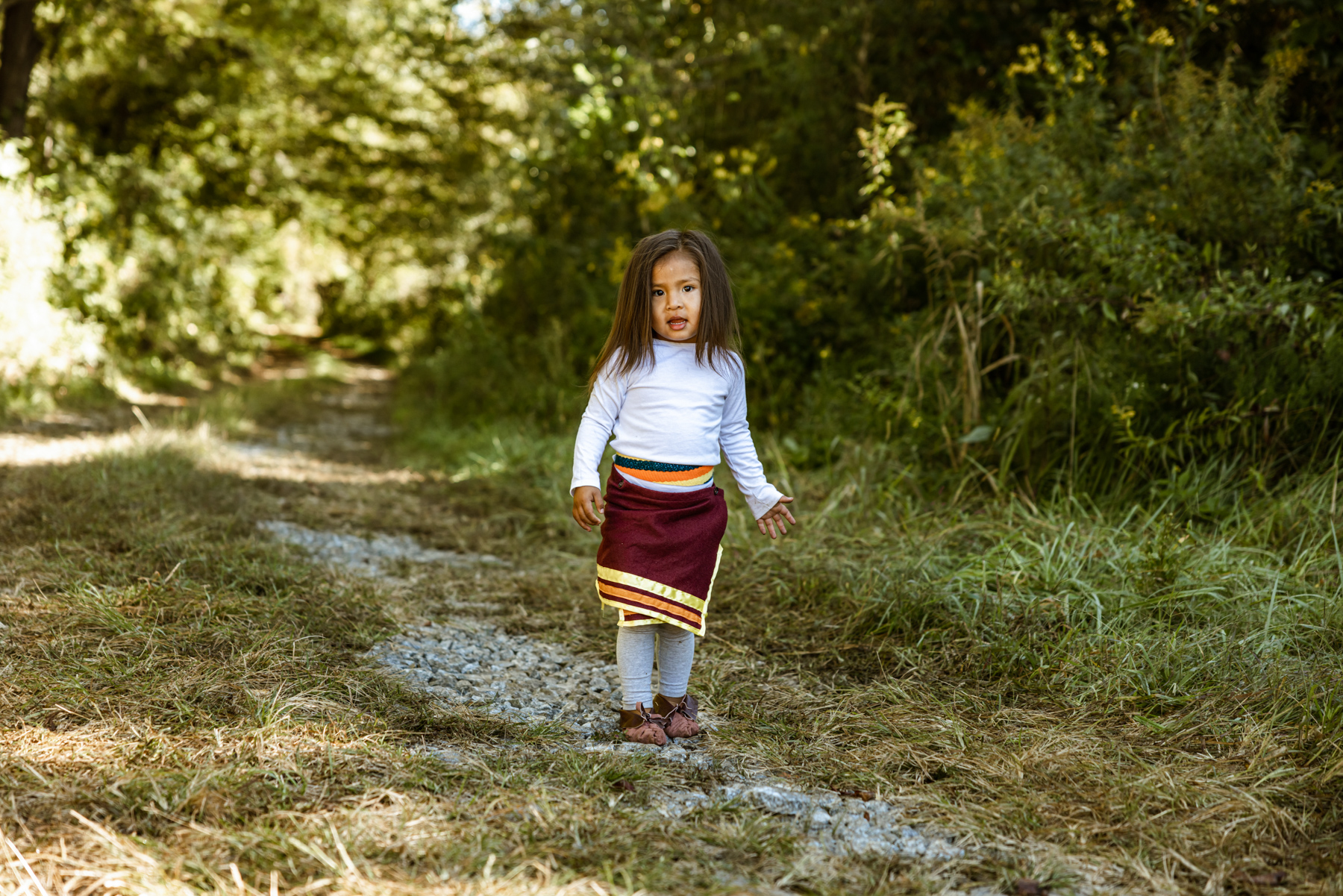 du-y-u-go-dv-i (The right path), we're still here, Mia walks the road (Historical Trail of Tears) home.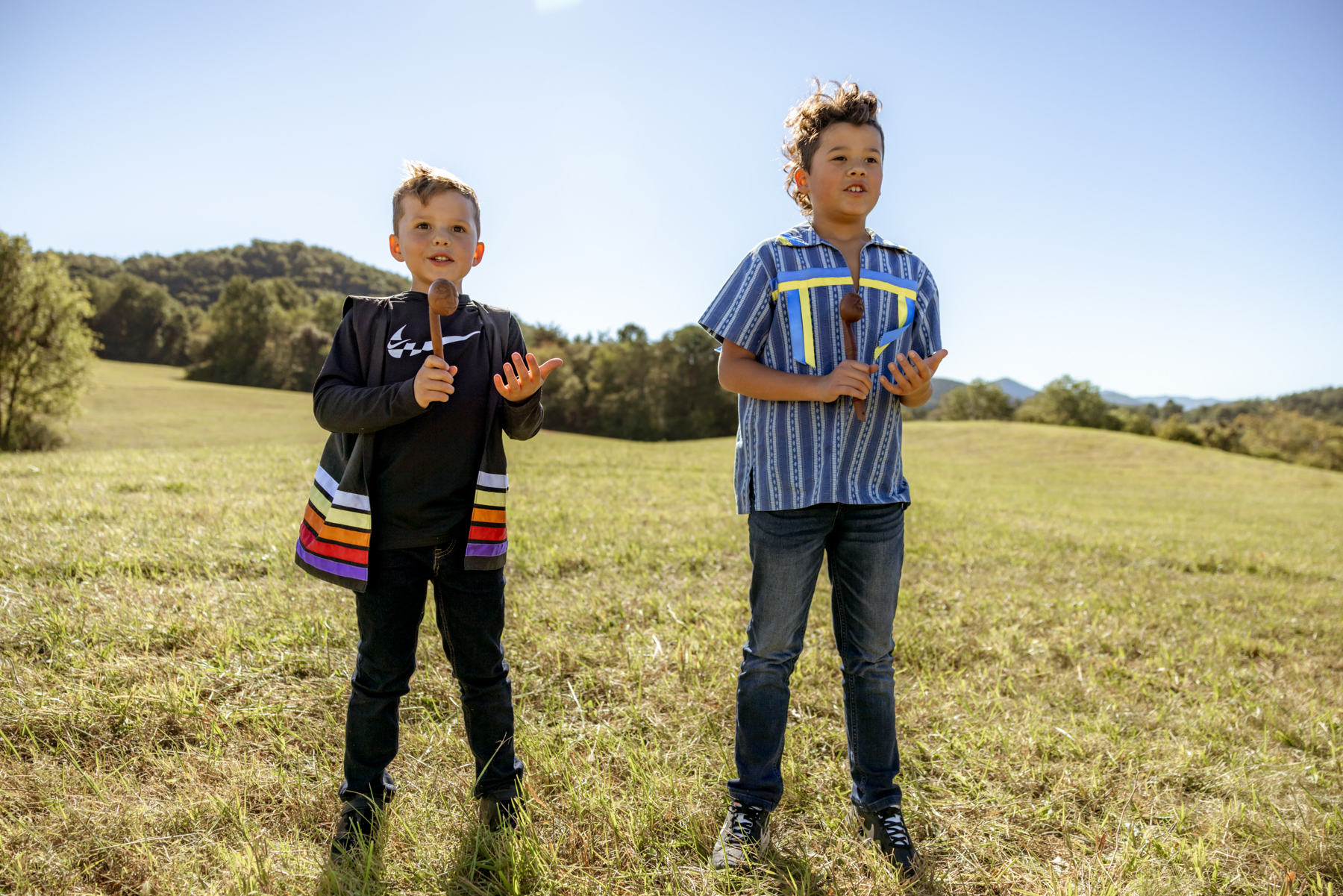 Ha-di e-lu-we-I ni-ge-sv-na(No Silence), movement through music and song lets Ancestors hear the pride we take for them surviving their suppression. Generations of being silenced, we are silent no more! Coche and Shaligugi.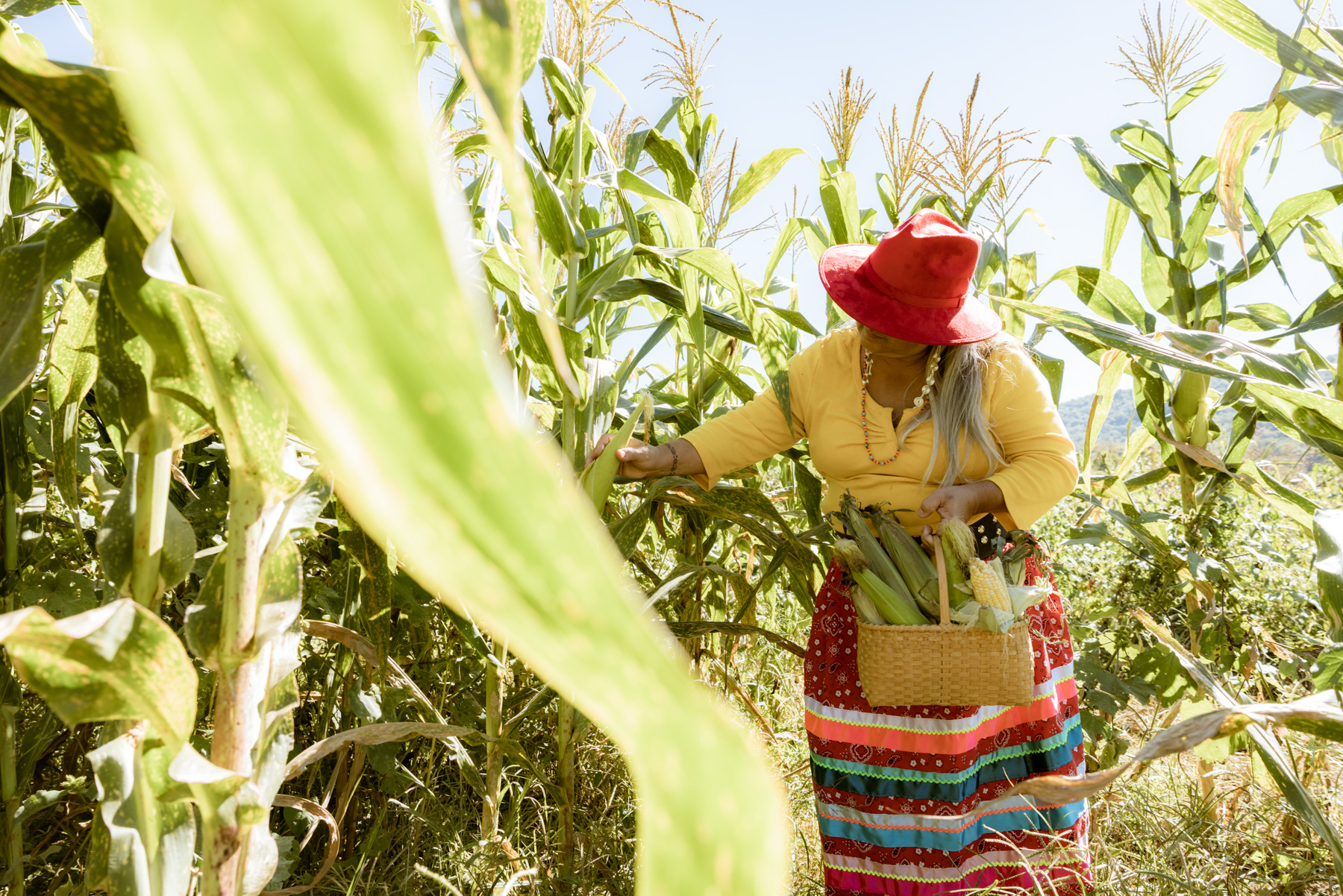 Selu(Corn) A-ge-yv (Woman). For Cherokee people, women and the land are respected, both are sources of life. Nikki harvests corn from the tribal community garden at the Kituwah mothertown mound. She serves 3 Sisters Soup at her restaurant.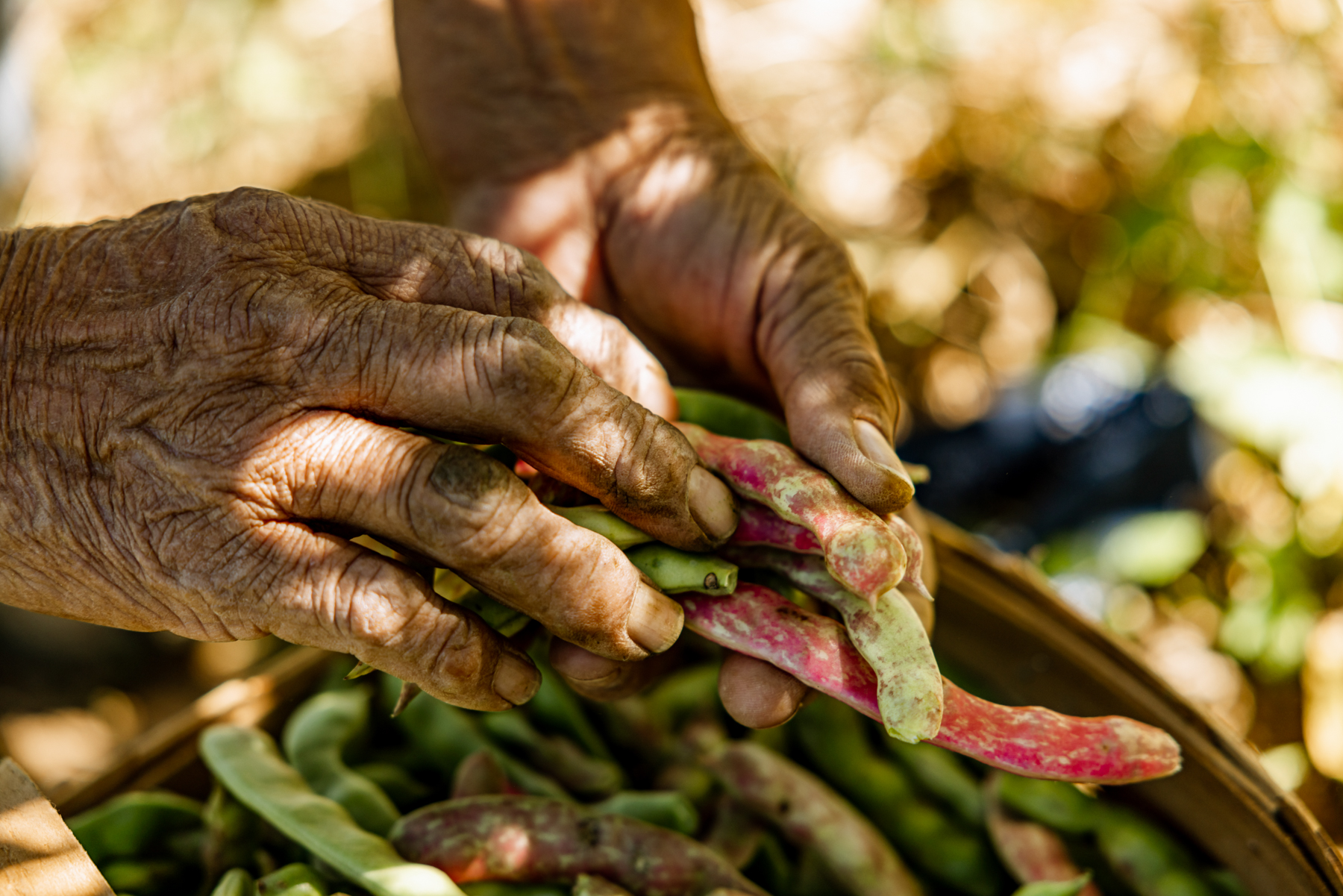 Relations with Tso-gi-ga-yv-li-ge-i (Ancestors) are still strong. The Cherokee people have lived with this land since time immemorial. The earth is the dust of the Ancestors. They help grow the food to feed the next generation.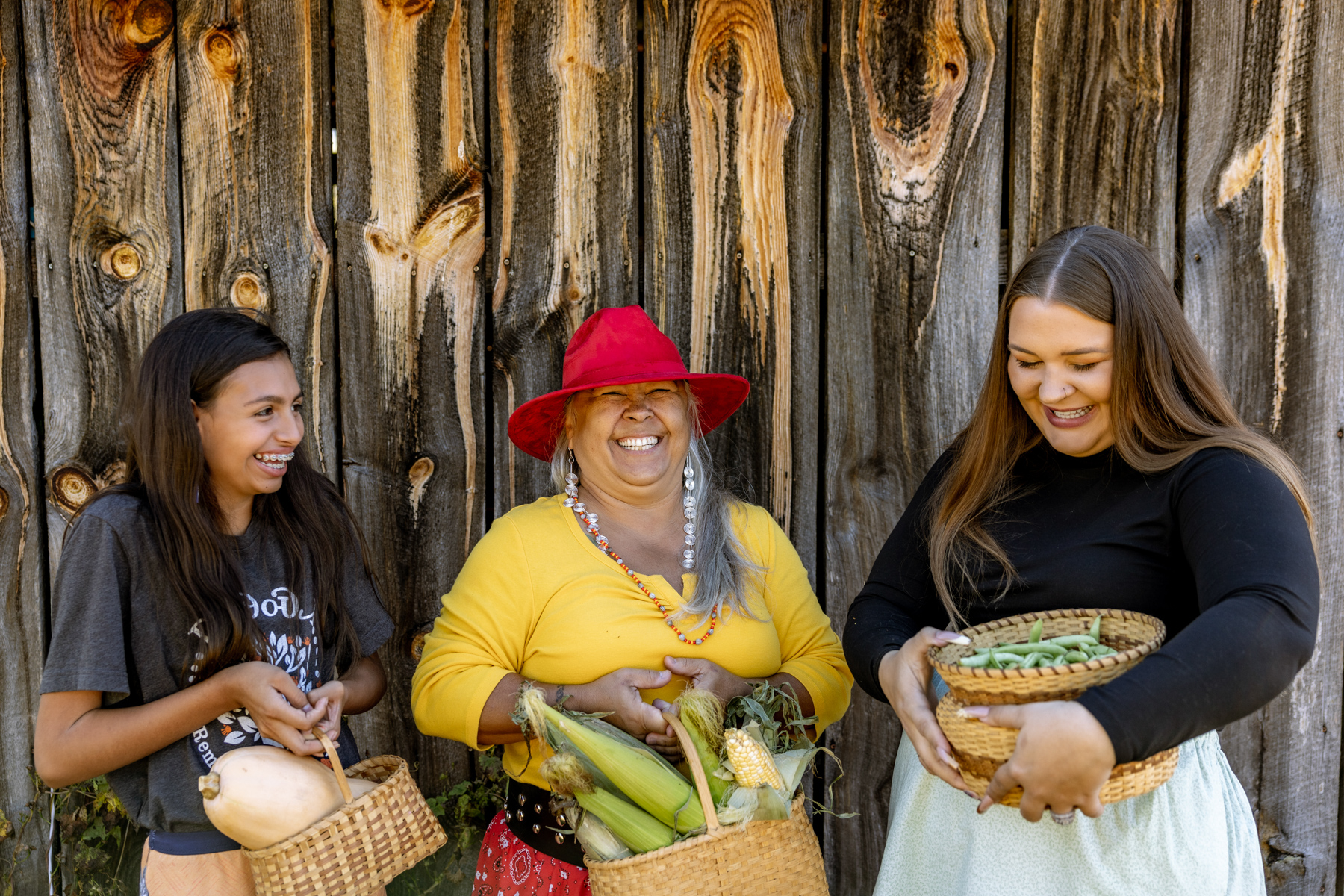 Ga-tli-so-di (Gather) the harvest of V-le-ni-do-hv (life) and a-ye-tsa-s-di (laughter), when we take care of the land, the land provides, we can take care of each other. Jasmine with squash, Nikki with corn and Faith with beans.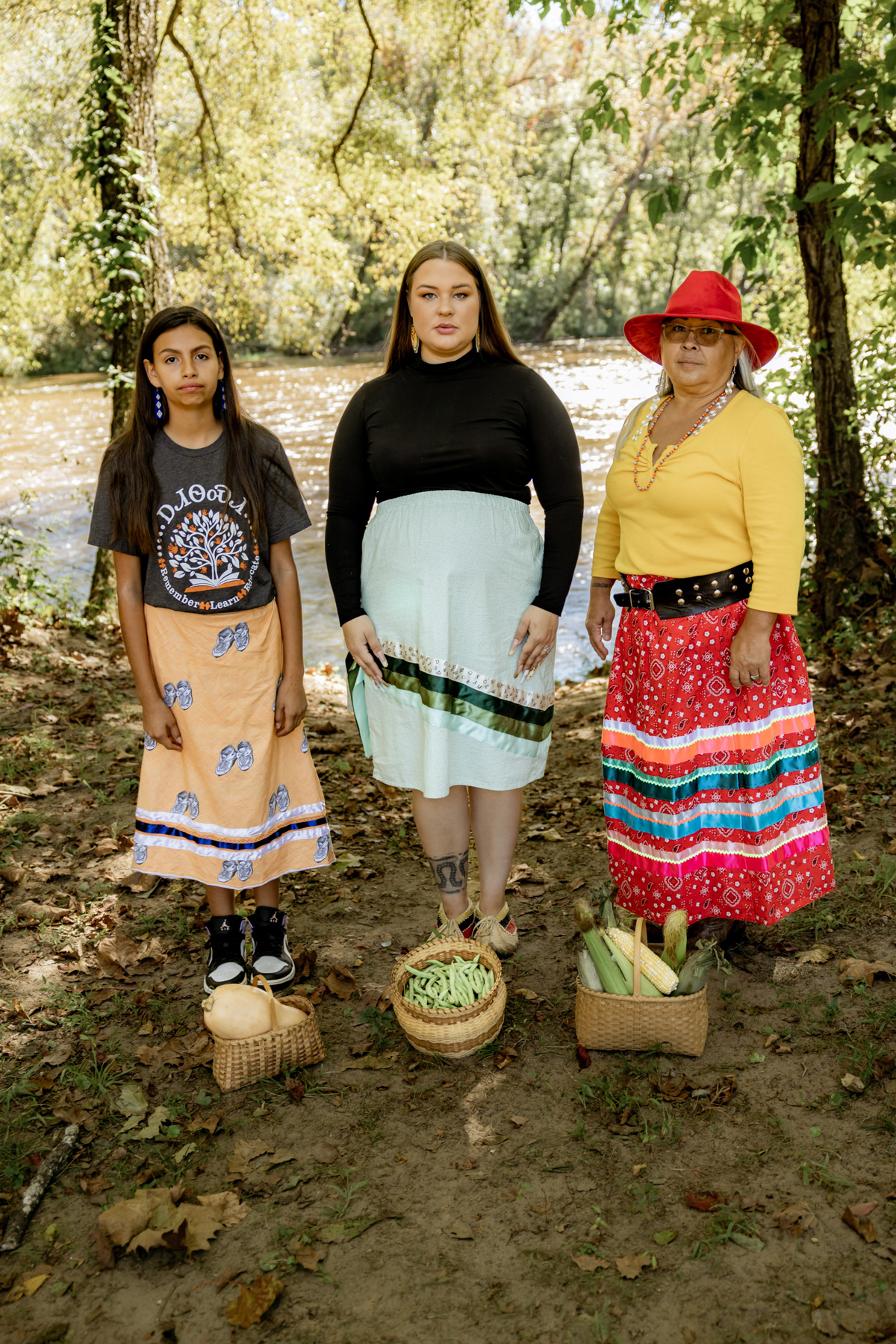 A-li-go-di no-le u-la-ni-gi-da (Unity and strength), 3 sisters is a relationship between the gourd, corn and bean. Their relationship is embodied in how Cherokee maintain food sovereignty, and have relations with the land and each other. Just like the mound, stomp and river, when 3 sisters stand together they flourish together. Jasmine, Faith, Nikki.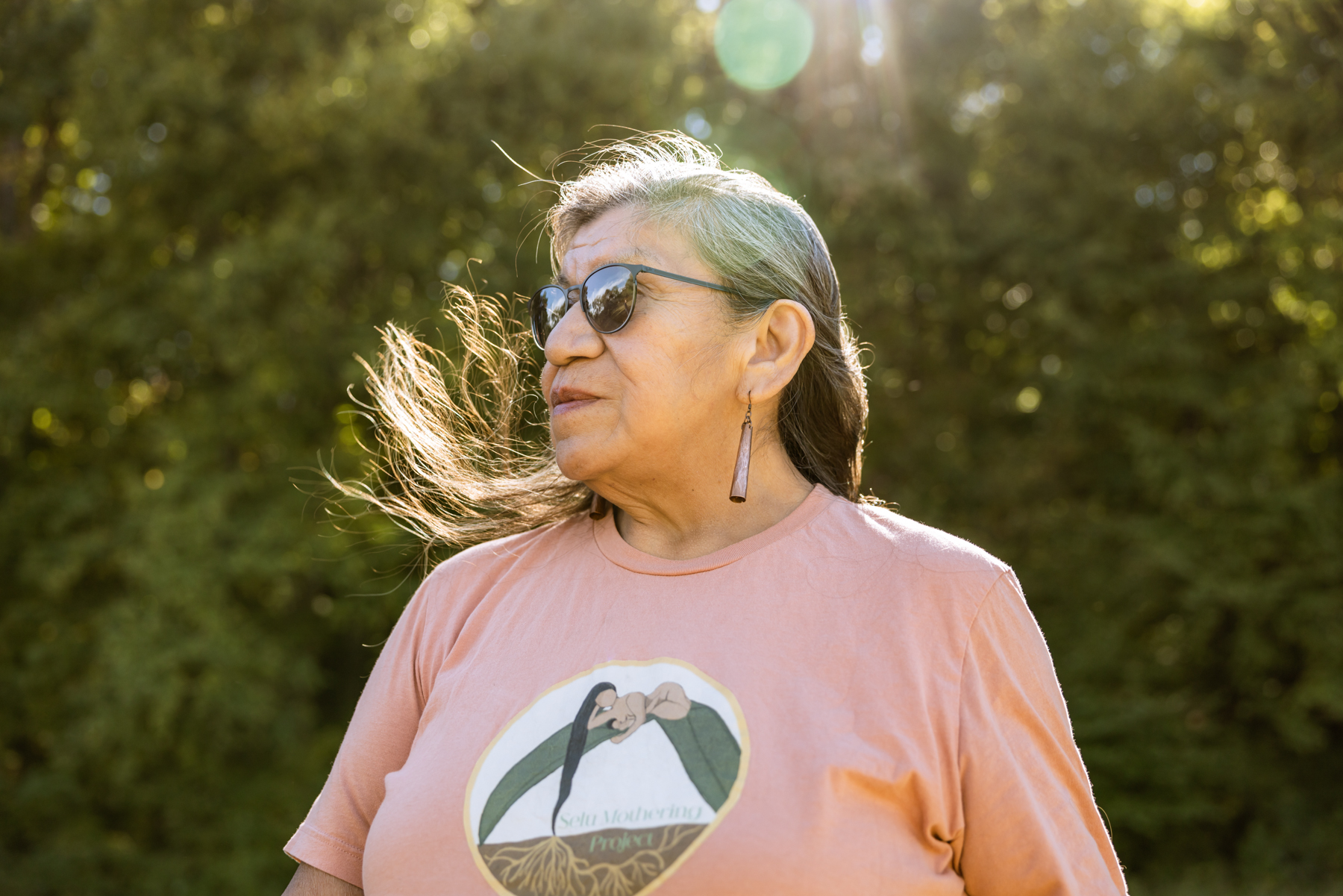 Whispers in the ga-no-lv-v-s-gv (wind). Onita, Cherokee Elder settles herself and connects to the land before sharing knowledge.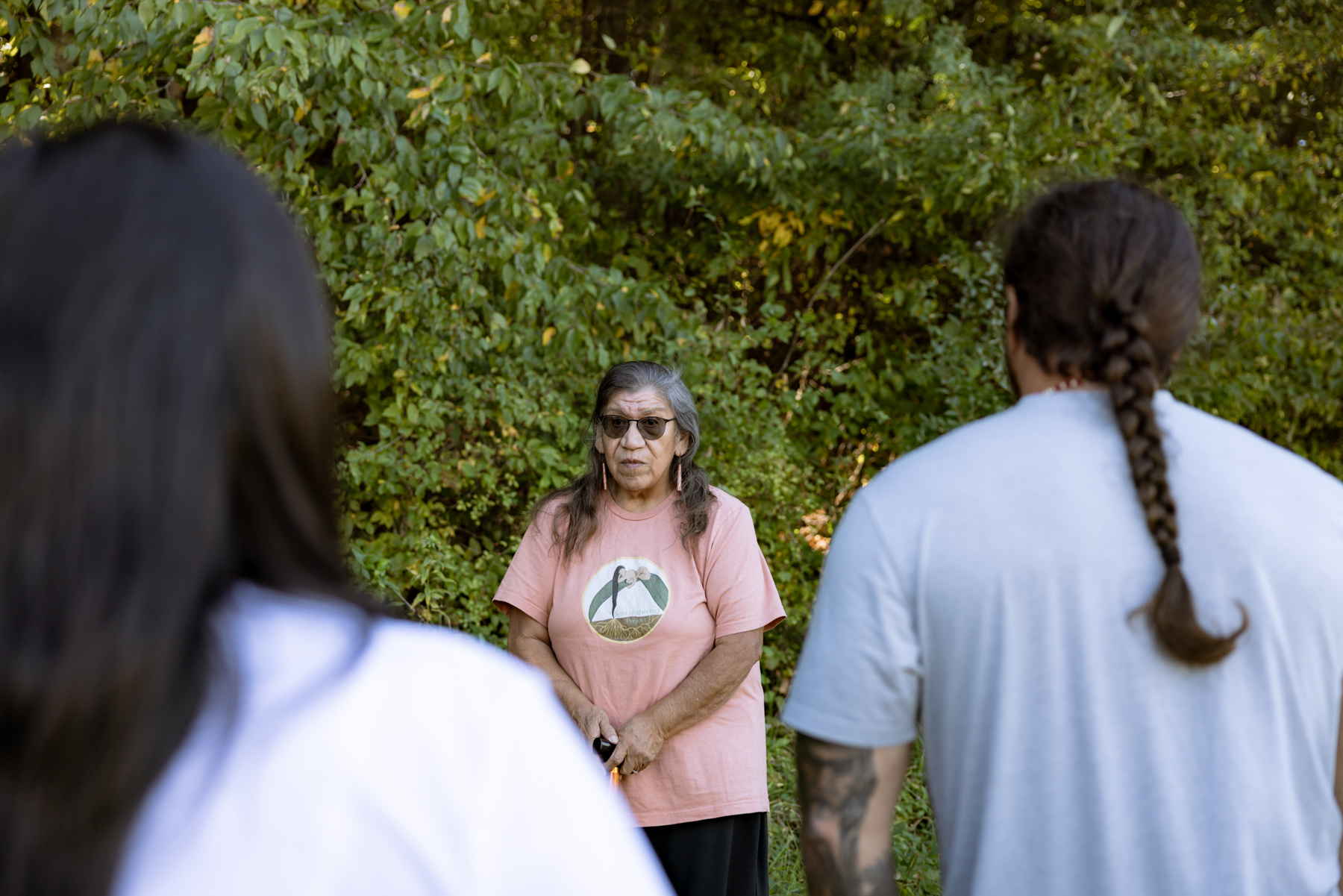 Ha-le-wi-sda (stop) when an elder speaks, all things stand still. Medicine Keeper, Onita shares her traditional knowledge of our plant relatives.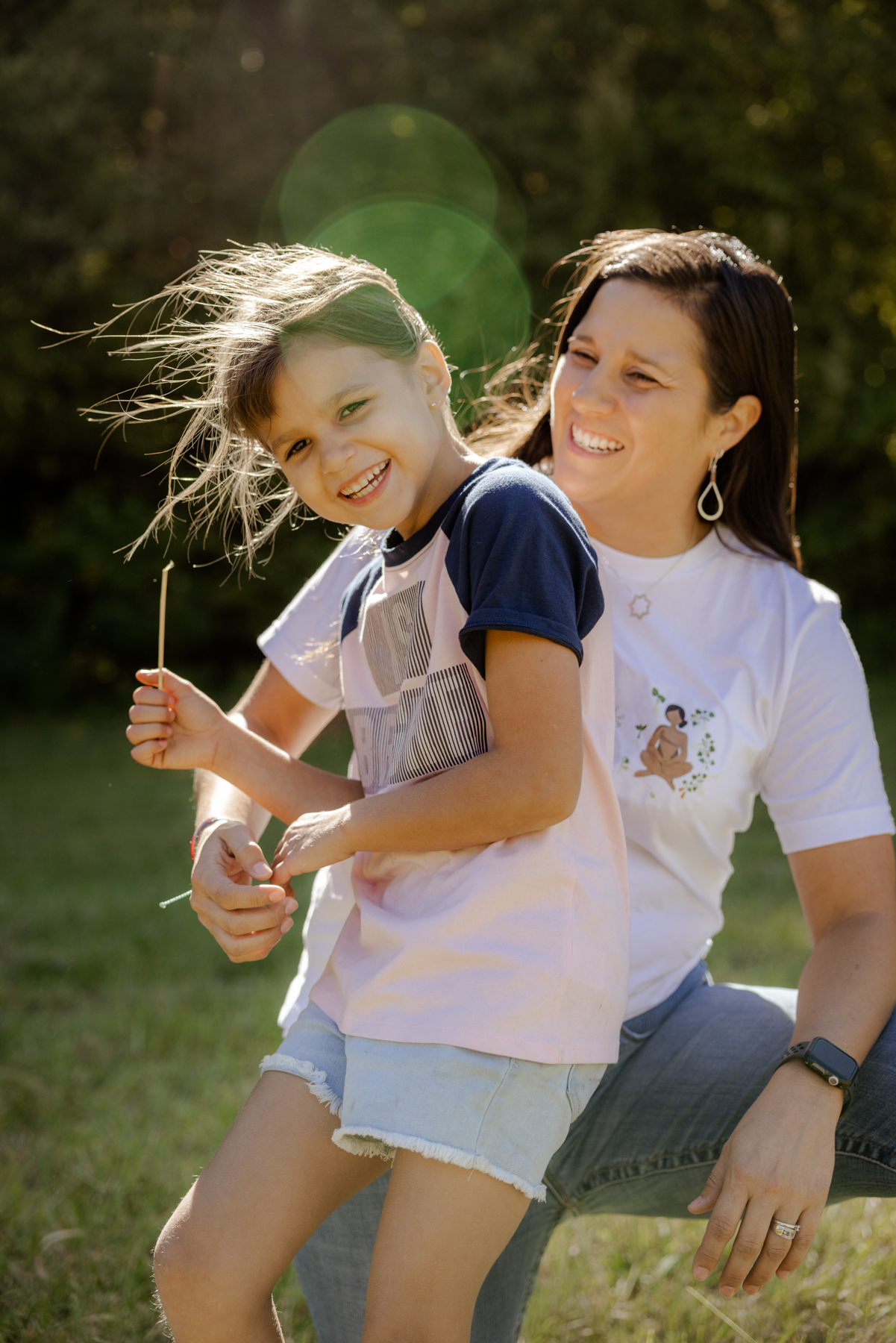 A-ye-tse-s-di o-s-da nv-wo-t(i) (laughter is the best medicine), there is strength in laughter when it is shared with knowledge and family, in sacred spaces. Chi and Enola.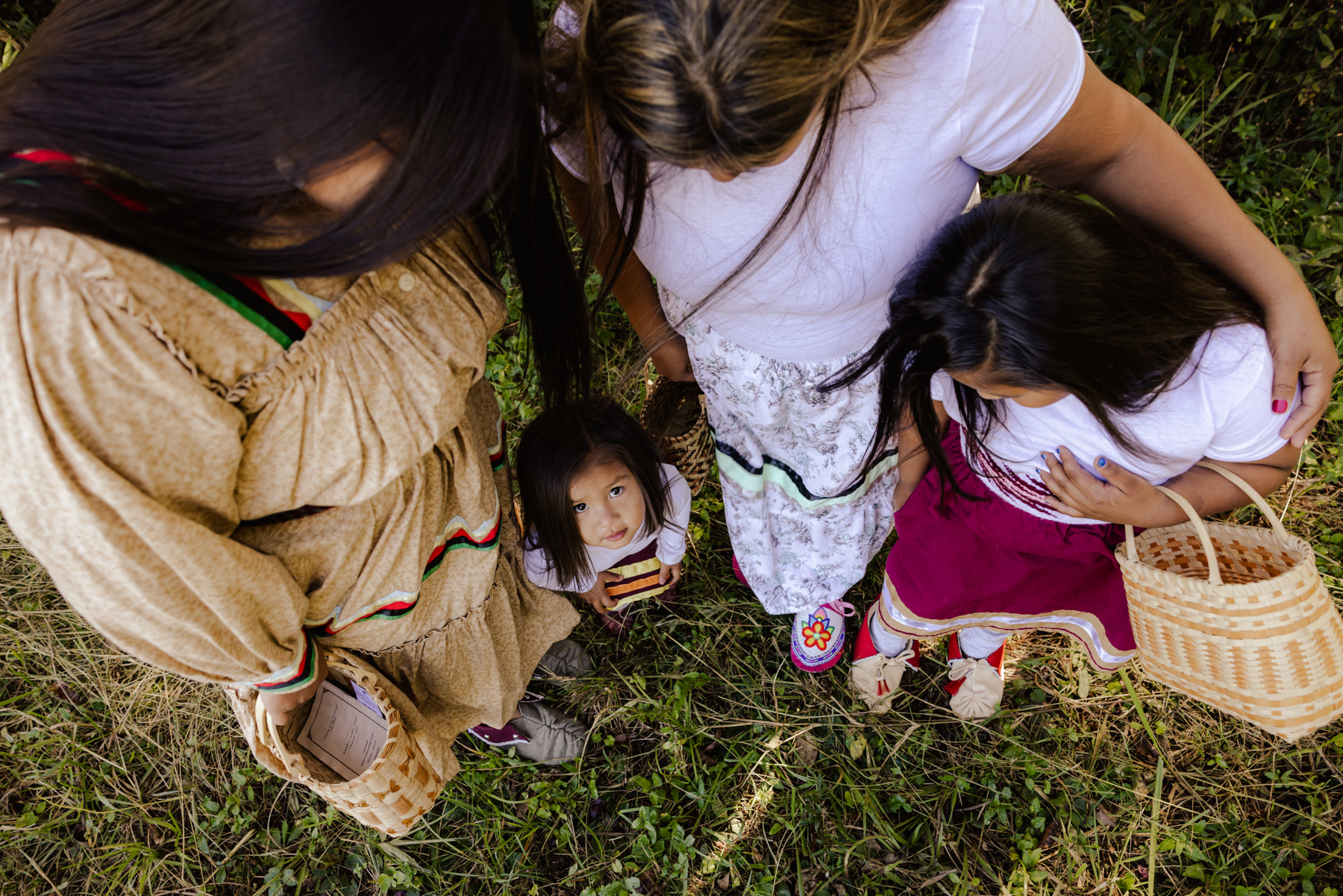 I-nv-i-ga-ti a-ni-do-na-v (standing with giants). Matrilineal ties keep us grounded to the land, culture and tradition. Kyndra, Mia, Amy, Rhiannin.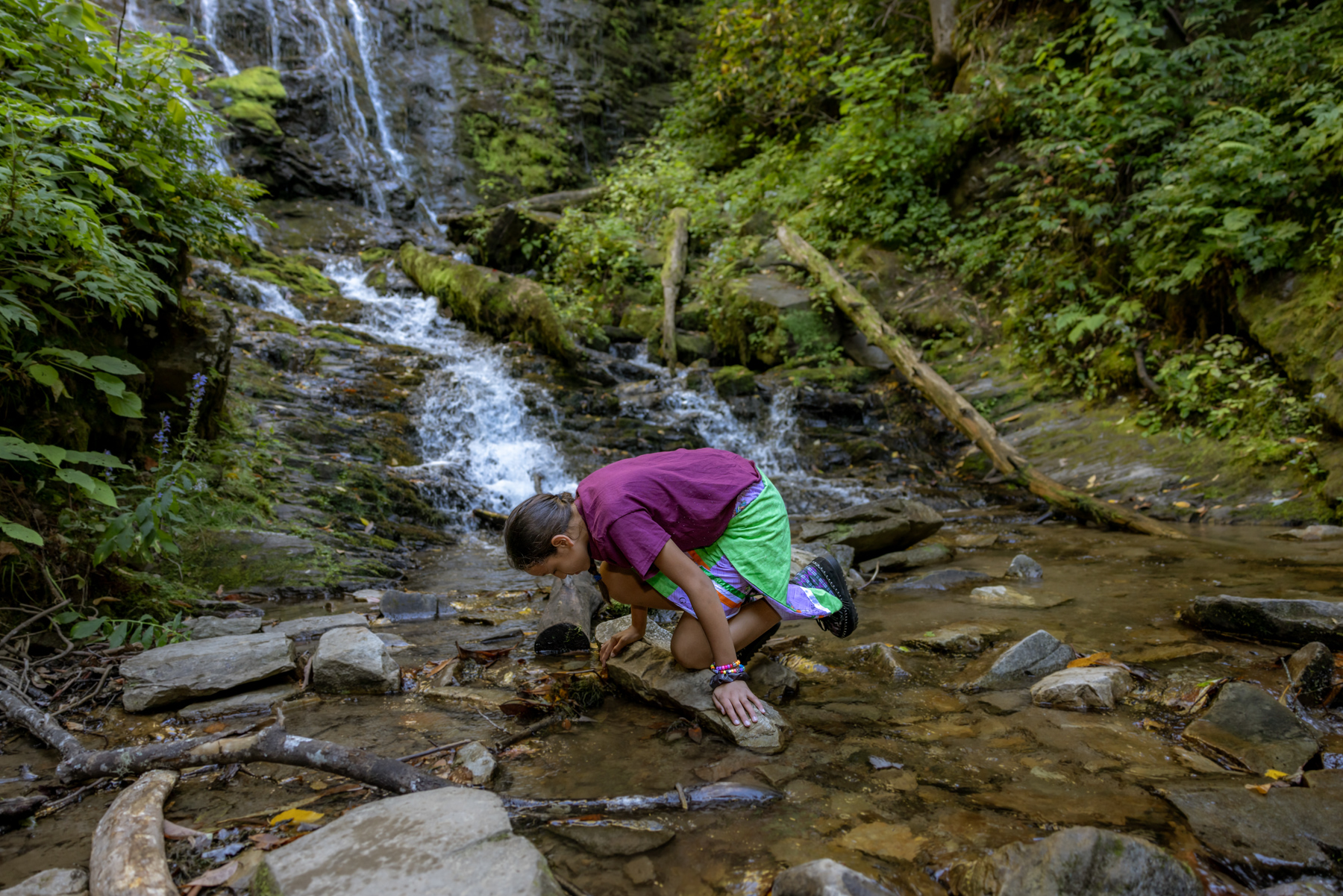 Nu-s-di-da-nv-i wi-di-ka-ni-ti-yi (Reflection) Water is Life! It is a source of strength and medicine, to cleanse and help us recenter, to help us be du-yu-k(a)-dv-i (on the right path). Children are taught Cherokee teachings from infancy not in a classroom but in relations with others and the land.Water Protector, Janée, holds an innate relationship with A-ma (water) she has led peaceful protests and rallies in multiple states to advocate for the water's rights since she was four.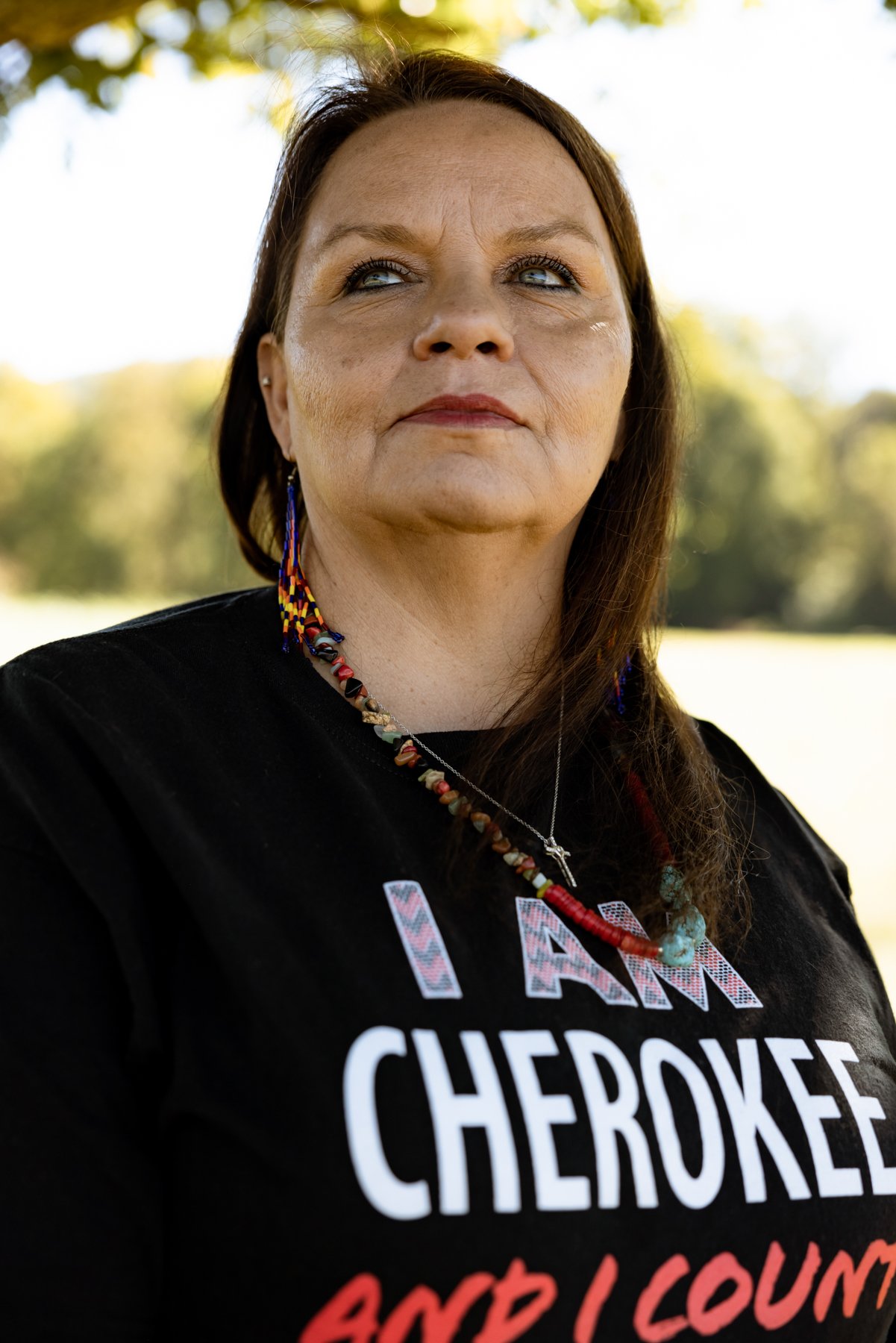 A-li-s-de-li-s-gi (Protector) To say "I love you" in Cherokee is to actually say I put myself between you and harm. Cherokee women protect their children, their family, and their community. Anita is a protector of her people and her land, constantly involved in projects to give a voice to Indigenous people and places. Speaking for them when they are being threatened.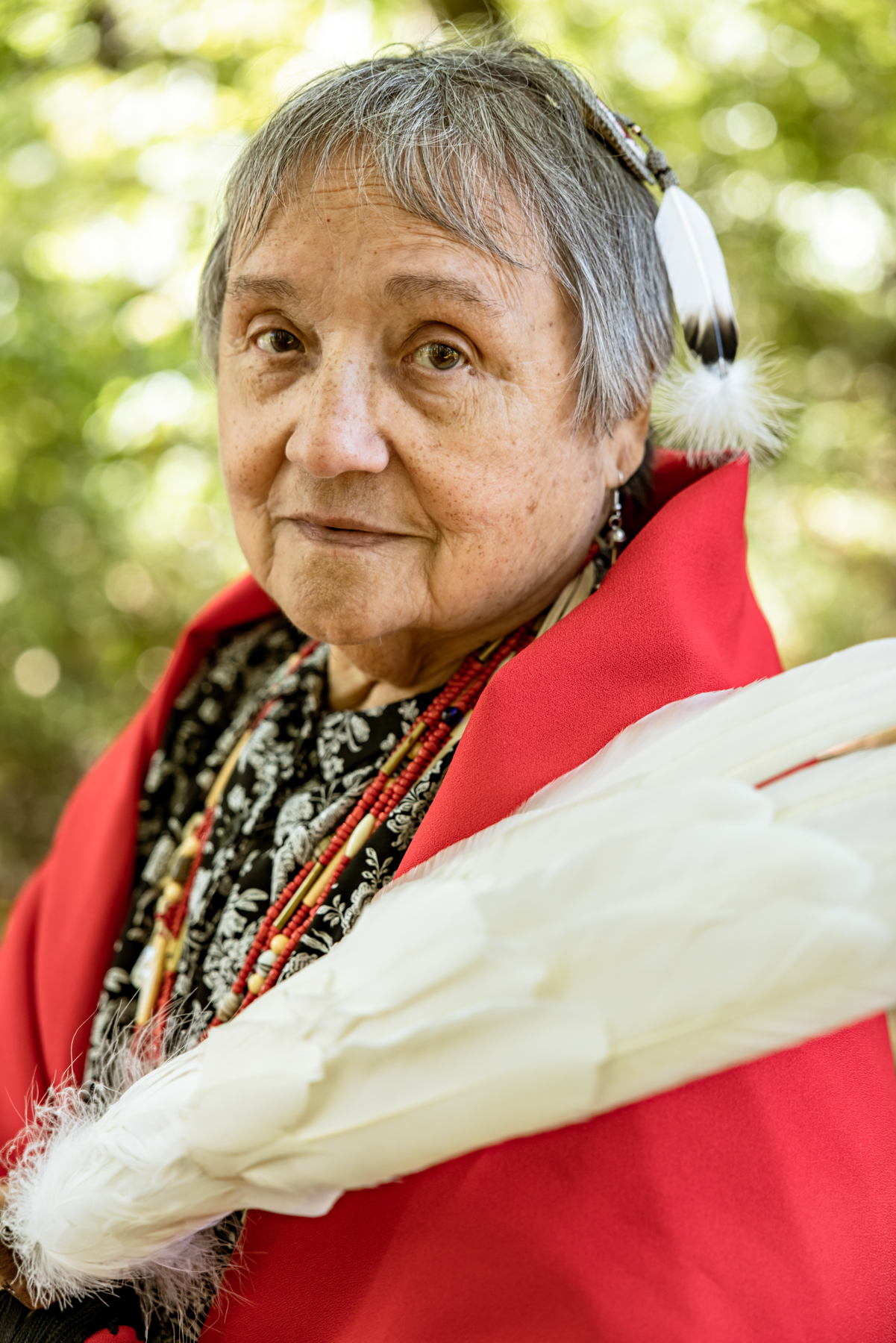 A-ka-li-wo-hi (Completely). To an outsider you may need many words like I-yu-s-da-gwo, u-tlv-yo-li-s-di , u-la-ni-gi-da, I-nv-i-ga-ti, A-li-s-de-li-s-gi but to a Cherokee, you only need  A-da-ge-yu-di (Beloved). The land and she are one. Cherokee Beloved Woman Carmelita Monteith.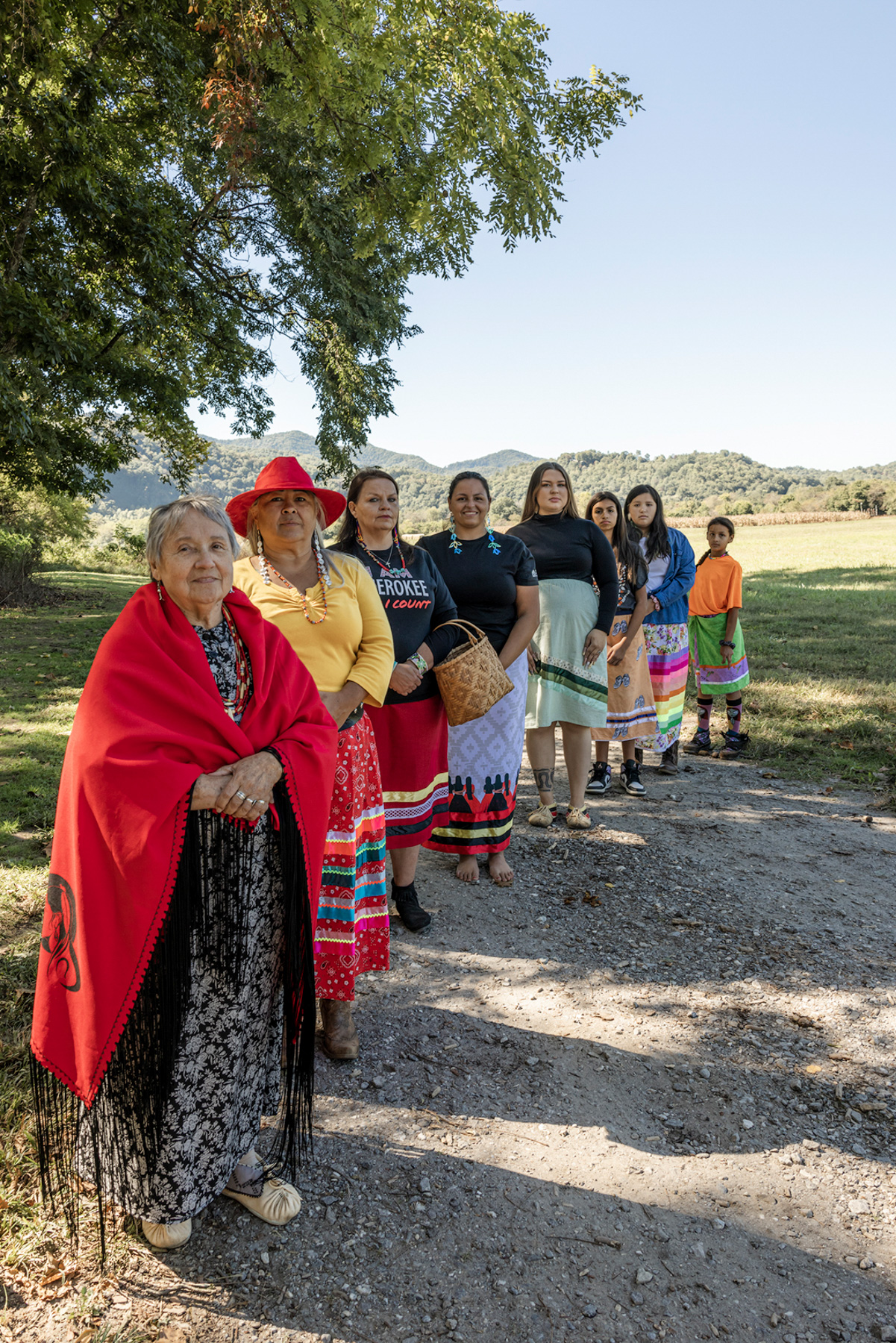 I-tsu-la (Together). The path of a Cherokee woman isn't walked alone. We walk behind our elders to receive wisdom. We walk in front of the next generation to protect them. We walk beside Ancestors' shadows to receive the strength to be resilient. —Beloved Woman Carmelita Monteith, Nikki, Anita, Kimberly, Faith, Jasmine, Zailyana, Janée.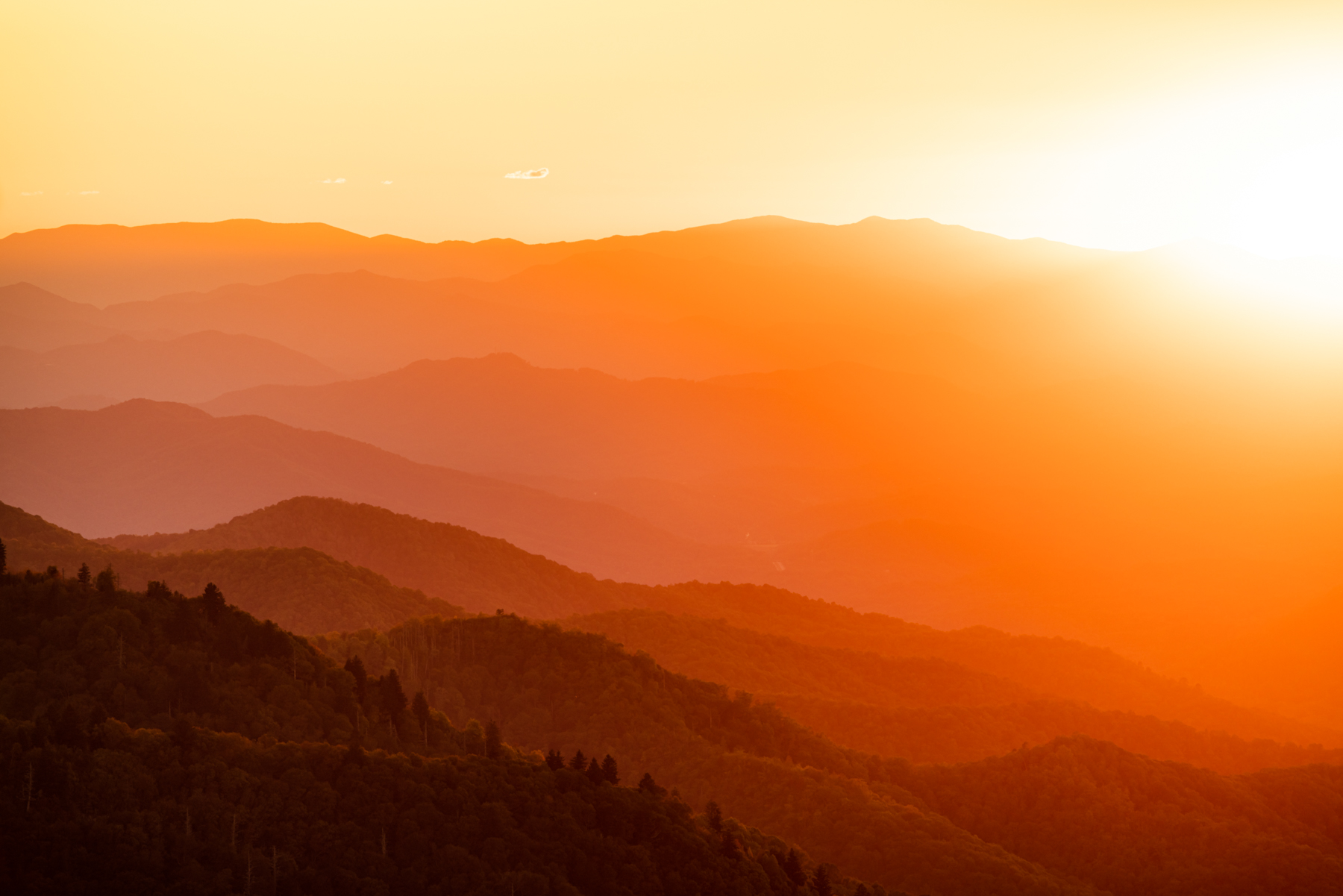 U-no-yv-gv-i i-yu-da-tsv-nv-i (Echo). Mountains and valleys hold the echoes of generations, echoes run true never ending with fulfillment and promise that we will always be here, one with the mountains.
Do-dv-da-go-hv-i (Until We meet again). As the sunsets, the ancestors and the ancestral mothertown lands of the A-ni-Ki-du-wa-gi (people of the Kituwah Mound/Cherokee) speak until we meet again.
---
About Micheli Oliver
Micheli is a storyteller, photographer, writer and Indigenous activist. Her hope is to facilitate connection with the world we all come from and to fall in love with the land we must protect. She aims to center BIPOC voices in all that she does and create space for diversity in everything. Her body of work has ranged from stills photography for films to photojournalism. She additionally focuses on writing and looks to reclaim Indigenous stories through a non-traditional and widely accessible format. It's her biggest passion to contribute to a more just and equitable world, focusing always on the wellbeing of her people and Indigenous sovereignty. You can follow Micheli's work on Instagram at @micheliphoto.