One of the most beloved activities in wild lands is hiking
We've compiled a list of the most quintessential hikes in America's wild lands.
Some of these are backpacking adventures, which will require planning and consideration of your individual abilities, time and interests. Most can be abbreviated into easy day hikes if that is desired.
Which of these ultimate hikes will you explore next?
---
1. Pacific Crest Trail in Pasayten Wilderness, Washington
The "P.C.T." is one of America's most noteworthy national trails. Running along the West coast all the way from Mexico to Canada, a thru-hike can the entire five-month snow-free season. If you're looking for just a taste, try its northernmost stretch through the Pasayten, where you can take in views of North Cascades National Park. If you are an experienced backcountry traveler, you may want to trek the neighboring Pacific Northwest Trail as well. A great day hike in this wilderness is Buckskin Ridge.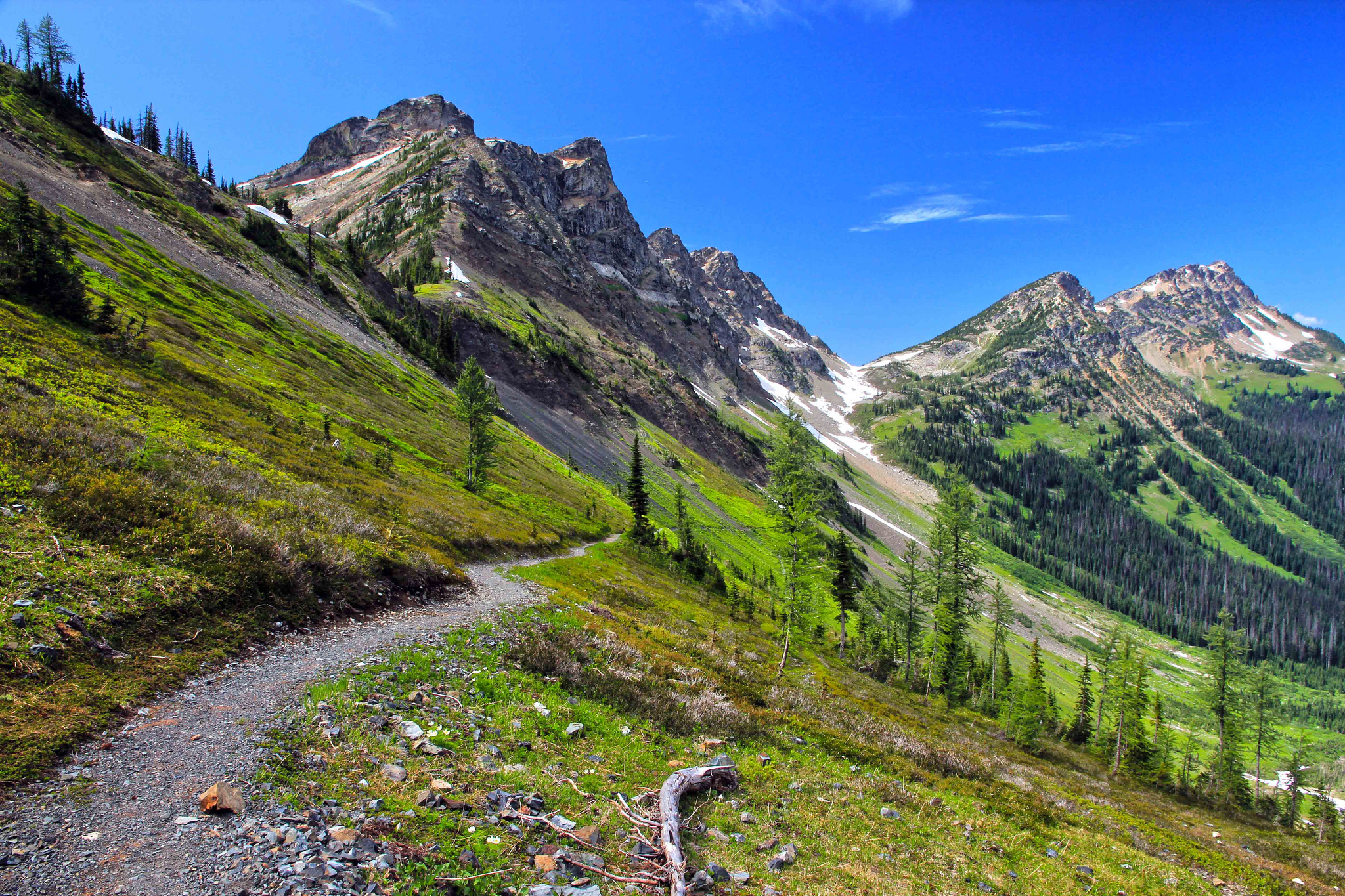 photo: Ascending Rock Pass on the PCT in Pasayten Wilderness. credit: Flickr, andy porter.
---
2. Dosewallips to Lake Quinault in Olympic National Park, Washington
This 30-mile journey winds through gorgeous temperate rainforests and wildflower-strewn alpine meadows in the wildlife-rich southern part of the park. Coastal weather necessitates planning (and the wilderness requires permits). With 95% of its lands designated as wilderness, Olympic has many incredible day hikes as well.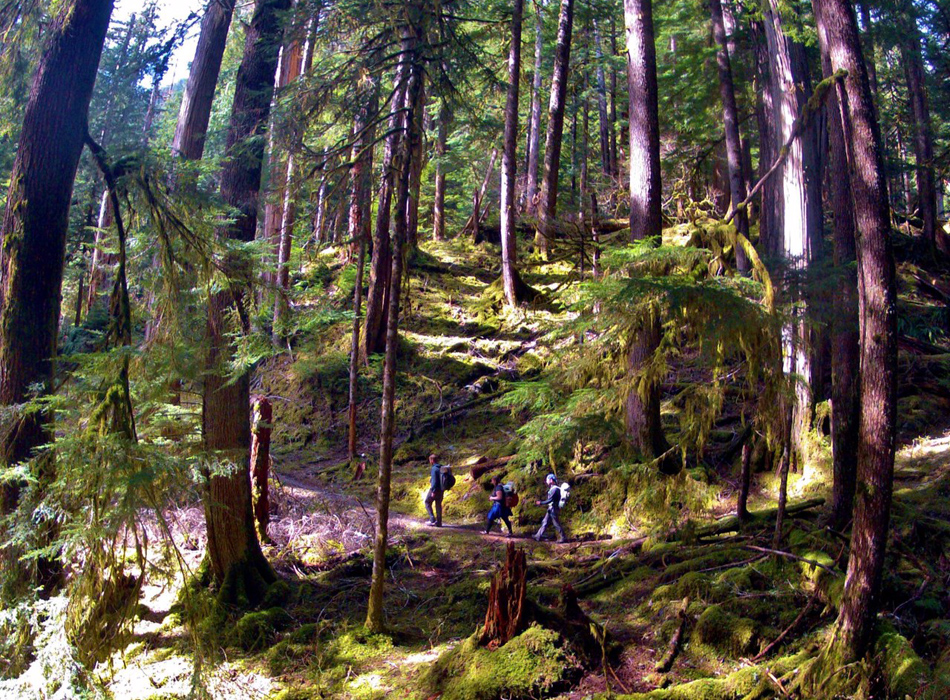 photo: Enchanted Valley Trail in Olympic National Park. credit: Exotic Hikes.
---
3. John Muir Trail in Yosemite National Park, California
Running in conjunction with part of the PCT is one of the top trails in the world. One end is at Mount Whitney in Sequoia National Park and the other is in Yosemite Valley, whose iconic landscapes have been protected for 50 years. In Yosemite, you will see Nevada Falls and the spires of the Cathedral Range. For a truly memorable adventure, you can take a side trail to see half-dome at full moon. For a lengthier trip through this area, consider the Grand Traverse from Post Peak Pass to Tuolumne Meadows.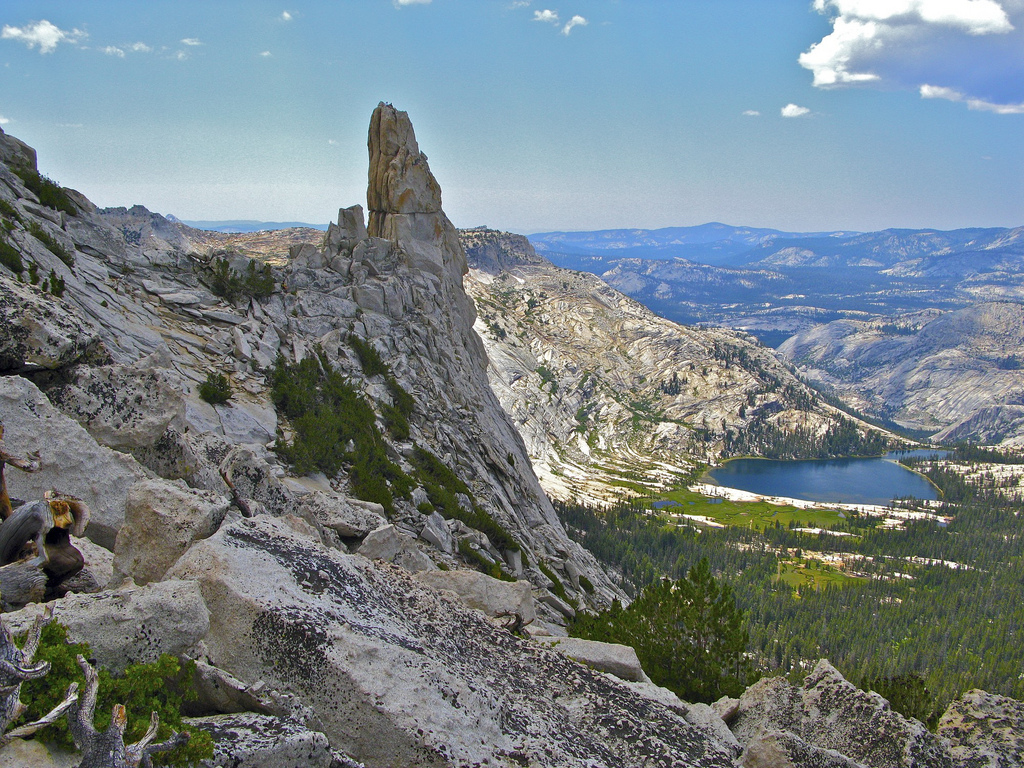 photo: John Muir Trail in Yosemite National Park. credit: Flickr, Steve Dunleavy.
---
4. Sierra High Route in Ansel Adams Wilderness, California
You can avoid John Muir's crowds if you are ready for more of a challenge on a trail that is less marked and maintained. This higher road offers more vistas of the majestic Sierras as it runs for 195 miles through some of the state's best destinations: Kings Canyon National Park, John Muir Wilderness, Ansel Adams Wilderness, Devils Postpile National Monument, Yosemite National Park, and Hoover Wilderness.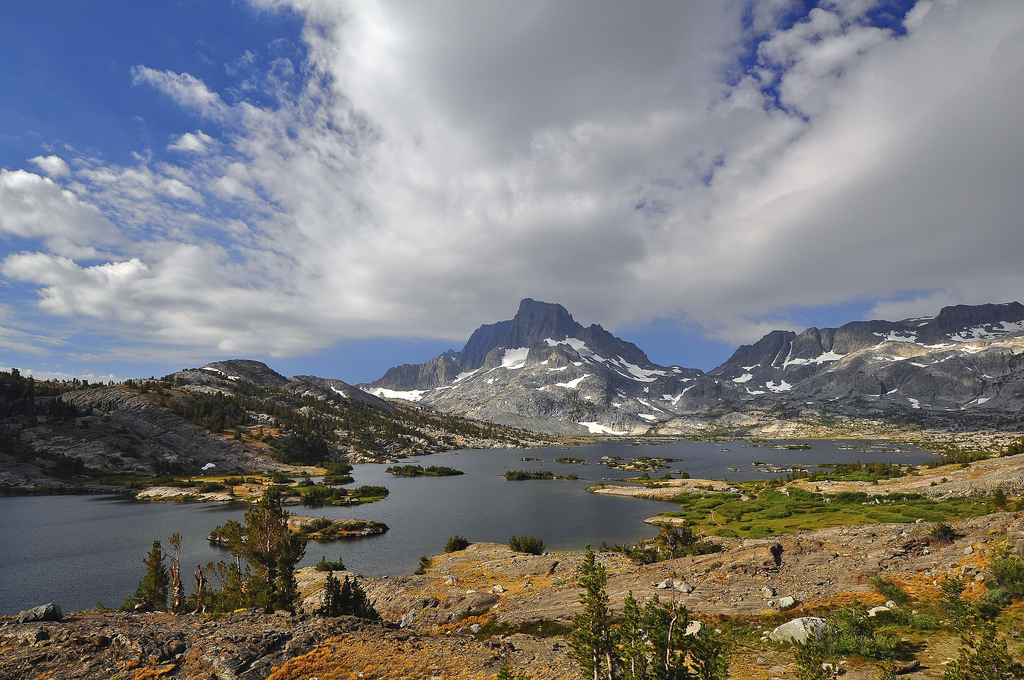 photo: Thousand Island Lake in Ansel Adams Wilderness. credit: Flickr, Steve Dunleavy.
---
5. Rim to Rim Trails in Grand Canyon National Park, Arizona
Few places in the U.S. offer more awe than this gem. This route takes you from one rim to another, allowing you to peer deeply into the ancient times embedded in colorful layers of rock. You'll get a week's worth of sunsets - and dark starry skies - if you venture back and forth, crossing the cool waters of the Colorado River twice. For a shorter stint, any piece of these trails has stunning panoramas, but the dirt path from Maricopa Point to Hermits Rest feels wild yet easy going.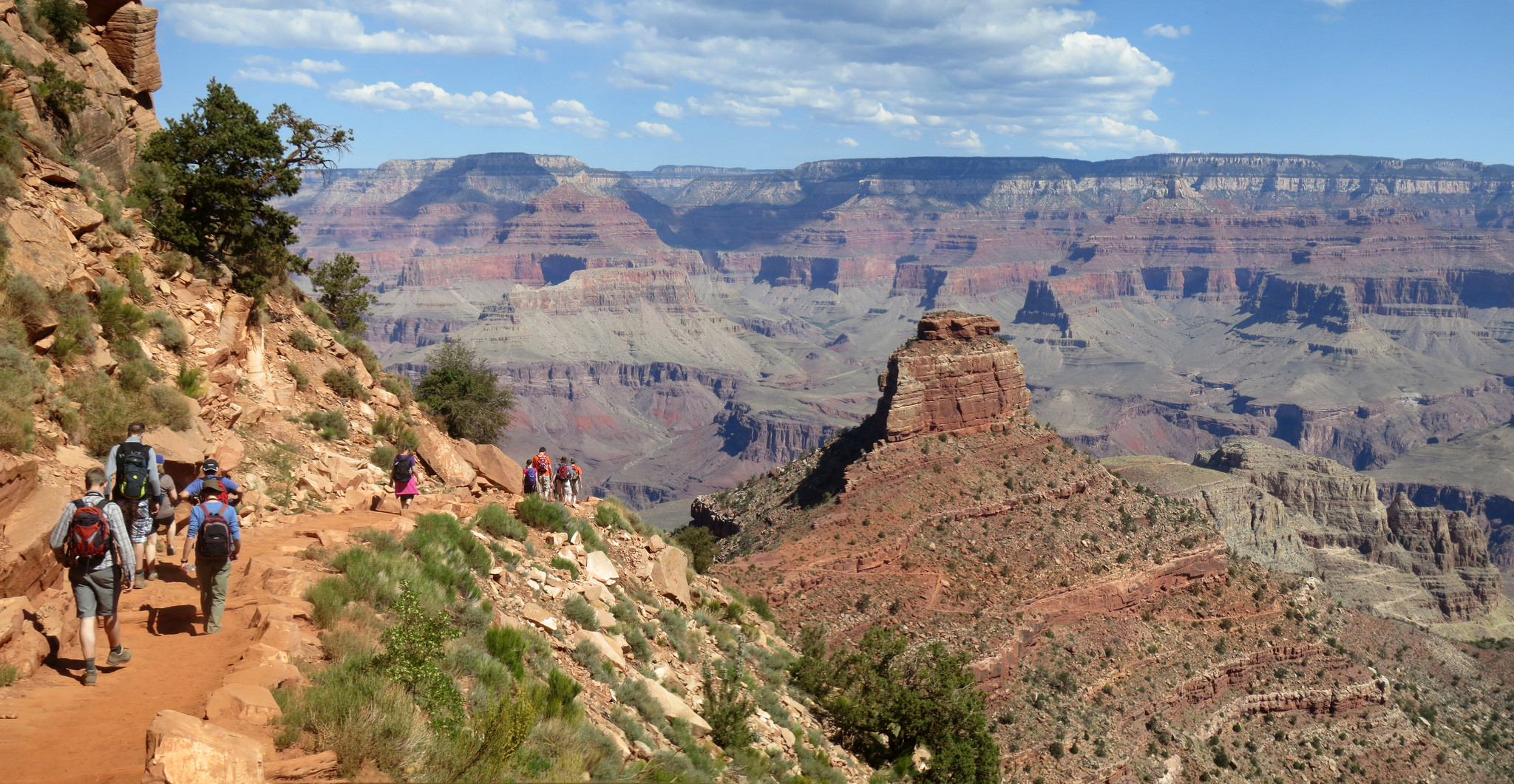 photo: South Kaibab Trail in Grand Canyon National Park. credit: Flickr, Grand Canyon NPS.
---
6. Angel's Landing Trail in Zion Wilderness, Utah
Zion has several special trails, but Angels' Landing may be the most legendary. At five miles round-trip, the hike can surprisingly take hours to complete with its great heights and adrenaline-charged drops. Once at top, the rewards are magical as you set your weary eyes on stunning Zion Canyon from above. The 16-mile Zion Narrows is another great trail here, as it curves with the Virgin River through spectacular sandstone gorges. The heat at Zion is unforgiving, so hike early!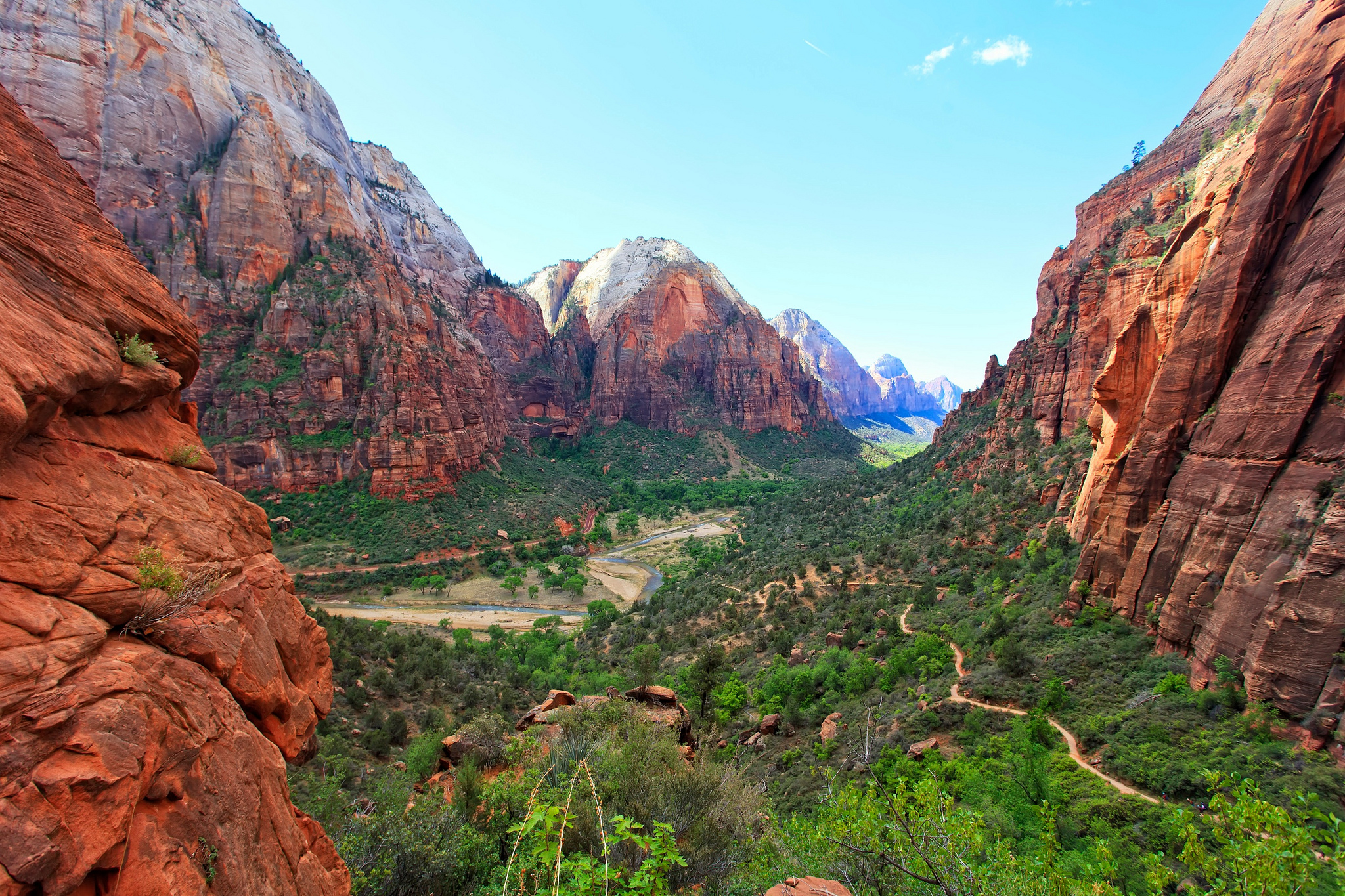 photo: Angel's Landing Trail in Zion National Park. credit: Flickr, Yinghai.
---
7. Devils Garden Trail in Arches National Park, Utah
Arches National Park has more natural sandstone arches than any place in the world. This easy two-mile hike takes you past Tunnel and Pine Tree Arches to Landscape Arch, the longest arch in the world and one of the park's most awe-inspiring. You can continue to Devils Garden to see five more arches for a five-mile round-trip.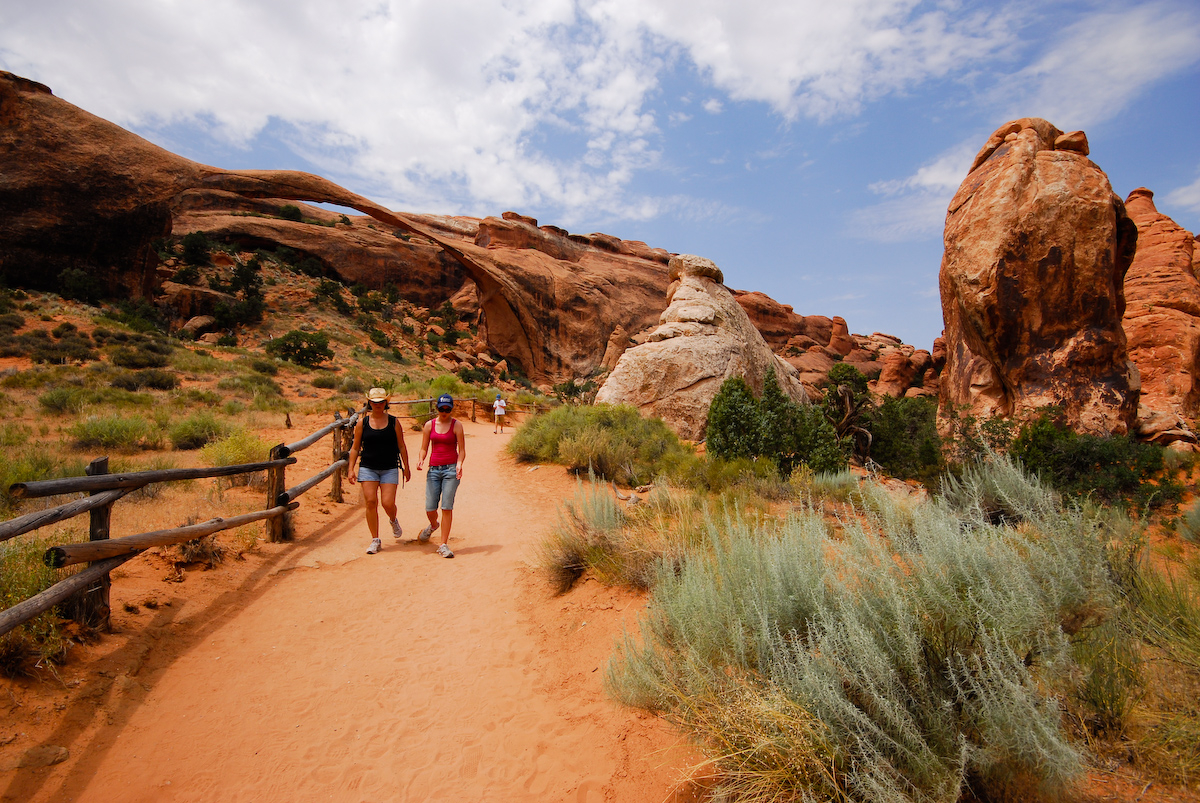 photo: Arches National Park (Landscape Arch in background on left). credit: Flickr, Curtis Brown.
---
8. Mount Washburn in Yellowstone National Park, Wyoming
Yellowstone is one of America's most well-known lands, and this trail is one of its classic day hikes. Seven miles of forests offer many wonderful sights but the peak of Mount Washburn has the most breathtaking view with Yellowstone Lake, the Absaroka and Beartooth Ranges, and even the faraway Grand Tetons. July and August usher in wildflowers, and mornings host peregrine falcons, elk, mule deer and bighorn sheep.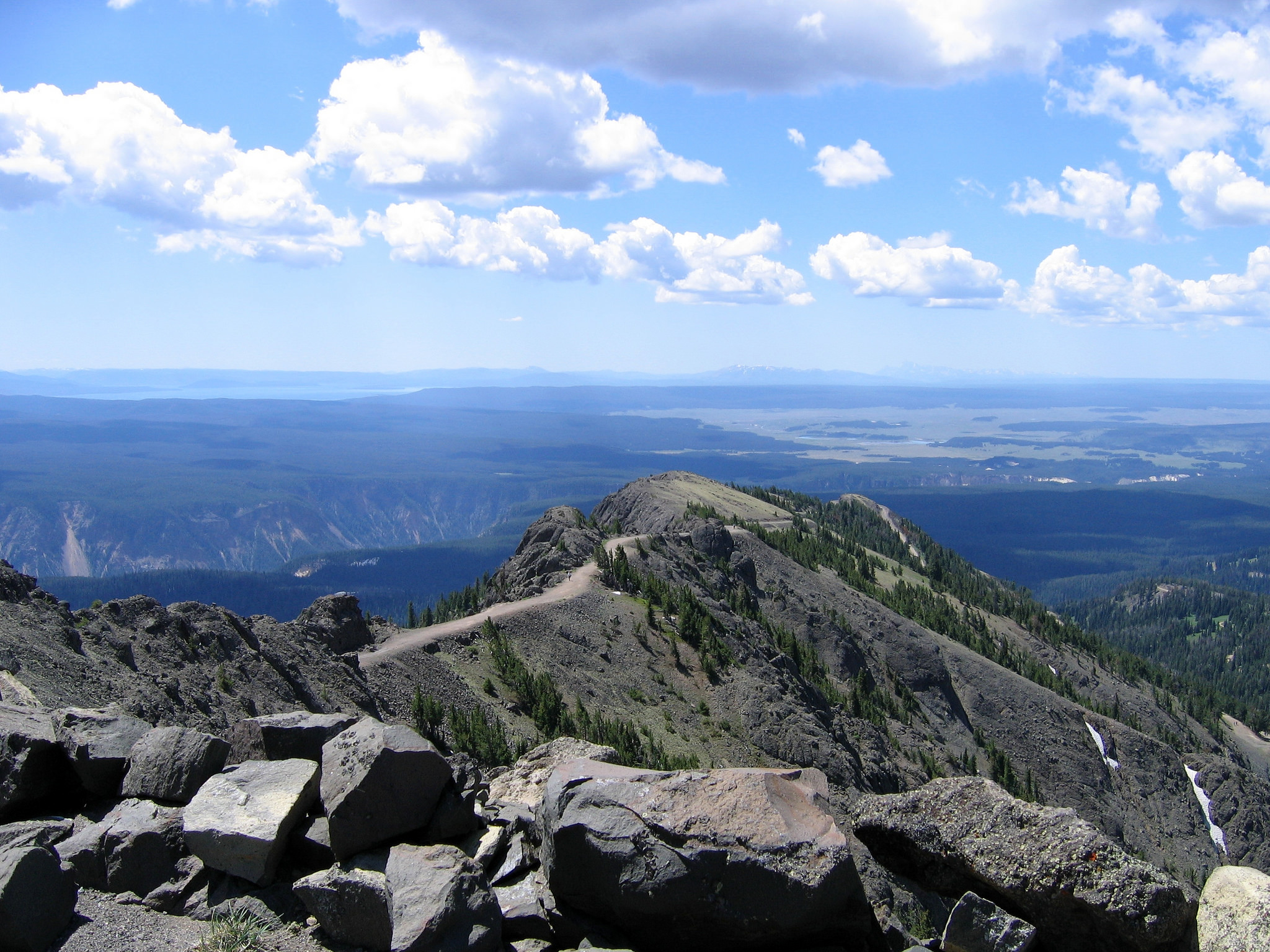 photo: Summit of Mount Washburn in Yellowstone National Park. credit: Flickr, Kat B.
---
9. Continental Divide Trail in Glacier National Park, Montana
The CDT traverses through the mid-section of the continent along the Rockies all the way from Montana down to New Mexico. Over 100 miles journey through Glacier National Park, where it also connects with the Pacific Northwest Trail. A relatively easy section follows Glacier's premiere Highline Trail for 11 miles, boasting jagged peaks, bright wildflowers, and lucky glimpses of mountain goats and bears. The CDT also peels through some of Montana's one-of-a-kind wilderness areas, where we are helping fish populations cope with a warming climate.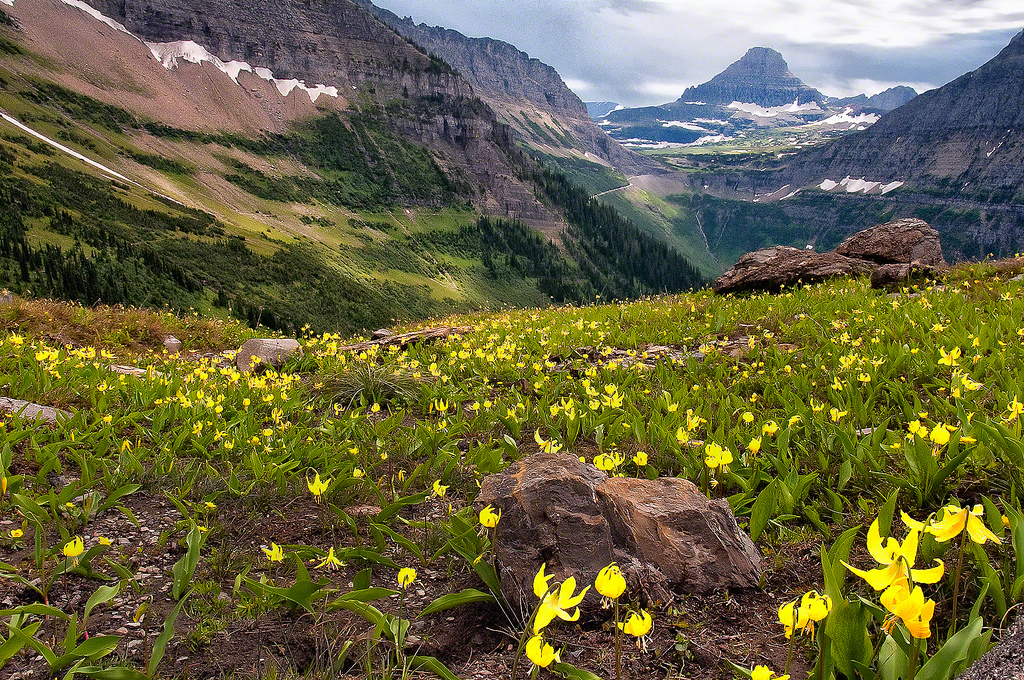 photo: CDT in Glacier National Park. credit: Flickr, BLGphoto.
---
10. Kekekabic Trail in Boundary Waters Canoe Area Wilderness, Minnesota
Boundary Waters is one of America's most visited wildernesses and was one of the first to be protected under the Wilderness Act over fifty years ago. Along with over 1,000 miles of canoe routes, Boundary Waters has 18 hiking trails and about 2,000 campsites. The Kekekabic Trail is the only one that cuts through the heart of the wilderness. It's a three-to-five-day hike for those who like a challenge - and who seek the quietest campsites in the country. It's set to become part of the North Country National Scenic Trail, which weaves from eastern New York to North Dakota.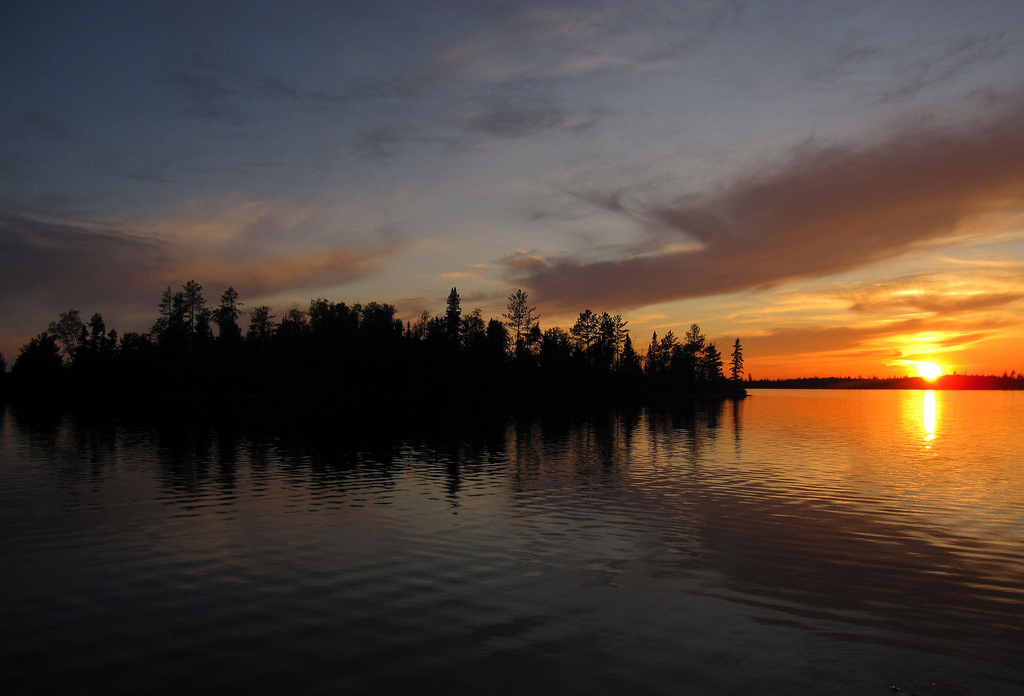 photo: Kekekabic in Boundary Waters Canoe Area Wilderness. credit: Flickr, David Grant.
---
11. Appalachian Trail in Great Smoky Mountains National Park, Tennessee
Along with the PCT and CDT, the "A.T." completes the "Triple Crown" of America's thru hikes. A hike through the most visited national park makes for a classic Southern backpacking trip. With the highest point on the trail at Clingman's Dome, this section is high and steep as it courses along ridges, offering persistent vistas. Initiated by Wilderness Society founder Benton MacKaye, the AT is now maintained by wilderness lovers like The Wilderness Society's Southern Appalachian Wilderness Stewards (SAWS).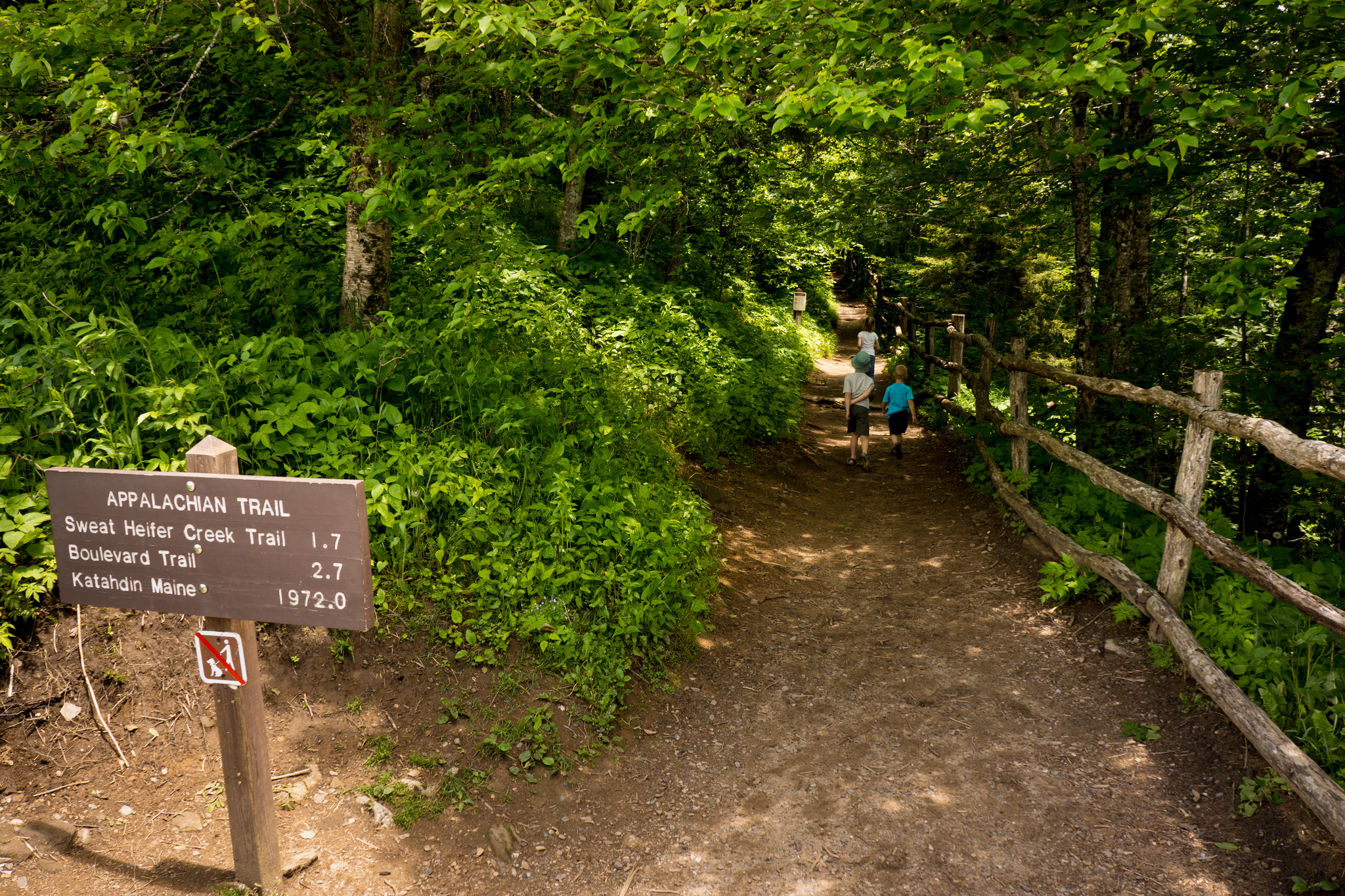 photo: AT in Great Smoky Mountains National Park. credit: Flickr, eawortman.
---
12. Anhinga Trail in Everglades National Park, Florida
Everglades has more diversity of wildlife than just about anywhere else in the lower 48 states. This trail is by far the shortest and easiest listed here, but it is no less spectacular. About a mile round-trip, the path is raised above a marsh teeming with alligators, turtles, anhingas, herons, egrets, and many other birds. Everglades' best trail is actually for boating; the Wilderness Waterway Trail careens for 99 miles through the beautiful Ten Thousand Islands in the wilderness named for its champion Marjory Stoneman Douglas.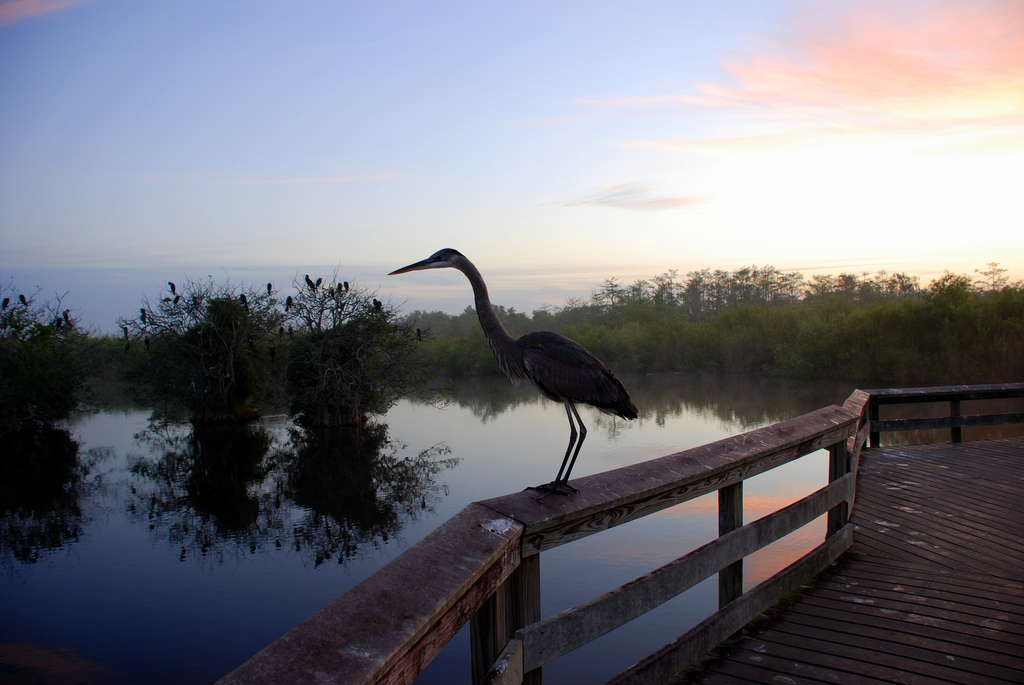 photo: Great Blue Heron on Anhinga Trail in Everglades National Park. credit: Flickr, James Good.
---
13. Franconia Ridge Loop/Traverse in Pemigewasset Wilderness, New Hampshire
This is one of the greatest iconic hikes in America's most trail-rich destination: the White Mountains of the northeast. It remains remarkably quiet if you visit earlier or later in the year. But be forewarned: it is considered the second hardest day hike in the country (we recommend you make it a multi-day). As you climb 3,480 feet over four miles, you will be rewarded by view of the entire secluded "Pemi" as well as alpine wildflowers underfoot. It connects with a part of the Appalachian Trail also known as Liberty Spring Trail.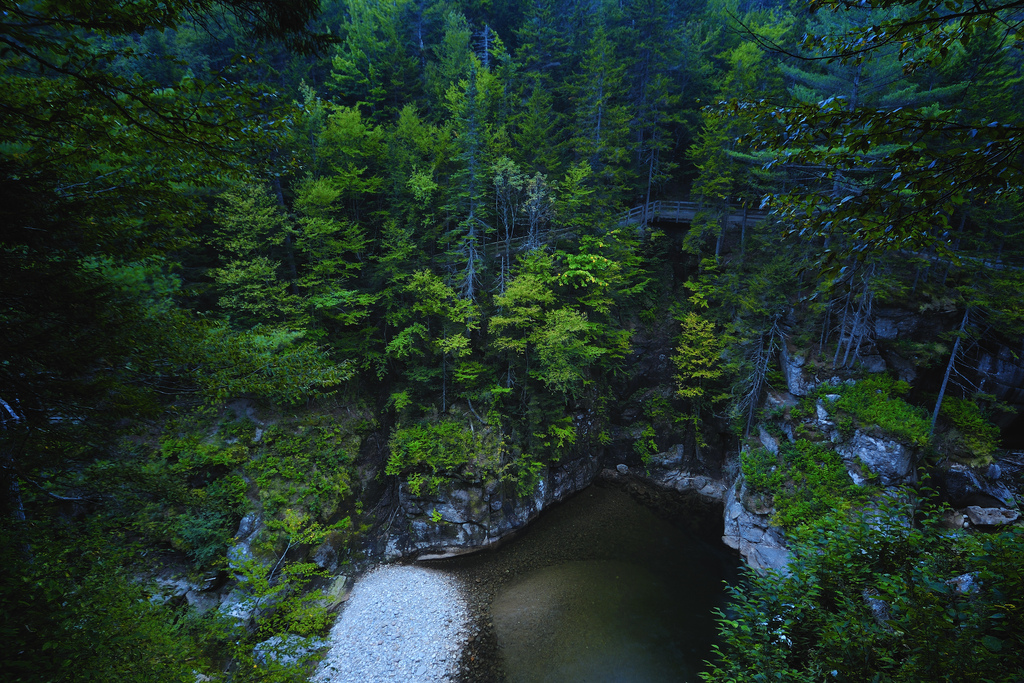 photo: Franconia Ridge Loop in Pemigewasset Wilderness. credit: Flickr, Nietnagel.
---
14.  Ocean Path to Gorham Mountain Trail in Acadia National Park, Maine
Acadia is a treat in spring, summer, fall and even winter. The coastal path offers photographic views of iconic pink granite formations from Sand Beach to Otter Point. Gorham is relatively easy as well, taking hikers past plenty of wild blueberry bushes. New trails now offer direct access to these places from campgrounds and lodging facilities.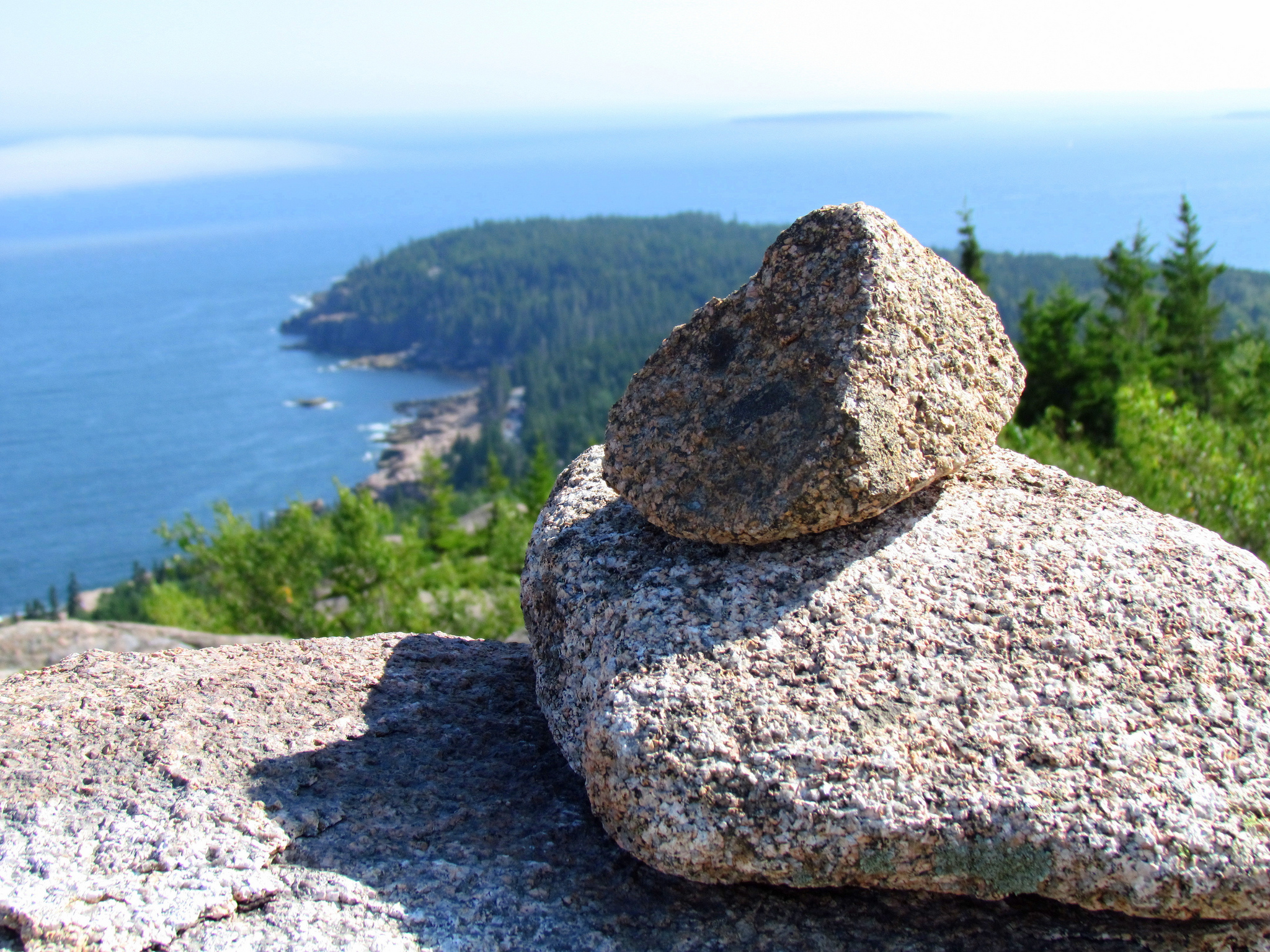 photo: View of coast from Gorham Mountain Trail in Acadia National Park. credit: Flickr, VW Beetle.
---
15. "Caribou Trail" in Gates of the Arctic National Park and Mollie Beattie Wilderness, Alaska
This hike is more fantasy than reality perhaps, but we'd be remiss if we left Alaskan landscapes off the list. Every spring and fall, caribou herds migrate 120 to 400 miles in the Brooks Range just above the Arctic Circle. While there are no actual designated trails here, you can join their migrations in Gates of the Arctic and the Arctic National Wildlife Refuge. "Sometimes when I close my eyes, I can hear their clicking ankles on the tundra, and I imagine walking behind them in silence in that vast expanse of wilderness," writes author Terry Tempest Williams.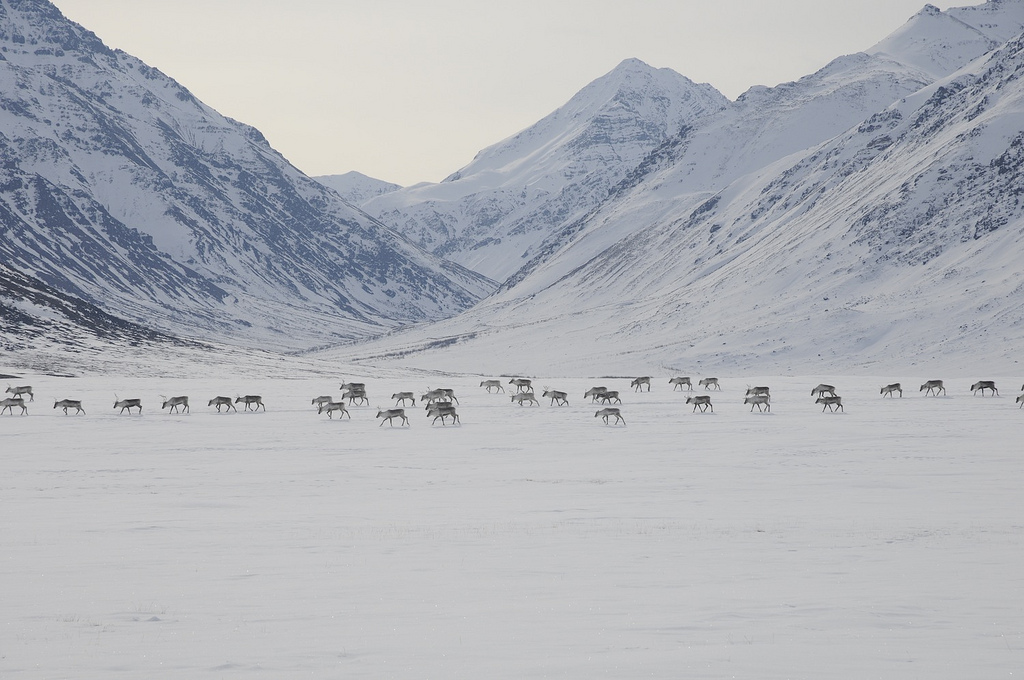 photo: Caribou herd in Gates of the Arctic National Park. credit: Flickr, National Park Service, Alaska Region (Zak Richter/NPS).