Most of Arizona's Sonoran Desert National Monument is open to destructive and dangerous target shooting, a major reversal of policy. The Wilderness Society is working to put a stop to it amid a broader trend of reduced security on public lands.
The Wilderness Society is submitting comments to the Bureau of Land Management (BLM) in defense of the Sonoran Desert National Monument. But the threat we're worried about at the moment isn't an oil well or an intrusive road—it's target shooting.
For years, the Sonoran Desert National Monument has been at the center of a debate about recreational target shooting on public lands, which can damage archaeological sites, plants and the landscape itself. That's not to mention the threat posed to other visitors, who might unknowingly fall in the line of fire while hiking nearby, and the possibility that it could help spark wildfires. At Ironwood Forest National Monument, to the southeast, similar issues led to a total ban on target shooting.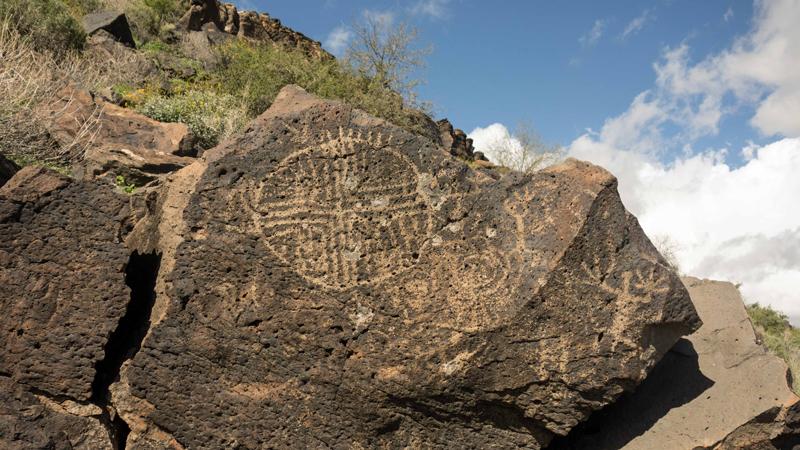 "The fact is that there are many places on our public lands around the monument and greater Phoenix area for recreational target shooting," said Phil Hanceford of The Wilderness Society's BLM Action Center. "There is simply no need to risk the national treasure that is the Sonoran Desert National Monument to this use."
A sizable majority of public lands managed by the BLM are open to target shooting. But Sonoran Desert National Monument, site of an exceptional array of archaeological and cultural sites as well as iconic saguaro cactus, should not be among them.
We are at a crucial juncture for this issue. The BLM must rethink its policy that allows target shooting in most of Sonoran Desert National Monument, and we intend to make sure they do.
The history so far: BLM reversed own decision after special interest lobbying
In Sonoran Desert National Monument, the target shooting saga goes back more than a decade, when the BLM started to develop a plan for managing the area. Home to thick "forests" of saguaro cactus, buffered by three craggy mountain ranges and wide, sandy valleys, it is the picturesque ideal of an American desert. Amid the striking terrain are traces of people who called the area home one thousand years ago or more, including delicate petroglyphs, or rock art.
The agency ultimately found that target shooting in all but a small portion of the monument posed a danger to visitors and the physical resources of the park alike, and, in 2011, recommended the monument be closed to target shooting entirely.
But the very next year, the BLM abruptly reversed course, apparently following lobbying efforts by national-level special interest groups. That move was inconsistent with the agency's own scientific analysis, and prompted The Wilderness Society and other groups to file a formal protest.
In 2015, A U.S. District Court ruling found that the agency never properly evaluated the impacts of target shooting in the area, so the BLM barred the activity from some zones and set out to develop a new plan for managing the monument.
The victory was short-lived. In Dec. 2016, the BLM released addenda to its plan that would allow target shooting in most of the monument, nearly a complete reversal from policy established years prior. Now we're nearing the end of a 90-day comment period to weigh in on that plan. We will keep you informed on our efforts to ensure this remarkable place isn't disturbed by reckless activity in the years ahead.
Larger trend of public lands under-policed and unsafe
Sonoran Desert National Monument's predicament is particularly well known--A 2015 Wilderness Society report highlighted it as a site within the BLM's National Landscape Conservation System that faces vandalism due to chronic underfunding--but it is also emblematic of a disturbing trend: especially as agency budgets are cut to the bone, our public lands are becoming less safe.
In February, a survey highlighted that many staffers from national wildlife refuges and other tracts of public lands feel less safe than in the past, with about one in five saying they, their staff or their families have been threatened or harassed over land management disputes.  
Meanwhile, Rep. Jason Chaffetz is pushing legislation (H.R. 622) would completely eliminate law enforcement officers from the Bureau of Land Management—which oversees Sonoran Desert National Monument—and U.S. Forest Service, making it even harder for the chronically underfunded agencies to protect wildlife habitat, prevent poaching, preserve cultural sites, prevent reckless off-road vehicle use and otherwise take care of the nearly 440 million acres of land they collectively manage.