Miguel Escoto grew up on both sides of the border in Ciudad Juárez, Mexico, and El Paso, Texas. He currently works as the lead Texas organizer at Earthworks and is a volunteer with the Sunrise Movement. We spoke with him about his experience living next door to the Permian oil and gas boom. Here's what he had to say: (This interview was edited and shortened for clarity)
"I grew up on both sides of the border. Part of my childhood was in Ciudad Juárez, Mexico. The other, I lived in El Paso. As part of this Gen Z generation, I've always felt that the climate crisis is a looming cloud that can basically bring the apocalypse. 
My first involvement with activism was for migrant justice, which in El Paso was very apparent. I was helping some local organizations that represent asylum seekers and migrants and I understood the concept of climate refugees.
And in my mind, it clicked for me that this issue that I see and care about—the dignity of migrants—is connected to the climate crisis.  
Then after that, another thing clicked for me, which is that I live in one of the most important regions of the world when it comes to the climate. Right now, the Permian is about 40 percent of United States' oil supply. It's the largest source of emissions in the world. 
I am the lead Texas organizer at Earthworks and I'm also a volunteer with the Sunrise Movement. In El Paso, we are very connected to the Permian Basin economically and culturally. A lot of the employment here in El Paso is oilfield workers or people that work in the industry. Some of my family members work in the industry in the Permian.  
I grew up with asthma, which is very common here and it's an expression of the Permian Basin.
We learn about all of these petrochemical facilities throughout Texas and Louisiana. I don't like it. I am very angry that I have to deal with these gas plants and this larger refinery that processes Permian oil and gas, because this region has incredible solar potential. We don't need to breathe this cancer. I also feel this incredible sense of urgency and anxiety that if we don't act, the federal and state government is not going to move.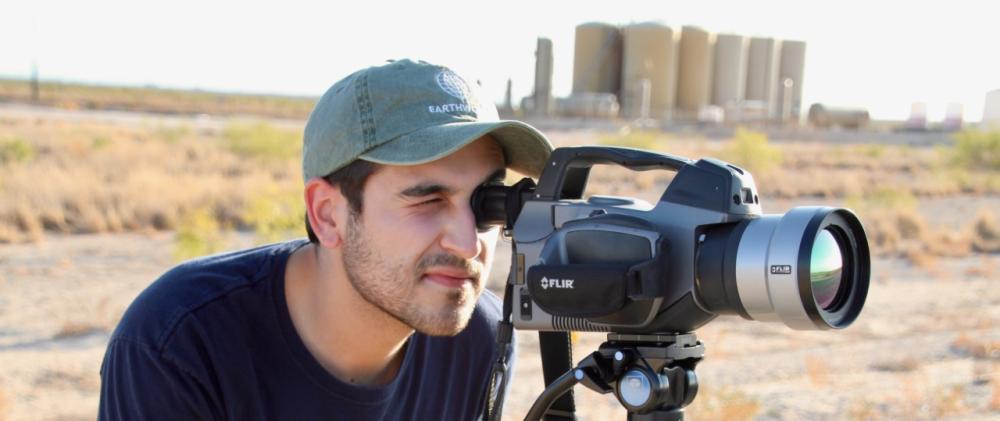 "A former oil and gas worker reached out to me and asked if there were any job opportunities in the organization I work with. And we got to talking and he told me that his daughter, like many of the youth generation, was very concerned about the planet. She would ask him: 'Hey, why are you doing this? It's harmful.'  
He told me that he couldn't look his daughter in the eye anymore because he felt ashamed that he didn't feel proud of the work that he was doing. Eventually he left the industry because he took one of the few jobs that exist plugging in wells. He felt a lot better—a lot more at peace. 
But the amount of jobs for plugging in wells is minuscule. Not everyone has that opportunity.
I think there are thousands of people that are just waiting for an opportunity like this, for a structural investment they could plug in to where they're doing good instead of harm. If there was that structure for people to plug into, oil and gas workers would flee in droves because they don't have a devotion to the hydrocarbons underground. They have love and admiration for taking care of their loved ones. 
 
If you drive down I-20, you can see dozens of oil rigs [and] new rig towers. You see them littered throughout the landscape, and these mountains of infrastructure. And you're led to think: "why would this community choose this?" And the answer is that we never had a say. Investors chose the Permian as an extraction point, as a sacrifice zone—an oil and gas capital.  
We deserve better than that. We don't have to be their sacrifice zone anymore.
Because, again, it was never up for a vote for the people of Midland, Odessa, Hobbs, Carlsbad, Pecos. We were never consulted. Massively powerful capitalist forces chose our community. 
We, the people that live in this region, that drink this water, that breathe this air, we have to take care of this ourselves and we have to take a stand for ourselves. We have to imagine a Permian Basin without oil and gas. And it does exist. And it can flourish." 
Take Action
Tell the Department of the Interior to reform the broken oil and gas program!
Act Now