Seattle-based Trailhead Direct shuttle service a model
The Capitol Hill to Mount Si bus route begins much like any other. It threads its way through part of Seattle Central College's humble brick-and-concrete Broadway Campus before swinging onto the interstate. Passing below the 73rd-floor Sky View Observatory, bus passengers get a quick view of Harbor Island, which bristles with freight cranes and petroleum tanks set against Puget Sound.
Make no mistake: Seattle is a handsome city, and there's nothing quite like this view. It reveals a patchwork of quaint homes and businesses right next to heavy industry. From the bus you may even catch a glimpse of a Mariners game (or at least the retractable stadium roof.)
Trailhead Direct takes people from the city to more than 150 miles of hiking trails, affording those without cars and other transit-riders a chance to enjoy greater Seattle's parks and public lands 
But weekend travelers on Trailhead Direct are less concerned with city sites along the way, than reaching destinations with fresh air and green space, places that come courtesy of greater Seattle's treasured public parks. In addition to providing a respite from city life, a growing body of research shows this kind of trip into nature is good for both physical and mental health. 
Trailhead Direct is a two-year-old King County Metro and Parks pilot program, launched in partnership with The Wilderness Society and others, that takes people from the city to more than 150 miles of hiking trails in the Issaquah Alps and North Bend areas on the weekends. This is a new way to enjoy the parks and public lands for which the region is famous.
But the program was conceived as more than just an option for quick getaways. Trailhead Direct seeks to improve everyday park and transit equity. While most Seattle residents can get to a local park within a ten-minute walk from their home, the same isn't true for those in other parts of King County, especially south of the city, where there is a marked shortage of neighborhood parks.
Black, Latino and immigrant communities are disproportionately affected by this phenomenon, with less than half of residents in majority people of color neighborhoods in Tukwila and Renton living within a half-mile of a park. Increasing public transit options has great potential to improve park equity for them, as well as those with limited incomes, seniors, people with disabilities and refugee communities. 
A response to growth--and growing inequality
In just under a decade, more than 100,000 people have moved to Seattle, and it continues to be one of the fastest-growing big cities in the nation. But that expansion isn't universally positive. Though polling shows Seattleites are generally optimistic about their city's future, they're not sure the rising tide of recent years truly lifts all boats. Some 70 percent say the Puget Sound region is growing in a way that mostly benefits a select few while "making it too difficult for average families" to live there. 
As monied interests buy up property, new development—and new residents—often push out the old. The risk of displacement tends to be higher in Seattle's urban centers and surrounding neighborhoods, wherepeople of color and residents with low incomes make up a larger share of the population. This all leads to a dynamic in which low-income residents are steadily nudged out of their old neighborhoods and forced to move farther from amenities like parks.
More people and more businesses downtown has led to clogged roads and freeways in a city with historically bad commutes. As a result, the region's most underserved communities, especially those where car ownership is less common, increasingly find themselves too distant from the shared green spaces the region is known for, or forced into nearby parks that are already at risk of overcrowding.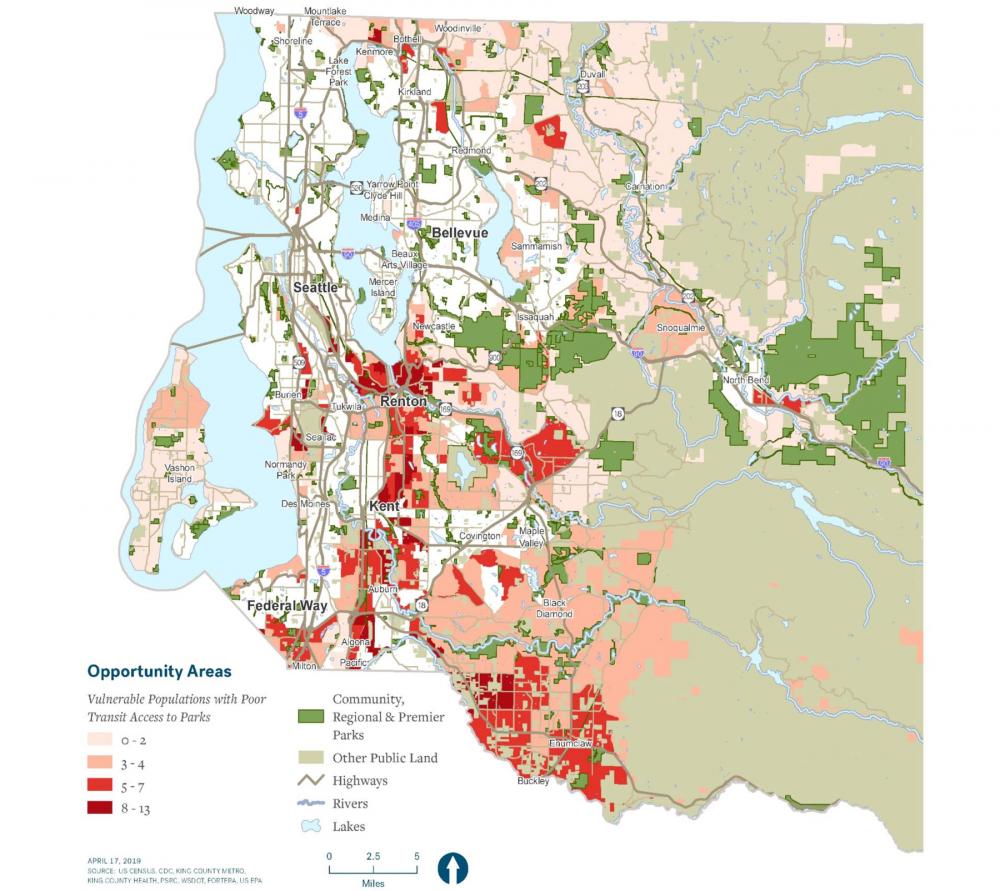 Enter Trailhead Direct. The service's seasonal shuttles offer King County residents a new and inexpensive way to reach greater Seattle's public lands and trails. In its second year, Trailhead Direct added new pickup locations specifically to increase service to residentswith the greatest need. 
The 2019-added Tukwila-to-Cougar Mountain line stops at transit stations in Tukwila and Renton, communities where households with poor access to parks also face health and economic challenges linked to age, race, and immigration status. Through further expansion, Trailhead Direct has the potential to reconnect people facing the greatest obstacles to some of the region's finest resources - clear alpine air, rushing brooks and emerald-green forests.
Early success, but more work to be done
Trailhead Direct has already racked up some big wins. In 2018, its first full season, passengers boarded the program's buses for more than 10,000 hikes, and most Trailhead Direct passengers used the service more than once.
To be sure, major gaps in transit-to-park access remain. A new Wilderness Society report highlights areas in the greater Seattle region that are in great need. The report advocates for expansion of Trailhead Direct and other transit options, a process that King County has already begun with its new routes through Tukwila and Renton.
Beyond Puget Sound, Trailhead Direct can be a model for other urban areas. Los Angeles County recently investigated park access issues, and found that a majority of its population has either "high" or "very high" need for park access, a metric that combines factors like proximity, park crowding and condition of nearby park infrastructure. As in King County, many of the areas facing the greatest obstacles are home to predominantly people of color. The Los Angeles County Metropolitan Transportation Authority is currently exploring ways to correct that inequity. 
A similar pattern plays out across the U.S. Of the Trust for Public Land's 10 lowest-ranking ParkScore cities–nine are in counties whose share of residents who are Indigenous or people of color is higher than the national average. Five of those cities are also in the bottom 10 in Walk Score's evaluation of cities' public transportation options. With more people than ever living in urban areas and the nation becoming more racially diverse, it's clear we need plans that give everyone the opportunity to enjoy healthy outdoor activity.
We're proud to partner with King County on Trailhead Direct and hope to see it grow in the years ahead, become a permanent fixture in the greater Seattle region and inspire other communities to take a bold approach to park equity.