It's not too soon to say it: after roughly a year on the job, Donald Trump is the most anti-conservation president in U.S. history.

Photo credits: Trump - Gage Skidmore, flickr. Background: Mason Cummings (TWS).
---
Oil, gas, coal and other energy companies spend hundreds of millions of dollars each year trying to convince lawmakers to do what they want.
Once Donald J. Trump was elected president, the industry titans who dispatch "an army of three lobbyists for each member" of Congress, according to The New York Times, had the ultimate company man in Washington, DC. The 'company' in question? Any company interested in making a buck off America's natural resources, never mind the broader consequences.
To wit: shortly after Trump took office, the CEO of America's largest coal company, Robert E. Murray, presented his young administration with an "action plan" (read: wish list) featuring energy and other policy priorities. In the year since, Trump has largely fulfilled Murray's agenda, teaming with legislators and his own lieutenants to gut federal agencies and roll back environmental rules. 
As a high-ranking EPA official from the George W. Bush administration said about the big coal wish list, there was "an expectation that these things were going to be accepted or implemented." Energy interests have gone from a powerful outside force seeking access to a firmly entrenched tactical entity, as much a fixture at 1600 Pennsylvania Ave as the Resolute Desk.
No other chief executive has made such a fervent show of destroying common-sense rules governing how we treat the planet, or more slavishly pursued the agenda of fossil fuel companies.
Trump's fealty to the fossil fuel cartel is deep, unquestioning and far-ranging. During his very first week in the Oval Office, the president revived the Dakota Access and Keystone XL pipelines, ignoring the objections of the Standing Rock Sioux and countless other concerned Americans. He has gone on to launch an unprecedented "review" rolling back protections for lands previously designated as national monuments; reverse an Obama-era rule in order to open public lands for new coal leasing; halt measures to reduce methane waste from drilling projects; and withdraw the U.S. from the Paris climate agreement.
This is our new normal. A look back at Trump's many conservation misdeeds so far will be instructive as we prepare to counter the fossil fuel insurgency and tackle the many challenges still to come.
---
Trump's cabinet: a coalition of the drilling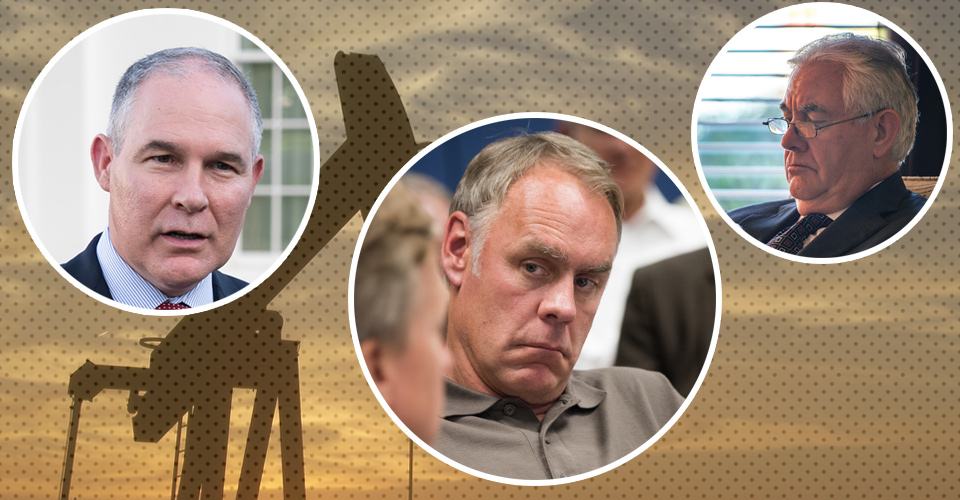 Photo credits left to right: Scott Pruitt - Mitchell Resnick (White House), flickr; Ryan Zinke - Lance Cheung (USDA), flickr; Rex Tillerson - Louis Briscese (U.S. Air Force), flickr. Background: Eric Kounce via Wikimedia Commons.
After Trump's surprising election victory, many conservationists were wary, but some were cautiously hopeful, determined to succeed wherever possible in a strange new nation's capital. While Trump's energy agenda focused on ramping up coal mining and other fossil fuel development, he had also gone on the record as wanting to keep public lands in public hands, bucking the anti-conservation trend among his political cohort.
But any hopes that Trump would be a protector of public lands were quickly dashed. Before inauguration, Trump began stacking his cabinet with a cast of climate deniers and fossil fuel insiders who would carry out his war on conservation.
To lead the Environmental Protection Agency, Trump chose Oklahoma Attorney General Scott Pruitt, a well-known enemy of measures to reduce greenhouse gases and a notorious friend to the oil and gas interests he was suddenly being asked to regulate. For Secretary of State, he selected Rex Tillerson, former head of ExxonMobil, which spent decades avoiding action on climate change and played a key role in loosing a climate-denial misinformation machine that remains powerful in the world of environmental policy.
Most immediately relevant to public lands issues was Interior nominee Ryan Zinke, who initially seemed  a moderate voice. But even he emphasized drilling above all else, fearmongered about the mythical "war on coal" and deflected questions about the value of establishing monuments under the Antiquities Act (a sign of trouble ahead). Like Trump himself, then-nominee Zinke said positive things about keeping public lands in public hands; but weeks after he was tapped to head the Interior Department, while still representing Montana as an at-large congressman, Zinke cast a troubling vote for a House rule that would make public land sell-offs easier.
In the time since, Zinke has not only adapted to the shape of the White House that hired him, but seemingly steered its public lands agenda in a troubling direction, cozying up to a broadly pro-drilling and development agenda that values public lands primarily for the commercial opportunities that can be extracted from or erected upon them.
---
Environmental rules slashed, making it easier to pollute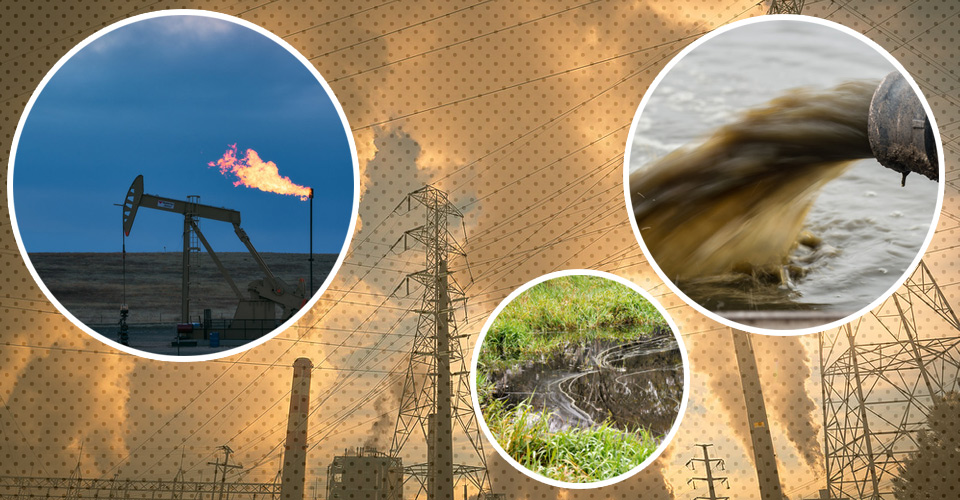 Photo credits left to right: Flare - Mason Cummings (TWS); Water - GreyHobbit, flickr; Effluent - Lance Cheung (USDA), flickr. Background: Mason Cummings (TWS).
From the beginning, Trump has centered his pro-dirty fuel agenda on reversing or weakening environmental rules, making it easier for special interests to pollute without consequence.
EPA Administrator Scott Pruitt has been the president's chief enforcer. In his first few months, Pruitt oversaw suspension of the implementation of the Clean Power Plan, President Obama's signature effort to address climate change, and reportedly convinced President Trump to pull the U.S. out of the Paris climate agreement.
Under Pruitt, the agency has fewer staff members than at any time in decades, shedding experience in favor of pro-industry voices. The agency's new senior leadership have made a series of hasty decisions to unravel the work of lower-level staff. Pruitt even barred researchers receiving EPA grants from the agency's own advisory panels, a move one former chair of an EPA science advisory board called "scientific censorship."
Pruitt decided to roll back protections in the watershed of Alaska's Bristol Bay just hours after meeting with the CEO of a company that wants to build a vast gold and copper mine nearby.  
One of the most blunt examples of Pruitt's work on behalf of polluting special interests (and contravening his agency's purpose) was a decision to roll back protections in the watershed of Alaska's Bristol Bay—a directive sent to EPA staff just hours after Pruitt met with the CEO of a company that wants to build a vast gold and copper mine nearby.  
As a director for the agency's Office of Water, who resigned several months after Trump's inauguration, put it, "[Staff] now understand that the overall process will be to repeal everything requested by industry." Indeed, through the EPA and otherwise, the administration has rolled back dozens of environmental rules, crowing about his backward march every step of the way.
Trump has repealed a protection for streams that would have forced the coal mining industry to stop dumping toxic coal waste and clean up after itself; moved to revoke the Clean Water Rule, which provides a mandate to protect thousands of streams and wetlands; suspended a rule that seeks to limit methane pollution from oil and gas development on public lands; delayed implementation of rules intended to prevent accidents at facilities that use and distribute dangerous chemicals; and stalled rules that increase oversight and safety measures for the use of certain highly toxic pesticides.
Broader actions aimed to change the underlying structure of environmental protection, as in the case of a quietly issued secretarial order that radically altered the way federal agencies prepare environmental analyses and disclose their actions to the public.
William Ruckelshaus, the EPA's first administrator, who served under Presidents Richard Nixon and Ronald Reagan, has lamented that he and others "spent 40 years putting together an apparatus to protect public health and the environment," and Pruitt and others have already made fast work dismantling it.
---
Drilling, mining, logging & development poised to invade American lands and waters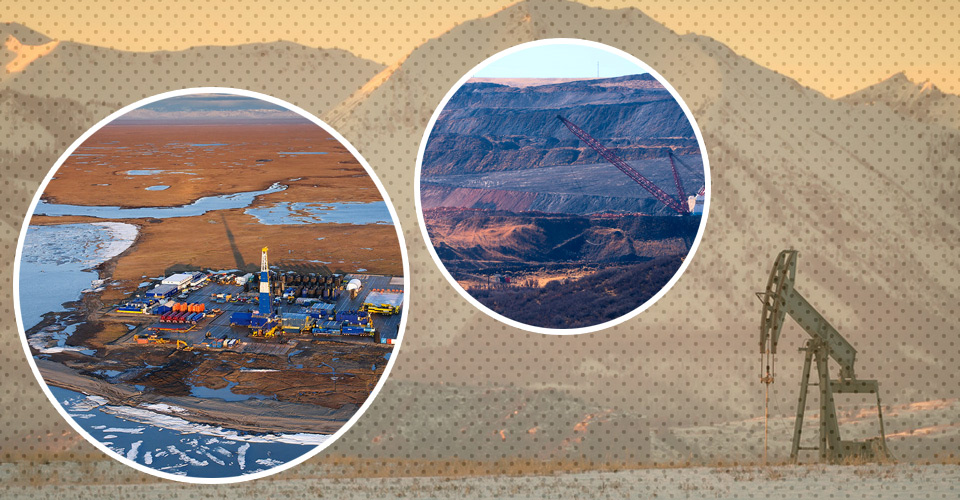 Photo credits left to right: Arctic drill pad - Florian Schulz; Mine - Mason Cummings (TWS). Background: Mason Cummings (TWS).
When not hacking away at sensible constraints on pollution, Trump and his appointees have single-mindedly pursued the national goal of "energy dominance." In practice, this means zealously encouraging drilling and mining on our wild public lands and waters, even when completely uneconomical or harmful to priceless landscapes.
There might have been no better example of this than Secretary Zinke's decision in March 2017 to lift a recent moratorium on new coal leasing on public lands, notwithstanding either the climate change ramifications or the larger market forces that have sent coal into a terminal and irreversible decline.
Not long after the coal decision, President Trump signed an executive order opening most of the Arctic Ocean and some of the Atlantic Ocean for offshore oil drilling. Early in 2018, the administration went even further on that count, proposing to open nearly all offshore U.S. waters to drilling.
The theme of selling out our public lands and waters persisted with lease sales in Alaska's Western Arctic Reserve and next to Bears Ears National Monument, Dinosaur National Monument and Theodore Roosevelt National Park, as well as a quietly launched effort to open drilling in ocean sanctuaries containing habitat for whales, sharks and sea turtles.
The U.S. Department of Agriculture even recommended re-opening more than 1 million acres of land adjacent to the Grand Canyon for uranium mining. At the end of 2017, in classic 'news dump' fashion, the Trump administration quietly issued a decision encouraging mining next to Minnesota's Boundary Waters Canoe Area Wilderness, threatening the watershed of one of America's most popular public lands.
In less direct ways, too, the Trump regime and associates pushed an extractive agenda, deciding to change the landmark (and bipartisan) sage-grouse conservation plans in what Nada Culver, senior director of Agency Policy and Planning at The Wilderness Society, called "a sideways attempt to abandon habitat protection for unfettered oil and gas development."
Trump's first fiercely pro-drilling year reached its peak—or, rather, its exploratory well-shaped nadir—in December 2017, when Congress escalated the White House's onslaught with a tax bill that invites oil and gas drilling in the sensitive coastal plain of the Arctic National Wildlife Refuge, one of the last great, intact wild ecosystems on the planet. Trump cheered this development on and, following passage of the bill, boasted it would produce "tremendous energy" despite evidence to the contrary.
---
Unprecedented gutting of national monument lands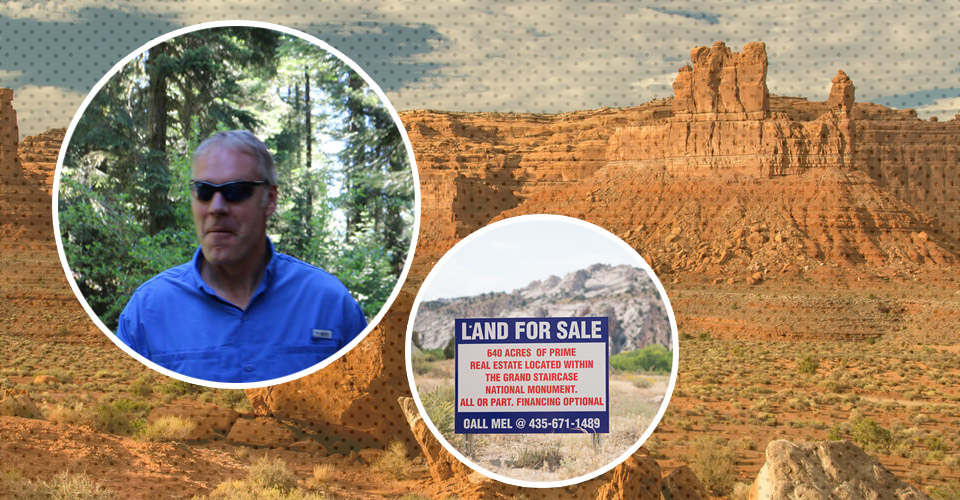 Photo credits left to right: Zinke in Cascade-Siskiyou - Maria Thi Mai (BLM), flickr; Sign - Mason Cummings (TWS). Background: Bob Wick (BLM).
In April 2017, President Trump showed once and for all that the vaguely pro-public lands statements he and surrogates issued on the campaign trail were a huge fraud.
Bowing to a few extreme members of Congress, Trump signed an executive order launching a "review" of public lands protected as national monuments. This sweeping action was intended to shrink monument boundaries and open sensitive lands for development. Millions of Americans submitted comments opposing the review and asking that land protections be kept on the books, to no avail.
Trump's rollback of Bears Ears and Grand Staircase-Escalante was a stunning rebuke to Theodore Roosevelt, whose legacy he once promised to honor.
In December, Trump announced his decision to effectively eliminate Bears Ears and vast portions of Grand Staircase-Escalante national monuments in Utah—the prime targets of the review--potentially exposing thousands of culturally and ecologically important sites to drilling, mining and visitor misbehavior. Shortly after, Interior Secretary Zinke recommended reduced protections for national monument lands in Oregon and Nevada, along with potentially damaging management changes in Maine, New Mexico and the Atlantic and Pacific oceans.
All told, it was the most extensive rollback of land protections in American history, a stunning rebuke to Theodore Roosevelt, the conservationist president par excellence whose legacy a then newly-elected Trump once promised to honor. Groups including We have filed lawsuits challenging Trump's proclamations, and we expect further monument attacks by the administration and its coadjutors in Congress.
---
Our Wild? Not if Trump has anything to say about it...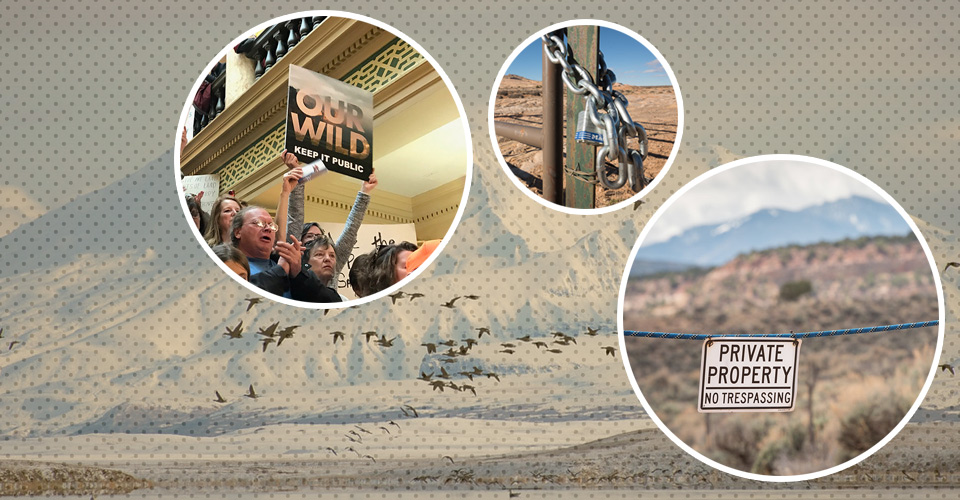 Photo credits left to right: Protesters - Scott Brennan; Padlock - Mason Cummings (TWS); Sign - Mason Cummings (TWS); Background: Kristine Sowl (USFWS).
Trump's monument rollbacks played into a larger campaign that undermines the foundation of American conservation--the radical "land takeover" movement.
Originating in state legislatures but increasingly prominent at the national level, the movement aims to pluck large swaths of territory from the protective shield of federal agencies so that they can be taken over by state governments—making it easier for these places to be sold off to oil, mining and logging companies.
Candidate Trump had told Field & Stream he wanted to keep public lands in public hands, an implicit rejection of the land takeover movement, but this position didn't last. After being sworn in, Trump's Interior secretary, Ryan Zinke, attended a prominent pro-land takeover group's annual meeting. Shortly thereafter, the Interior department tacitly supported land sell-offs by offering positive testimony for a bill that would push the Bureau of Land Management to sell off 6,000 acres of public land in northwestern Arizona. In early 2018, Interior made its most shameless move yet, agreeing to a secret "land swap" that would give a portion of Alaska's Izembek National Wildlife Refuge to the King Cove Corporation. That highly controversial move is the first step to building a road that could endanger numerous migratory birds, brown bears and caribou while threatening to close off access to sportsmen.
Moving into the second year of the Trump administration, the public land takeover threat is mutating, easing away from the political fringes to operate more in the guise of common-sense reforms. One example: a bill recently passed out of committee to cut a Massachusetts wildlife refuge by half, highlighting a troubling defection by a congressman who ordinarily defends public lands, Rep. Bill Keating. As proposals like this gain more avenues for passage through Congress, a complicit—indeed, supportive—White House will mean they enjoy a clearer path to becoming law.
---
Undermining the core of American conservation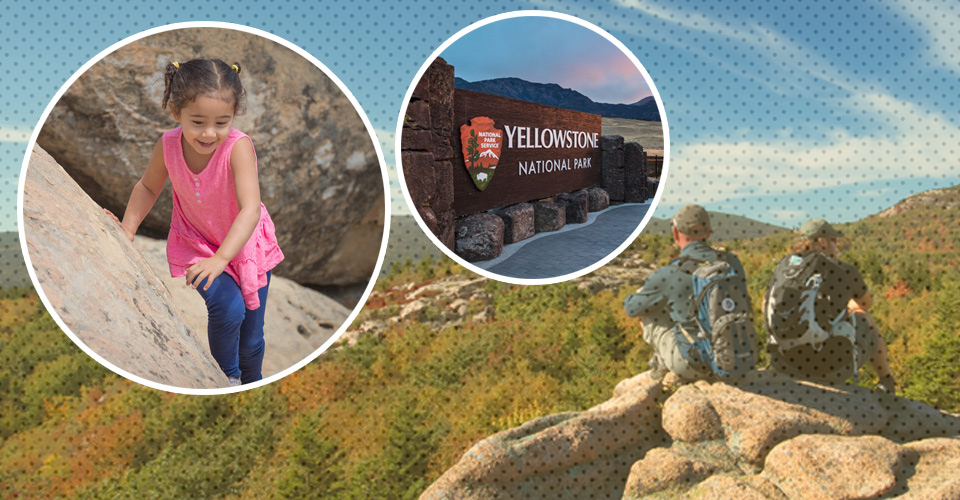 Photo credits left to right: Child  - Mason Cummings (TWS); Yellowstone - Jacob Frank (NPS), flickr. Background: David Barnas, flickr.
As if its varied and sustained attacks on public lands aren't bad enough, the Trump administration is subtly eroding the ability for Americans to enjoy the lands they own.
Americans still love public lands—in fact, more people visit national parks now than at any time in history—but the Trump administration is working to chip away at that bedrock. In October 2017, the Interior Department proposed raising entrance fees at 17 national parks, sometimes drastically, even as the Trump administration continues to starve public land agencies. While the fee increases may stretch the typical family vacation budget, they would take about 173 years to address the national parks' deferred maintenance backlog, a stated reason for the change. Not long after that news, the administration decided to eliminate six of the fee-free days it offers for all national parks.
Taken together, these indicate a political regime that is, at the very least, uncaring about whether Americans are actually able to enjoy the wild places that belong to them. Or perhaps they calculate it will be easier to carve up public lands for drilling, mining and logging if people can no longer afford to visit.
---
Amid unprecedented attacks, the resistance lives on
President Trump is the most anti-conservation president in American history, and the runner-up, whoever that may be, isn't particularly close. No other chief executive has made such a fervent show of destroying rules governing how we treat the planet, or more slavishly pursued the agenda of fossil fuel companies.
Fortunately, the Trump presidency has given rise to a formidable resistance ethic. In courtrooms, in the streets of Washington DC and at the ballot box, millions of Americans have reaffirmed that they value "Our Wild," galvanized by threats that are unusually brazen and rapacious.
In 2018, every seat in the House of Representatives and about one-third of the Senate will be up for election. History suggests that politicians whose agendas align with Trump, an extremely unpopular president, will not fare well. That means that for all the pain the U.S. has endured since election night 2016, we have a major chance to change course.
Make no mistake--however the midterm elections turn out, oil, gas, coal, timber and other special interests will remain powerful and willing to spend lots of money to influence policy. Donald Trump has given them a place at the table like never before, and countering their clout will take everything we've got. But for what feels like the first time in a long while, we have hope that the great conservation gains of years past will win out.
"Trump and his fossil fuel coconspirators can try to destroy the Arctic National Wildlife Refuge, carve up Bears Ears National Monument and overturn the anti-pollution rules that protect our communities, but will never roll back Americans' abiding love for public lands and the physical majesty of their nation," said Melyssa Watson, vice president for conservation at The Wilderness Society. "As bad as this presidency has been, a day of reckoning is coming for the anti-conservationists in Washington, and the will of the people will endure."