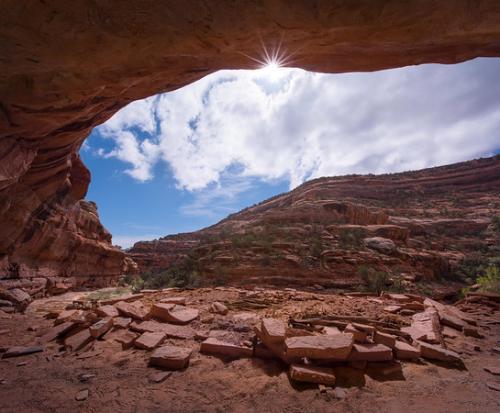 Per media accounts, President Trump has approved a recommendation to reduce protection for Bears Ears National Monument and Grand Staircase-Escalante National Monument.
It is vitally important we tell elected officials in Washington that Americans will not stand for this so they fight back against legislation that may arise from the recommendation.
Recommendation does not reflect popular or local opinion 
In April 2017, President Trump signed an executive order to review 27 national monuments that protect public lands designated since the beginning of 1996, with an eye toward shrinking boundaries and reducing protection for many of them. Shortly after, Interior Secretary Ryan Zinke opened a comment period to solicit input from the public, ostensibly to inform his recommendations about what to do with these places. 
A study found that 90.9% of Utahns who submitted comments opposed the review, along with 99.2% of commenters nationwide. Ignoring this, Sen. Hatch has already released a statement hailing Trump's approval of a monument-shrinking measure as a triumph for local voices. 
What national monument land gets the ax next? 
Zinke has reportedly recommended cutting protection at more than half a dozen national monuments protected under the Antiquities Act: Bears Ears and Grand Staircase-Escalante in Utah, Katahdin Woods & Waters in Maine, Cascade-Siskiyou in Oregon, Organ Mountains-Desert Peaks and Rio Grande del Norte in New Mexico, Gold Butte in Nevada and marine national monuments in both the Atlantic and Pacific Oceans. Bears Ears and Grand Staircase-Escalante are the first ones whose changes have reportedly earned Trump's stamp of approval. 
Secretary Zinke has reassured Americans that the national monuments on the list will stay open to the public. But on its own, this means little. Public lands that remain public will not necessarily be protected for "multiple uses," including conservation or recreation; on the contrary, many of the places on the list are long-coveted by the mining, oil and gas or timber industries, or have been targeted for other development. With reduced protection, they could be open for leasing and exploitation.    
As we gird for legal action, one thing we can do right now is make sure our lawmakers feel empowered to stand up to Trump. Please click here to call your senators and tell them to defend our national monuments and public lands in the halls of Congress.