Gaylord Nelson is perhaps best known as the father of Earth Day. But he also served as The Wilderness Society's counselor after his career as a U.S. senator and governor of Wisconsin.
Nelson's efforts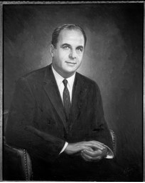 contributed to the passage of various environmental laws, including the Environmental Protection Act.  He conceived the idea of Earth Day, which American Heritage Magazine called "one of the most remarkable happenings in the history of democracy."
---
Early life
Gaylord Nelson was born in Clear Lake, Wisconsin in 1916.  The son of a country doctor, Nelson sometimes made house calls with his father.  Nelson earned a BA from San Jose State College and a law degree from the University of Wisconsin.
When World War II started, Nelson served in the Pacific.  Once the war was over, he practiced law in Madison, Wisconsin. 
---
Career
In 1948, Nelson began his political career. He served as the Dane County state senator and then two terms as governor of Wisconsin starting in 1958. During this time period, Governor Nelson created the Outdoor Recreation Acquisition Program, which funded the purchase of 1 million acres of land for parks in Wisconsin.
In 1962, Nelson was elected to the U.S. Senate, where he represented Wisconsin for 18 years. He authored legislation to create a national hiking trails system as well as the 2,100-mile Appalachian Trail System. He also sponsored several key pieces of environmental legislation, including the Wilderness Act. His efforts led to bedrock environmental laws, such as the Environmental Protection Act, the Clean Air Act and the Clean Water Act. After leaving the Senate in 1981, Nelson furthered his commitment to conservation by serving on the board of The Wilderness Society.
---
Legacy
Nelson is famous for conceiving the idea of Earth Day, which has been a huge success since its inception on April 22, 1970.  Both the Gaylord Nelson Institute for Environmental Studies at the University of Wisconsin-Madison and the Gaylord Nelson Wilderness area in Wisconsin honor Nelson and his contributions.