From bouldering to sport climbing to traditional climbing to ice climbing, wild lands across the country are excellent places to climb. America's national parks, monuments, forests, wilderness areas and wildlife refuges are some of the best places to find the adventure rock climbers seek.
These wild lands offer a diversity of opportunities for beginners as well as experts. Here's a brief rundown to help you identify which climbs may suit you best:
Class 1: Hiking
Class 2: Scrambling with perhaps the use of hands
Class 3: Scrambling with perhaps a rope
Class 4: Simple climbing, often with a rope
Class 5: Serious climbing with the use of a rope, belaying and protection.

5.0-5.7: For novice climbers
5.8-5.9: For experienced climbers with special skills
5.10: For advanced climbers
5.11-5.15: For expert climbers with extensive training only
Discover 20 amazing places for rock climbing
---
1. Pinnacles National Park, California
Pinnacles National Park has climbs just 10-15 minutes up the trail. Because the rock is weak volcanic breccia, it is advised you lead below your level at first. Easy top-rope routes on the East Side are in the 5.4 - 5.12 range. Other climbs range from 5.4 to 5.9 on the Bear Gulch Side, 5.3 - 5.8 on the Chaparral Side, and 5.2-5.7 in the High Peaks. Bouldering Rock on the West Side and Long's Folly in the High Peaks are places for bouldering. In addition to safety reminders, be sure to find out about closures due to nesting falcons and eagles from January through July.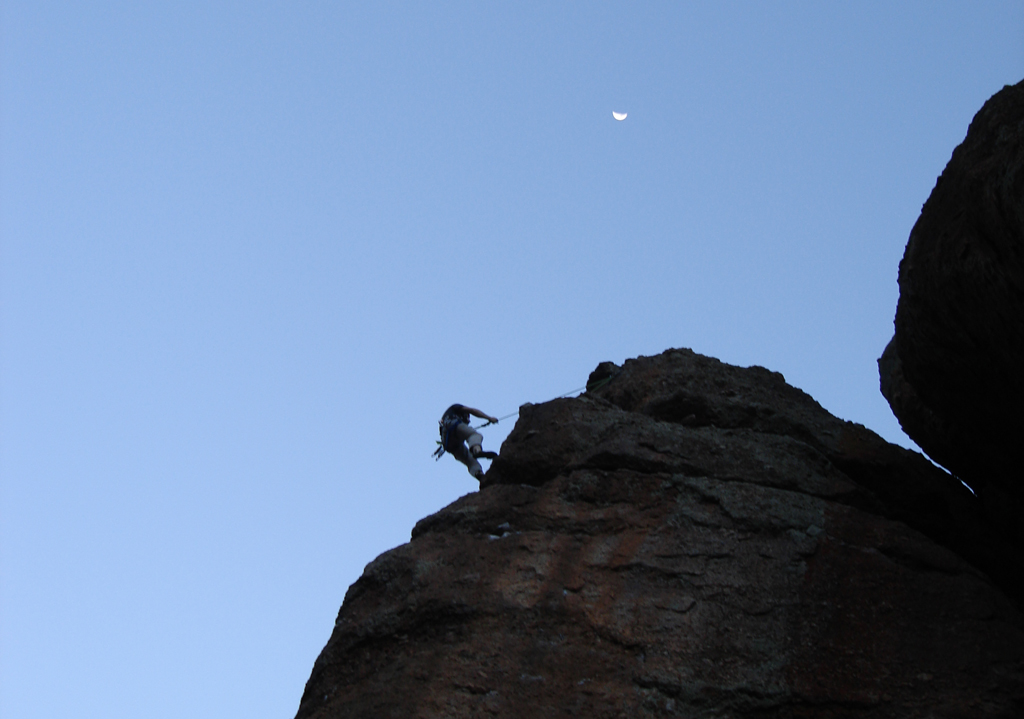 Credit: Mark Doliner, flickr.
---
2. Zion National Park, Utah
Zion's world-class 2,000-foot sandstone wall climbs are for experienced climbers only, but there are easily accessed boulders in the main canyon. There are a few top roping, sport climbing and bouldering areas as well. Plan to visit in spring or fall, and avoid climbing when rock is wet.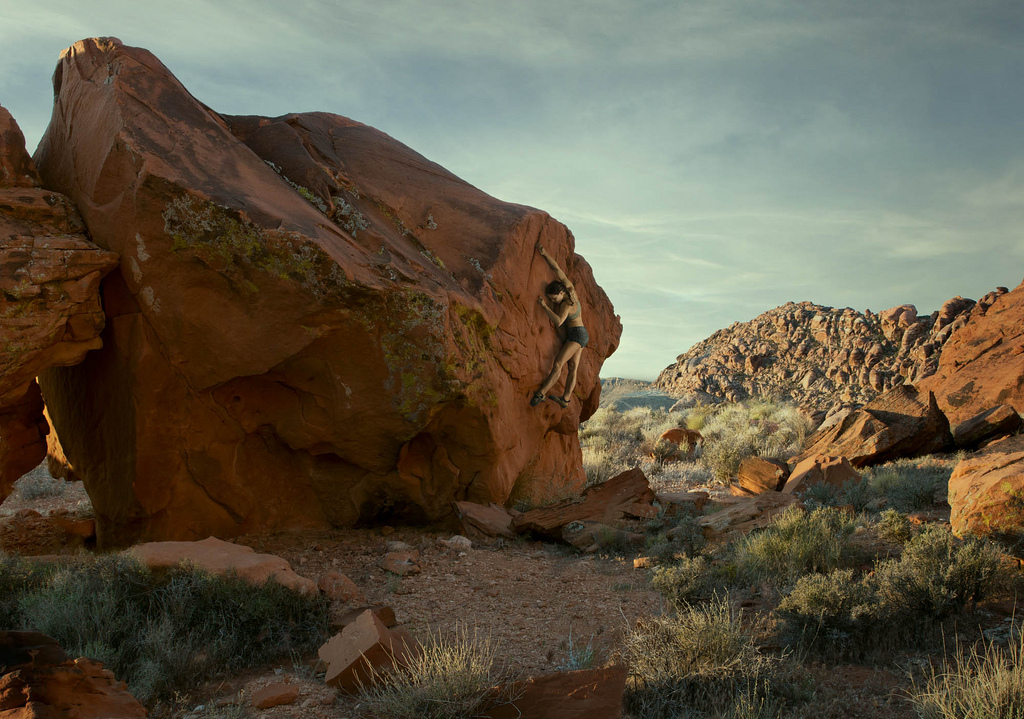 Credit: Kiliii Fish, flickr.
---
3. Yosemite National Park, California
America's first-protected land is also world-renowned among climbers. Yosemite's Merced River Canyon has sustained crack climbs, and there are rope climbs on Tuolumne Meadows' domes. The truly adventurous can enjoy multi-day aid climbs on the big walls of the Valley, where there is also popular bouldering areas. Because of its popularity, it's all the more important to make efforts to minimize your impact. Climbing is prohibited on Glacier Point Apron and restricted near peregrine falcon nest sites.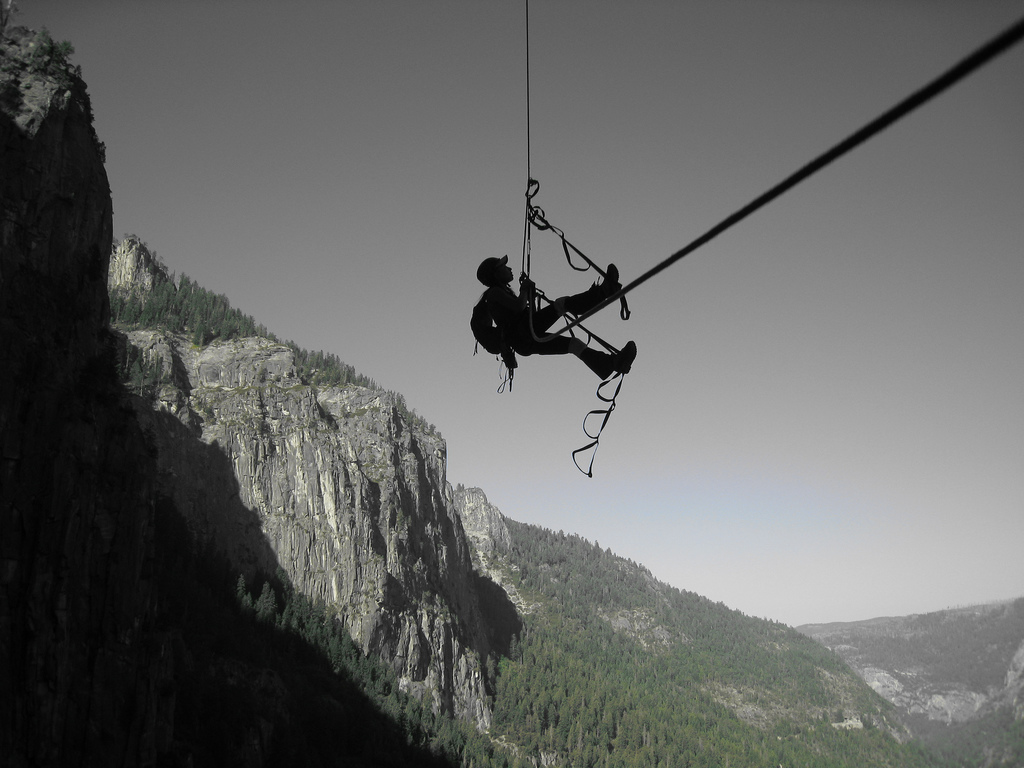 Climbing Leaning Tower in Yosemite National Park. Credit: Maria Ly, flickr.
---
4. Acadia National Park, Maine
Acadia offers truly unique opportunities to climb 60-foot pink granite cliffs at the edge of the sea at Otter Cliffs and Great Head. Such fortunate climbers will need to be aware of tides and weather however. There are also crack and face climbs, and bouldering along the ocean. Acadia has good beginner climbs and 1- to 3-pitch routes up to 5.12.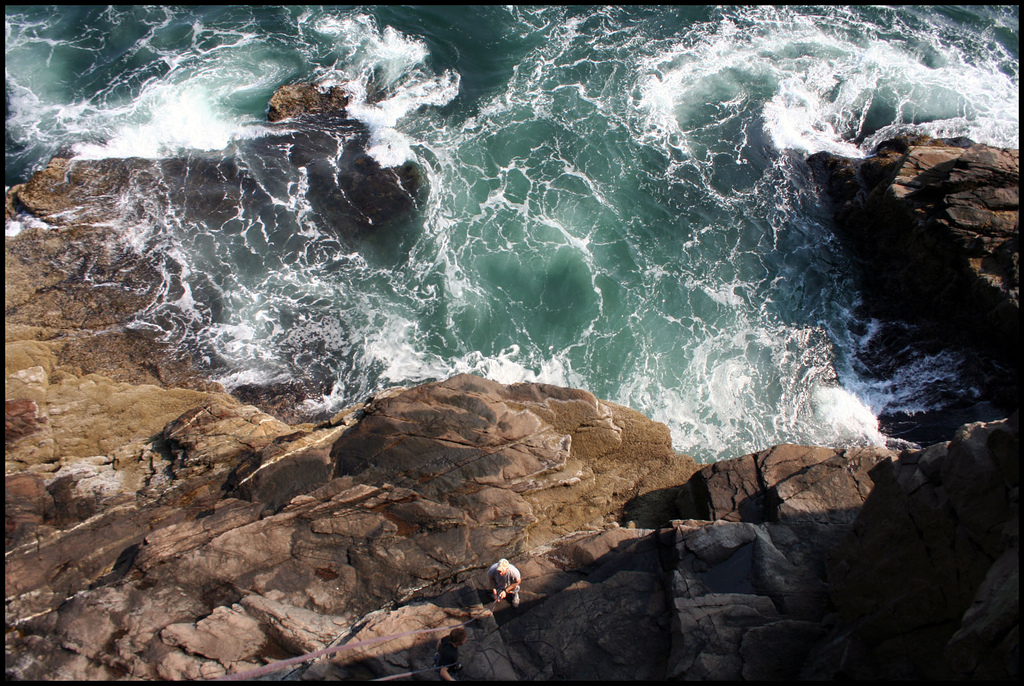 Otter Cliffs in Acadia National Park. Credit: Carl A., flickr.
---
5. Joshua Tree National Park, California
Joshua Tree is among the park service's world class climbing gems, with more than 400 climbing formations and 8,000 climbing routes. The monzogranite mecca has traditional-style crack, slab and steep-face climbing for all ability levels. Bouldering and slacklining are also popular activities. Be aware of closures due to nesting raptors, and avoid visiting during scorching summers.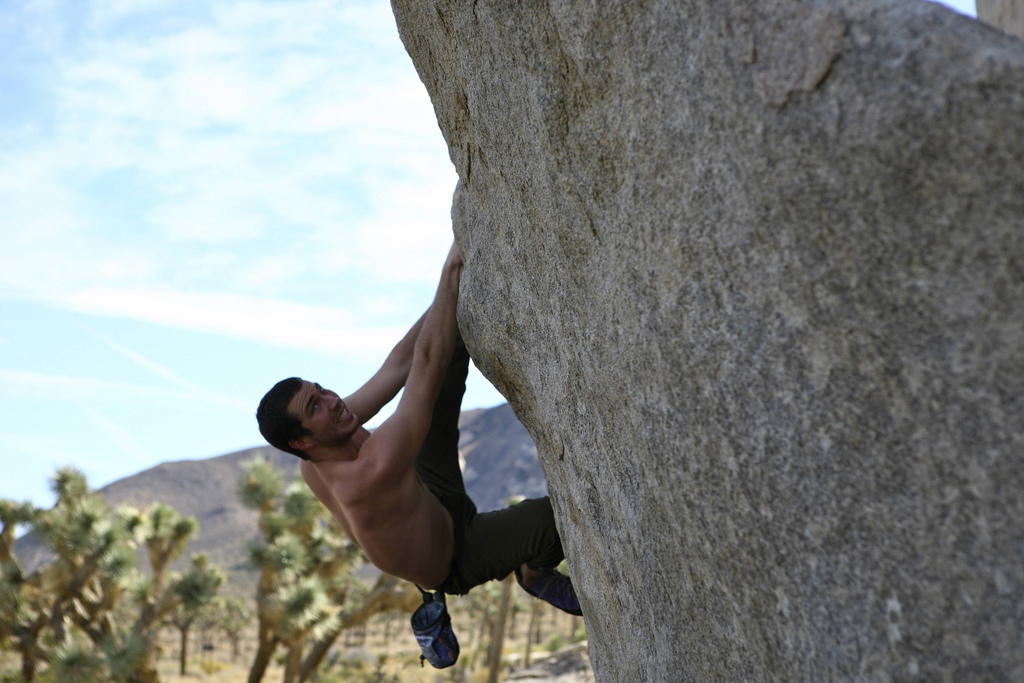 Credit: David Verdugo, flickr.
---
6. Arches National Park, Utah
Arches' climbing routes are recommended for climbers that are advanced - and educated. The park adopted a plan last year that notifies climbers of regulations, safety concerns and closures. Climbers are also encouraged to register with a free permit.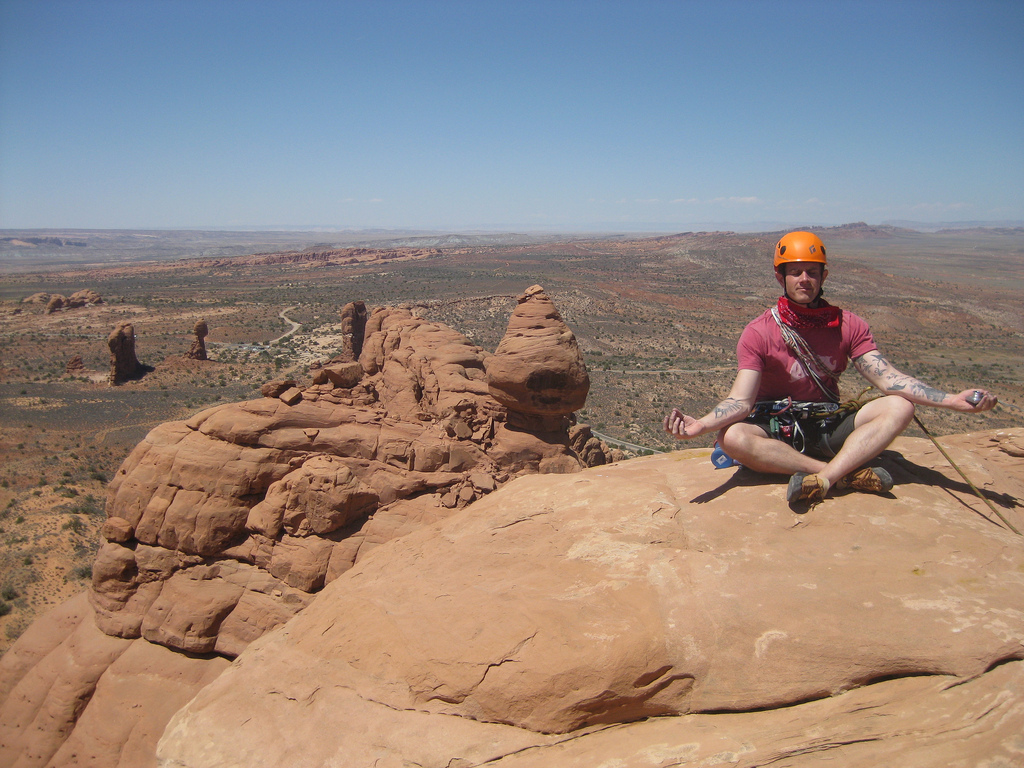 Credit: Tristan Higbee, flickr.
---
7. Sequoia & Kings Canyon National Park, California
Sequoia and Kings Canyon have Yosemite-quality rock with less crowds. There are a wide variety of climbs, from easy to extremely challenging, but most require at least a day's hike. Eight miles into Kings Canyon are Charlito and Charlotte Domes. The easiest to access in Sequoia is Moro Rock, with 1,000 vertical feet of cracks and knobs, but it is closed in summer due to nesting falcons. Obelisk and Grand Sentinel are other well-known routes. Climbers can wander a few miles off the popular John Muir Trail to find less-travelled ascents.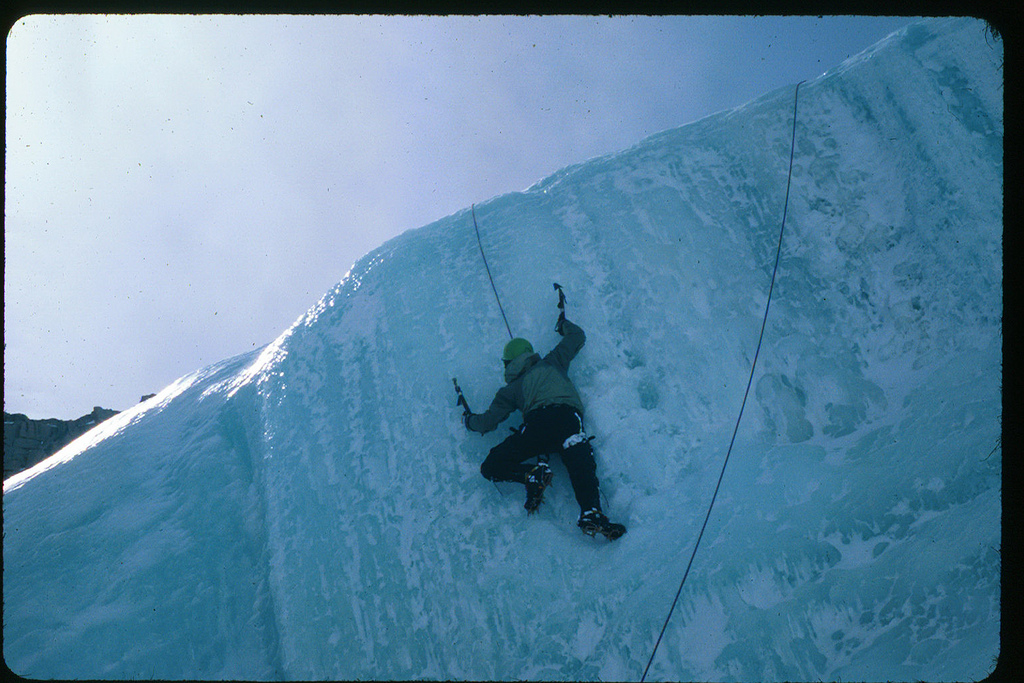 Ice climbing on Mt.Whitney in Sequoia National Park. Credit: Razzu Engen, flickr.
---
8. Capitol Reef National Park, Utah
Technical rock climbing at Capitol Reef has been increasing in recent years, but climbing in canyon country is not something to be taken lightly. Sandstone can be soft, though the relatively-hard Wingate cliff walls are popular for crack climbing. Arches and bridges are closed, as well as some areas with rock art panels or prehistoric structures.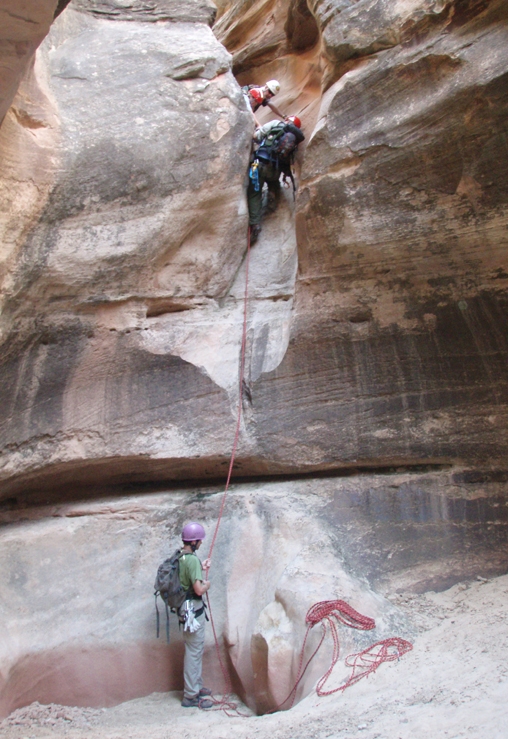 Rappelling Burro Wash in Capitol Reef National Park. Credit: National Park Service.
---
9. North Cascades National Park, Washington
The rugged, varied routes in North Cascades offer challenge and beauty. Arduous climbs to glaciated summits reward climbers with stunning views of jagged peaks and alpine meadows. Some routes require cross-country treks for days over steep, snowy slopes, demanding visitors' mountaineering skills to scramble over ice. This wild paradise hosts sport climbing and bouldering in the Skagit Gorge.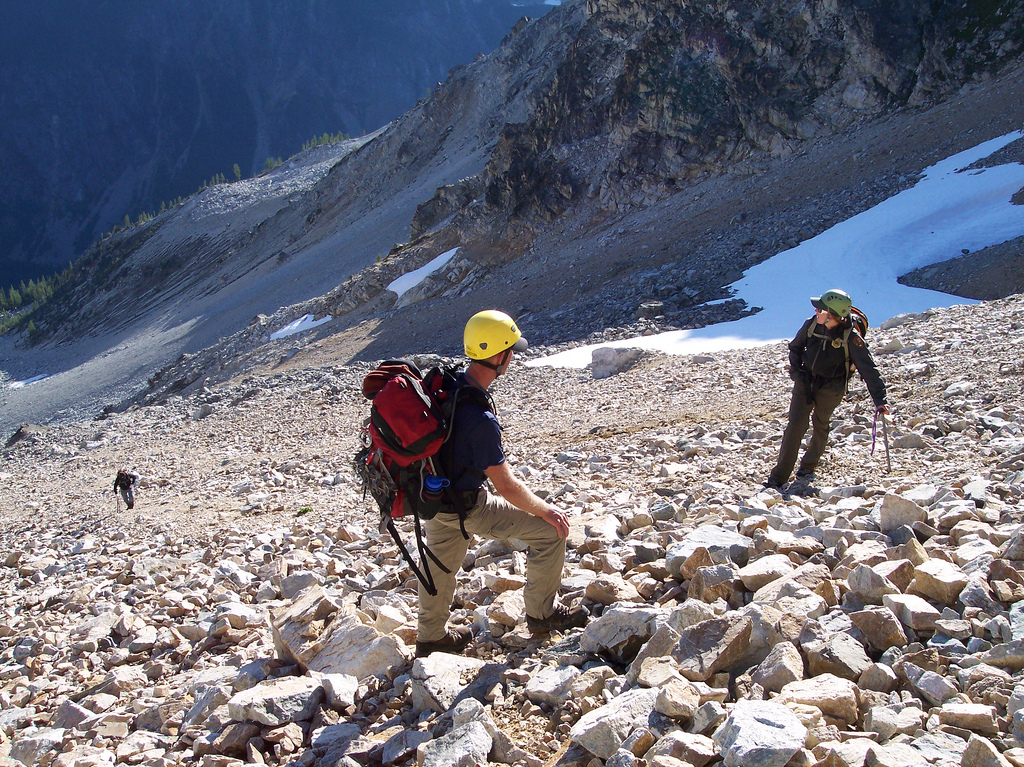 Chelan County and NPS Ground Searchers in North Cascades National Park. Credit: Phil Yenney, Chelan County Mountain Rescue Association, flickr.
---
10. Grand Teton National Park, Wyoming
There are about 800 routes and over 200 peaks in Grand Teton, ranging from easy to very difficult climbs through rock, snow and ice. Most take can be done in a day but some can take longer, requiring a bivouac or camping permit.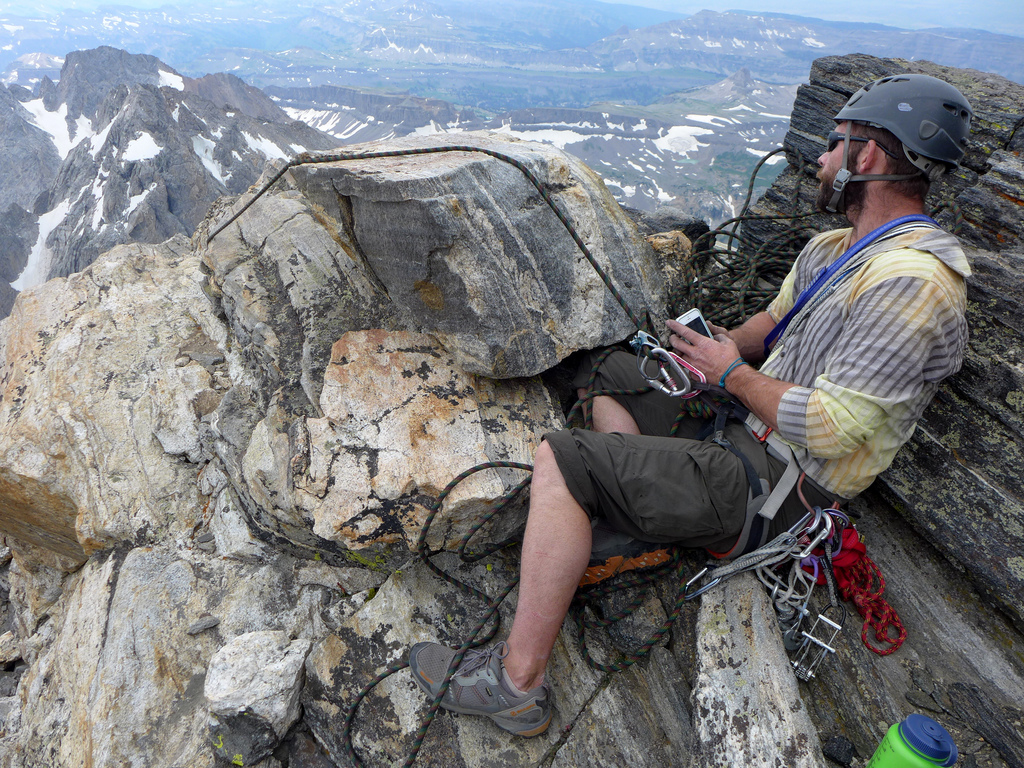 Credit: Patrick Lewis, flickr.
---
11. Black Canyon of the Gunnison National Park, Colorado
Black Canyon of the Gunnison is a haven for advanced rock climbers only, with 145 multi-pitch traditional routes located in the canyon's remote areas. Only about 10 are well used as 5.8 or 5.9 routes, while the rest range up to 5.13, many requiring aid. The deepest section of the canyon is 2,722 ft. at Warner Point and the tallest vertical wall in the state is 2,250 ft. at Painted Wall. Most climbing takes place near North and South Chasm Walls. Visit in spring or fall and be sure to obtain a required free wilderness use permit.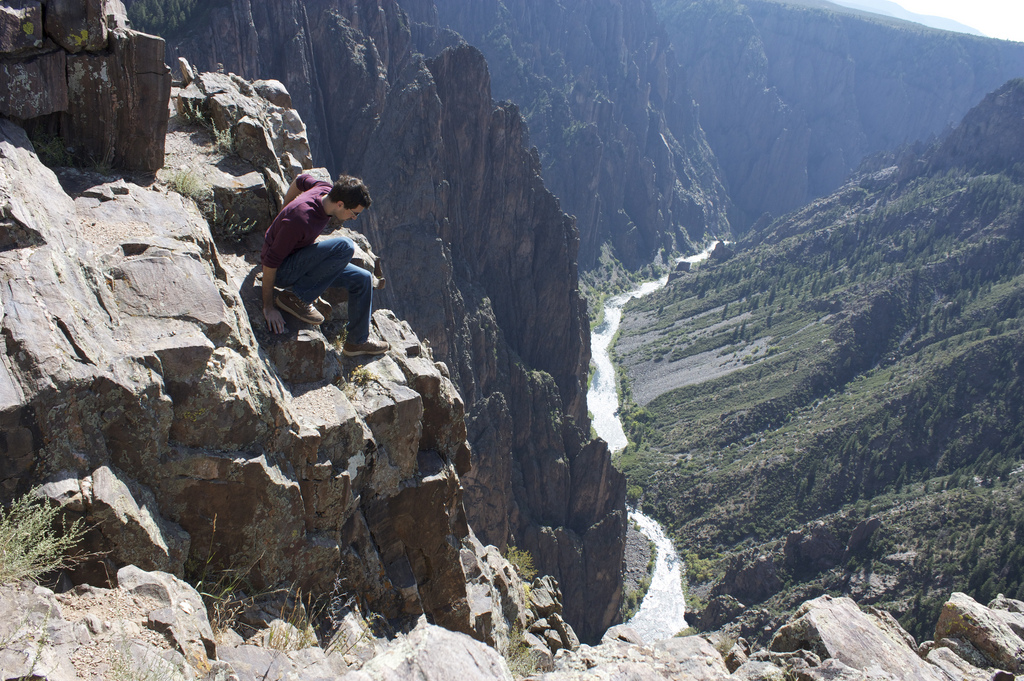 Credit: bikingbettie, flickr.
---
12. Colorado National Monument, Colorado
Colorado National Monument's sandstone cliffs boast 150 routes ranging from 5.6 to 5.13 (most are advanced). One-pitch routes along the canyon walls approach the 400-foot Independence Monument. Otto's Route is considered one of the best easy tower climbs period. Spires like Sentinel are well-known climbing destinations as well as many other multi-pitch routes throughout the land. There are also endless opportunities for scrambling and bouldering along crags.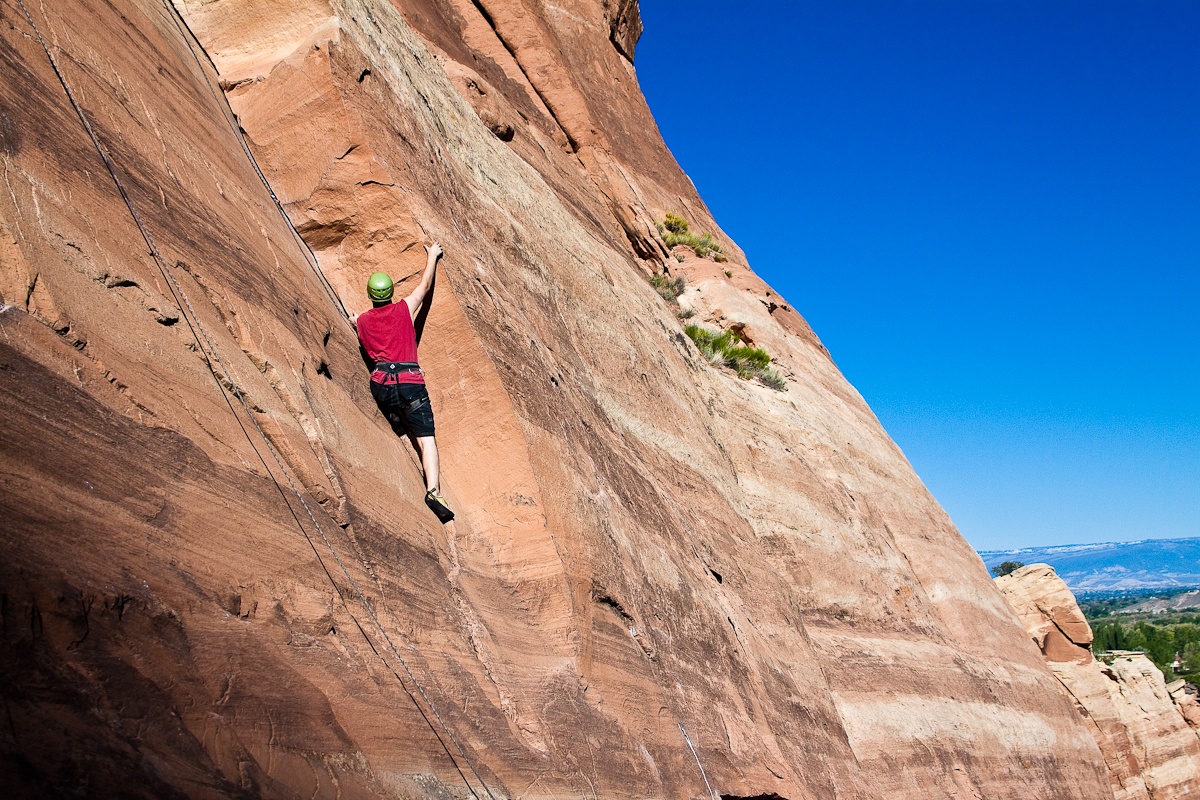 Credit: Donny Warbritton, flickr.
---
13. Devils Tower National Monument, Wyoming
Devils Tower's gigantic hexagonal columns create hundreds of parallel cracks, making this place the pinnacle crack climbing destination. With cracks as long as 400 feet, difficulty ranges from 5.7 to 5.13. Be aware of closures between March and July for nesting Prairie Falcons, and in June out of respect for tribes who consider the Tower a sacred site.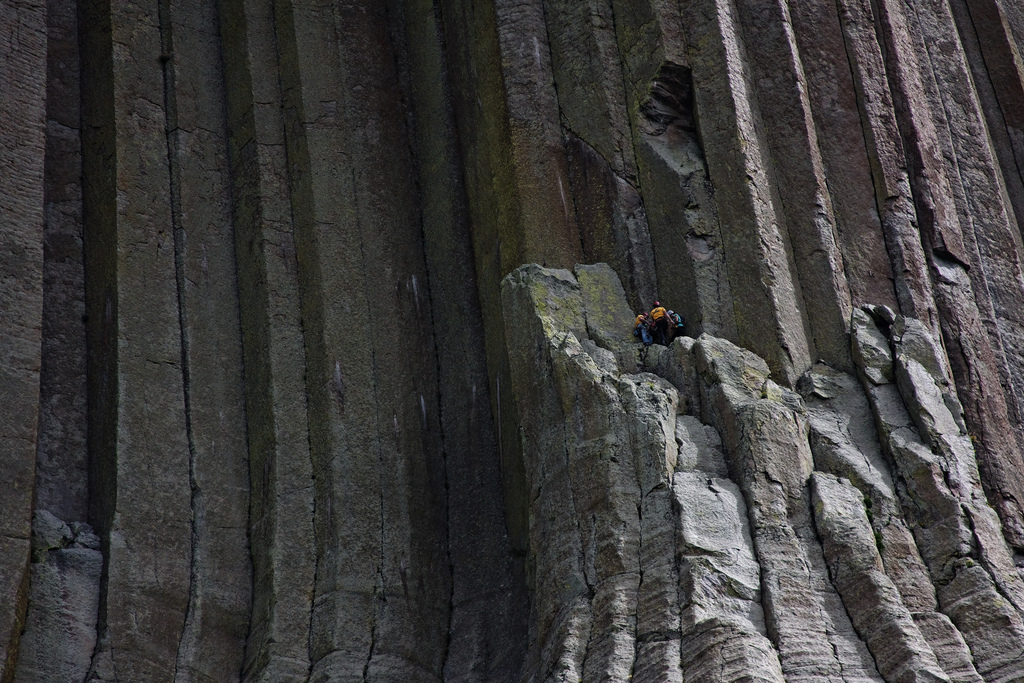 Credit: Ryan O'Hara, flickr.
---
14. Pictured Rocks National Lakeshore, Michigan
Pictured Rocks offers the rare treat of ice climbing from December through March. Curtains and columns of ice are formed from numerous waterfalls and water seeping out of sandstone, reaching a 20 to 50-foot height at Sand Point. Miners Falls is a 40-foot column that requires a three-mile trek through the snow and is 1.2 miles south of Miners basin falls. Climbers can also visit nearby Grand Island National Recreation Area.
Sand Point Falls at Pictured Rocks National Lakeshore. Credit: Mikeydubz1, flickr.
---
15. Wichita Mountains Wildlife Refuge, Oklahoma
Wichita Mountains' high-quality granite peaks and crags are rare for this region and is considered one of the finest rock climbing areas in the southwest. Classic sites like Mt. Scott, the Narrows, Elk Mountain, Crab Eyes, and Lost Dome are open for climbing year-round. Most of its 350 multi-pitch routes, ranging from 5.6 to 5.11, are for traditional climbing but there are some for sport climbing as well. Climbs are hosted inside a wildlife refuge, and that comes with a set of regulations.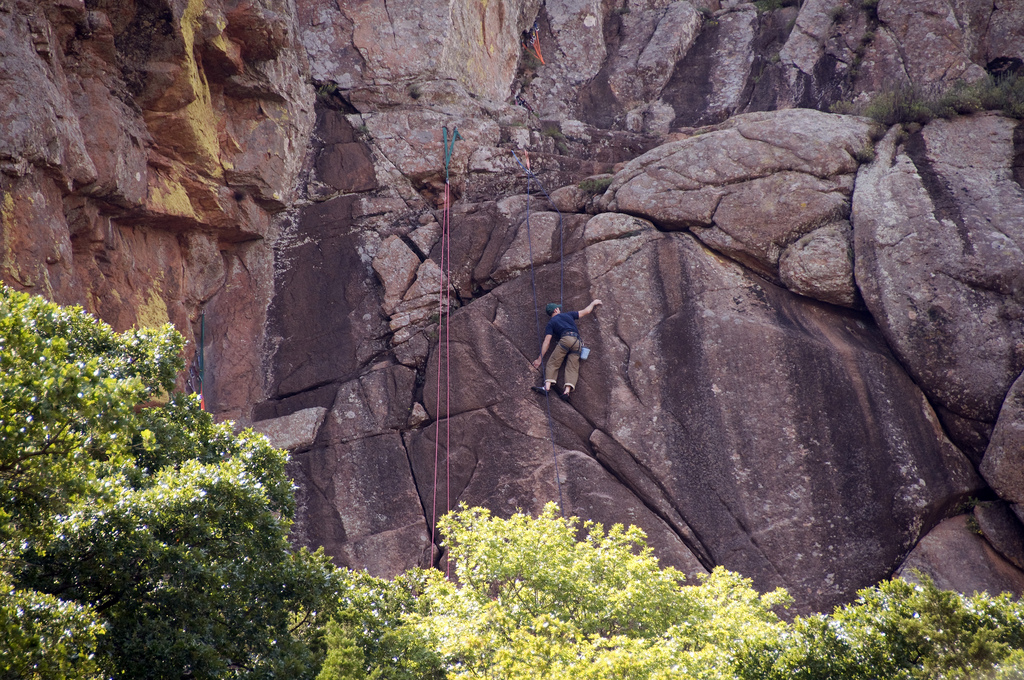 Credit: Robert Plaskota, flickr.
---
16. Obed Wild and Scenic River, Tennessee
Climbers flock to Obed's 350 routes, varying from 5.7 to 5.14 in difficulty. Obed's cliffs often become overhanging, such as at the "Stephen King's Library" area, north of the junction between Clear Creek and Obed River. The Tierrany area hosts a colorful, inverted sandstone staircase that hangs over river rapids. There are opportunities for sport climbing, traditional climbing and bouldering.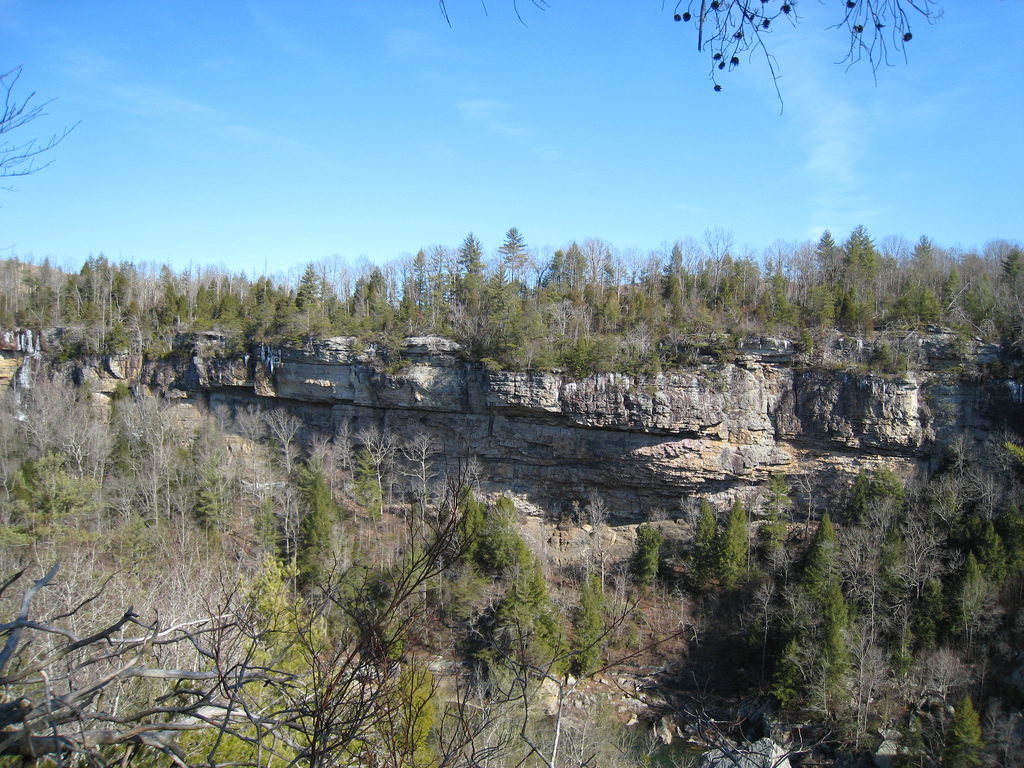 Cliff over Clear Creek near Obed Wild and Scenic River. Credit: Chris M Morris, flickr.
---
17. New River Gorge National River, West Virginia
There are more than 1,600 climbs in the New, making it one one of the nation's most popular challenging climbing areas. Its 30 to 120-foot featured sandstone cliffs offer plenty of crack and face routes, most 5.9 and above, as well as sport routes in the 5.10 - 5.12 range. Beneath the New River Gorge Bridge is Bridge Buttress, a great starter crag. Bouldering is also available.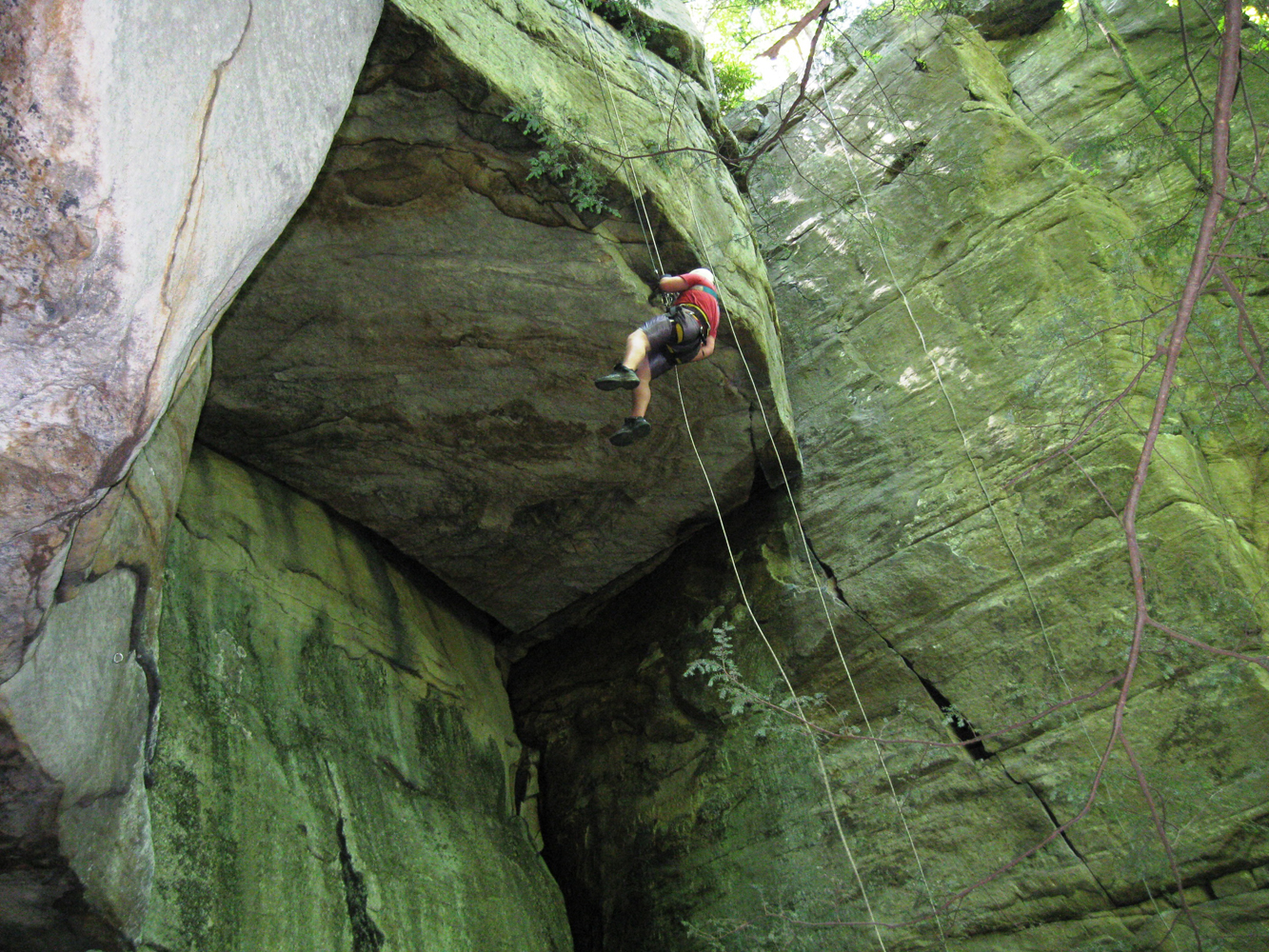 Credit: National Park Service.
---
18. Coconino National Forest, Arizona
Coconino's climbing destination is Jack's Canyon. Carved by water, the canyon's limestone/sandstone rock cliffs include vertical and overhanging rocks. A short walk leads to almost 300 routes, from intermediate to advance, all protected by cold shuts and cracks. Abundant holds on naturally textured walls make this a prime location for outdoor sport climbing.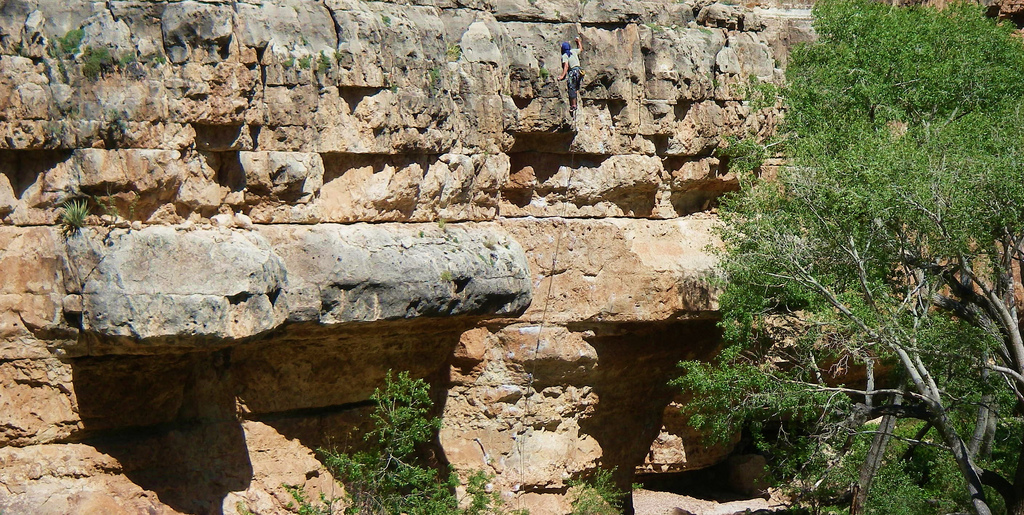 Credit: John, flickr.
---
19.
Eastern Kentucky's sandstone cliffs are world renowned for climbing, especially those in the Red River Gorge Geological Area. With the greatest concentration of arches east of the Rocky Mountains, the Red's small cliffs are no taller than 200 feet but offer challenging overhanging faces. Sport climbing routes outnumber traditional ones but there are many of both types.
Credit: Laurel F., flickr.
---
20.
Rising almost 900 feet above the North Fork River, Monongahela's Tuscarora rocks make this climbing destination one that is unparalleled in the east. Inside the Spruce Knob-Seneca Rocks National Recreation Area, Seneca Rocks boasts more than 375 routes, from the easiest (5.0) to the most difficult (5.12). Nearby Champe Rocks is another well known area.
Credit: Patrick Gensel, flickr.
For when you go:
As you plan your trip, please follow these guidelines to ensure you are respecting yourself as well as the lands you visit:
Please follow all site regulations and obtain permits/registration if appropriate.
Be aware of local hazards like rockfall, storms or avalanches.
Some routes are rated below their difficulty, so start with climbs below your level.
Observe practices that minimize erosion. Avoid disturbing vegetation and wildlife.
Bring appropriate equipment and pack out everything (including your waste).
Do not use white chalk, remove fixed pins, place bolts or camp overnight, unless you know it is allowed.