In honor of Native American Heritage Month this November, we take a look at a few noteworthy Native American cultural sites on public lands.
Native American Heritage Month offers all Americans the opportunity to recognize and honor tribes who understood the value of wilderness long before European Americans ever laid eyes on bison or redwoods—or, indeed, decided to call certain places  "wilderness."
A number of the national monuments, parks and other sites we cherish contain major historical and cultural resources connected to these tribes. In many cases, the land that surrounds them might not have remained in good condition without the Antiquities Act, a law passed in 1906 that allowed presidents to protect natural and cultural sites as national monuments. The Antiquities Act was first signed into law by President Theodore Roosevelt and has been used on a bipartisan basis by 16 presidents since then (including President Barack Obama). It is likely that some of these special places would have been obscured by development—or demolished entirely—without this law and the strong movement to preserve public lands that it exemplifies.
Right now, treasured landscapes like Utah's Bears Ears and Nevada's Gold Butte are in desperate need of similar attention. Home to countless important Native American archaeological and cultural sites, they have recently fallen prey to vandalism, reckless off-road vehicle use and other destructive behavior.  
In November, let's take a look at some places that preserve traces of Native American culture that are hundreds (or even thousands) of years old, and think of the spots that still need to be protected.
Mesa Verde National Park (Colorado)
Mesa Verde was the first national park designated with the express purpose of preserving "the works of man"—in this case the remnants of 6th-12th century Ancestral Puebloans, as exemplified by more than 4,000 known archeological sites, including some of the most notable and well-preserved in the U.S. The park's signature attractions are some 600 ancient dwellings carved into rock alcoves, stumbled upon by a pair of cowboys—who called it "Cliff Palace"—in the late 19th century. At that point, Mesa Verde had been vacant for hundreds of years. Experts think the last Puebloan residents of the area were forced out when a booming population eventually exhausted natural resources and was torn apart by internal strife. Since 1906, the park has been preserved for the enjoyment and education of all Americans (though oil and gas development in the area pose a threat to the landscape). Tours of the site offer details on these lives, and trails provide opportunities for hiking and snowshoeing. The 360-degree panoramic view at Park Point is one of the most breathtaking in the country.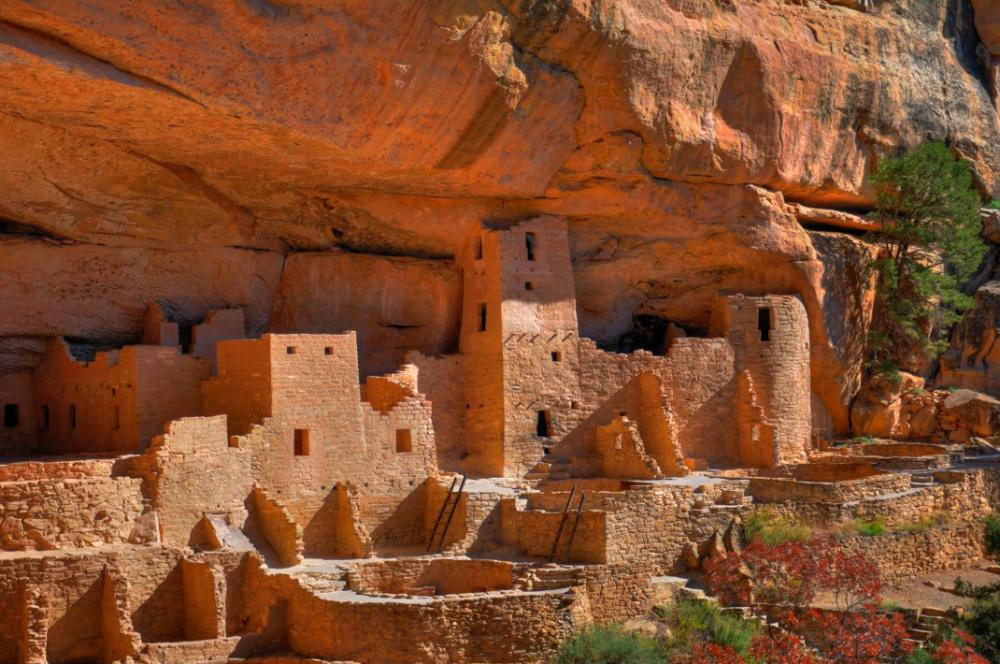 Casa Grande Ruins National Monument (Arizona)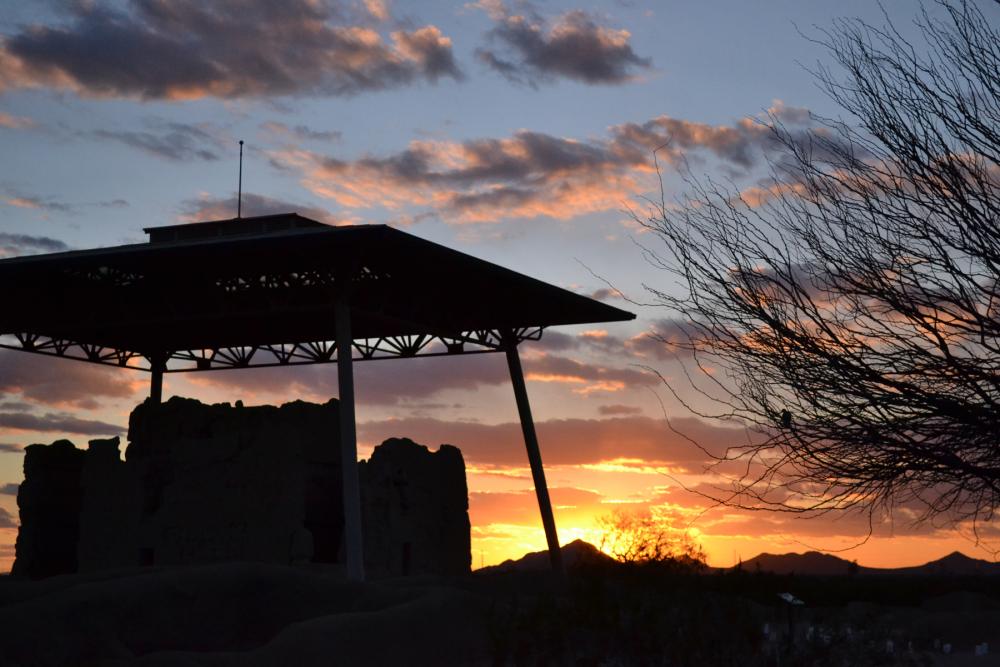 Organ Mountains-Desert Peaks National Monument (New Mexico)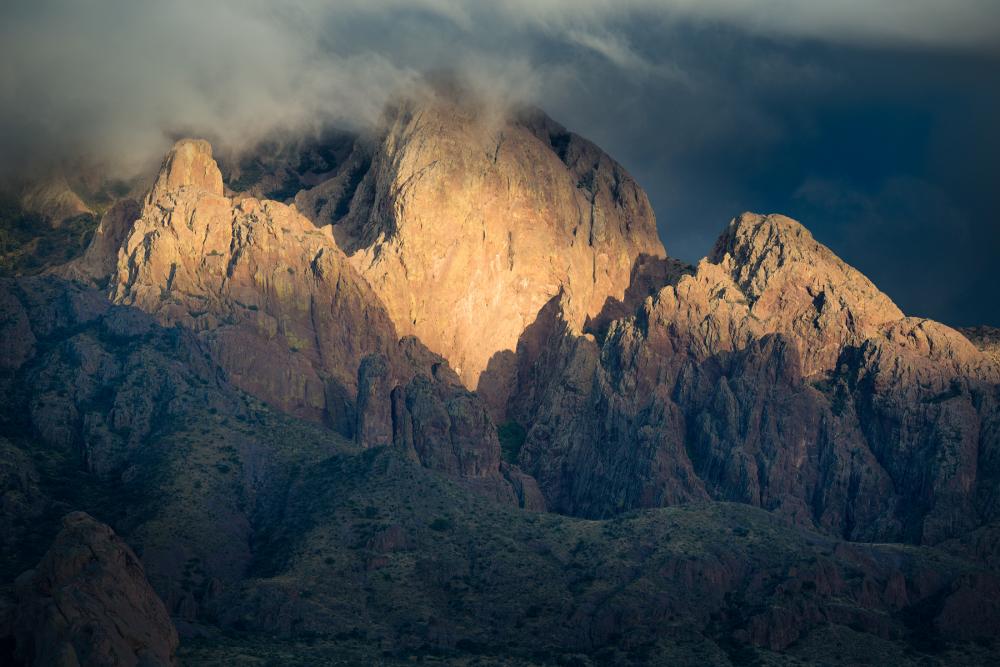 Organ Mountains-Desert Peaks National Monument was designated by President Obama under the Antiquities Act.
Effigy Mounds National Monument (Iowa)
The only national monument in Iowa, Effigy Mounds was protected by President Harry Truman in 1949 in order to preserve its namesake series of sacred hillocks, constructed by a culture that inhabited land along the upper Mississippi River, stretching east to Lake Michigan (what is now parts of Iowa, southeast Minnesota, southern Wisconsin and northern Illinois). Numbering more than 200, the mounds were built over thousands of years in a variety of shapes ranging from simple cones to bison and birds. Though the exact function of the mounds as a whole remains unknown, some are burial sites, and experts think that others may have acted as territorial markers. Whatever the mounds' purpose, more than 15 modern-day tribes, ranging from Minnesota to Oklahoma, are considered to be culturally associated with them. The largest and best-preserved chain of mounds, the evocatively named "Marching Bears," can only be fully appreciated from overhead.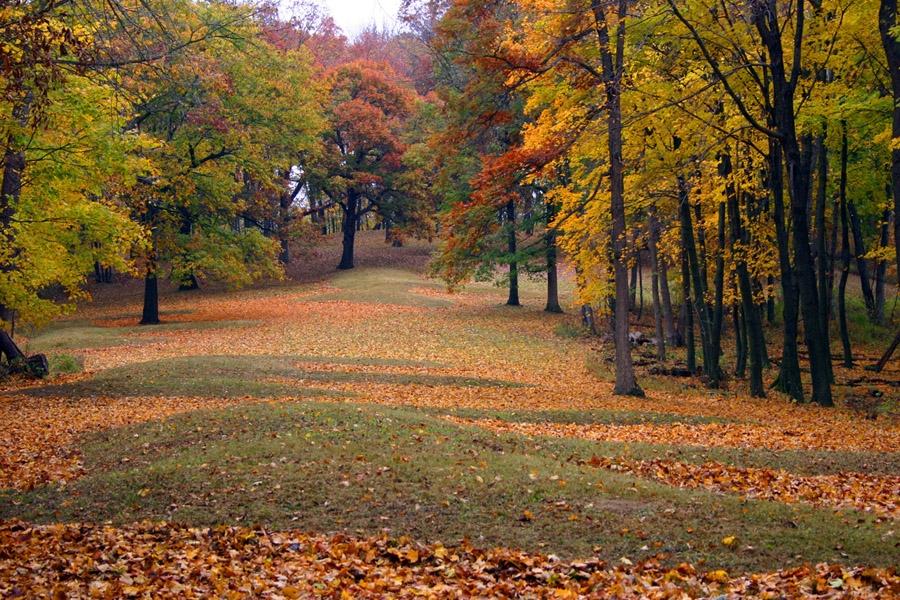 Chaco Culture National Historical Park (New Mexico)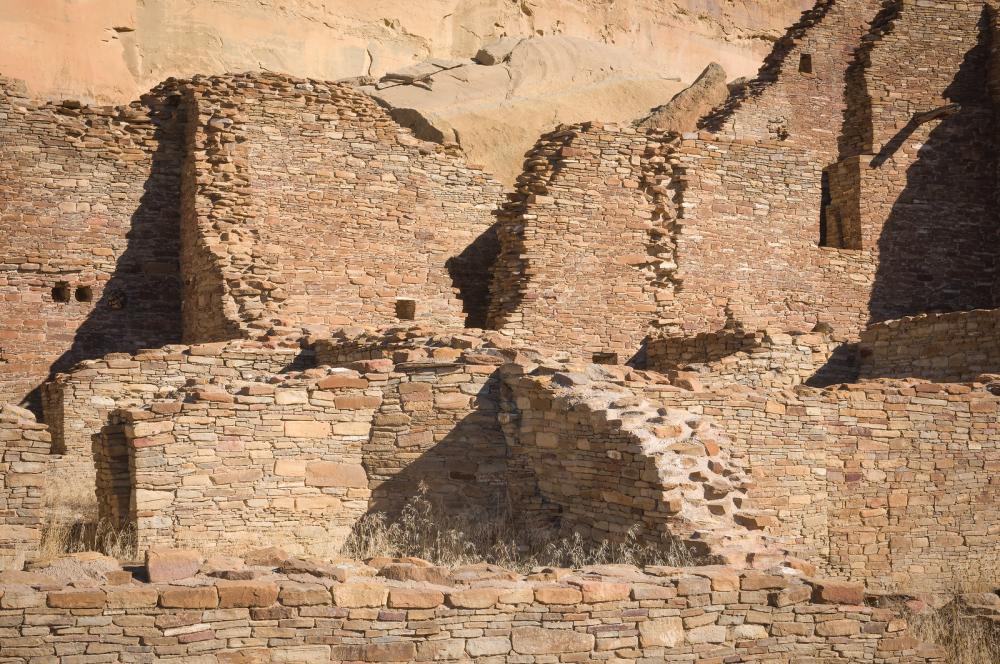 Hopewell Culture National Historical Park (Ohio)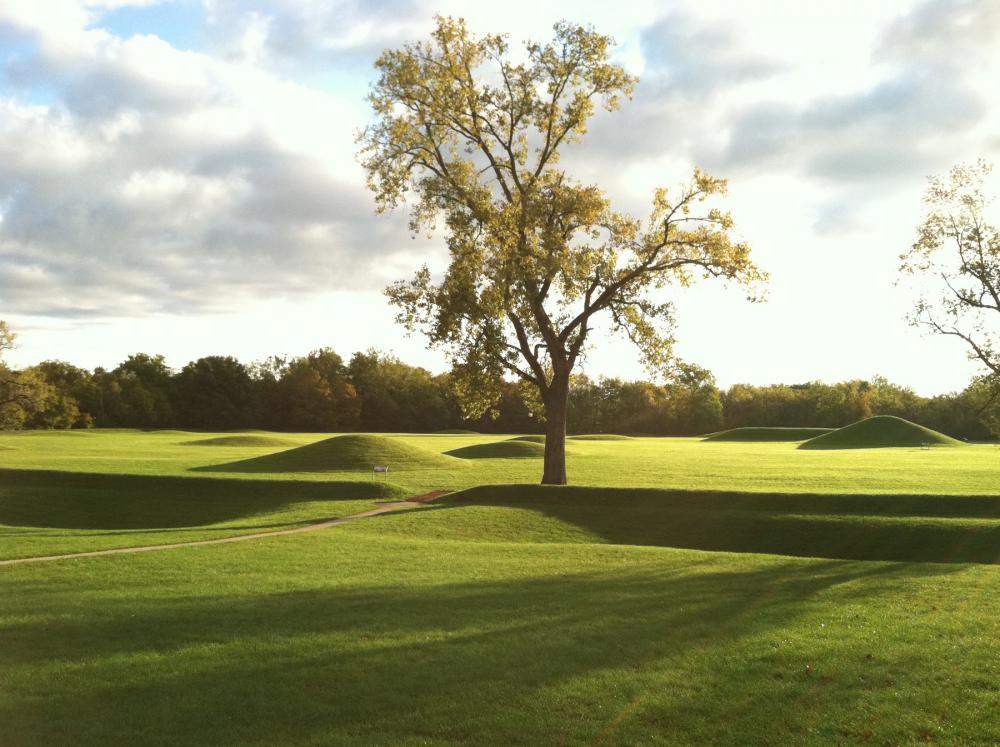 Canyons of the Ancients National Monument (Colorado)
Aztec Ruins National Monument (New Mexico)
Aztec Ruins National Monument was protected as a national monument in 1923 and named a World Heritage site in 1987 (as part of Chaco Culture National Historical Park) for its well-preserved examples of Pueblo architecture—the same features that still draw tourists from around the country. So why is it called "Aztec Ruins"? Early white explorers initially mistakenly identified the buildings on-site as traces of the Mexican Aztec culture, rather than the work of (even older) indigenous peoples, and it still bears the original, ill-gotten title. Despite this, the monument is an important place for Ancestral Puebloans, its ancient "great houses" and associated "kivas"—ceremonial chambers—serving testament to the legacy of its old inhabitants.
Artifacts discovered in the ruins have included food remnants, clothing, tools and jewelry, offering a glimpse at the way Ancestral Puebloans used natural resources and traded with other peoples.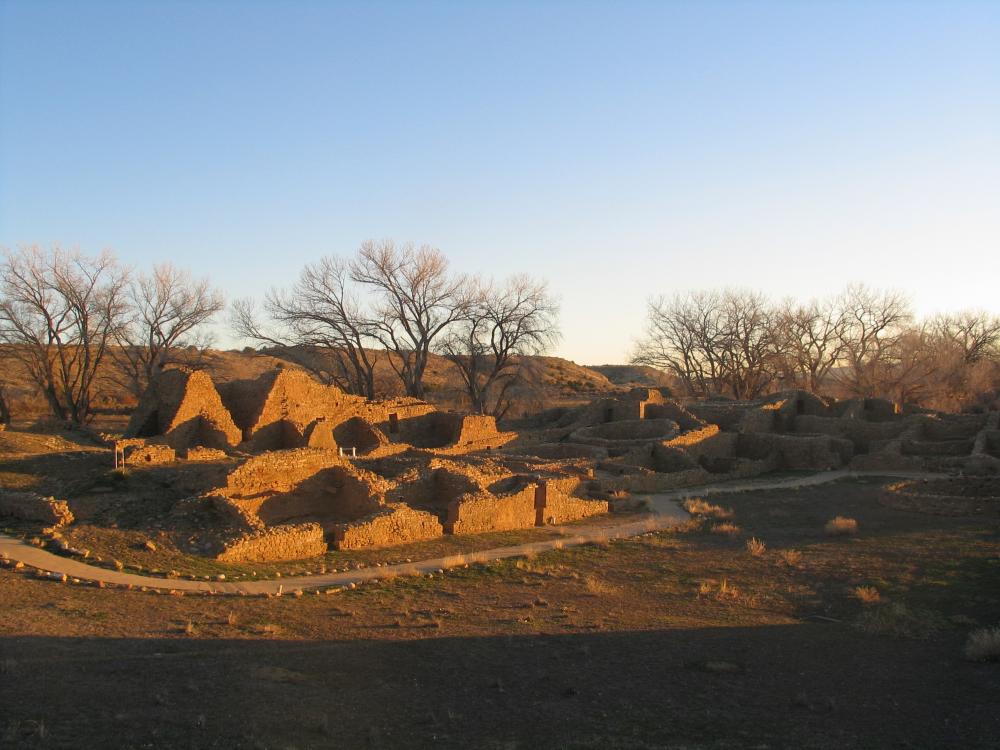 Ocmulgee National Monument (Georgia)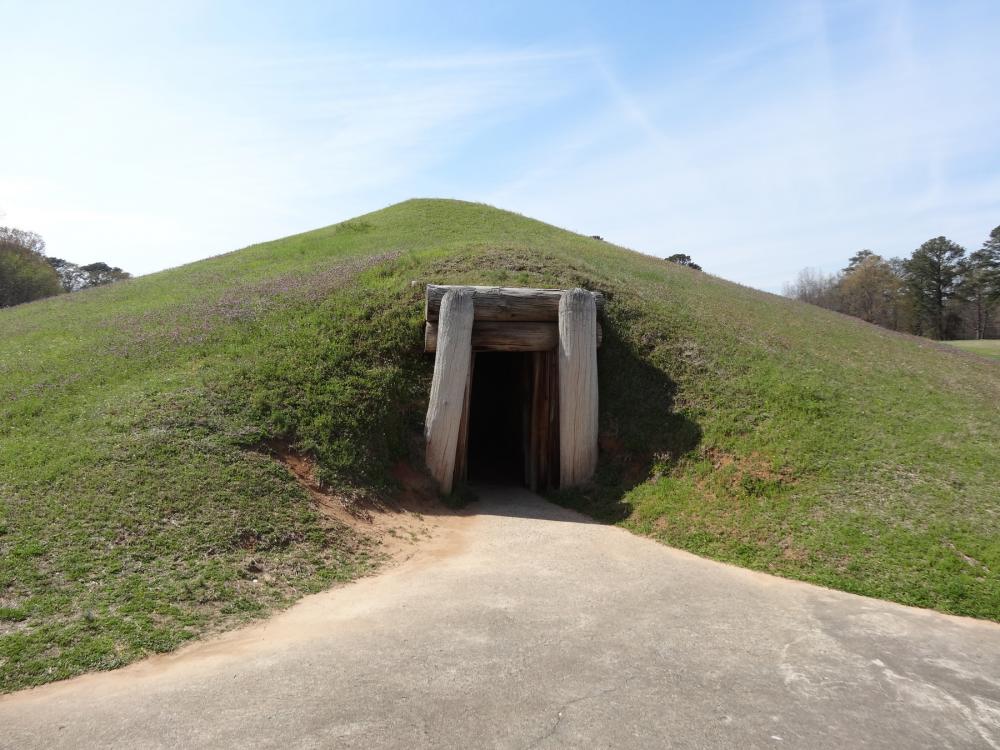 Gila Cliff Dwellings National Monument (New Mexico)
Surrounded by the Gila National Forest (and at the edge of the Gila Wilderness), this monument, protected by President Theodore Roosevelt in 1907, is named for its most striking feature—the ruins of interlinked cave dwellings built in five cliff alcoves by the Mogollon peoples who lived in the area in the late 13th- and early 14th century. While the monument covers comparatively little physical ground, it offers a wealth of things for visitors to do once they've finished exploring these rare traces of ancient Puebloan culture: activities in the broader area include hiking, bird-watching, camping, fishing and horseback riding.