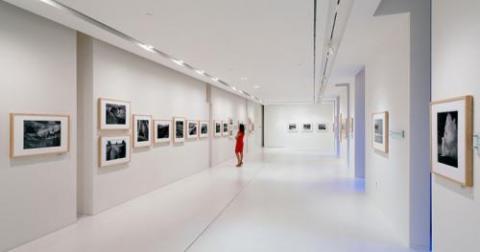 Photographer Ansel Adams was a Wilderness Society council member and supported the organization for more than four decades.
Throughout his distinguished career as a photographer, Adams photographed dozens of iconic portraits of wildlands, such as Alaska's Denali and California's Yosemite. He is one of the world's best-known landscape photographers.
Today, the collection of original Ansel Adams photographs is now housed in a refurbished gallery on the first floor of The Wilderness Society's national headquarters building, located at 1615 M Street NW Washington, D.C.
The refurbished gallery space was designed by Aleksandar Jocic of the architectural firm of Group Goetz Architects  and gallery consultant, Cynthia Reed. The gallery space was the recipient of a 2010 Merit Award for Interior Architecture from the Washington, D.C. chapter of the American Institute of Architects. The gallery was also featured in the winter 2011 edition of Architect DC magazine.
Plan your visit
The Wilderness Society welcomes visitors on weekdays to experience the majesty and wonder of Ansel Adams' incredible images. Come see the photography collection that Washingtonian magazine named one of Washington, D.C.'s "hidden gems."
Location
The Wilderness Society
1615 M Street, NW (in the Sumner School building)
Washington, DC 20036
Hours
10 a.m.–4 p.m., Monday–Thursday
10 a.m.–2 p.m., Friday
Closed, weekends and federal holidays
---
Note: Effective March 13, 2020, the gallery will be closed until further notice.
---
*The Ansel Adams collection is wheelchair accessible
Host an Event at the Ansel Adams Collection
Located in downtown Washington, D.C., near Metro stops on the blue, orange and red lines, The Wilderness Society gallery space offers an intimate and elegant setting for cocktail parties, dinners, meetings and small conferences in two unique areas:
Our modern Gallery featuring the photographs of Ansel Adams, and
Our fully equipped, 55 seat (30 at table) Board Room.
Hours, pricing and amenities
Before you contact us, please review the below policies:
There is a four-hour minimum for the board room or for the gallery space, but the gallery may be rented by the hour in conjunction with a four-or-more-hour board room rental.
There is an hourly surcharge to cover HVAC and building security for events that extend beyond or begin after 6 p.m. on weekdays or on the weekend. An additional daily surcharge for weekend rentals ensures on-site assistance during your event.
Included with all rentals are WiFi access, and use of AV equipment, lectern, easels and other standard meeting materials, and a food service area.
The gallery capacity is 150-175 (standing) and 100 (seated); it is available from 5:30–10 p.m., Monday-Friday.
The board room capacity is 30 (seated at the table); it is available from 8 a.m.–5 p.m., Monday-Friday.
Location and parking
The Ansel Adams at The Wilderness Society is located in the heart of downtown at 1615 M Street in northwest, Washington, D.C.
When available, onsite parking is an additional cost. Contact the PMI garage at 202-785-9465 for pricing. There are additional parking garages nearby along with on-street metered parking.
Contact information
To contact The Ansel Adams Collection at The Wilderness Society, please email [email protected] or call 202-833-2300.