The U.S. is blessed with a national park system that protects some of our most beautiful and unique landscapes—and Americans love it. 
Below are some of the many off-the-beaten-path activities available at national parks, with one or two places where you can try each one.
---
Take an art class
Where you can do it: Yosemite National Park (California)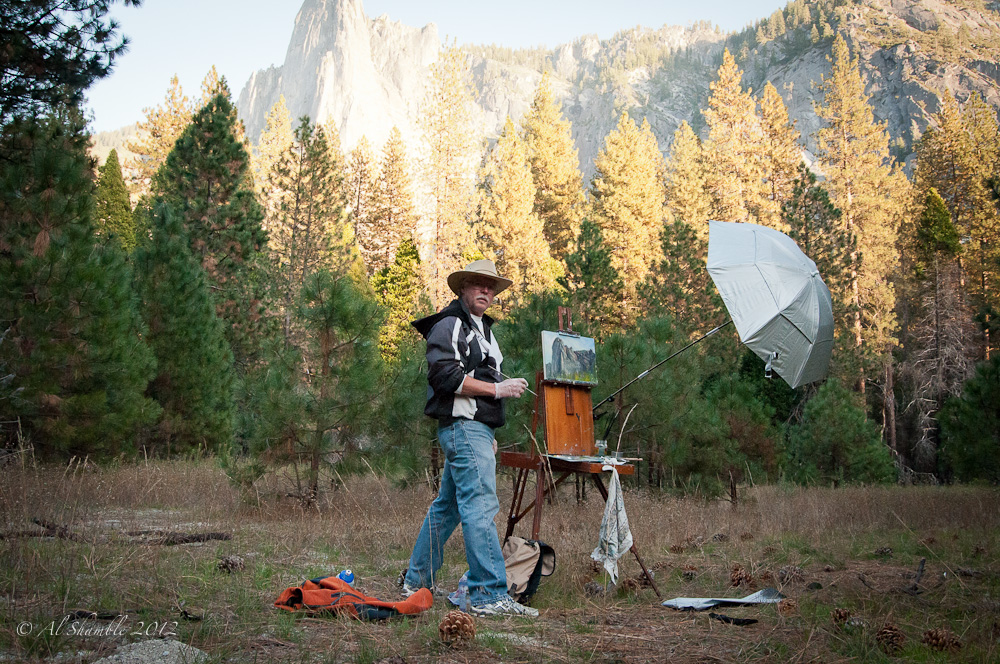 Credit: ashamble, flickr.
Given iconic photographer Ansel Adams' role in advocating for the protection of Yosemite, it shouldn't come as a surprise that one of America's best-known national parks hosts a variety of art workshops and courses on media ranging from watercolor to mosaic tiles (including photography seminars). Besides, boasting some of the most striking natural vistas anywhere on earth, Yosemite National Park may be a slightly more exciting setting for an art class than your local community college.
---
Meet a team of sled dogs (or try mushing)
Where you can do it: Denali National Park and Preserve (Alaska)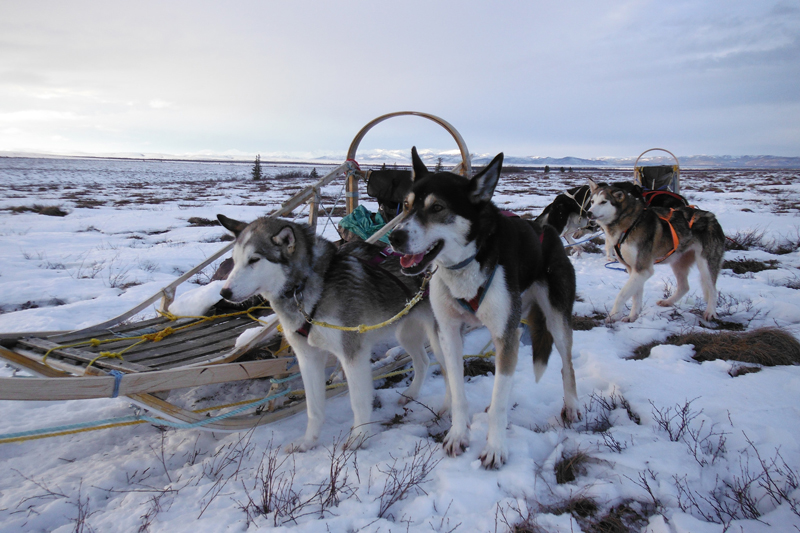 Credit: Joseph, flickr.
Denali National Park's kennels are open year-round, hosting the only sled dogs in the country tasked with helping to protect and patrol a national park. These unique pooches are part of the Denali visitor experience, too: park staffers shuttle busloads of people from the Denali Visitor Center to free dog sled demonstrations three times each day. If visitors get the urge to try "mushing" themselves, they are free to explore the park using their own dog teams.
---
Ride a sandboard or sand sled
Where you can do it: Great Sand Dunes National Park and Preserve (Colorado)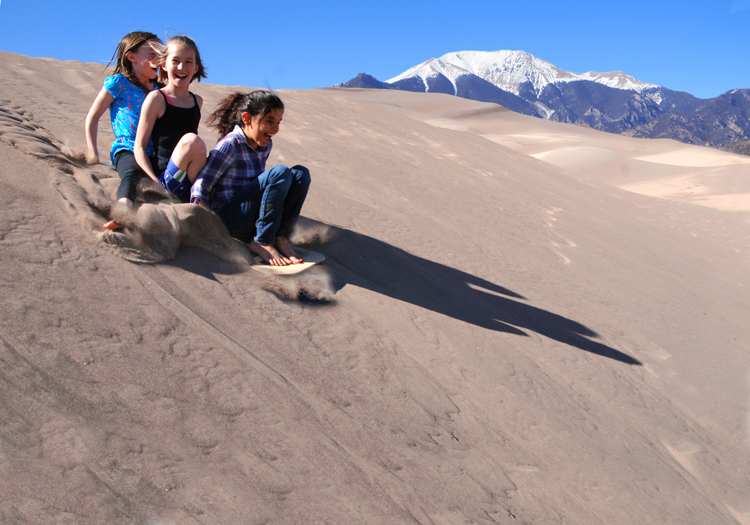 Credit: NPS, flickr.
Sandboarding and sand sledding are exactly what they sound like: imagine enjoying your favorite winter pastimes on a desert or beach. Great Sand Dunes National Park is one of only a handful of places where you can enjoy these activities--sand deposits of the Rio Grande have sculpted the tallest dunes in North America, some reaching 750 feet in height. You'll need the right equipment to make it work, but this activity is sure to be truly unforgettable.
---
Watch whales and dolphins
Where you can do it: Channel Islands National Park (California), Glacier Bay National Park and Preserve (Alaska)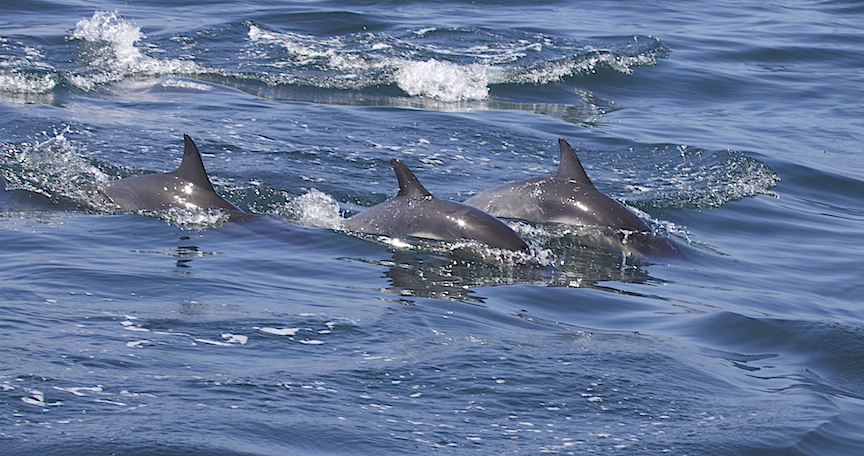 Dolphins at Channel Islands National Park. Credit: Gregory "Slobird" Smith, flickr.
There's nothing quite like seeing a whale in the wild, and our national parks offer some of the best opportunities to do that. The waters around Channel Islands National Park, off the coast of Santa Barbara, reportedly contain around one-third of the cetacean species found anywhere on earth, including blue whales, sperm whales and bottlenose dolphins, making whale-watching possible all year long. Glacier Bay National Park is a good spot for seeing humpback whales in the summer, as they gather to eat after long fasting winters in southerly waters.
---
Go "flightseeing"
Where you can do it: Denali National Park and Preserve (Alaska)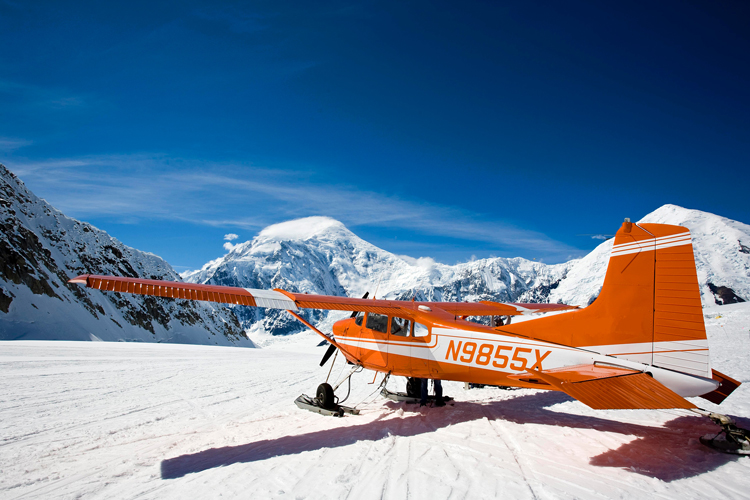 Credit: NPS, flickr.
At an expansive park like Denali National Park, the best way to get a broad view of the diverse and sweeping landscape is sometimes to hop into a small airplane or helicopter and go "flightseeing". A number of companies have permits to fly aircraft within Denali, and a select few even enjoy permission to land on glaciers.
---
Celebrate the planet Mars
Where you can do it: Death Valley National Park (California/Nevada)
Death Valley's Ubehebe Crater. Credit: Eric Gorski, flickr.
Death Valley National Park is an International Dark Sky Park because it's a perfect place for stargazing, but that isn't its only connection to outer space. Death Valley's famous climatic and elevation extremes and unearthly geological features also make it a suitable place for MarsFest, an annual event for scientists and lay enthusiasts to discuss research being conducted here on earth with an eye toward eventually traveling to other planets.
---
Take a healing desert bath
Where you can do it: Big Bend National Park (Texas)
Credit: daveynin, flickr.
Southwest Texas' vast Big Bend National Park features striking desert terrain, lush river canyons and scenic mountains. However, one of its most unique attractions is the Hot Springs, a natural (and supposedly medicinal) geothermal gem that became a major tourist attraction about a century ago on the north bank of the Rio Grande. While the old bathhouse is mostly gone, you can still take a soothing soak in the Hot Springs to try and cure whatever ails you.
---
Hike under a full moon
Where you can do it: Bryce Canyon National Park (Utah)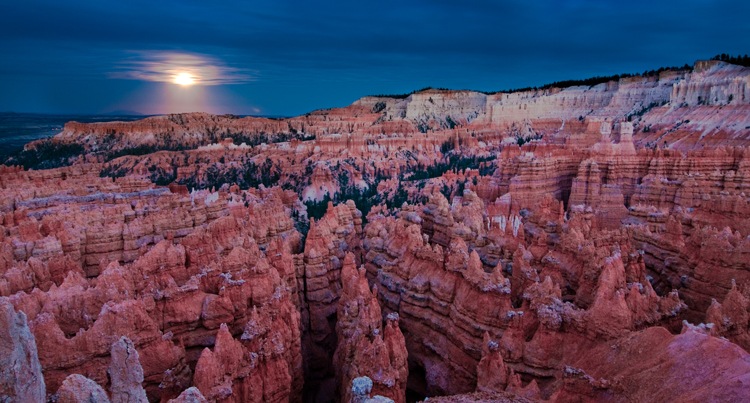 Credit: Bhanu Tadinada, flickr.
Bryce Canyon National Park's clusters of hoodoos cast odd and beautiful shadows under the light of a full moon. Luckily, you don't have to take our word for it: Bryce Canyon National Park offers ranger-led hikes down into the canyon during each full moon (no headlamps or flashlights allowed). These hikes are so popular that tickets must be distributed through a lottery system, and a snowshoe version is offered when snow around the canyon exceeds 12 inches.
---
Pitch a tent on the beach
Where you can do it: Assateague Island National Seashore (Maryland)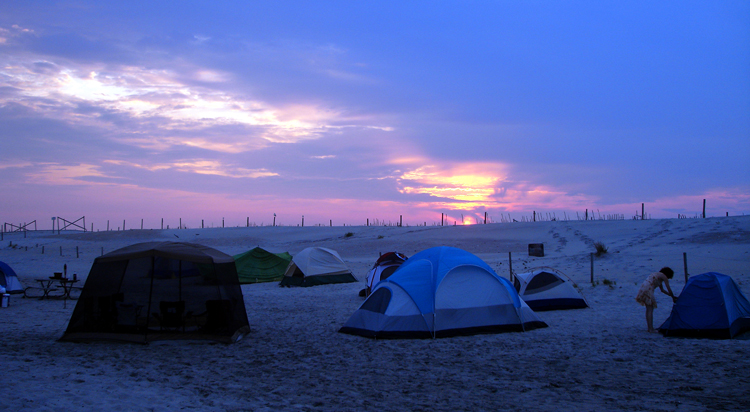 Credit: Rev. Xanatos Satanicos Bombasticos (ClintJCL), flickr.
Camping is a familiar enough national park activity, but how many times have you pitched a tent within a few steps of the Atlantic Ocean? Managed by the National Park Service, Assateague Island National Seashore lets you do just that (the park is split between the eastern shores of Maryland and Virginia, and camping is only permitted in the Maryland portion). Assateague is best known for its population of feral horses, and in the summer months you may spot them on the beach, too (be sure to keep your distance).
---
Hike to health
Where you can do it: Voyageurs National Park (Minnesota)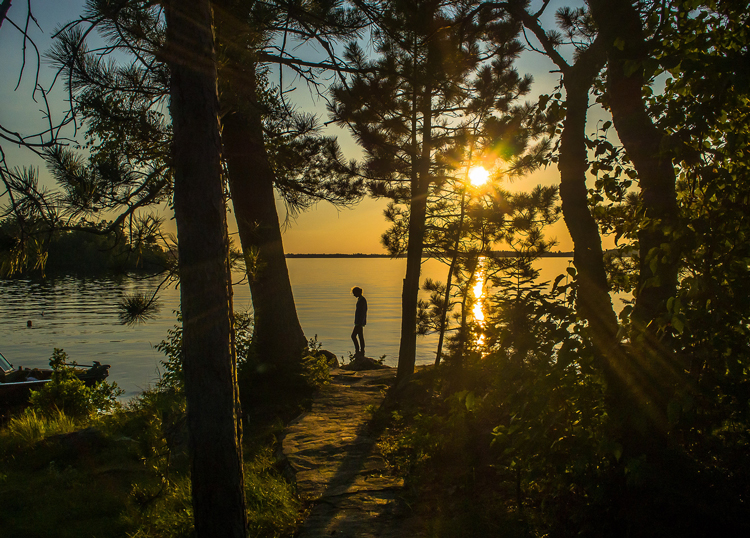 Voyageurs National Park. Credit: jck_photos, flickr.
It is well established that hiking can make you happier and healthier, but one park is especially serious about it. Just shy of the Canadian border, Voyageurs National Park launched the "Hike to Health Trail Passport" program in mid-2014 as a way of challenging its visitors to tackle the area's many hiking trails and amp up their fitness goals. One thing's for sure—completing challenges at this beautiful river-veined transition area between southern boreal and northern hardwood forests is a lot more fun than walking on the treadmill.
---
Kayak on a trail
Where you can do it: Everglades National Park (Florida)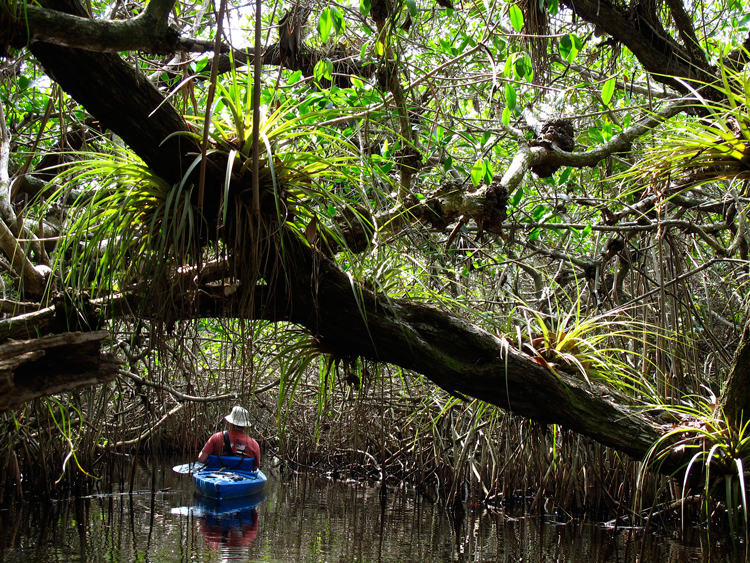 Credit: Sarah H, flickr.
Plenty of parks and other wildlands offer the opportunity to kayak or canoe, but only a few let you do it along a winding waterbound "trail." Everglades National Park contains a variety of kayak and canoe trails where you can explore mangrove swamps and freshwater marshes, marveling at an incredible variety of birds and plantlife.
---
Spend an hour "tidepooling"
Where you can do it: Olympic National Park (Washington)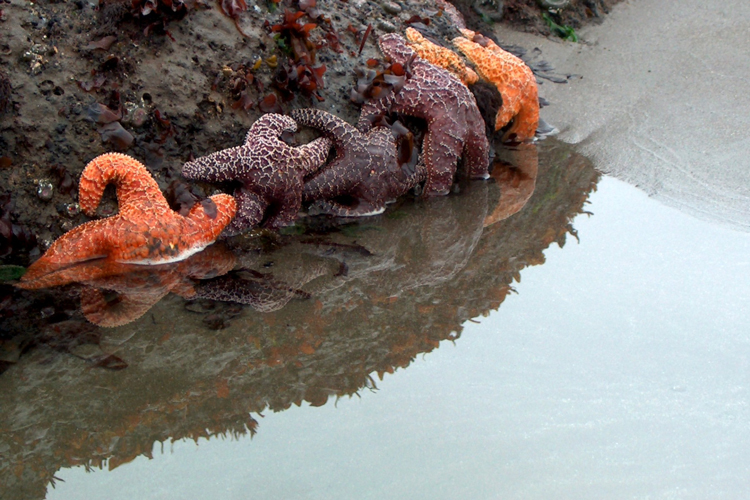 Credit: Jason Hollinger, flickr.
Where the land meets the ocean, in the "intertidal zone," tide pools exist along the shore as tiny universes of hardy, adaptable life. In addition to being an important scientific resource, tide pools are great places to spend an hour or two at a park during low tide, just "tidepooling"—spying on sea stars, anemones, sponges, urchins and other varied life that calls them home. Olympic National Park contains several beaches where tidepooling is popular, including near the famous rocky arch known as "Hole-in-the-Wall," only a couple of miles from an official campground.
---
Visit the biggest tree on earth
Where you can do it: Sequoia National Park (California)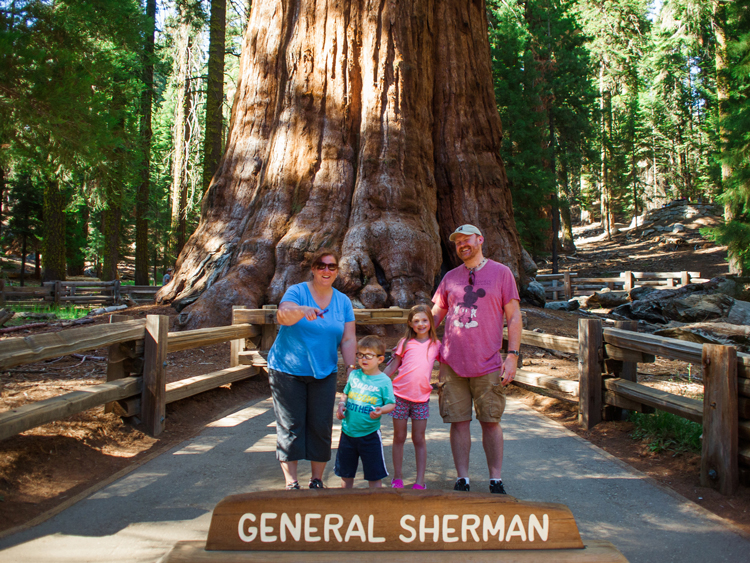 Credit: Tom Simpson, flickr.
Trees: if you've seen one, you...definitely haven't seen them all. Case in point, Sequoia National Park's most celebrated resident, a giant sequoia dubbed "General Sherman," after Union general William Tecumseh Sherman. General Sherman (the tree) is thought to be around 2,500 years old, and it is considered the world's largest tree by volume (though not quite the tallest), rising  nearly 275 feet with a ground-level circumference of 102.6 feet. You can see General Sherman at the north end of Sequoia National Park's Giant Forest region, which contains 40 miles of trails.
---
See the best foliage autumn has to offer
Where you can do it: Shenandoah National Park (Virginia), Great Smoky Mountains National Park (North Carolina/Tennessee)
Great Smoky Mountains National Park. Credit: JoeyBLS Photography, flickr.
Almost anywhere you live in America, it's possible to find picturesque foliage in the fall. However, a few places stand head and shoulders above the rest. Shenandoah National Park is one of the best places in the country to watch the colors change, especially in late October. Options for getting your foliage fill include visiting the Fall Foliage Bike Festival, hiking a scenic chunk of the Appalachian Trail or spending an afternoon cruising along celebrated Skyline Drive. Great Smoky Mountains National Park similarly explodes with yellows, oranges and reds in mid- to late October, though at higher elevations colors become vibrant as early as mid-September.
---
Tackle a swamp "triathlon"
Where you can do it: Everglades National Park (Florida)
Credit: NPS, flickr.
The nearly 90-year-old Tamiami Trail was the first east-west route ever carved through the teeming, untamed Everglades, and it has caused unintended consequences for natural water flow in the area. However, it does afford visitors the opportunity to see some of this utterly unique park's great nature. The Tamiami Trail "Triathlon" encourages people to do just that—get off the road and hike, bike and paddle their way through the surrounding area to appreciate what wildness remains in the incredible "river of grass."
---
Climb a column of ice
Where you can do it: Pictured Rocks National Lakeshore (Michigan)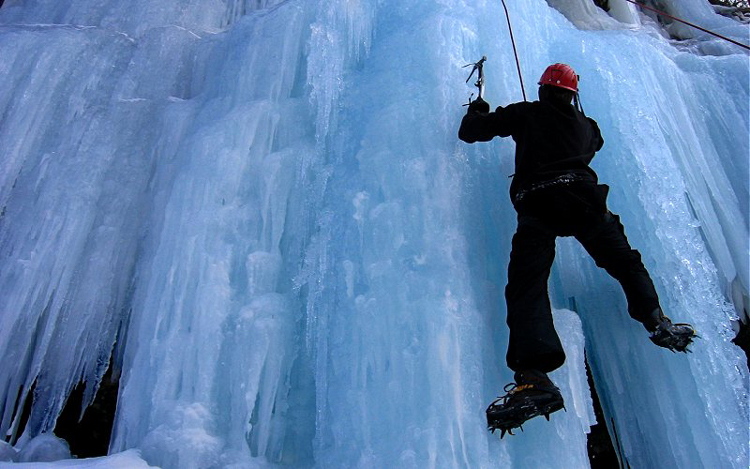 Credit: Lars Jensen.
During winter, Pictured Rocks National Lakeshore's waterfalls and the water that seeps through porous sandstone cliffs become a gallery of ice columns and sheets. While it may sound crazy, people are increasingly deciding to gear up and climb these formations. The ice that forms over the Pictured Rocks cliffs above Lake Superior is beautiful but treacherous, so park staff recommend climbing columns along the Pictured Rocks escarpment between Munising Falls and Sand Point instead. If you're really serious about ice-climbing, you can seek out fellow afficionados at the annual Michigan Icefest in February.
---
Go geocaching
Where you can do it: Petrified Forest National Park (Arizona)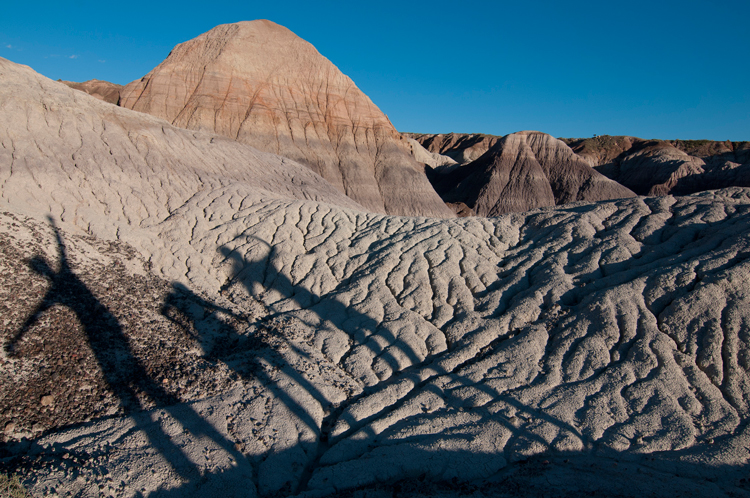 Credit: Susan McElhinney (NPS), flickr.
Petrified Forest National Park is famous for its collection of 225 million year-old petrified wood turned to almost solid quartz, maor Late Triassic fossil finds and hundreds of Native American archaeological sites. However, the area isn't just about the past—it abounds with outdoor recreation opportunities as well. One of the most popular activities in Petrified Forest National Park is geocaching. Geocaching is GPS users' twist on hide-and-seek—a social game that guides you to "caches" left by others. You are generally not permitted to place your own caches in national parks, but Petrified Forest National Park maintains official National Park Service-sponsored caches that involve searching for hidden clues.